February 25, 2023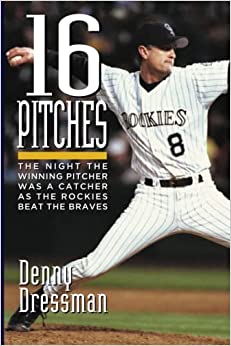 Former Rocky Mountain News editor and executive Denny Dressman has had a fruitful career as an author, much of it after his 2007 newspaper retirement.
Most of his eclectic Amazon catalog, now at 15 books and counting, is here. He remains best-known for Eddie Robinson, his 2010 biography of the legenday Grambling football coach; and Heard But Not Seen: Richard Nixon, Frank Robinson and the All-Star Game's Most Debated Play, released in 2015.
Of late, Dressman has written and, through his own ComServ Books publishing house, released three books on the Colorado Rockies in the past two-and-a-half years. Dressman didn't intend to make it a trilogy; it just worked out that way.
The third Rockies book is the the entertaining and enjoyable 16 Pitches. The title refers to the number of pitches Rockies catcher Brent Mayne threw against the Braves in 2000, when he became the first MLB position player to be credited with a win in 32 years. In the book, Dressman sticks to what previously has worked for him. That's identifying a well-known game in the Rockies' history, then using that as the pivot, while filling in the backstory and placing it in context. Along the way, in this and the other books, Dressman introduces and quotes figures who range from the minor and intriguing, to major players in the narrative. Regardless, Dressman makes them interesting. In all three Rockies-themed books, he displays a curiosity and, clearly, a love of baseball that pay off. Little things, tempting to wave off, often become fascinating when they're checked out.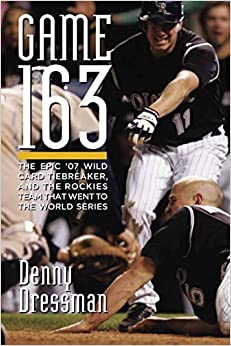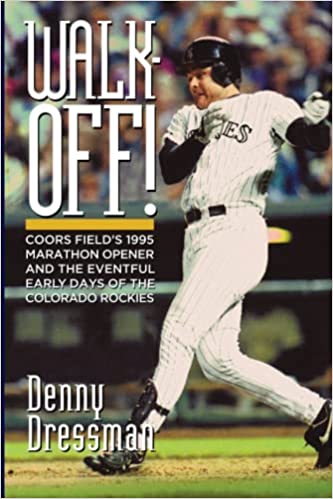 My earlier look at Dressman's Game 163 is here. It deals with the entirety of the incredible 2007 run to the World Series, but mostly focuses on the unforgettable Wild-Card tiebreaker against the Padres.
The followup, Walk-Off!, is a prequel that uses Dante Bichette's game-ending, three-run home run in the 14th inning at the 1995 home opener as the jumping-off point for a look back at how they got there, including with intriguing detail how the expansion roster was built.
After the Rockies played their first two seasons at Mile High Stadium, that official 1995 opener was pushed back to April 26 by a players' strike, and the imposter "Rockies" played the imposter "Yankees" in exhibition games on April 2 and 3.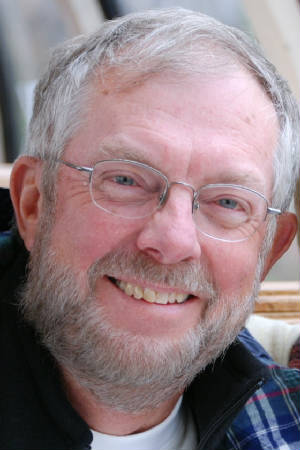 Maybe you needed to be here to appreciate it, but Walk-Off! was especially entertaining when Dressman flashed back from the 1995 opener and the christening of Coors Field, and then detailed the soap opera that was Denver's long-time attempt to land a major-league team.
That included the occasionally hilarious, decades-long quest by both Denver newspapers to be the first to "break" the story in times when that usually meant in the Denver Post or Rocky Mountain News landing on the porch or in the coin-operated boxes with the front page headline screaming out.
The News' Norm Clarke was at the forefront as Denver writers were regulars at MLB meetings for years as owners and the game's powers batted around possible expansion. (Pun intended.)
There even had been a major false start in 1977, when an apparent sale of the Oakland Athletics to Denver businessman Marvin Davis, and the team's move to Colorado, fell through because Charlie Finley couldn't get out of the Oakland Coliseum lease.

That brings us to 16 Pitches.
It's subtitled: The Night the Winning Pitcher Was a Catcher As the Rockies Beat the Braves. (That raises the question: Can you have Spoiler Alerts for subtitles?)
The game described in that subtitle is nowhere near as deeply ensconced in Rockies lore as are those in Game 163 and Walk-Off! It's more of a quirky curiosity than a franchise classic. That's potentially troublesome. Dressman deftly makes it work. But first, he had to sell himslf that there was a book there.
I caught up with Dressman this week.
The idea came out of a conversation with Scott Johnson, who designs Dressman's books. The weird thing was, they were talking about Walk-Off!
Said Dressman: "I asked, 'Can you give this a look like Game 163? That way if I ever do another one, we can make it look like that and we can make it look like a series.' He said, 'Sure, that's a great idea. What are you going to do next?' I said I really didn't have another idea. He said, 'I have an idea for you.' And he suggested the game Brent Mayne pitched. I said, 'Well, I'll check it out.' . . . Once I got into it, I had a lot of fun with it."
Perhaps you've figured out that No. 8 on the cover is Mayne, then a veteran catcher. Yes, he's pitching. At Coors Field. On August 22, 2000. He was 32 and in the first of the two seasons he spent with the Rockies late in his 15-season MLB career.
That night, the Rockies used 10 pitchers in a 7-6, 12-inning win over the powerhouse Braves. The tenth was Mayne, the No. 1 catcher who wasn't in the starting lineup and still was banged up after a tumble five days earlier into the Mets' dugout in New York while chasing a foul ball. As Dressman documents in one of his interviews with Mayne, his pitching assignment came about after manager Buddy Bell, in the clubhouse because he had been thrown out of the game, spotted Mayne passing through, noted that the Rockies were out of available pitchers and asked for Mayne's input. Mayne suggested the just-recalled Juan Pierre, who threw left-handed, and Bell told Mayne to pass that along to the dugout. But before Mayne was gone, Bell asked ...
I'll just say Mayne lied and was on the mound a few minutes later.
Using a position player as a pitcher is rare in the first place, but usually is done as a way of not wasting a bullpen arm in what is destined to be a decisive loss. Instead, Mayne came on in a tied extra-inning game.
After Mayne threw 16 pitches in the top of the 12th, allowing one hit and no runs, the Rockies scored in the bottom of the inning and Mayne became the MLB first position player to get a win as a pitcher since slugger Rocky Colavito pulled it off for the Yankees in 1968.
In 1968, Colavito, then with the Yankees in what would be his final MLB season, threw two and two-thirds innings and didn't give up a run as the Yankees beat the Tigers 6-5 in 19 innings.
Dressman works in a Colavito profile, to go with an in-depth look at Mayne, who was open and self-effacing when talking with the author, both about the 16-pitch experience and the background.
The book also features looks at the supporting cast in the drama that unfolded that night at Coors, including the Braves. There were several "WAIT ... AND THERE'S MORE!" moments in the game that enrich the book, including an 11th inning donnybrook after the Braves' Andres Galarraga charged the mound, believing Rockies pitcher John Wasdin had plunked him deliberately. Galarraga, Wasdin and Bell were tossed, and that contributed to the manpower shortages later.
It's a light read and Dressman's approach again is more anecdotal and human than what has become the often tedious, overly dramatic baseball storytelling fashion. In this case, one story leads to another. For example, Dressman introduces us to Ed Montague, the home-plate umpire that night, and Montague offers his remembrances and reactions. Dressman also gets into how catcher Ben Petrick, a prized Rockies prospect who came up in September 1999, was considered a disappointment, but few knew he was battling the early stages of Parkinson's Disease. And more.
By the way, even the identity of the losing pitcher for the Braves that night is an interesting tidbit.
Dressman openly wonders if a position player ever again can be a winning pitcher.
"With the ghost runner on second, I don't know if a game's ever going to go long enough for a guy to get in there in a meaningful situation," Dressman said. "It just happened here that they were in extra innings and ran out of pitchers. Brent was a lot of fun talking about it."
There even was a great chapter about the cover shot of Mayne pitching that night. Jack Dempsey -- the professional photographer, not the Manassa Mauler -- then was shooting for the Associated Press and got the picture, not fully grasping the depth of its significance until later. It's a fascinating shot. I was mostly a catcher and any throw for me was the catcher's snap throw from the ear. Even if I was playing catch before pactice, or playing second base, or pitching. Even the toss back to the pitcher. Mayne, though, is throwing like a pitcher! (Check out his extended right arm.)
Also, the three covers -- with Johnson's designs -- make a great set, whether we're seeing spines on the shelf or the covers on a table. At least in appearance, they're remindful of the Hardy Boys books. They go together.
What's next?
"I don't now," Dressman said. "I don't have anything that I've started on. I'm kicking around a couple of ideas. I actually don't know if I'll do another one or not. I probably will at some point."
I suggested something along the lines of: The Denver Newspaper War.
He said I wasn't the first to bring that up.