August 18, 2022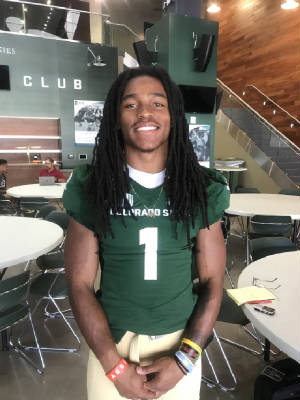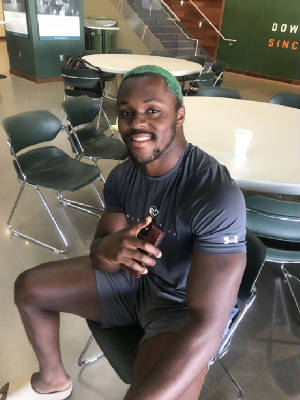 Left: CSU running back A'Jon Vivens at the Rams' Media Day
Right: CSU linebacker Cam'Ron Carter. Yes, his hair is green.
FORT COLLINS -- When Colorado State opens the 2022 season at Michigan on September 3, a significant portion of the Rams will be playing for their third head coach -- Jay Norvell. The list includes 15 Rams on this year's roster who are listed as redshirt seniors, seniors, fifth-year players (because the COVID-shortened 2020 season didn't count against eligibility), or graduate students; and have spent their entire collegiate careers at CSU.
Mike Bobo and his staff recruited them and brought them to Fort Collins.
Then they were in the program during Steve Addazio's rocky two-season tenure.
And now they're getting used to Norvell and his staff -- plus 11 teammates who transferred from Nevada to CSU to follow their coach.
None of that is mouth-dropping in the transient world of college football. Colorado went through a similar cycle with Mike MacIntyre, Mel Tucker and Karl Dorrell each coaching the Buffaloes in the three-season stretch from 2018 through 2020. At CSU, at least, it's going to be three coaches in four seasons.
Still, though, it's got to be a bit unsettling for the older Rams who have played nowhere else collegiately.
At the Rams' Media Day Thursday at Canvas Stadium, I sat down with two of them -- redshirt senior running back A'Jon Vivens, from Denver and Mullen High; and fifth-year outside linebacker Cam'Ron Carter, from Tucker, Georgia. Consider them representatives of the Rams playing under their third head coach. Another good example would have been fifth-year linebacker Dequan Jackson, but I wrote about him last season, referring to the fact that at age 16, he had been pictured in a story on the front of the New York Times about disgusting unfairness in the juvenile justice system.
Vivens had 90 carries for 324 yards last season, third on the team behind Boston College transfer running back David Bailey and quarterback Todd Centeio.
Carter led the Rams in tackles in 2021.
We talked about them playing for three head coaches ... and more.
"Definitely, we feel like we're going to stick together," Vivens told me. "We really want to see things through. We've had big goals and we've worked hard and been through so many things together. It's brought us closer together. I love those guys. I've enjoyed being around here, being around all my teammates."
He said experiencing the coaching changes "has been easier than a lot of people would think. It's really a fresh start. I just take the same approach, working as hard as I can to show my work to a staff. I always told my parents I felt I could make it work here. No matter where you go, you have to prove yourself, you're going to have to work hard. You'd do that anyway. I love Colorado State. So having a new coach coming in, I felt like it was an opportunity for me to show my skill set to them, and it's almost as if you transfer but stay in the same place."
Vivens is from the Five Points area of Denver and he made the long commute to Mullen.
"I would have to carpool with three other of my close friends," he said. "We picked each other up to get over there. There were some long mornings and nights but I wouldn't trade it for anything. Those car rides, I'll never forget and the friends I made over there at Mullen are still my friends to this day. Between the people I met, the staff, the administration, they still root for me and I'm still in contact with them."
The Bobo staff recruited Vivens as a pass catcher and he was a slot receiver in 2018 and '19.
"Playing receiver my first two years, I picked up things I wouldn't have learned at the get-go," Vivens said. "I was able to develop as a receiver and really polish certain things. Even right now as I play running back, I try to develop those skills. Coach Bobo played a pro style offense but he liked to throw the ball a lot. I was able to learn from that."
Then the Addazio staff came in and told him from there on, he was a running back.
"I just felt excited," Vivens said. "I felt like I was going to get more oppportunity to go out there and show what I could do. I didn't feel attached to any position. I wanted to help my team and play the best I could."
He seems sincerely grateful to Addazio, who was more liked in the locker room than we give him credit for sometimes.
"Coach Addazio's a great guy, a great coach," Vivens said. "I'm thankful for him giving me the opportunity at running back. He was a good person to me, so I appreciate him and Coach Bobo as well. "
Vivens' career is winding down, at least on the collegiate level. In addition to Bailey, his competition for playing time and touches as senior will come from Nevada transfer Avery Morrow, a junior who rushed for 88 yards on five carries against the Rams in 2021. (That's right: Vivens is competing with running backs Addazio and Norvell brought in from their previous stops.)
Vivens said that if the NFL isn't in his future after leaving CSU, he'd like to do something involving international studies or political science. "I definitely want to get out and help people around the world who are less fortunate than I am," Vivens said. "It's always been in my heart to go out and help people, in service to others."
Meanwhile, the Rams' fifth-year linebacker, Carter, said he briefly -- very briefly -- considered transferring or leaving.
"I definitely had some thoughts but at the end of the day, I chose to stay," Carter said. "The university gave me a chance here and I want to stick it out. Now one thing I can say is that with this staff, it's a lot more player-led. It's pretty much on the players to discipline the team. They want it to be a player-led team. I feel like the players relate to us, the older guys."
Carter showed up to fall camp with his hair dyed green. Stalwart Green. The proof is above.
"This is my last year, so I did something crazy," he said.
He said he wound up at CSU after the Bobo staff -- with its many Georgia connections -- approached him shortly before the 2018 national signing date. The word had gotten around he had other offers pulled, which happens in the numbers game of recruiting.
"At that time, it was CSU or Juco, so I came out for a visit a week before and I liked CSU," Carter said. "It was in January and it was cold, but the mountains blew me away."
He became a starter in 2019.
"Each coaching staff was different," he said. "I had to switch demeanor, I guess, for each coach and I've had to learn three playbooks now. It's been a wild ride, but it's been fun, too. Coach Addazio was a cool, cool, cool guy. It was real tough, tough football."
Carter now is trying to fight off a challenge for his starting job. (None of the Nevada transfers are linebackers, though.)
"Just have to take it day by day," Carter said. "Every defense is hard to learn, but I think I have the hang of it right now, or at least I'm going the right direction."
Under his third coach.
POSTSCRIPTS
Because the COVID-shortened 2020 season didn't count against college football players' eligibility, tracking careers of current players can be tricky. This is the list of the Colorado State 2022 roster's 15 seniors, redshirt seniors, fifth-year players (COVID), and graduate students who have spent their entire collegiate careers at CSU. They're the most veteran among the Rams who this season will be playing for their third CSU coach -- Jay Norvell.
A'Jon Vivens, RB
Justice McCoy, WR
E.J. Scott, WR
Dequan Jackson, LB
Ty McCullouch, WR
Tywan Francis, DB
Cam'Ron Carter, LB
Thomas Pannunzio, WR
Dante Wright, WR
Devin Phillips, DL
Mohamed Kamara, DL
Troy Golden, DL
Ches Jackson, OL
Gary Williams, TE
Cayden Camper, PK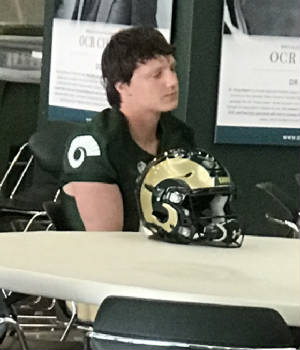 Redshirt freshman quarterback Clay Millen
Here are the 11 Nevada transfers currently listed on the 2022 Colorado State roster:
Gray Davis, OL, graduate
Jacob Gardner, OL, junior
Trevyn Heil, OL, RS freshman
Tory Horton, WR, junior
Angel King, DB, junior
Clay Millen, QB, RS freshman
Peter Montini, TE, junior
Avery Morrow, RB, junior
Melquan Stovall, WR, senior
Teivis Tuioti, DL, RS sophomore
Paddy Turner, P, RS freshman