NOTE: I've taken teasing for managing to write seven pages about one play, but this is one of the most famous plays in college football history and was the pivotal moment in the Big Shootout. All the quotes in this chapter came from my 2001-02 interviews with the principals, most in person during a summer of research and exploration in Arkansas and Texas. The play unfolded after the Longhorns, trailing 14-8, faced a fourth-and-three at their own 43 with 4:47 remaining. Longhorns quarterback James Street called time out and went over to the sideline to talk with Darrell Royal. -- TF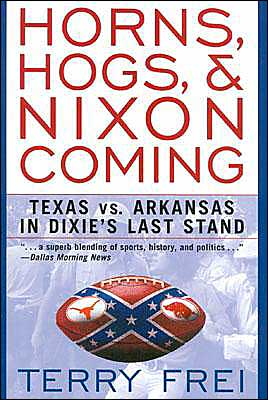 TWENTY-SIX
Right 53 Veer Pass
As tackle Bob McKay frequently noted, Darrell Royal did not run a one-man, one-vote democracy. But as the quarterback and captain, James Street at least had a voice in the decision-making process. As he arrived at the sideline, he knew what he would call, given the choice—another counter option, this one to the short side of the field and away from what Street by now recognized was the defensively overloaded tight-end side. It had worked on a fourth-and-2 on the Longhorns' final possession of the first half, when Street cut up for 3 yards, and this play was going to be from the same hashmark, going the same direction.
"I wanted to go strong to the wide side of the field," Street says. "I knew they would overshift to the wide side, and that would make it easier for me to get three yards the other way. All I have to do is get inside that end."
So Street lobbied Royal. "Coach, if we set the formation up, I can make three yards on the outside option!"
In the pressbox, offensive coach Emory Bellard was talking over the headset phone to Royal. Street always has presumed Bellard was arguing for an option play as well, but Bellard says that isn't true. Bellard's call was going to be a pass—a play-action delay to tight end Randy Peschel over the middle, theoretically underneath the coverage after Cotton Speyrer went deep and linebackers took the play-action fake.
Just as Broyles rarely vetoed play calls, Royal rarely overruled Bellard.
This time, he did. "No, we're going deep!" Royal said to Bellard, with Street standing there.
Royal turned to Street. "All right," he said, "tell you what we're going to run. Right 53 veer pass!"
Street was dumbfounded. In the Longhorns' parlance, the "right" was the formation call. It meant the split end—Speyrer—was to the right, and the actual strength of the formation was to the left, where Peschel lined up. The "53" meant Street would go left, faking the 53 veer running play, then dropping to pass. That, coupled with the formation, meant he had one receiver going deep—the tight end, or "TED" in Texas terminology.
Deep to 'TED'?
That's just not the way the Longhorns did it. Peschel was counted on as the solid blocker and short-game receiver. Hell, he still wore his old wingback number—40, which looked weird as hell on a tight end. Everyone knew anything deep went to the speedy Speyrer; everyone, including the Razorbacks, whose defensive scheme quite reasonably incorporated that assumption. And that was exactly why Royal called Peschel's number.
"OK," Street said, and took a couple of steps back toward the huddle. "I'm sitting here, registering, 'right 53 veer pass,'" Street says. "Randy Peschel is the only guy going out and he's going deep. I have one receiver to hit, and if this son of a bitch doesn't work, I don't have anyone else to throw to. So I'm wondering if Coach Royal means 'left,' which means Cotton going deep. That might make more sense to me."
Street came back to Royal and ran through it one more time. "Right 53 veer pass," Street said to Royal. "We got one receiver going out, Coach, and that's 'TED'? He's going deep? Are you sure that's what you want to run?"
"DAMN RIGHT!"
Defensive coach Mike Campbell heard the call and wasn't exactly brimming with confidence. Instantly, he turned and approached the members of the defense. Tom Campbell, the defensive halfback, wasn't even sure of the fourth-down circumstances. "All of a sudden my dad is standing in front of me and the other guys on the defense and saying, 'Defense, get ready! We gotta get the ball back!'"
Linebacker Scott Henderson smiles and shakes his head, remembering. "'Defense, get ready!' That's exactly what he said. So I got up."
Upstairs, Longhorns defensive backfield coach Fred Akers had the same initial reaction as Street. Could Coach Royal have the formation fouled up? "We thought he had got turned around," Akers says."That happens, you know!"
Like Street, Akers wondered if Royal had meant the play to go to Speyrer. "I asked Mike Campbell, 'What'd he say?' He had called the veer pass to the wrong side, I thought," Akers says. "I thought, 'Oh, my God, no!' But, man, he knew what he was doing!"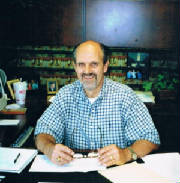 i
Randy Peschel in his Austin office during 2001
intervew for Horns, Hogs, and Nixon Coming
Royal remembered Peschel talking about how fast the Arkansas defensive backs were coming up to play the run. And, finally, he had a gut feeling that he needed to gamble. "That was the time to put it all on the line," Royal says. "If we had run for a first down, we'd have lost the game. We weren't moving the ball. It was one of those situations where you have to swing from the floor and hope you put a square peg in a round hole."
Street headed back to the huddle, thinking, Man, the guys aren't going to believe this one! I've got to sell it!
The Longhorns were all kneeling in a loose imitation of their round huddle, waiting through the timeout. For all the struggles the Longhorns had that afternoon, theirs was a great offensive line, and the five men up front still were thinking: Run the damn ball! Let us go after these guys!
As Street arrived at the huddle, Peschel had just gotten up and was putting on his helmet. "Peschel, don't look at me!" Street said, conspiratorially.
Peschel asked himself: What the hell is he saying that for? But he didn't look at Street. "James's eyes were as big as saucers," guard Mike Dean says. Street looked first at Speyrer, and kept returning his gaze to the split end through his spiel. If the Razorbacks were watching, he wanted them to think he was going over a pass route with Speyrer.
"Guys," he said, "you aren't gonna believe this call, but it's gonna work! It will work! We're gonna run right 53 veer pass, and that means you're the only receiver, Peschel, and you're going deep!"
Memories differ on the reaction. Several players—including Peschel, center Forrest Wiegand, and tackle Bobby Wuensch—recall that Bob McKay said something along the lines of, "You gotta be shittin' me!" McKay says that isn't true, and others—including Street and Mike Dean—back him on that. Whether McKay said it or not is almost irrelevant, as Steve Worster points out. "We all kind of looked at each other and said, just by looking, 'What?'" Worster says. "I thought it was all or nothing right there. I don'tremember Bob saying anything, but I guarantee you, everybody in the huddle was thinking, 'You gotta be shittin' me!'"
But all agree, Street took control and sold it. They won't be expecting this! It will work!
(It's a good thing this was a long timeout.)
Finally, though, Street tried to leave himself a safety net. He told Peschel that if he decided he couldn't get deep, if the defensive backs didn't bite on the fake, he should cut the route short, come back, and Street would get him the ball. No matter what, we gotta get the first down! He says he had some nightmares later in which Peschel broke off the route, Street threw the ball about 25 yards over his head and had to explain that to an irate Darrell Royal.
Speyrer trotted out to the right, to his split-end position, with mixed feelings.
"Personally," Speyrer says, laughing, "I thought it should have gone to moi, if we're going to throw the ball. But then I thought it could be a great call. I thought Randy Peschel would be wide open. I'm going to run down the field, congratulate him for scoring a touchdown, the whole bit."
The Razorbacks didn't watch Street stare at Speyrer, or at least they didn't buy it. The coaches' defensive call, relayed to Cliff Powell, was "80 short," a goal-line defense designed to stop the run.
At the start of the play, the two buddies from Longview were only a yard or so apart—James Street, taking the snap, and Terry Don Phillips, the Razorbacks' defensive tackle. In 80 short, Phillips says, his job was "to execute a goal-line charge and build a pile, and your linebackers run up and go to the football."
Powell got ready to play the Longhorns' straight triple option. "That was what we were geared for," he says.
Peschel says his first concern was getting off the line of scrimmage. Steve Birdwell still was in for Bobby Field at the "monster" spot, and he lined up outside Peschel. Street took the snap and started the triple-option action, riding a fake to Worster to his left. Carrying out the fake, Worster leaned forward and fell onto his knees, just short of the first-down marker.
On his first step, Peschel made a slight blocking motion at Birdwell with his left shoulder and forearm. It was as if he coiled to make the block,but didn't uncoil. The Longhorn tight end and the Razorback monster back brushed one another. As he was supposed to do in this defense, Birdwell stepped across the line of scrimmage to play the option. Peschel was off the line of scrimmage and into the pattern, heading downfield and angling slightly toward the sideline. That route was designed to give him more breathing room if the safety—Dennis Berner—came over. Peschel made the decision to go deep, even though right defensive halfback Jerry Moore hadn't significantly bought the fake and turned around to run after Peschel.
This is a crucial point, especially in light of the misconceptions that abounded later: If Peschel was on his side, Moore was encouraged to read the tight end's first move and rush up if it looked as if Peschel was blocking. And on this play, in a short-yardage defense, with the expectation that the Longhorns would run the option, it would have been understandable if Moore had sprinted up to play the run, even though it would have been a mistake.
Moore didn't make that mistake.
After Peschel's feinted block, Moore made a smart play to spot the pass soon enough to recover, turn, and run with Peschel, which didn't leave Berner as the only defender. (Nobody remembers if the Razorbacks were playing man-to-man or zone on the tight-end side on that specific play, but the way it worked out, Peschel ended up being double covered.)
"We have our defense set to defend the run," Moore says. "We've got everybody packed in there to stop it, thinking that they're going to run the ball. My read is through the tight end." Moore noticed Peschel's coiling move at Birdwell. "In watching the film, I think I did initially take a step up when he blocked down or whatever," Moore says. "But he released and I recovered and got back."
Berner also reacted quickly, angling over from the middle of the field to chase Peschel. "I just took off for the guy Street was looking at," Berner says.
After the fake to Worster, Street dropped diagonally, taking five quick steps and setting up to throw. Jim Bertelsen threw a block on Birdwell, in case he decided to charge at Street. Terry Don Phillips and Gordon McNulty both went low and ended up on the turf, and McNulty jumped back up to reach for the pass. He didn't come close. But he wasn't worried, either. "When Street put the ball up there, I was thinking, 'He ain't got a prayer!'" McNulty says.
Street threw the ball from the Texas 39; it wasn't a laser, and it wasn't a soft rainbow. It was an arching quasi-spiral with just the right touch, and he led Peschel slightly toward the sideline, which was crucial.
"When I first looked back, I thought, 'This is overthrown,'" Peschel says. "I just kept running and looked back again, and there it was."
By the time the ball came down, Moore was less than a step behind Peschel, a couple of feet closer to the sideline. Berner was there as well, about a halfstep back. On the run, sensing the ball was arriving, Moore reached out with his right arm, raising his hand slightly. Berner reached around Peschel's back, to the inside, with his left arm.
"Actually, I think I touched the ball with the tip of my [left] ring finger," Berner says. "Barely a touch."
For several strides, Peschel was looking over his outside shoulder. "This is what I see here, one hand from each of them," he says, crossing his own wrists. The ball made it through the maze, into Peschel's hands.
The pass was perfect, and the play gained 43 yards. In the clutch, with the national championship on the line, with his teammates wondering what the hell was going on, James Street put the ball exactly where he had to. If thrown shorter, or with a minuscule flattening, the pass would have been incomplete, probably knocked down by either Moore or Berner. Maybe a foot longer, it would have been incomplete. A foot more to the center of the field, Berner would have batted it down—or even gotten hit by the ball. A quarterback not known for his passing ability, with it all on the line, made an absolutely
perfect pass. It was the only way it would have worked.
The catch was clutch as well. As he angled slightly toward the sideline, Peschel focused on the ball through the hands and caught it at the Arkansas18, holding on as Berner dragged him down at the 13 and Moore fell on him. All three slid over the sideline.
"I remember faking through the hole, and naturally being knocked down to my knees, which I always was," Steve Worster says. "I was looking at the pass and Randy making that phenomenal catch. And, yeah, I was going, 'You gotta be shittin' me!'"
The entire play was based on the assumption the Razorbacks would be fooled, but they weren't.
"Three guys go for the ball and, give the guy credit, he makes a miraculous catch," Jerry Moore says.
Razorbacks linebacker Mike Boschetti was distraught. "I had gone back to my hook zone, and then kind of turned and followed the ball," he says. "It sickened my stomach when he caught it. They teach you as linebackers to play the run first and then get back in your hook zone, but if you ever commit too far, just go ahead and rush the passer because you'll never get back anyway. I've looked at the film since and there was a big opening where I could have gotten to Street. If I had actually continued on that path I could have been in his face."
Boschetti probably couldn't have gotten to Street, but that's the kind of what-if mind game the Razorbacks have been playing for years.
Back upfield after the play, Street was still standing. He noticed his buddy, Phillips, prone at his feet. He reached down and tapped Phillips, and nudged him, as if he was trying to help him up. "Come on, Terry Don," Street said. "The ball's down there! Come on, buddy!"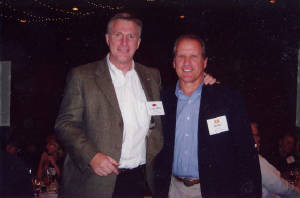 The Longview Boys: Terry Don Phillips and James Street at
the 2004 joint reunion of the '69 Longhorns and Razorbacks
in Fayetteville. Terry Frei was the neutral keynote speakder.
Phillips laughs about that. "'Come on!'" he says, shaking his head. "It was a great call, a great throw, a great catch. How many times out of ten could they execute that? That might have been the only time. But you only need to do it once."
Peschel rolled over onto his back and, while prone, flipped the ball to the official marking the spot. Berner quickly got up and trotted toward the huddle.
Moore had done a somersault, and he was a little stunned. He struggled to his feet and wobbled a bit, walking toward the center of the field to join the other Razorbacks.
"We had the safety man and the halfback there," Frank Broyles says. "We don't know why odd things happen, but they happen in sports."
Charley Coffey, the defensive coach, doesn't fault the coverage, either. Never has, never will. "It seemed like there was something miraculous about
it," Coffey says.
Royal calls it a "perfect throw and a great catch, and both of those things had to happen." And if the play—a daring gamble—hadn't worked? "Oh, man, I'd have been the biggest idiot of all time," Royal says.
The first four Longhorns to get to Peschel were offensive linemen—in quick succession, Bobby Wuensch, Forrest Wiegand, Bob McKay, and Mike Dean. "McKay and I were like little kids let out into the schoolyard," Dean says. McKay belted Peschel and—using Peschel's nickname among his teammates—said, "Nice catch, Pasquale!"
The Longhorns still were 13 yards away from the potentially game-winning touchdown. "All I know is that our sideline was celebrating, so I figure we've scored a touchdown," Tom Campbell says. "Then I realize we're only down to the 13. So I went back and sat down."
The next play was a run off left tackle, with Jim Bertelsen leading the way through the hole for Ted Koy, slanting across from his right halfback spot. nIt started out with Street faking to Worster, who went over left guard. Wuensch and Mitchell both blocked inside, leaving McNulty able to slant in from left end and hit Worster. Rather than joining that pile, Bertelsen went right past McNulty and took on Boschetti, the linebacker, driving him back. Koy burst through the hole, broke arm tackles from Bobby Field and Moore, and finally was dragged down by Boschetti. "Bertelsen gets a good block, and I come off of that, and I thought for a moment I had carried it all the way in," Koy says.
The play went for 11 yards, and the Longhorns had both a first-and-goaln from the 2 and a better idea of how to block the Coffey-designed defense—have a lead back bypass the pile and go after the linebacker.
The Longhorns didn't fool around, and Bertelsen, whether inadvertently or intentionally, was rewarded for that block. On the next play, Street turnedn to his right, did a quick feint toward Worster, who headed over right guard, then did a reverse pivot and handed off to Bertelsen. The halfback fromWisconsin went between Mitchell and Wuensch, on the left side. Boschetti and Moore dragged him down, but he fell over the goal line. Boschetti confesses he also grabbed Bertelsen's facemask, but there was no flag. Cliff Powell stood over Bertelsen, distraught and looking down. Gordon McNulty was on his knees in the end zone, watching Bertelsen cradle the ball. Peschel raised both arms, giving the "Hook 'em Horns" sign.
But the score was only tied, 14–14. Now it was up to Happy Feller. This extra point was the Longhorns' first place-kick of the game. The holder was his roommate, reserve quarterback Donnie Wigginton.
When Feller and Wigginton went on the field, Feller made a mistake: He started thinking. "My heart's pumping," he says. "If I miss this kick, I'll be exiled from the state of Texas. I probably won't be able to go back. I might as well go over to the other team's bench and join the Arkansas team."
Wiegand's snap was slightly high and into Wigginton's body, and the reserve QB did a good job—especially under the pressure-packed circumstances—of reaching over, then putting the ball down on the pad. The kick sliced slightly to the right, but was good enough. Wigginton leaped high. Feller turned around and trotted back upfield.
"I wanted to give the impression to the rest of the team that, 'Hey, this game isn't over!'" Feller says. "If there were three seconds left in the game,that would have been one thing. But there were three minutes left in the game."
Actually, the clock showed 3:58.
Texas led 15–14.