At the morning skates Friday at the Pepsi Center, I had a nice chat with Capitals radio play-by-play broadcaster John Walton, with whom I became acquainted in a roundabout way.
John's grandfather, Lt. Col. Thomas F. Jeffers, was a bombardier on a B-24 crew during World War II. After his plane was shot down on June 18, 1944, Jeffers spent nearly a year as a prisoner of war in, first, the infamous Stalag Luft III — the "Great Escape" camp — for Allied officers near Sagan, Germany (present-day Zagan, Poland). Then, after a forced mass evacuation and march of the prisoners began on January 27, 1945, Jeffers and the POWs ended up at Stalag VII-A near Munich. The march came during the coldest winter in Germany in 50 years, as the Russians advanced from the east. Stalag VII-A was liberated by Gen. George Patton's Third Army on April 29, 1945, the day before Adolf Hitler committed suicide in his Berlin bunker.
John's mother, Marilyn Jeffers Walton, over the years has helped organize reunions and symposiums mainly for Stalag Luft III survivors and their families, and the families of POWs who have passed away. The reunions began in 1946 and were run by the former POWs themselves for six decades, but as the ranks dwindled, their families took over.
She also is the author of several books, including
Rhapsody in Junk
(2007), about her voyage of discovery in retracing her father's wartime experiences, including at Stalag Luft III. The title is the name of her father's B-24.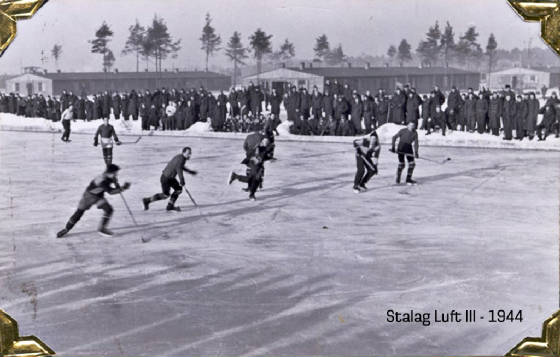 * * *
Third Down and a War to Go excerpt: The POW experience, including in Stalag Luft III for two of my father's 1942 Wisconsin Badgers
* * *
While communicating with Marilyn Walton, she mentioned I might know her son. John Walton. The radio voice of the Washington Capitals.
Small world, isn't it?
I wasn't able to make the reunion and symposium because of work obligations, and I regret that to this day.
Down a couple of booths from Walton in the press box Friday night was Avalanche radio play-by-play voice Marc Moser, an aficionado of World War II aircraft. And down on the ice before the game was Avalanche game-night anthem singer Jake Schroeder, like Moser a tireless advocate of military veteran causes. Schroeder is executive director of the Denver Police Activities League for area youths. Together, Moser and Schroeder annually help escort American World War II veterans to revisit the sites of their battles and service in Europe.
My connection?
One of the heroes in
Third Down and a War to Go
, about the 1942 Wisconsin Badgers winning one version of the national championship, heading off to serve in World War II, and not all coming back, was halfback and co-captain Mark Hoskins. My father, Jerry, was an 18-year-old sophomore backup guard on that team before his stint as a P-38 fighter pilot in the Pacific Theater, and he looked up to Hoskins and co-captain Dave Schreiner, who was killed in the Battle of Okinawa in 1945.
Hoskins was alive when I researched the book, and I traveled to interview him at his home in San Diego.
He was a B-17 co-pilot whose plane was shot down over Hungary in a mission against German military targets on June 27, 1944, and he ended up a POW in Stalag Luft III. Amid our far-reaching, marathon discussions, we talked at length about his experiences in the South Compound, with prisoners organizing such things as football and hockey games, a "radio" station broadcast over loudspeakers, the Circuit newspaper (actually a one-page sheet posted on the cookhouse wall), plays and concerts — and a lot more. (And horrible, nauseating food supplied by the Germans and broken up only by Red Cross contributions.) Hoskins was a standout in the compound football games, covered by the POW newspaper. The other star was former Kentucky back Jess Tunstill.
The pictures here are shots of hockey games in Center Compound of the camp, thanks to skate blades supplied by the YMCA through Sweden. The POWs would attach the blades to their shoes, by straps or they were screwed to the sole of the worn shoes. Hoskins, being a good Wisconsin boy, played, often with the German commandant and guards enjoying the games. In fact, a team from the South Compound beat a squad from the Center Compound 3-1 on January 23, 1945, only four days before the Germans forced the Stalag Luft III prisoners to leave and begin the perilous march to Moosburg and Stalag VII-A.
About 10,000 prisoners (among them Hoskins and Jeffers) began the 52-mile trek in bitter cold and walked 20 miles through the first night. Older German guards could barely keep up, and it was not unusual to have the younger POWs carry their rifles for them. Many collapsed and had to be left behind to freeze to death. Eventually, the survivors prisoners, many quite ill, were crammed into 40&8 boxcars (40 men or 8 horses) in Spremberg, Germany, and completed the journey on the third night. The new camp, a German Army (Wehrmacht) camp meant to hold only a few thousand, then holding 120,000 allied men, made the German Air Force (Luftwaffe) camp, Stalag Luft III, seem like the Waldorf-Astoria.
Among Hoskins' contributions to my research was loaning me his copy of "Clipped Wings," an amazing school yearbook-type work about the South Compound prisoners' experiences in Stalag Luft III and, ultimately, Stalag VII-A. Trying to describe it won't do it justice, and I made myself a home-made photocopied and bound version before returning the book to Hoskins, who died in June 2003, a year before
Third Down and a War to Go
was published. He did see a copy of the manuscript shortly before he died, though, and gave it a thumbs up.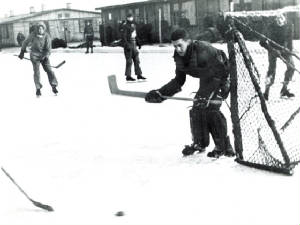 I regret not being able to ask Thomas Jeffers and Mark Hoskins, who arrived at Stalag Luft III at approximately the same time, if they ever ran into each other at the camp. Or even played hockey together. The proximity of their dates of captivity would have put them in the same group for interrogation in Frankfurt, Germany, before being sent to Stalag Luft III together.
So, yes, look at those pictures of the hockey games, marvel at the American prisoners' ingenuity under difficult circumstances, and salute them all … and their contemporaries.
I'll close with this.
John Walton, with an assist from his mother, helped set up an appearance at the Capitals-Hurricanes game on March 15 of a former Stalag Luft III POW, 2nd Lt. John Pedevillano, 93. He was on the ice with singer Caleb Green for the national anthem.
I saw the video at the time. If you can find it (in 2022) and can watch it and, especially while seeing Pedevillano emotionally dab at his eyes during his introduction and mouthing the anthem lyrics, not get at least misty … well, you're "stronger" than I am.
My father, who was about as young as you could be and go through training and complete an entire tour of duty as a pilot in World War II, died in 2001. He had flown 67 missions in P-38, a one-man, twin-engine fighter plane for the Air Force's forerunner, the Army Air Corps/Air Forces. As Oregon's head coach, he went against the Air Force Falcons three times. Yet nobody in the media ever mentioned his connection, in part because he didn't even include in his coaching bio an explanation of the four-year gap between his sophomore and junior seasons at Wisconsin. That was so typical, wasn't it? He was the only man on the planet who earned both the World War II Air Medal (three times) and a Super Bowl championship ring (twice).

Thomas Jeffers died in 2004, at age 83.
Eight Stalag Luft III survivors were among the attendees at the latest Marilyn Walton-organized reunion and symposium in New Orleans this year.
Eight.
We're losing them.