The word came Friday night when I was at the Avalanche-Blues hockey game at Denver's Pepsi Center.
President George Herbert Walker Bush had died at age 94.
I thought back to my communication with him, involving my first book, 2002's Horns, Hogs, and Nixon Coming.
Bush attended the landmark Dec. 6, 1969, Texas-Arkansas game in Fayetteville as part of President Richard Nixon's entourage, traveling on Air Force One from Andrews Air Force Base to Fort Smith, Ark., the morning of the game, then riding to Fayetteville on the Marine One military helicopter.
The group sat in the stands —that's stunning — and Bush, the Republican Congressman from Texas, was down the row from Nixon.
Rep. John Paul Hammerschmidt, R-Ark., who also was a World War II pilot and was Bush's close friend, was there as well.
As shown on the ABC broadcast, the Nixon party landed on the practice field next to Razorback Stadium just as the game was starting. When the politicians walked briskly toward the stadium, Bush and Hammerschmidt were together, shown laughing. They were just off Nixon's right shoulder, a step behind the president.
Hammerschmidt was wearing red and advertising his loyalty to the Razorbacks. He later told me that when he laughed, he was reacting to the cheers from the stadium. He remembered telling his friend, "Hell, Bush, we've already scored!"
In fact, the Razorbacks had recovered a Texas fumble on the second play from scrimmage.
When I was researching the book, I spent much of the summer of 2001 driving through Arkansas and Texas and visiting former players, coaches and other figures in the book that also involved the events swirling around the game in tumultuous and pivotal times.
Separately, I sought to speak with Hammerschmidt and Bush. I connected with Hammerschmidt on the phone, and he was terrific. (A few years later, after the book was out, I was selected to deliver the John Paul Hammerschmidt Lecture at North Arkansas College in Harrison, Hammerschmidt's hometown, and got to meet him and was honored to have him introduce me to the audience. He died in 2015.)
In response to my inquiries, a staffer at Bush's office in Houston told me that the former president had agreed to respond to my questions if I submitted them in writing. So I fired them off.
I didn't keep the list of questions, but I know I asked about the trip in for the game, his memories of the game itself and the aftermath, and what he had thought of the anti-Vietnam War protesters gathered on the hill above the stadium, in direct view of the presidential party. I had tracked down protest organizers, including a World War II veteran professor and a Vietnam veteran student, for the book.
Trust me, there was no way the Nixon party could avoid noticing the protest, though — and this is another example of how the world was different then — ABC never showed or referred to it on the telecast.
I received a FAX dispatch from Bush's office — a cover sheet and then the former president's response, dated October 9, 2001. The cover sheet noted that the original of his response would arrive by mail. That's what happened. I assume because they knew I would want to have the letter in pristine form for posterity, the staff mailed me the letter unfolded and with cardboard to keep it from being beat-up.
The scanned letter, which I framed and kept in my den, is below. The only adjustment I made in scanning for this it was to trim the bottom, which showed the Bush office's Houston post office box, phone and FAX numbers. No, the response was not particularly extensive, and Hammerschmidt provided much more details of the trip and his exchanges with Bush during our phone conversations, but I appreciated it and that he took the time to do it. This was a former president communicating with me four weeks after 9/11.
Note the handwritten addition ("Terry — Pardon my typing"), salutation and signature. I found especially interesting his response to my question about his reaction to the demonstrators on the hill. He said that he had no memory of them and added: "I was not in sympathy with the insults to Nixon that took place across the country, having served in a different war at a different time."
Yes, that was the World War II Naval aviator, a torpedo bomber pilot, talking. I also smiled at his reference to being nervous about the helicopter flying in marginal weather. He had been through being shot down in combat.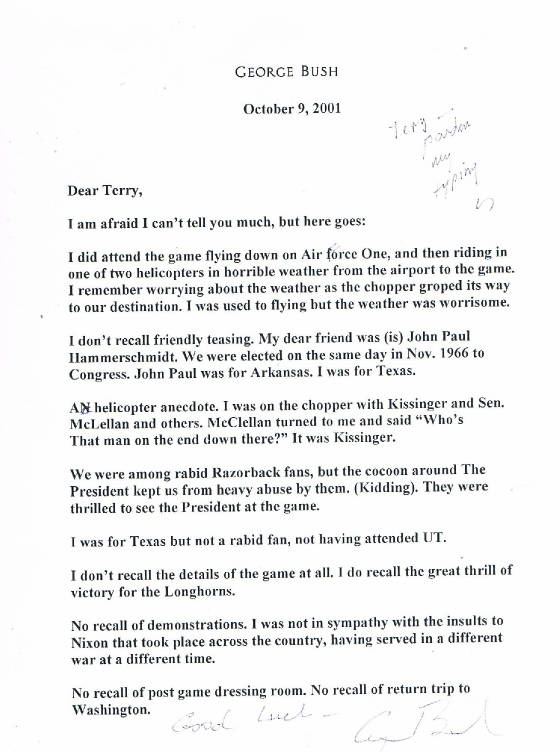 Hammerschmidt had told me Bush turned to him on the helicopter and, noting all the prominent passengers, said, "When this thing goes down, there's so much brass on this thing, we won't even get our names in the Congressional Record." He said that Bush added, "How do you suppose we let the president get in a hairy situation like this?"
This was 32 years after the game, and Bush had done a lot since, so I don't doubt that he had forgotten the protesters.
Bush was nine days younger than my father, Jerry. In November 2000, I had written an extensive column for Veterans Day on my dad, based on me finally sitting down with him and saying of his World War II service as a P-38 fighter pilot in the Pacific Theater: Tell me about it.
I had waited disgracefully long, but I hadn't waited too long. My father died in February 2001, or eight months before this exchange with President Bush.
I immediately sent President Bush a thank-you note and included a copy of my column on my dad, Bush's contemporary, fellow Pacific Theater pilot and also a college athlete whose career was affected by the war. (Bush played baseball at Yale after leaving the Navy, Jerry Frei played football as an 18-year-old sophomore at Wisconsin on a 1942 Helms Foundation national championship team with two starters killed in the Battle of Okinawa, and then played again for the Badgers in 1946 and '47.) I'd say it was presumptuous of me, except I'm proud of what my father and so many others, including George Herbert Walker Bush, did.
Bush sent me back this handwritten note: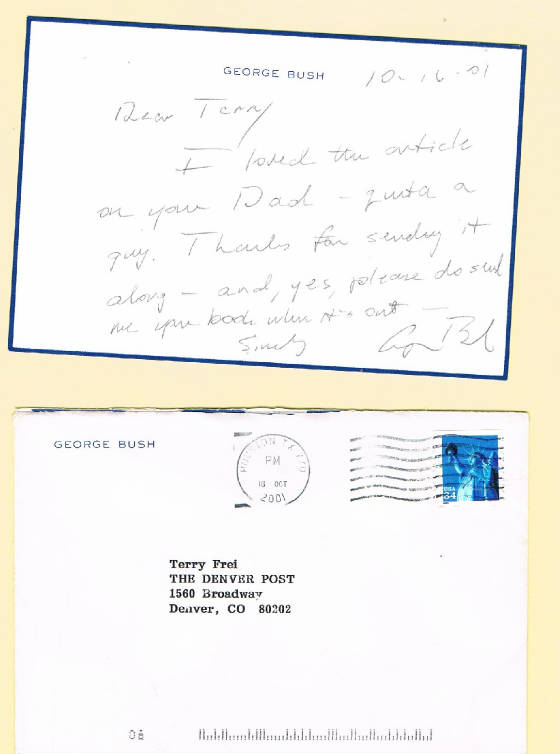 George Bush's handwritten note of Oct. 16, 2001.
Finally, after Horns, Hogs, and Nixon Coming came out in December 2002, I sent him a copy and signed it with a note thanking him, and thanking him for his service.
And I got this back:
RIP, Mr. President. And thank you. Thank you to you all.