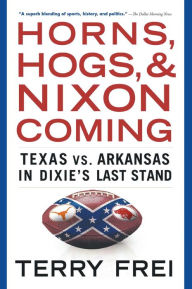 The book and screenplay adaptation both open with former Arkansas "monster" back Bobby Field encountering former President Nixon in Bel Mar, near the UCLA campus. For the sake of comparison, both follow.
PROLOGUE
Good Morning, Mr. President
UCLA defensive coordinator Bobby Field loved his three-and-a-half-mile run through the canyons above the Westwood campus on early spring mornings, when he could hear the sprinklers and smell the damp grass. He tried to make it an escape from the Xs and Os of the game, but strategic revelations came in flashes—such as when one arrived shortly after he crossed Sunset Boulevard and started up Stone Canyon Road.
The new safety is going to be quick enough to send after the quarterback on second-and-long, especially against teams with tailbacks who don't check if they're needed to block for the quarterback before drifting into the flat and leaving a lane wider than—
What's this?
On this morning, near the stately, sprawling, and isolated Hotel Bel-Air, where the famous stay to be unseen and where the smell is either of the hotel's plush Gardens or of old money, three men are walking toward Field. It is 6:15 A.M., a time in the Bel-Air Estates for expensive sweatsuits or shorts or golf shirts or cashmere sweaters, or perhaps for a chauffeur's uniform, if the driver is stretching his legs as he waits for his wealthy passenger. But these three men are in dark suits, white shirts, and ties, and they are strolling downhill toward the jogging and sweating football coach who is trying to avoid developing the sort of paunch that fills those coaching shirts and can be so embarrassing on television.
Suddenly, Field realizes the slightly hunched figure between two guards is Richard Milhous Nixon.
It is March 30, 1985, nearly eleven years since the resignation, and a week before the opening of the Bruins' spring practices. Field doesn't know this, but the night before, the ex-president dined with former Rowan and Martin's Laugh-In producer Paul Keyes at Chasen's, and Nixon's "Sock-It-to-Me" cameo on the classic television show undoubtedly came up. Later, Nixon would check out of the hotel to leave for Rancho Mirage and the "Sunnylands" estate of Walter Annenberg, the founder of TV Guide and the ambassador to Great Britain during the Nixon administration. Now, Nixon is taking a morning walk with two guards, who check out Field. They conclude he doesn't have a knife hidden in the elastic band of his jogging shorts.
So what's the protocol here, Bobby Field? Whistle "Hail to the Chief" as you pass? Veer off path, as if there is a presidential halo that remains after the exit from office? Hold both hands aloft, signaling "V" for victory over Humphrey and McGovern?
Like a quarterback under siege, Field has only a few seconds to make a choice, and he nods in midstride, and puffs out a greeting.
"Good morning!"
Nixon nods back. It is almost imperceptible, but it is there, the slight acknowledgment.
Now Field is past the former president, heading further into the foothills.
Good morning?
Bobby Field comes across Richard Nixon for the second time in his life, and that's all he can say? He choked in the clutch, he lectures himself on the move. He runs for another ten minutes on his uphill portion, passing immaculate homes, then takes one more stride to the north and reverses direction, as if he had stepped on the line at the end of the field during "gasser" drills and must start back the other way. It's time to head back to the UCLA football offices and prepare for the workday—film, practice plans, staff meetings, all the details involved in getting ready for the Bruins' upcoming season.
As Field runs back down Stone Canyon Road, he again approaches the Hotel Bel-Air, on his right. Nixon and his two protectors are standing near the canopied stone footbridge that leads over a pond to the hotel. Field tells himself to be braver this time. He slows and veers toward the former president.
The guards' heads turn: It's the jogger again. Field downgrades to a walk, catches Nixon's eyes, and approaches. He reaches out his hand and speaks.
Sir, he says, my name is Bobby Field, and I just wanted to say hello.
Why, thank you, the ex-president responds. He is being courteous, not warm. Nixon's escorts are scanning Field again, making sure.
Field says he is a football coach on Terry Donahue's staff at UCLA, down in Westwood—the defensive coordinator, in fact. Now Nixon is perking up.
"As a matter of fact," Field says, "in 1969, I was playing for the University of Arkansas and you, sir, came to one of our games, the one in Fayetteville against the University of Texas."
In the respectful formality of a conversation with the one-time most powerful man in the world, it just seems right to say "University of Arkansas" and "University of Texas," and not just blurt it out—"the Texas-Arkansas game."
Field also doesn't mention that he has been teased for years because an instant after he fell on a Texas fumble on the second play of the game, the ABC shot switched to a late-arriving president making his way into the stadium— and the distracted announcer later told the millions of viewers somebody else came up with the ball! Field doesn't mention that to Nixon because that would be rude, and besides, now the former president is excited. Nixon is so excited, in fact, that the other two men in dark suits are astounded and transfixed as the one-time Whittier College benchwarmer gives the former Razorback, who played in the game, a virtual play-by-play account and strategic analysis of that afternoon in Razorback Stadium.
With an amazed Field standing there sweating in the morning sun and hazy smog, the former president goes on and on. "And, oh," he says, "it was such a terrific game, what a shame it was that someone had to lose." As Nixon continues, Field tells himself it's almost as if the former president had watched the game film the night before.
Bobby Field, who as a stunned Arkansas defensive back stood among sniffling teammates in a tiny dressing room at the end of Razorback Stadium when President Richard Nixon told them they should be proud, nods and tells the former president that it indeed was a privilege to be able to say he had been on that field on December 6, 1969.
It was a game Richard Nixon couldn't forget, and he wasn't alone.
Yet there was more to it than four quarters of football, or what Texas coach Darrell Royal dubbed "The Big Shootout." The final regular-season game in the centennial year of college football, it also came in the final days when the faces under the helmets all could be white and the simple question "Why?" could be rank insubordination. Maybe it was why there weren't blacks in the programs sooner, or why workouts sometimes seemed designed to run off the lesser players, or why some of the coaches (and even the trainer!) acted as if a visit to the training room for treatment was a sign of weakness, not sensibility. "No, son, you shoot it up and you play and you will thank us years later." (And many of them did! Again and again in later years, the Hogs and Horns would discuss the football mentality of their playing era, shake their heads, and qualify it with something like: "But that's just how it was then." Rather than applying twenty-first-century standards retroactively and pervasively, anyone with a sense for the era understood exactly what they meant.)
That's just how it was then.
While college football was struggling with its evolution—an evolution progressing at differing paces around the country—the game often served to highlight aspects of national polarization in the late sixties. Many wanted sports to be an escape from turmoil, but by the end of the decade, sports often contributed to the general unrest. The most notorious instance was when sprinters Tommie Smith and John Carlos raised gloved fists during the medal ceremony at the 1968 Olympics, arguing that in fact the nation still wasn't for all its citizens the land of the free, even fourteen years after Brown v. Board of Education and four years after the Civil Rights Act of 1964 and following epic struggles in the civil rights movement. In 1969, campuses were boiling caldrons, primarily because of anti–Vietnam War sentiment, often angrily expressed, but it was linked also to a general sense of disillusionment and cynicism. John Kennedy, Martin Luther King, and Robert Kennedy were dead and still mourned. In Fayetteville that day, and even that week, the football game provided a focal point for that polarization, although the evidence of its significance was mostly ignored at the time—as if the cheers and martial music drowned out everything else happening both in the nationand on a campus struggling with racial antipathy and divisiveness.
One political protest came off that afternoon in Fayetteville. Another, which would have been far more embarrassing to University of Arkansas officials and disruptive to the national television broadcast, was always one trumpet—or tuba or trombone—note away from beginning. That demonstration, even if angry and prolonged, would have been preferable to the racially charged armed conflict that seemed on the verge of breaking out the night before the game in Fayetteville.
One of Nixon's White House successors was in the Razorback Stadium seats that day. Another was in England, wondering how quickly his angstfilled letter could get from Oxford to Fayetteville. A trailblazing young law student who eventually would interrogate a sitting president in the White House anxiously watched the game on television in a University of Arkansas dormitory—after getting out of the hospital that morning.
On the field, two teams of young men—mostly bright, mostly tough, mostly conventionally grateful to accept the perks that came with being the stars on campus, mostly destined for productive postfootball lives, and all of them white—represented a dying football era. One of them was displaying monumental toughness just by playing—although nobody else knew it at the time, and even he didn't truly yet know the magnitude of his courage.
Many of the imminent changes in sports and the society in which the games were played were shamefully overdue. Yet the men on the field that day were the last, and in some ways the best, of how it was.
SCREENPLAY
EXT. UCLA FOOTBALL PRACTICE FIELD, LOS ANGELES – DAY
Sprinklers spray as Bobby FIELD, late-30s, fit, and wearing a gray "UCLA FOOTBALL" T-shirt, takes off at a one-time serious athlete's stay-in-shape pace.
EXT. NORTH EDGE UCLA CAMPUS, LOS ANGELES – DAY

Field approaches the campus entrance and sprints across the street, entering Stone Canyon
Boulevard.

TITLE:
LOS ANGELES
MARCH 30, 1985
MALE RADIO NEWSCASTER (v.o.)
Among the stories we're following on KNX 1070: Reclusive ex-President Richard Nixon is visiting his native Southern California, and he was spotted having dinner at Chasen's last night with Paul Keyes, the producer of the old "Laugh-In" TV series. No word on whether President Nixon reprised his attempt at the show's "Sock It To Me" catchphrase on the show during the 1968 campaign.
FEMALE RADIO NEWSCASTER (v.o.)
John, you have to say that right. It was a question.
MALE RADIO NEWSCASTER (v.o.)
(Bad Nixon imitation)
"Sock it to
me
?"

EXT. STONE CANYON BOULEVARD, BEL AIR – DAY
Field runs up the winding road. Hotel Bel Air is ahead. Three Men in suits walk toward Field. AGENT 1 and AGENT 2 are big and fit. The man in the middle is Richard NIXON at age 72, getting morning exercise. Ten feet short of Nixon, Field puffs out a greeting.
FIELD
Good morning.
EXT. HOTEL BEL AIR PARKING LOT, BEL AIR – DAY
Field has reversed his direction and is coming down the hill. He spots Nixon again, next to the hotel's canopied entrance. Field detours into the parking lot and slows to a walk. As the Agents step forward, he approaches the former president and lifts his right hand in a elf-conscious greeting.
FIELD
Hello, Mr. Nixon … Mr. President. Sorry to bother you, sir, but I decided I should introduce myself. I'm Bobby Field. I'm the football defensive coordinator on Terry Donahue's staff at UCLA.
NIXON
Sure. You had a fine season.
Nixon offers his hand. Field shakes it.
FIELD
Thank you, sir.
(beat)
As a matter of fact, in 1969, I was a defensive back for the University of Arkansas and you, sir, came to our game in Fayetteville against…
NIXON
…Texas!
FIELD
Yes, sir.
A limousine pulls up. The DOORMAN opens the back door. Nixon doesn't move.
NIXON
Terrific game! Numbers one and two in the nation. Texas with James Street running the wishbone offense and throwing that long pass … Arkansas with Bill Montgomery firing away to Chuck Dicus … That fine Texas boy, Freddie Steinmark, visited me later at the White House … I was in the stands, freezing, with Governor Rockefeller and George Bush and Senator Fulbright … and it comes down to the final minutes and it's anyone's game … and …
AGENT 1
Sir, we should go.
NIXON
What a thrilling finish! And when it was over, I went to both dressing rooms.
FIELD
Yes, sir, this is the second time I've shook your hand. This time, I'm not crying.
Agents nudge Nixon into the car. Limousine pulls away. Field watches with the doorman.
DOORMAN
That must have been some football game, him rattling all that off. He had a hard time coming up with his wife's name yesterday.
TITLE COMES UP: HORNS, HOGS, AND NIXON COMING