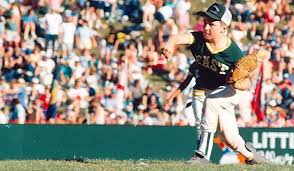 I first spoke with Chris Drury in April 1998, when he was a senior at Boston
University and the Avalanche traveled to Boston to meet the Bruins. He had
just fi nished his college career with a loss to New Hampshire in the NCAA
quarterfinals, and it was a week before he was named the winner of the Hobey
Baker Memorial Award as NCAA hockey's top player. I was surprised that
the team hadn't tried to set up a meeting when the Avalanche was in Boston,
and that was a foreshadowing of how they would take him for granted down
the road. Th e Nordiques drafted him in 1994, after he graduated at Fairfield
Prep in Connecticut, shortly after Lacroix took over as general manager, and
the organization watched and waited through his career at BU.
"I've followed them a lot," Drury told me in Boston. "But it's got more to
do with them being such a great team than the fact that they drafted me."
At the time, despite his accomplishments in college hockey, Drury was
best known for helping lead the team from Trumbull, Connecticut, to the
Little League World Series championship in August 1989. His team's starting
catcher, Drury doubled as a pitcher and was on the mound as Trumbull
shocked the heavily favored team from Taiwan—which we all suspected had
players old enough to legally drink beer in the Williamsport bars—in the
championship game. In the ensuing years, ESPN and other networks carrying
Avalanche games showed the clip of a chunky Drury pitching, spitting, and
jumping in the air after the final out roughly as many times as the stock
footage of Red Wings–Avalanche mayhem at the height of the rivalry.
"We knew we weren't supposed to win," Drury told me. "I mean, we
knew the combined scores of the past few championship games before that
was 100–3 or something like that. Then you just looked at them physically,
and there was no comparison between them and us. None. Nobody gave us a
shot. I think we had looked at the other Americans and we were hoping, 'Gee,
we hope we don't lose that bad.'"
Drury, then five feet one and 126 pounds, knew a worldwide television
audience was watching. In the United States, Al Trautwig and former
Baltimore Orioles pitcher Jim Palmer were the announcers for the game
broadcast on ABC's Wide World of Sports.
"I was pretty excited when I went out to the mound," Drury said. "We
had one other pitcher and we each pitched eight of our sixteen games, but
he had started the fi rst one, so I guess you could say I was our number two
pitcher. Th ere were 40,000 people there, and most of them and most of the
country wanted us to win, and that really got the adrenaline going."
Taiwan led 1–0 after the first inning, but a two-run bottom of the third
gave the Americans a 2–1 lead halfway through the scheduled six-inning game.
"That seemed like a miracle in its own right," Drury said. "People were
happy that they didn't have to leave early because we were getting killed."
Ken Martin, Drury's best friend both then and now, drove in a run
with a single and later hit a home run. Drury also drove in a run and ended
up jumping up and down when he got the final out. He had thrown a five-hitter.
"I think part of it was that in the years before, the U.S. teams had worked it
so they'd have their big, hard-throwing kid ready for the championship game,"
Drury said. "I didn't even have a fastball. I threw curveballs and changeups
and I think that threw them off. Plus, they had been so dominating, I don't
think they were ready for us."
After the upset in the championship game, the Trumbull boys were
invited to the 1989 World Series, and Drury threw out the ceremonial first
pitch before Game 2 in Oakland—two days before the earthquake struck at
Game 3 in San Francisco.
(I was at Candlestick Park when the earthquake struck, and
here's
my
account from the stadium and the next few days, in the aftermath.)
They also appeared on Good Morning America and
at the White House, where President Bush honored them.
So what happened to Drury's baseball career?
"After that, I was playing both baseball, mostly as a catcher, and hockey,"
Drury said. "Actually, I got hurt playing hockey my junior year of high school
and wasn't able to play baseball for a year, so it worked out that the decision
was kind of made for me. I got checked in a hockey game and broke my wrist.
I was able to play hockey with my hand in a cast, but not baseball."