These are adapted excerpts from Horns, Hogs, and Nixon Coming.
The book is about much more than just the December 6, 1969 Texas-Arkansas game, exploring the tumultuous times involved on both campuses and around the country.
This pivots off a visit Bill Clinton made to Arkansas ROTC director, Col. Eugene Holmes, in July 1969 -- or 50 years ago -- as Neil Armstrong was preparing to walk on the moon. Trust me, the connection to the game will become apparent. It begins with Arkansas tailback Bill Burnett.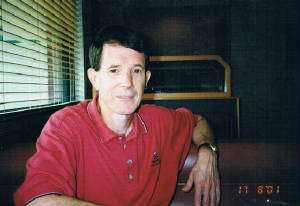 Bill Burnett in Fort Smith, Arkansas, in 2001.
Bill Burnett kept visiting the equipment room, working with the equipment staff to design a metal insert to put in his shoe and protect his toe. That helped, but because it made him feel unbalanced, he had them make a wedge for the shoe on his good foot. He still wasn't able to do serious conditioning work, and as the summer of '69 continued, he still had his doubts. At least he was falling deeper for Linda Holmes, who was going to be a UofA freshman that fall, and he was becoming a regular at her parents' home.
The colonel, Burnett discovered, was all right. He saw life in absolutist terms, involving duty and love of country, and among other things, that meant sending Linda's two brothers off to Vietnam. But when you've suffered barbaric treatment in the clutches of the Japanese on the Bataan Peninsula, and won a chestful of medals, and grieved over the death of a pilot brother in the European Theater, nobody is going to accuse you of insincerity. And if you're Colonel Eugene Holmes, you'll also talk with a Rhodes Scholar asking about an ROTC draft deferment—then keep quiet about it for years, or until the thought of the kid becoming the commander in chief turns your stomach.
The student Holmes helped was Bill Clinton, who, emulating so many young men of that time, was doing his best to manipulate the system however he could to keep from ending up in Vietnam. It could be considered simple cowardice, but more often, it was a combination of fear and confusion and varying degrees of conviction. Were the cause and the South Vietnamese government worthy of American military support? Were they worth fighting—or dying—for?
Like a lot of Americans, Bill Clinton didn't think so.
When he visited Colonel Holmes in Fayetteville, the young Arkansas native had attended Georgetown University, spent one year as a Rhodes Scholar in Oxford, and was a Senator J. William Fulbright protégé. But the selective service system, a maze of exemptions and deferments and corruption and notes and winks and standards that changed from draft board to draft board, and was prone to snare blacks and the poor, was about to snare Clinton. In 1969, he received a draft notice, facing an induction date of July 28. He was desperate to avoid being inducted then—and avoid it without sabotaging his political future.
Holmes and other ROTC officials heard from representatives of Governor Rockefeller and Senator Fulbright, a former Rhodes Scholar himself and one-time UofA president. The ROTC brass was asked to help Arkansas' Rhodes Scholar find an alternative to immediate induction. Nobody was stupid enough to try to order Colonel Holmes to do anything, and they didn't use the words "avoid" and "draft" in the same paragraph—much less the same sentence.
In July, during the week of the launching of the history-making Apollo 11 mission to the moon, when Bill Burnett was showing up almost daily to pick up Linda Holmes and still wondering if he would be able to play football that fall, William Jefferson Clinton knocked on the colonel's front door.
When Clinton was running for president in 1992, Holmes issued a statement Linda helped him write. In the statement, Holmes said the 1969 conversation with Clinton lasted two hours.
(I spoke with Holmes on the phone in 2002 in a conversation arranged by Bill Burnett. As far as I know, it was the only other public statement he made about Clinton.)
By 2002, Holmes understandably is incapable of precise recall, but his disdain remains sharply focused.
"He didn't want to come inside," Holmes says. "He wanted to sit out on the curb. I had just met him. I thought he was just a normal, young American guy who would fulfill his duty to his country if it came up."
They talked about Clinton attending the Arkansas Law School, and, after taking basic training in the summer of 1970, participating in the school's advanced ROTC program. A commitment to the ROTC and three years of active duty would enable Clinton to obtain a 1-D draft deferment in 1969.
On July 17, three days before Neil Armstrong became the first man to walk on the moon, Holmes signed off on Clinton's eventual enrollment in the ROTC program, leading to the Garland County draft board granting Clinton the 1-D deferment. Still unclear over three decades later was whether Clinton ever spelled out to Holmes, that night or over the next two months, that he still might spend the next academic year in Oxford before returning for basic training, the ROTC program, and law school. It's even possible that they never went over the agreement point by point, and that Holmes drew inferences about Clinton's intentions—correct or otherwise.
But Clinton's plans were a work in progress and the issue of whether he would spend the 1969–70 academic year in Oxford as a Rhodes Scholar or at Fayetteville as a law student is unimportant. The crucial point was whether, in order to get the 1-D deferment and void his July 28 induction date, he deliberately misled Holmes about his professed intention to take basic training in the summer of 1970, which was the earliest he could have done so, and then enter the advanced ROTC program as he took law school classes at Arkansas. At one point, Oxford officials weren't expecting him to return for the 1969–70 school year and his friends believed he would be in the Arkansas law school that fall. Other ROTC officials believed Clinton would be on campus by the end of the year. Clinton managed to get his draft notice quashed on the basis of his ROTC and Arkansas law school plans—and those plans changed.
* * *

As the Razorbacks' season began, as Bill Burnett's toe began to come around and Linda Holmes began college, Clinton agonized over his draft status, and the steps he had taken to avoid induction. The Nixon administration was issuing periodic leaks about its plans for draft reform. At one point, as David Maraniss wrote in the 1995 Clinton biography First in His Class, Clinton seemed "safe" if he again exposed himself to the draft because news stories quoted administration sources hinting that because of imminent troop withdrawals, soon only nineteen-year-olds might be draft-eligible and Vietnam service might be voluntary for draftees. In mid-September, in fact, Nixon disclosed the November and December draft calls would be canceled.
At his request, Clinton was reclassified 1-A on October 30, after giving up his 1-D deferment and declaring he wouldn't join the ROTC program. He was back in Oxford, and he participated in the October 15 Moratorium protest against the war outside the United States Embassy in London. Yet soon he knew he wasn't completely "safe": The Nixon administration's draft reform was a push for a draft lottery system, which would apply to all able-bodied men from nineteen through twenty-five, including Rhodes Scholars and college football players. [It turned out that the lottery was scheduled for December 1.]
As all this was happening, a young man who flunked his way out of school and into the draft—as so many had done—was thrilled to be getting a second chance in college [at Arkansas. Vietnam War veteran] Don Donner was thrilled not because he loved academia, but because it meant he was still alive. Some of his buddies weren't so lucky.
[Don Donner, who becomes a significant figure in the narrative, was active in the Vietnam Veterans Against the War and eventually was one of the leaders of the anti-Vietnam war protest on the hill above Razorback Stadium on December 6, 1969 – a protest that was in full view of the Nixon party, yet was ignored by ABC.]
* * *
On Tuesday morning [December 2], at the dining hall, the Razorbacks either discovered or confirmed their draft numbers in the newspapers at breakfast. Tailback Bill Burnett, a notoriously late riser among a group that was required to be at breakfast, sauntered in. Somebody asked what number he was. He didn't know.
"What's your birthday?"
"January 11."
"You're number 329! Oh, man!"

That week, Northwest Arkansas Times photographer Ken Good snapped a picture of Burnett, wearing his letter sweater, helping his girlfriend, Linda Holmes, affix a BEAT TEXAS placard to the back window of her car.
Bill Clinton had just written a letter to her father.
The lottery began at 1:00 A.M. Monday Oxford time, and Clinton's birthdate, August 19, drew number 311. He knew that his gamble—renouncing that 1-D deferment, backing out of his professed plan to take advanced ROTC at Arkansas, and allowing himself to become draft-eligible again—had paid off. His flirtation with the ROTC program enabled him to quash that July 28 induction notice, and now his high draft number was a godsend.
On December 2, Clinton mailed his application to Yale Law School. Clinton also felt the need to explain himself to Colonel Eugene Holmes, so he sat down and wrote a letter to the head of the ROTC program. He dated it December 3, or the Wednesday before The Big Shootout in Fayetteville.
Years later, Holmes said he considered the letter insulting, in part because Clinton thanked him for "saving" him from the draft and admitted that he hadn't been forthcoming about his anti–Vietnam War and antidraft sentiments. Clinton also was startlingly candid about not wanting to poison his future political "viability." Yet Clinton's letter also was a coherent expression of angst many in his generation felt at the time.
Clinton's letter began:
Dear Col. Holmes,
I am sorry to be so long in writing. I know I promised to let you hear from me at least once a month, and from now on you will, but I have had to have some time to think about this first letter. Almost daily since my return to England I have thought about writing, about what I want to and ought to say.
First, I want to thank you, not just for saving me from the draft, but for being so kind and decent to me last summer, when I was as low as I have ever been. One thing which made the bond we struck in good faith somewhat palatable to me was my high regard for you personally. In retrospect, it seems that the admiration might not have been mutual had you known a little more about me, about my political beliefs and activities. At least you might have thought me more fit for the draft than for ROTC. Let me try to explain.
Clinton described his distaste for the war, saying he had worked against it while serving as a student aide to J. William Fulbright's Senate Foreign Relations Committee. He said he had "written and spoken and marched against the war," and claimed to have helped organize American student protests in London, in conjunction with the Moratoriums held after his summer visit with Holmes. He argued that no government "rooted in limited, parliamentary democracy should have the power to make its citizens fight and kill and die in a war they may oppose."
Clinton continued:
I decided to accept the draft in spite of my beliefs for one reason: to maintain my political viability within the system. For years I have worked to prepare myself for a political life characterized by both practical political ability and concern for rapid social progress. . . . When the draft came, despite political convictions, I was having a hard time facing the prospect of fighting a war I had been fighting against, and that is why I contacted you. ROTC was the one way left in which I could possibly, but not positively, avoid both Vietnam and resistance. . . . After I signed the ROTC letter of intent I began to wonder whether the compromise I had made with myself was not more objectionable than the draft would have been, because I had no interest in the ROTC program in itself and all I seemed to have done was to protect myself from physical harm. Also, I began to think I had deceived you, not by lies—there were none—but by failing to tell you all the things I'm writing now.
Clinton told Holmes that he wrote a letter to his draft board on September 12, begging to be drafted, but never mailed the letter because he "didn't see, in the end, how my going in the army and maybe going to Vietnam would achieve anything except a feeling that I had punished myself and gotten what I deserved."
The letter closed with: "Merry Christmas. Sincerely, Bill Clinton."
By the time he opened the letter, Holmes barely had thawed out after attending The Big Shootout.
Through a spokesperson, Bill Clinton declined my interview request for Horns, Hogs, and Nixon Coming. However, he later cited me in his own My Life, as he discussed listening to the game in London on short-wave radio: "The game and its cultural and political contexts have been beautifully chronicled by Terry Frei in his book Horns, Hogs, and Nixon Coming." He also extensively covered his dealings with Colonel Holmes in his book. I assume he believed I was fair in writing about his draft status, and the backdrop was that avoiding service during the Vietnam era was in retrospect a bipartisan phenomenon. It was weird the way this loop played out. My second-ever published story was my piece for the South Eugene Axe when I was a junior in high school, about Vietnam vet John Kerry's appearance on the University of Oregon campus. I featured Donner, who became an attorney, in HHNC. And I communicated with both George H.W. Bush and his friend, Arkansas Congressman John Paul Hammerschmidt -- who defeated Clinton in his first try for public office -- about their remembrances of attending the Big Shootout together.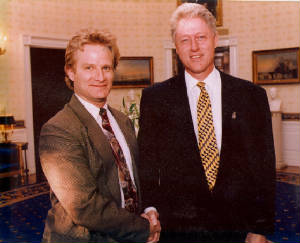 This is me with Bill Clinton at the White House in 1997.
I was part of the traveling party as the Colorado Avalanche
was saluted for winning the Stanley Cup in 1996.