For 2020, scroll down 2018 Archive 2017 Archive
* = Column on WoodyPaige.com
Rest on this site
December 29, 2020
After everything else,
Buffaloes will want
to forget the finish
Jarek Broussard rushed for 82 yards on 27 carries for the Buffs in his home state. (Alamo Bowl.)
Take the season.
Forget the Alamo ... Bowl.
December 29, 2020
No, CFP didn't get
it right. Here's who
shouldn't have been in
In this unfortunately bizarre college football season, the usual ways of conducting off-field business don't apply.
At least they shouldn't.
That's one of the many reasons the College Football Playoff selection committee missed on an opportunity to try something that could become precedent.
Keep reading here on woodypaige.com
December 24, 2020
Dorrell's return to
college game puts him
back in comfort zone
Karl Dorrell speaking to the media on a Zoom call after Thursday's practice.
Last February, when the news broke that Karl Dorrell was Colorado's choice to succeed the inartfully departing Mel Tucker as the Buffaloes' football coach, I was among those at the CU Events Center for the UCLA-CU men's basketball game.
Both that afternoon and as the hiring was made official and Dorrell was re-introduced, the reaction was, well, underwhelming. Gee, hadn't Dorrell -- despite being the Pac-10's co-coach of the year in 2005 -- been fired after five seasons at UCLA? Hadn't he spent the entire time since, with the exception of one problem-filled season as offensive coordinator at Vanderbilt, as an NFL assistant.? How was that a resume to get Buff followers excited?
As usually is the case, that kneejerk reaction involved oversimplification and even misconception.
December 23, 2020
Wouldn't have believed
this was possible: Nuggets,
Avalanche still not on
Evidence of the Comcast-Altitude dispute last season. When it was called the Pepsi Center. And when fans were allowed in.
The Nuggets opened their season against Sacramento Wednesday night.
No fans were allowed in the Peps ... in Ball Arena.
Comcast subscribers in the Denver area -- and that's many of us -- couldn't watch the Altitude television broadcast.
That's perplexing and maddening.
December 21, 2020
How come nobody
at CU seems to be
mad about this?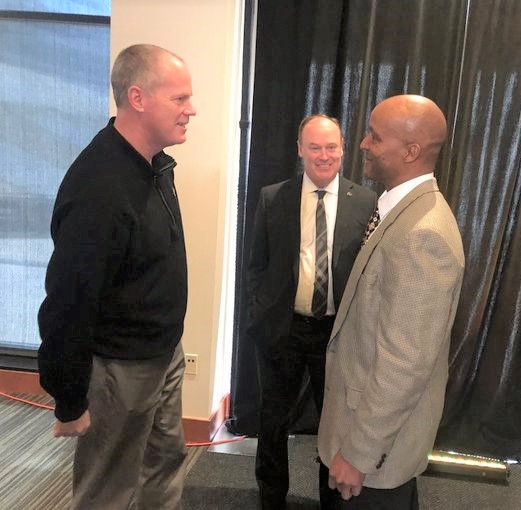 The good old days: At Karl Dorrell's introductory news conference following his hiring as CU's head coach, he chats with basketball coach Tad Boyle as athletic director Rick George watches.
I'll offer this once more, with feeling. The Colorado Buffaloes got a raw deal from the Pac-12 last week. But what perplexes me now is neither athletic director nor coach Karl Dorrell is willing to way that -- at least not publicly -- in the wake of the fiasco.
Or maybe they're just too classy to jump on the chance to do it?
December 13, 2020
Saluting Pierre Lacroix,
who built Colorado's
first champions
December 9, 2020
Here's online version
of my MHS interview
with Joe Sakic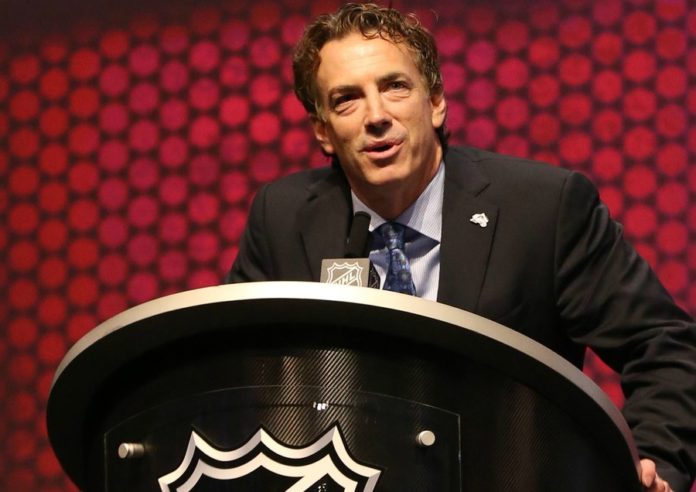 We should have been sipping Scotch and smoking cigars.
December 7, 2020
Yes, Pac-12 championship
game should match
USC vs. Colorado
Jarek Broussard is coming off a 301-yard night against Arizona as CU prepares to face Utah. (Arizona Athletics.)
We all knew the gist of the answer coming from Colorado coach Karl Dorrell. I even mentioned him beeing a only-worry-about-what-you-can-control kind of guy in prefacing my question on the Monday afternoon Zoom session. But I plowed on and asked, anyway.
November 28, 2020
Buffaloes beat a team
from Southern Cal ...
just not that one
Jarek Broussard in the open against the Aztecs. (CU Athletics.)
This isn't the way they were supposed to remain undefeated, but the Colorado Buffaloes will accept it.
November 28, 2020
Longhorns honor
Julius Whittier with
statue at stadium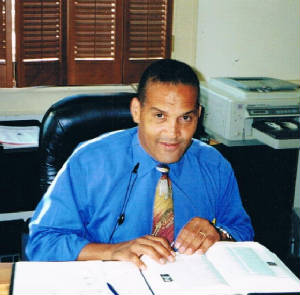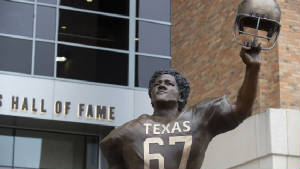 At left, that's Julius Whittier in his Dallas law office in 2001, when I visited and interviewed the Longhorns' first black football letterman for my book Horns, Hogs, and Nixon Coming. At right is the statue of Whittier that UT unveiled outside Darrell K Royal-Memorial Stadium on Friday. It was a fitting honor. I'm proud to have told his story, both in the book and in the excerpt on this site.
November 16
Checking in with Avs:
the Joe Sakic interview,
retro uniforms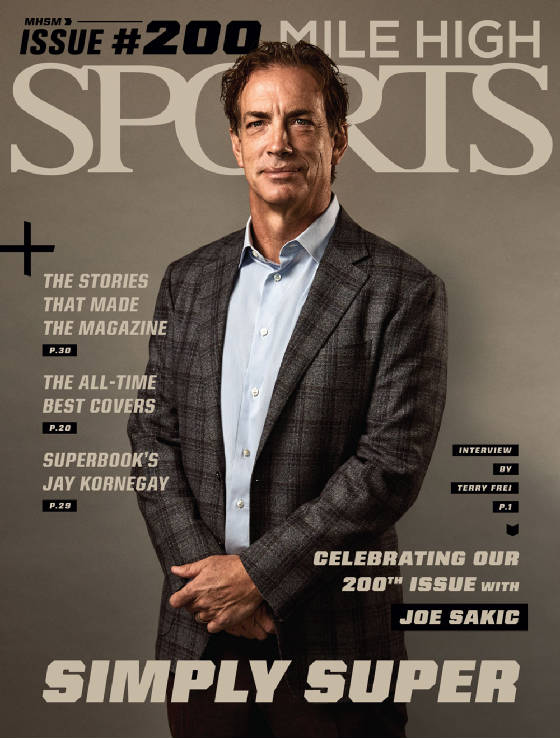 That's the cover of Mile High Sports Magazine's 200th issue.
The lead story is my Playboy Magazine-type, more-conversation-than-interview-style piece on Joe Sakic.
November 14, 2020
Did anybody see this
coming from Buffaloes?
Confession: Me neither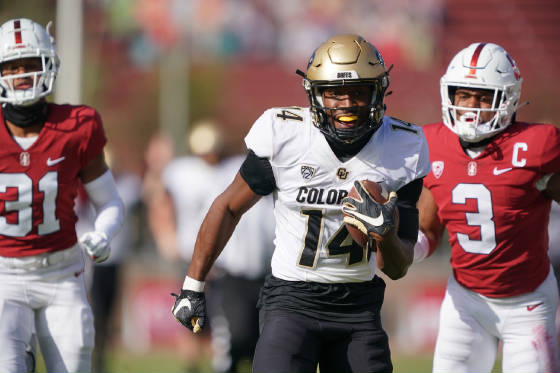 CU's Dmitri Stanley on his 55-yard catch and run with 3:20 left in the first quarter
As I've noted before, going into the season, given the unique circumstances of Karl Dorrell taking over the Colorado program and the unfortunate world around it all, I was convinced three wins in the seven-game schedule for the Buffaloes was going to be the absolute max.
Now that they're 2-0 after the 35-32 win at Stanford Saturday, it's time to amend that.
These guys are pretty good.
November 14, 2020
Iconic "Doonesbury"
turns 50 years old.
Revive the show!
At the 50th anniversary of Doonesbury's comic strip debut, I was reminded that I was among a group that saw the cult favorite, but box-office bomb, Broadway show at the Biltmore Theatre on a Nuggets trip in 1983.
I never figured out why it didn't do better.
OCTOBER, linked here or keep scrolling down
October 30 -- Noyer named Buffs' starting QB
October 12 (moved) -- Noyer returned, after all, for a last shot
October 29 -- CSU's horrific opener
October 26 -- CSU's Marcus McElroy Jr. on his senior season
October 25 -- Happy 50th, Adam Pascal
*October 23 -- The Captain Renault speech no longer works
October 21 -- Scheduling afterthoughts for Rams, Buffs (scroll down)
October 21 -- Chiaverini back where he wants to be
October 20 -- On the CSU-UNM cancellation
October 19 -- In first season under Steve Addazio, CSU will...
October 16 --80th anniversary of weirdly underplayed NFL cut
October 14 -- Addazio peeks from behind the curtain
* October 12 -- NFL needs to go to semi-bubble
October 9 -- Finally, the Buffs kick off pre-season practice
October 9 -- Can the Buffs' collegiate bubble work?
PREVIOUSLY:
October 12, 2020
Noyer might or might not
be CU's starting QB, but
he returned for final shot
Sam Noyer at Monday's CU practice in the indoor facility. (CU Athletics.)
After last season, Sam Noyer explored entering the transfer portal to perhaps end up in another program and immediately be eligible as a graduate student.
He thought Boulder was in the rear view mirror, even if it was a scenic look back as he reached the US 36 Overlook.
October 26, 2020
Marcus McElroy's senior
season at CSU is about
to start ... we think
In the prioritizations involved in the pandemic, the plight of college football players is a minor issue. If it's on the radar at all.
So this story serves as an example, an individual tale among the many.
This isn't the way Colorado State running back Marcus McElroy Jr.'s senior season was supposed to go.
August 15 -- Rather than bash out 1,000 words ...
August 8 -- Appearace on Sandy Clough podcast
August 15, 2020
Here's my commentary
on how the Avalanche
lost Game 3 to Coyotes
Coyotes goalie Darcy Kuemper, then with the Wild.
Rather than bash out 1,000 words ...
One picture.
August 14, 2020
No need for *
for NBA, NHL's
2020 champions
If these 2020 NBA and NHL championships come with asterisks in the historical listings, they simply should be reminders of the unprecedented conditions.
They should not be diminishments of the accomplishments.
Read it here on woodypaige.com
August 8, 2020
Talking Orange Crush,
Valley Highway, team
that changed Denver ...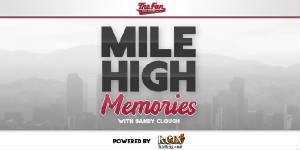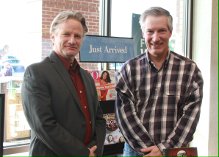 I appear with Sandy Clough (above, with me at a Barnes and Noble book signing) on the new edition of his Mile High Memories podcast. We talk about the 1977 Broncos and my book, '77: Denver, the Broncos and a Coming of Age.
August 5, 2020
Pushing back, squeezing
in sports seasons as good
as CHSAA could hope for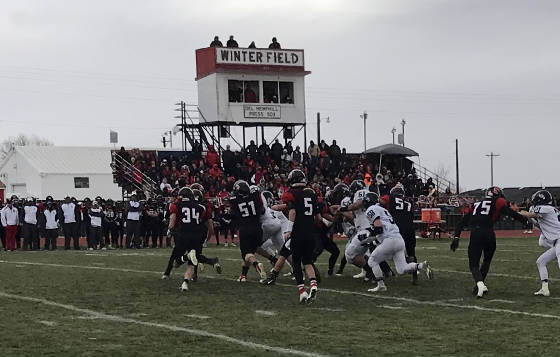 A seven-game high school football season in the spring?
Anybody have a better idea that could fly in the current pandemic?
I don't.
July 30, 2020
CSU's football "pause"
part of mixed messages
on national scene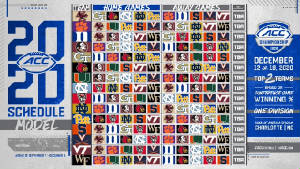 The messages on the college football front this week are glaringly mixed.
Even as the determined-to-play ACC issued a schedule matrix minus specific dates that looked like a board game, including 10 league games and guest member Notre Dame, the word out of Fort Collins was that the Rams would suspend on-campus team activities because of eight positive COVOD-19 tests within the program, among 140 tests, since players returned to campus in June.
July 20
CSU's Joe Parker says
50-percent max crowds on
table for the state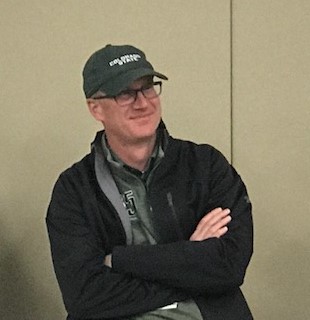 Joe Parker listening to then-CSU quarterback Nick Stevens' availability after a 2018 Rams win in Canvas Stadium.
If this becomes the plan, will the stands be half full or half empty?
July 14, 2020
Will NHL players
still get fighting mad
amid precautions?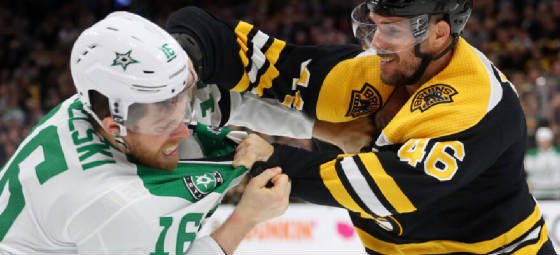 This is the appropriate time to move toward a permanent "banning" of fighting in the NHL.
Keep reading here on WoodyPaige.com
JUNE, LINKED HERE OR KEEP SCROLLING DOWN
June 23, 2020
During down time,
catching up with the
kids' book classics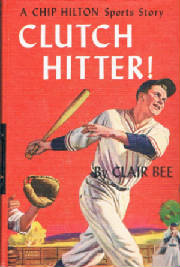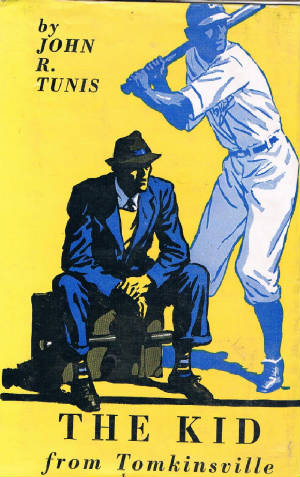 Yeah, I'm a Chip Hilton nut.
May 1 -- "Last Dance" from court level at '92 NBA Finals
May 28, 2020
Greatest minor-league
team since expansion:
1970 Spokane Indians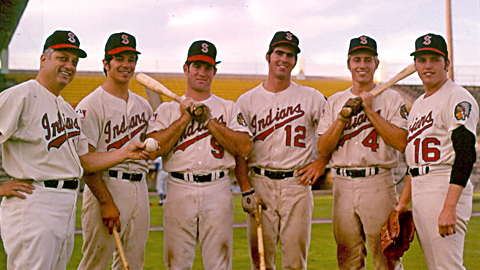 (milb.com)
It's hard to grasp that it was 50 years ago.
It seems like ...
OK, it seems like 50 years ago.
But it's still hard to grasp.
May 20, 2020
CSU's O'Brien, Jackson
trying to add chemistry...
1,100 miles apart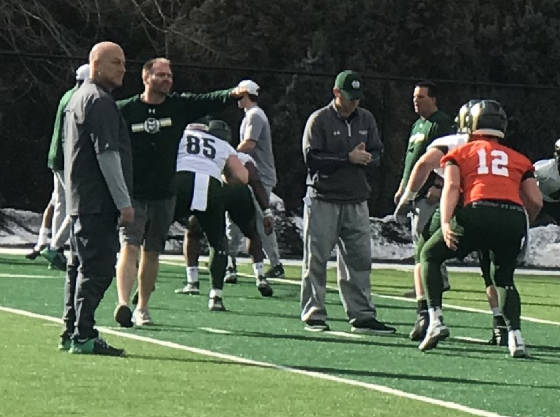 Steve Addazio onfield with Patrick O'Brien (12) at a March 3 spring practice -- one of the seven the Rams got in before the shutdown.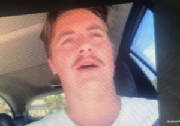 On Wednesday, CSU quarterback Patrick O'Brien was in the San Juan Capistrano area, between Los Angeles and San Diego.
"I went home for spring break," he said on a video conference call with members of the media. "I haven't been able to come back since then. . . I'm ready to come back and play football and see the guys."
O'Brien's top wide receiver, Warren Jackson, is from the Mission Hills area, about 25 miles northwest of L.A.
So in theory, if Jackson were at home with his father, Ron, in the San Fernando Valley, he could have sought to manage to find a way to throw with O'Brien, even through California's stay-at-home order.
Problem is, Jackson is among the CSU players who remain in Fort Collins and are -- to whatever extent possible -- working out on their own together, and not on-campus.
When O'Brien and Jackson separately spoke on the video conference call, they were 1,100 miles apart.
O'Brien had just arrived home from a workout and was speaking from his car, sporting a moustache he grew since the shutdowns halted the Rams' spring practices in mid-March after seven on-field workouts.
Since then, the new Steve Addazio staff has been virtually coaching, with online meetings, as it attempts to put its stamp on the program in the wake of Mike Bobo's departure and Addazio's hiring after his firing at Boston College.
O'Brien mentioned Addazio's "unwavering confidence that we're going to come back and play. Having someone you know, that you can trust that he's giving you the information when it comes in, that's the focal point of the guy who's the leader of the whole team, to keep pushing us to keep working out and to keep getting better."
I spoke with O'Brien after one of those seven spring workouts, and that commentary can be accessed by scrolling down to March 4. He and I talked about how this season, he's going in as the unquestioned starter, as the guy, after taking over the No. 1 role at mid-season following Collin Hill's season-ending knee injury.
With that, comes a swagger and a mandate to lead, and that mostly has been put on hold, unless you can additionally establish leaderhip credentials on a phone or computer screen.
In fact, it seems likely O'Brien returns to Fort Collins soon, especially now that the NCAA Wednesday voted to allow football and basketball programs to resume "voluntary" on-campus organized team activities on June 1.
"It's tough," he said. "You'r not really seeing the guys as much. For me personally, I've just kept up in texting with people, keeping the spirits up and everything. We're not seeing each other face to face. Really the only two I actually have been seeing is the quarterbacks. We turn on our face cameras . . . Once we get back all together, I think we're going to take off right where we left off."
The Rams' quarterback meeting room added a face recently, when the record-setting Garrett Grayson -- now out of pro football after going to New Orleans as a third-round pick in 2015 -- "attended" remotely.
"He was really talking about the journey, how things weren't really going as great at CSU, and they really turned it around," O'Brien said. "They were quite a special team toward the end of his career. Just hearing the things that he did as a leader and just the way that he picked up his play was really inspirational. He talked about Drew Brees, since he was with him with the Saints, the amount of effort and work he puts into every single day to be that great quarterback that he is. He wasn't only talking about himself, but guys that inspired him and I thought it was awesome. I wanted to pick his brain, and I learned a lot from him."
So what has O'Brien been doing in his return to California?
"I've been training three times a week now with a couple of my buddies that play at UofA (Arizona), and we have a trainer come in," he said. "We've been litfting pretty hard that way, and we try and stay in shape and I've been throwing as much as possible as well. I think I'm going to be in good shape when I come in. I think it's whatever you can do to stay healthy and not catch the virus and stuff, but also stay in shape is the mentality I have right now."
Of course, the COVID-19 picture is changing daily, incuding in sports, with the NBA and NHL tiptoeing toward trying to finish their 2019-20 seasons and playoffs using "hub" neutral sites, and with MLB perhaps moving forward with an abbreviated season under a temporary regional realignment -- all minus fans in the seats. College football is the most unsettled of all, including because if California schools don't include on-campus classroom instruction, it's even possible CSU Mountain West brethren from California don't play at all. And any college football this fall also is likely to be played in what amounts to television studio atmospheres. Another idea being kicked around is cutting back to league games or regional games only, which in Colorado would eliminate the CU-CSU Rocky Mountain Showdown to open the season in Canvas Stadium.
"I don't see the California schools holding back other teams from playing, if they're able to," O'Brien said. "Whatever happens happens, I'll obviously be ready to go whenever we play."
I asked him whether playing in empty stadiums would dilute the enouyment of his senior season.
"I think it would take away a lot," he said. "Fans really make college football what it is. The tradition. Not having them there would be terrible. I wouldn't enjoy it. I've njoyed playing football with everybody, but having the fans out there, having the songs. the tradition that comes along with it, it would really add somehting special for the players as well on game day. It definitely would be disappointing if we're not allowed to have them there."
O'Brien said that communication from CSU president Joyce McConnell to students left him with the impression that the school would have on-campus classroom instruction this fall term.
Most likely, they just wouldn't be able to sing "Sweet Caroline" from the Canvas Stadium seats.
Although he hasn't been throwing to Jackson or his other CSU receivers, O'Brien said his chemistry with them shouldn't be a problem. "We kind of already understand each other," he said. "I think in a couple of weeks of practice and everything, I don't know if that would be too big of an issue. We kind of all understand how we work with each other."
Specifically of Jackson, O'Brien said: "Just coming from the spring, building something off what we had during the season, he had over 1,000 yards receiving and I threw for almost 3,000 yards, I think me and him as a combo can really make a splash this season. We have some other playmakers as well, but me and him, we're kind of understand how each other works. He knows what I want him to do and he expects me to throw the ball to his spot, so I think it's a good connection."
A little later, Jackson said, "Patrick's going to be back here soon and we'll have a lot of time to gain all that back. I'm confident that that once we get back, we'll be able to get back to what we've been able to do. . . We talk maybe four times a week regularly. It's not always about football. It's seing how he's doing, how's the family, how's the friends. Just make sure he's safe."
If the CU-CSU game remains the season opener for both teams, it might come after the NCAA allows teams that didn't get in any spring practices to have extra preseason practices to catch up. Under new coach Karl Dorrell, CU didn't have spring ball at all. But at this point, with both programs making the transition to new head coaches, and with Dorrell hired in February after Mel Tucker's bailout, CSU has a bit of an advantage.
"We got seven in, but it's huge," O'Brien said. "We were able to run the scheme that we were putting in against each other wih pads on and actually tackling and all that type of stuff," O'Brien said. "Coming into fall, everyone kind of has a grasp of what the coaches are trying to do in scheme and what plays we're trying to run and all that kind of stuff. We definitely wanted those (additional) eight practices, but we worked with what we got and when we come back, we'll be ready to go."
And, hey, what about that quarantine moustache?
"It turned into a, 'Can I actually do it' type of thing," O'Brien said. "Then I realized quickly that I can't do it. Some things have been posted about it. A lof of fans seem to like it. They don't want me to shave it. We'll see once the seasons rolls around."
My profile commentary on Jackson is here, through scrolling down to October 14. By that stage last season, it was apparent he was going to add to CSU's run of top wide receivers in recent years, joining Rashard Higgins, Michael Gallup and Bisi Johnson. He finished with 77 catches for 1,119 yards and eight touchdowns. Now, his senior season is going to come under bizarre circumstances.
"I would say we're ready right now," Jackson said. "A lot of my teammates and I are out here right now, working out. We work out every day. If need be, if we had to do it tomorrow, I think we could do it. . . I'm supposed to be a leader, also take people with me along the way. We work out every day, we lift weights and run routes and do everything right, go over the playbook.
"As of right now, we're playing on September 5. We're doing everything to get our bodies right, get our minds right, do all the little things ... Just doing everything we can to be ready for September 5."
May 1, 2020
In light of "Last Dance,"
view from court level
at '92 NBA finals
April 25 -- NoCo health care execs' chilling letter to Weld commissioners
* April 24 -- How many of the four first-round QBs will be busts?
* April 22 -- Arizona as an MLB laboratory
April 20 -- Guns and Columbine
April 16 -- Jared Bednar on the waiting game
April 13 -- Pioneers bid farewell to Ian Mitchell
April 9 -- Rams-Ducks: Worst uniform bowl ever
* April 8 -- Time to declare NBA, NHL seasons over
April 2 -- CU AD Rick George on name, image, likeness
April 13, 2020
Time marches on:
DU captain Ian Mitchell
signs with Blackhawks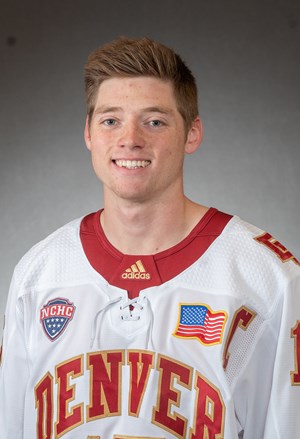 DU Monday announced that defenseman and captain Ian Mitchell, whose junior season ended prematurely last month, has signed a three-year entry level contract with the Chicago Blackhawks.
It was no surpise because the reality of the collective agreement puts NHL teams under pressure to sign draft choices after their junior seasons. As part of the draft-and-watch system, if drafted prospects stay for their senior seasons, they can become unrestricted free agents and sample the market in the summer (specifically, August 15) after the conclusion of their four-season collegiate careers.
That's how the Avalanche lost the rights to DU's Will Butcher, who signed with New Jersey, and signed Harvard's Alexander Kerfoot after the 2016-17 season.
Mitchell, from Calahoo, Alberta, was a second-round pick in 2017.
After the Pioneers lost to UMass and Cale Makar in the Frozen Foour semifinals a year ago, Mitchell quickly annoounced he would return for his junior season, but this was inevitable. The alternatives most likely were staying with DU or spending at least a transition season with the Rockford IceDogs of the American Hockey League.
"I kind of always knew in my heart that I needed to come back another year," Mitchell told me after the Pioneers beat Boston College in October. "I wanted to come back. . . I'm thrilled to be back. Being the captain is a hige responsibility and a huge honor. I'm a guy that the other guys on the team look up to and I don't take that lightly."
The Blackhawks were willing to wait and follow his development for one more season, but the dynamic changed once it was over. The Pioneers, who would have hosted a regional at the Budweiser Event Center in Loveland, would have been a bona fide threat to win the national championship. But before the National Collegiate Hockey Conference playoff series against Nebraska-Omaha, the sports world shut down and Mitchell's junior season -- and, inevitably -- and his DU career were over.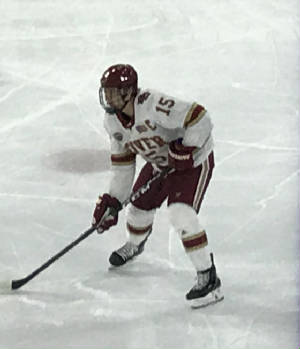 I asked him about his relationship with the Blackhawks.
"They probably call once a week to see how I'm doing, and check in on me," he said. "I'm very thankful that they've been supportive about me coming back here another year. . . I'm just trying to focus on this year. Obviously, I want to sign with the Blackhawks. They've been great to me and I think there's a great opportunity for me there. It's not somehting I'm thinking about too much, but I definitely want to play for the Blackhawks."
In theory, if the NHL decides it's possible to return to the ice and finish the 2019-20 season, Mitchell could join the Blackhawk then. But the Pioneers' season definitely is done. Some of the actual details of his entry-level deal with the Blackhawks will be finalized after the NHL lays out its plans.
"We want to congratulate Ian on his signing with Chicago," Pioneers coach David Carle said in the Pioneers' new release. "We thank him for his three years of service to out university and hockey program. He always did the right thing, but he put others before himself and he was a model citizen for all to follow. We wish him the best of luck on the next chapter of his career."
Mitchell had 10 goals and 22 assists for the Pioneers in the shortened season. He finished his DU career with 18 goals and 71 assists in 116 games.
Now, the next time he plays in Denver, there likely will be thousands in the Pepsi Center rooting for him -- and the Blackhawks.
That's the way the system works.
Here's the Blackhawks' announcement, with links and video.
March 26 -- On the first day of statewide Stay-at-Home
March 10 -- Congrats to Dave Logan, Alex English ...
*March 9 -- The first NCAA tournament
*March 6 -- NHL is right to ponder EBUG changes
March 5 -- In these standings, Denver ranks ...
March 4 -- Patrick O'Brien is No. 1, now on coach No. 4
March 3 -- Steve Addazio is a Stalwart type of guy
March 1 -- Altitude vs. Carriers goes on ... and on
March 30, 2020
Shoutout to arts community
as Castle Rock's Beth Malone
appears on "Stars in the House"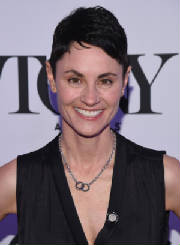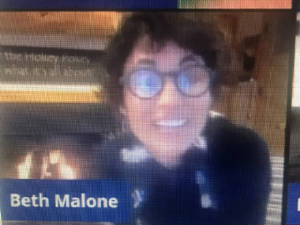 The coronavirus crisis obviously hits the arts community hard, too, with everything shut down.
Broadway star Beth Malone is from Castle Rock and is another product of renowned UNC theater program. Sunday, she was on the twice-daily streamed interview/mini-concert show, "Stars in the House," with others in a virtual cast reunion from Broadway's 2015-16 "Fun Home."
In "Fun Home," Malone played Alison Bechdel and earned a Tony nomination for Best Actress in a Musical.
During the streamed show Sunday, she told how she was about to leave the acting business altogether and go into teaching when he landed the role of Bechdel in a series of serendipitous circumstances.
The "Stars in the House" show, masterminded by Seth Rudetsky and James Wesley, is a fund-raiser for the Actors Fund, which benefits those struggling in arts communities -- not just actors -- from coast to coast. The money raised so far, even with optimistic projections, is a drop in the bucket for what's needed, so it's more about rallying and symbolic support. But it's interesting.
After being made aware of the show, I'm going to go back and sample more from the archived episodes. Monday night's episode is expected to be a "Taxi" cast reunion.
Here's the "Stars in the House" site, listing past and upcoming shows, also with an opportunity to contribute.
The streamed episodes -- with as many as six "windows" showing the scattered hosts and guests -- look to be mostly endearingly free-form, informal and unpretentious. However, the "Fun Home" reunion show also included an appearance by CBS chief medical correspondent Jon LaPook to talk about the coronavirus crisis.
One tip: From what I can tell, "Stars in the House" assumes deep, rather than casual viewer knowledge about shows and perfomers involved, and that mkes sense given the elective nature of watching live or choosing archived episodes. But, as I did, you also can be prepared to do reminder self-education with online research before, after or even while watching.
Other "Fun Home" cast members on the reunion show with Malone included Judy Kuhn, whom I saw as Florence in "Chess" just before it closed its short run in 1988, and Michael Cerveris, whom I saw as the title character in "Tommy." (Going to New York on the job often and getting frequent guest hotel points while following teams have their advantages. Helen and I have gone to New York often on our own, too.)
The New York production of Chess, with its ABBA-written dramatic score (it was no "Mamma Mia"), had a mess of a plot with great music and cast. The reviews are comical to read again: The critics sounded like parents screaming at their children to turn down the music. There have been many attempts to retool, present a coherent plot and get it right, most notably in the 2008 London concert version with Josh Groban, Idina Menzel and Adam Pascal. The show still has a cult following ... including me.
That "Chess" cast included David Carroll, who died too young of AIDS complications a few years later, after he also played one of Jim Bouton's teammates in the sitcom version of "Ball Four."
"Chess," which wasn't close to all high-decibel rock, was too noisy? The Who's "Tommy" opened only two years later. It was fun to hear Cerveris tell a couple of "Tommy" stories during the "Stars in the House" show Sunday.
Sorry, I got off track there. But that's what theater can do -- bring on free association. And I'll continue that as I finish this up.
Late in "Stars in the House" Sunday, Malone -- in front of her fireplace and holding her newly acquired dog, Molly Brown -- performed a number from "The Unsinkable Molly Brown." That revival was shuttered prematurely in New York after passing through the Denver Center Theatre Company and St. Louis Muny.
Malone played -- you guessed it -- Molly Brown.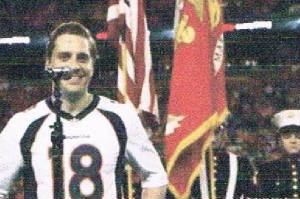 For fun, here's the column I wrote on another UNC-trained Broadway star, Andy Kelso, who went to Eaglecrest High. He and his wife, Sheila, live in New Jersey. For a time, Kelso co-starred in his (off-and-on) long-running lead role in "Kinky Boots" with my fellow Wheat Ridge Farmer, Annaleigh Ashford.
I'm also thinking of other theater performers with Colorado connections, including Lyndie Moe, granddaughter of former Nuggets coach Doug Moe; Joshua Bess (Columbine High) and Zach Kononov (Cherry Creek). At least Moe and Bess now live in New York, the U.S. coronavirus pandemic epicenter.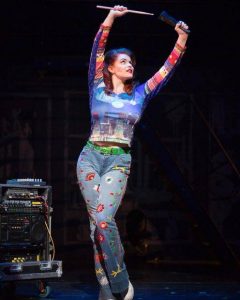 For two years, Moe (right) was Maureen in the 20th anniversary tour of "Rent," which did everything from one-night stands in smaller markets (e.g., Greeley and Cheyenne), to longer runs in major markets (e.g., Denver) both nationally and internationally.
Bess did a stint as Roger in that tour, and he was in Denver with Kononov performing in the "SpongeBob Musical" tour when everything shut down. Theater work is a precarious profession for all but a few the first place, but now...
Also, of course, the arts community is nationwide in scope. Theater companies, including the Denver Center for the Performing Arts Theatre Company, are being affected coast to coast, as are orchestras, dance companies ... and more.
To when the curtains rise again. . . including in those other wings of the arts, such as ballet -- where my sister, Susan, is a former Colorado Ballet principal and now is ballet mistress with the formidable Tulsa Ballet, which also performs around the nation and internationally. (I'll never forget the Oregonian's arts writer, Barry Johnson, telling me the ballet mistress is a "feared personage.") My family has both athletic and musical genes and Susan is the one who got both. I have three left feet and can't carry a tune.
Past Broadway and London shows are available via DVDs or streaming. Other arts are following, including the Tulsa Ballet, which also is offering a live streaming of a recorded show, "Tchaikovsky: The Man Behind the Music."
And "Stars in the House" can provide additional diversion ... for a good cause.
The Public Safety Alert reminder blared on my phone this morning at 7, an hour after Colorado Governor Jared Polis' state-wide, stay-at-home order went into effect.
We're in lockdown in Colorado -- and in many other states -- because of the coronavirus pandemic.
Here, it came on what would have been the Rockies' Opening Day at San Diego.
I was reeling, too, when the waves of developments kept coming, when everything seemingly changed by the minute, when in sports, basketball conference tournaments and then the NCAA tournament were canceled, when the NBA and NHL shut down ... and so much more, I'm not going to try and list it. Also here, after a bizarre Thursday when a Post Malone concert played the Pepsi Center and the touring "SpongeBob Musical" show went on at the Buell Theater, large gatherings became verboten. That tour now is shut down. The ripple effect is such that I could keep going ... to Pepsi Center workers, whether they're employed by Kroenke Sports, Argus Event Staffing or the Legends concessionaire; to others in the arts...and well beyond.
So much of what I read from those attempting to pontificate about the effect on sports had a stunningly short shelf life.
The absence of sports leaves a void, of course. Yet I can do without the widespread "this sure puts sports in perspective" offerings, though, and this is why: It's so far beyond that, the statement is mindless. Plus, I believe -- or at least hope -- that most sports fans, regardless of how passionate, always have understood what sports are. Diversion. Bonding on so many levels. Fun.
I might be in the minority, but the NFL's plowing on in its offseason with free agency seems more tone deaf every day. Hearing that (fill in player's name) got his market value while millions are out of work or face an uncertain future on so many levels, borders on the distasteful.
Mostly, let's hope that sports can return -- because that would signal the coronavirus situation is under control.
The movies "Breaking Away," "Slap Shot," "Bull Durham" and "Bang the Drum Slowly" should get renewed attention and repeated viewings.
Can't we blend red and blue and become purple? (I can hear the chorus, from both ends of the spectrum, of "Yes, but ...")
I understand that many will consider me naive, that it avoids the issue of who is credible and who is not, and of the capability of leadership; and sidesteps the argument that we have a responsibility to speak up -- from either end of the spectrum. Here's my desk-pounding stance: We're all in this together. Let's allow those who know what the hell they're talking about to plot our course -- and everyone else get out of the way.
But I don't need to or want to try to add anything beyond that to that polarized debate. Plenty of others are doing that.
There were several other notable aspects to the announcement, including that Logan's coaching career -- he has won eight state championships at Arvada West, Chatfield, Mullen and now Cherry Creek -- officially isn't entering into it. Neither is his post-NFL playing career work as a broadcaster, including as the Broncos' long-time radio voice. He's being honored for his three-sport career at Wheat Ridge High School, and I was able to watch part of it from roughly 60 feet, 6 inches away.
I also was intrigued to note the other inductees will include Alex English, whom I covered when on the Nuggets beat; quarterback Tim Couch, the one-time No. 1 pick in the NFL draft; and former Colorado Rockies outfielder Matt Holliday, who still has not touched home plate. They're being honored, of course, for their high school careers in South Carolina, Kentucky and Oklahoma, respectively, and more details are in that linked story.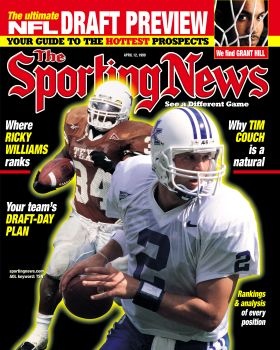 I visited Couch in Lexington as the 1999 draft approached, then traveled to his tiny hometown of Hyden to see where he grew up and document what a phenomenon he had been as a football and basketball star -- including as Kentucky's "Mr. Basketball" -- at Leslie County High School.
I included "A Man for All Seasons" chapter on Logan in the "Colorado Characters" section of one of my books, and here's the letter I wrote to the National High School Hall of Fame to back the Colorado High School Activities Association's nomination of Logan as a possible selection. (He had no idea that I was contributing it.)
Here it is:
Mr. Bruce Howard, director
National High School Hall of Fame
NFHS
PO Box 690
Indianapolis IN 46206
Dear Mr. Howard,
It is my pleasure to endorse Dave Logan for induction into the National High School Hall of Fame. He has made major impact on so many levels, first as perhaps the best all-around high school athlete in Colorado history. He starred in football, basketball and baseball with the Wheat Ridge Farmers. I was his teammate. Beyond that, it comes back to him utilizing his athletic and post-NFL professional success to make continuing contributions to the Colorado high school sports community.
After Dave left Wheat Ridge, he was an All-American wide receiver at the University of Colorado and played nine seasons in the NFL, mostly with the Browns. That's secondary here. Since retiring from the NFL, he has been – all at once – a peerless high school coach, plus a high-profile broadcaster as a talk-show host and the radio voice of the Denver Broncos. The point is, Dave doesn't "need" high school coaching. It needs him. He has so much else to do. Yet it would leave a void, both for himself and his charges, if he walked away. His high school teams have won so many football state championships, I've lost count and will trust others here to recite that record. But it's not about titles; it's about his impact on the young men he has coached. I know what he has meant to them. Combine that with his own high school athletic career, and I believe he would be a fitting choice for the Hall of Fame.
Yes, we go back a long way. My family moved from Eugene, Oregon, to the Denver area in the middle of my junior year, in early 1972. Dave was a year ahead of me at Wheat Ridge, and it was a memorable experience for me to be the other half of the Farmers' Logan & Frei battery that spring. I caught his no-hitter against our biggest rival, the Lakewood Tigers. I watched him hit the longest home run I've ever seen in high school baseball sail across another diamond and over another fence against the Jefferson Saints. I marveled at how competitive he was and how he insisted the rest of us should be, too. And this was his "third" sport! Also, I often note I am grateful to the hard-throwing right-hander for helping me set a state single-season record – for most passed balls.
Dave was done with high school football and basketball by the time I arrived, but I know he was All-State in both sports and, as noted, arguably remains the best all-around high school athlete in Colorado history. And this is the state that boasts former football/basketball star Byron "Whizzer" White and 1936 Olympic decathlon champion Glenn Morris as former multi-sport Colorado high school athletes.
As we played American Legion ball that summer, the Cincinnati Reds drafted Dave, officially as a shortstop. I later covered major-league baseball. I have no doubt that if he had devoted himself to baseball, he would have been a big-league pitcher or outfielder. In addition to football, he also was a basketball standout at CU. The Kansas City Kings claimed him in the NBA draft and the Browns took him in the NFL draft. He joined Dave Winfield and Mickey McCarty as the only athletes drafted in all three major sports.
After that, I followed and at times covered Dave's collegiate and NFL careers. Since his retirement, I've written about him as a high school coach. My father was a coach, at the high school, college and NFL levels. I have seen first-hand the impact high school coaches can make, winning and titles aside. So rather than emphasize trophies, I'll close with this: Dave Logan is a winner, period, and a Hall of Fame man.
Sincerely,
Terry Frei
They'll all be honored in Denver this summer.
February 23, 2020
Here's the official
CU News Release
Announcing Dorrell
From Dave Plati, CU Associate AD/Sports Information Director
Perspective from Neill Woelk of cubuffs.com
February 22, 2020
As CU coaching search
bordered on farcical,
Dorrell is Mr. X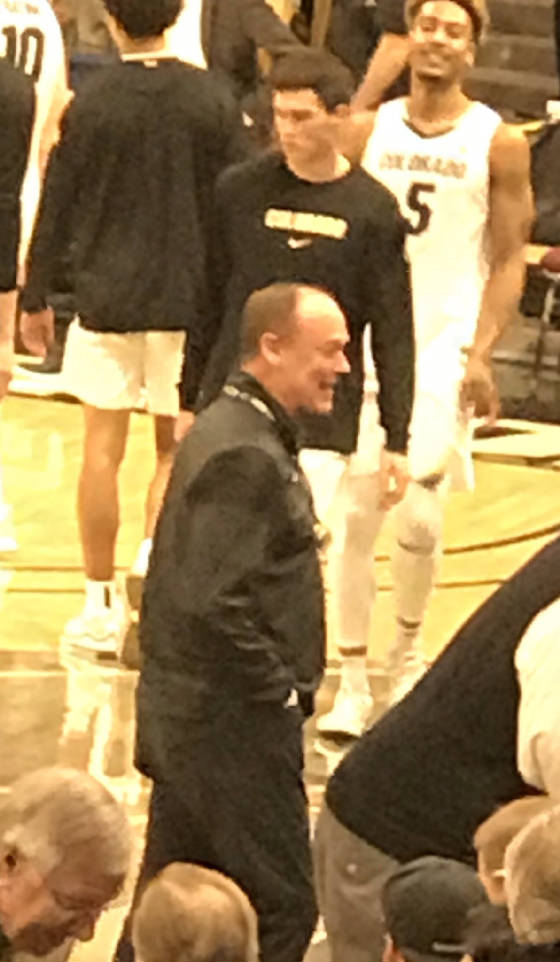 CU athletic director Rick George was at the Buffaloes' sold-out game against UCLA Saturday.
Over the last few days, I'd mentioned there often is a "Mr. X" in coaching searches, whether his identity ever comes out or otherwise.
Mr. X at CU was Dolphins wide receivers coach Karl Dorrell.
On Saturday, Pete Thamel of Yahoo Sports reported that Dorrell -- the former Buffs and Broncos assistant and former UCLA head coach from 2003 to 2007, when the Bruins went 35-27 and played in five bowls -- was the frontrunner for the CU job. Soon, other reports -- most notably from Ian Rapoport of the NFL('s) Network, meaning it came from the NFL grapevine -- pegged it as a definite hire. And the official announcement of Dorrell's hiring came Sunday afternoon, and Dorrell's introductory news conference is set for Monday morning at the Dal Ward Center.
By now, you know those "mentioned" in the past 10 days as athletic director Rick George and associate athletic director Lance Carl conducted the search. As the weekend began, more names were thrown into the mix. I'm not going to list them all again.
Dorrell isn't going to overwhelm CU partisans, but deserves open minds. At least to the point of: Give the guy a chance! Bluntly, some of the absurd lazy kneejerk reaction to Dorrell's hiring is driving me into his camp. He'll have to especially scramble to assemble a staff among those available after a handful of assistants caught the shuttle to East Lansing. How he would do that and who he had in mind obviously was one of the questions, and his answers must have been credible. Darrin Chiaverini played four seasons under assistant coach Karl Dorrell from 1995-98, and it seems certain he will remain as assistant head coach -- and not just for contract reasons. Same with the strategy needed to hang on to those in Mel Tucker's much-touted, but abandoned recruiting class, rather than have many ask for releases from their national letters of intent.
The standard of judgment for Dorrell will involve two things:
1, Was the right choice even among a field limited by the time of year and bizarre circumstances? For example, another former UCLA coach, Jim Mora, also twice had been an NFL head coach, but he apparently couldn't even get a sniff. That's hard to fathom. He was 46-30 as the Bruins' head coach in six seasons. His father, Jim, had been a CU assistant and his son spent time in Boulder in his youth. He wanted the job.
2, Given the pool, would it have been better to stick with Chiaverini through the 2020 season and then either strike the "interim" or open up a conventional, full post-season search? At this point, that's still what I think CU should have done.
By the weekend, it was apparent that Bielema had flunked the "floating" test, that Calhoun was going to stay at Air Force, Eric Bienemy was going to stay with the Chiefs and Steve Sarkisian had worked contact with CU for a raise at Alabama. (Not that there's anything wrong with that.) Names kept getting thrown out and even those trying to be cautious had to include them to be on the safe side. (As I did, too.)
One of the knocks of the hire we're hearing is that, gee, he was fired at UCLA. After five bowl seaons. Yes, that's a low bar, but it's not as if the Bruins were awful under him. UCLA also fired Mora. UCLA also fired Rick Neuheisel. UCLA also fired Bob Toledo, an excellent coach. The Bruins' program benefits from its picturesque campus and its glamor image, but it also plays in a stadium 45 miles from campus -- albeit a great one -- and gets less help from the registrars' office than other Pac-12 public universities. Chip Kelly will be fired at some point, too. And Bruins fans will continue to believe UCLA should be whipping everyone in the league, and that consistent competitiveness isn't enough.
Then there's his firing after a single season (2014) as Derek Mason's offensive quarterbacks coach. Also fired was wide receivers coach Marc Lubick. (Yes, he is.) The Commodores were dreadful that season offensively. They played our quarterbacks, including more than one in eight of the 12 games. You walk in and coach whom you have. I don't pretend to know the specifics -- whether the personnel truly was that bad -- but I know this much: Stuff happens in this game and those who don't get that don't understand coaching and college football. Almost every resume of excellent coaches includes a firing, whether individually or as part of a staff. Ask Nick Saban, fired by Earle Bruce at Ohio State.
Bottom line. I repeat: Give the guy a chance.
February 17, 2020
Come on, folks,
Pac-12 isn't dropping
to Group of 6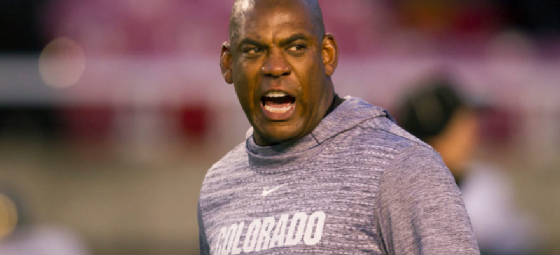 Read it here on WoodyPaige.com
February 11, 2020
Gruuuuub is back
in the groooooove
for Avalanche
Philippe Grubauer was in a good mood after this third shutout of 2019-20.
Is this starting to look like the stretch run from last season?
After Phillippe Grubauer's 34-save shutout Tuesday night in the Avalanche's 3-0 win over Ottawa, the Colorado goalie had allowed only three goals in his last four starts.
It's similar to how it shook down a year ago, when the Avalanche got -- and this is he nice way to put it -- shaky goaltending as it waited for either Grubauer or Semyon Varlamov to step up. And Grubauer finally did, in February and beyond, as the Avalanche secured a playoff spot, knocked off Calgary in the first round and took San Jose to seven games in the Western Conference semifinals.
Now, with a better and deeper team in front of him, the bar is set higher as the Avalanche chases St. Louis for the Central Division lead and No. 1 Western Conference seed and seeks to advance farther in the postseason.
Through 55 games last season, the Avalanche was 22-22-11. After they ran their latest winning streak to five Tuesday night, they were 33-16-6, or a full 17 points ahead of last season's pace. This time, the goaltending has progressed from inconsistent and lackluster to staunch. Grubauer now has a 2.64 goaaaals-against average in 34 games, with a .915 save percentage and an 18-11-4 record. Rookie Pavel Francouz has been solid as his backup.
After the game Tuesday, I asked Grubauer if he felt as if he was back in the groove he was in late last season.
He knew what I was asking, but he first reframed the question for his answer.
The team's the thing.
"I think as a team, yeah, for sure," Grubauer said. "We're making things easy. If you play the way we play, that makes things really easy for me back there, so that's what we need to do."
I politely said, no, I meant his play.
"Yes, I feel good, I'm seeing the puck really well," he said. "Thanks to the guys."
He said the Avalanche's nearly two-week break for its bye week and the All-Star Game helped.
"I think it was really good for us everywhere," he said. "We were a little bit banged up, a couple of injuries," he said. "I wasn't that great leading up to the break, so it's nice to get a couple of days away from hockey and get your mind free and get ready for the last push."
Coach Jared Bednar noted the Avalanche has "tightened the screws on what we're giving up. And our goalies, I think, are playing better. I think it's a combination of both. . . There's a lot of hockey left to be played, right? We will monitor (Grubauer), but we want to keep him going and feeling good about his game. We had a number of games in mind at the beginning of he year for him to play and I think we're still on track to do that."
January 28, 2020
LIV (or so) tips
for making it through
a Super Bowl party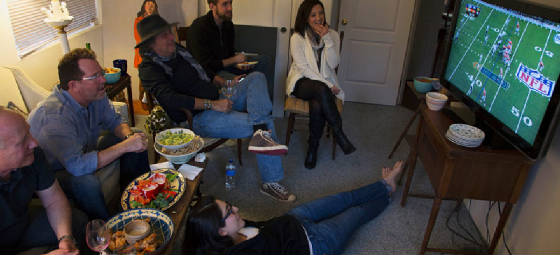 January 25, 2020
Even as Texas walk-on WR,
Kyle Shanahan set his
coaching goals high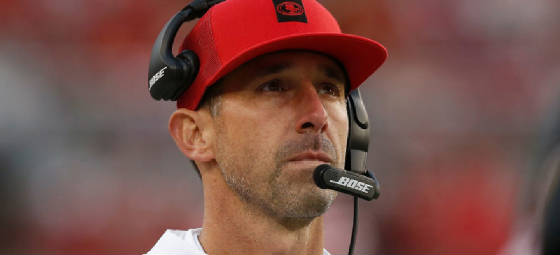 This is about how I came to write a column about a Texas Longhorn walk-on wide receiver named Kyle Shanahan in 2001— and about the eerily foreshadowing column itself, reproduced below.
I had spent much of the summer in Texas and Arkansas, doing face-to-face interviews and research for Horns, Hogs, and Nixon Coming, which would be released in December 2002.
I had a fall week circled on the calendar for a final, supplemental trip to Texas -- when the Colorado Buffaloes met the Longhorns, led by Chris Simms and Cedric Benson, in October.
I went down to Austin early in the week and met with Darrell Royal and James Street to connect dots and finish up.
On game day in Austin, I stayed on the Longhorns' side, writing a sidebar about their reaction to the 41-7 romp over the Buffaloes. I put in some ancillary interview requests, too, for a Monday column on Coloradans playing for the Longhorns.
When the main podium part of the news conference wrapped up, that Texas wide receiver was waiting for me in the back of the room.
Here's the column about Kyle Shanahan and the other Coloradan Longhorns.
Take a look.
Monday, October 22, 2001
Eyes of Texas on
Longhorns from Colorado,
including Kyle Shanahan
AUSTIN, Texas -- Longhorns football players still tend to be Texans, hooked since childhood on the lore of the UT program.
Yet when the Longhorns routed Colorado 41-7 on Saturday, three Texas players considered it more than a decisive victory over a Big 12 opponent.
Guard Tillman Holloway, from Faith Christian Academy in Arvada; tight end Bo Scaife, from Mullen High; and wide receiver Kyle Shanahan from Cherry Creek were able to shake hands with high school friends and opponents in Colorado's white jerseys, then say they wished the Buffaloes good luck the rest of the season.
And they meant it.
Scaife, a sophomore starter who had one catch for 7 yards, is having a solid year after recovering from the serious knee injury that forced him to sit out last season.
Holloway, also a sophomore, started against CU and splits time at left guard with junior Derrick Dockery.
And Shanahan, a walk-on junior who has developed into a valuable backup with the Longhorns, caught three passes for 26 yards.
"I've got a bunch of friends on CU, and it was fun to get the ball there," Shanahan said.
The Longhorns' program is the coaching laboratory for Shanahan, who hopes to follow his father, Mike, into the business. Kyle transferred to Texas from Duke after playing two seasons for the Blue Devils. At one of the nation's elite private universities, the basketball program was in the sports spotlight, and the football team, after a brief renaissance in the mid-1990s, had regressed to its typical losing ways.
"I went there excited, and I thought I could play there right away," Shanahan recalled. "And I did play right away. But I realized football was important to me, and I shouldn't be at a place that made me not happy. We didn't really have that edge. We weren't used to winning and we kind of acted like losers."
A Shanahan accepting losing? It wasn't going to happen. So after catching 13 passes in two seasons for Duke -- his sophomore season lasted three games before he suffered a hamstring injury -- Kyle transferred.
By now, Shanahan's role as a backup in the Longhorns' deep receiving corps probably is significant enough to warrant a scholarship, but it isn't much of an issue.
"I'm playing, and there are a lot of people who really need them," Shanahan said. "I'm happy with my situation."
Shanahan settled on Texas in part because he had met Longhorns coach Mack Brown when he coached at North Carolina, and Kyle and his father decided the Brown staff in effect would be good professors. Kyle is adamant he is a player first, a coach-in-training second, but adds that the Longhorns experience is helping him "see things from another angle. I know not everything in coaching is good, but I really couldn't see myself doing anything else but football. It has become such a part of my life."
Shanahan is insistent that he will begin as a graduate assistant on the college level. Yet he is ambitious; when asked about "the record I dream of breaking" for the Texas media guide, Kyle wrote: "Most Super Bowl victories by an NFL head coach."
"It does help having my dad, but I definitely want to take the long path and make sure I pay my dues," he said.
The 6-foot-3, 300-pound Holloway's path to Texas involved a family connection -- his grandfather, Bud McFadin, was an All-America guard at Texas from 1949-50, and eventually played for the Broncos. Holloway was born in Houston and moved to Colorado when he was 9. His father founded a church in Basalt, then moved the family to the Denver area for a couple of years before going back to Basalt.
Holloway was home-schooled for much of his education, but he played for Faith Christian, a natural tie for the family because his father was instrumental in the founding of Faith Ministries.
An all-state player, Holloway narrowed his choices to Nebraska and Texas. He made an oral commitment to Texas in the fall of 1998.
(Note: The copy of the column I have ends there. I'm pretty sure it was cut for publication. That happened. If I didn't, I should have mentioned that of the starters on the legendary 1969 Longhorns team, only three weren't from Texas, and two of those three were from Colorado. In fact, safety Freddie Steinmark and guard Bobby Mitchell were from Wheat Ridge High ... my alma mater.)
Kyle Shanahan's coaching path:
2003 – UCLA, graduate assistant
2004-05 – Tampa Bay Buccaneers, offensive quality control
2006-09 – Houston Texans, wide receivers, QBs, offensive coordinator
2010-13 – Washington Redskins, offensive coordinator
2014 – Cleveland Browns, offensive coordinator
2015-16 – Atlanta Falcons, offensive coordinator
2017 on – San Francisco 49ers, head coach
ADDITIONAL UPDATES:
-- Colorado rebounded to win the Northern Division and beat the Longhorns 39-37 in the Big 12 championship game. The Longhorns then beat Washington in the Holiday Bowl and finished 11-2. The Buffs lost to Oregon in the Fiesta Bowl and finished 10-3.
-- Bo Scaife, the Longhorns' tight end from Mullen, had a seven-year career with the Titans and Bengals and in retirement started Fresh Ed. Dylan-Palm Trujillo, one of my students at MSU Denver, told Scaife's story here. And here's a UCHealth story on him.
-- Tillman Holloway, the Longhorns' guard from Arvada's Faith Christian Academy, has been involved in several business ventures and is CEO of The Register, a networking club with outlets in Denver, Austin, Atlanta and Nashville.
In the past four days, Nathan MacKinnon Friday was named Mile High Sports Magazine's Sportsperson of the Year for 2019, and then Tuesday also was voted the Colorado Sports Hall of Fame's Male Athlete of the Year.
The timing just worked out that Mile High Sports CEO Nate Lundy and Editor Doug Ottewill posted the story and revealed the choice of MacKinnon as Friday as the Avalanche was set to face the Sidney Crosby-less Penguins Friday night at the Pepsi Center.
Unfortunately, Crosby -- MacKinnon's fellow Halifax Regional Municipality native and close friend -- missed his 27th consecutive game with a lower body injury.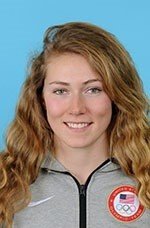 Of course, there were other worthy candidates for the Mile High Sports honor. I mention Mikaela Shiffrin, Nikola Jokic, Nolan Arenado, Trevor Story, and, yes, the late Pat Bowlen. (My thinking there was another posthumous honor.) With hindsight, Troy Calhoun probably should have rated mention.
For the record, I didn't have a vote for the Mile High Sports honor, but I agree with the selection of MacKinnon.
The awarding of separate male and female awards made the choice less difficult than the Mile High Sports choice, given Shiffrin's continuing dominance of the World Cup circuit.
Shiffrin and MacKinnon will be honored at the Hall of Fame's annual awards banquet on April 23 at the Hilton Denver City Center. It's unlikely that MacKinnon will be present, given that's 19 days after the final regular season game, and he most likely will be competing in the Western Conference semifinals with the Avalanche or be playing for Canada in the IIHF World Championships.
Featured will be the six-member 2020 Induction class, selected last October: Lindsey Vonn, Bob Gebhard, Alonzo Babers, George Gwozdecky, Terry Miller and Erin Popovich.
Other award winners selected Tuesday were:
Female college athlete: Lynnzee Brown (University of Denver gymnastics).
Male high school athlete: Cohlton Schultz (Ponderosa wrestling).
Last summer, Cale Makar helped out on a Kroenke Sports and Entertainment community service
day at Denver's Sloan's Lake Park.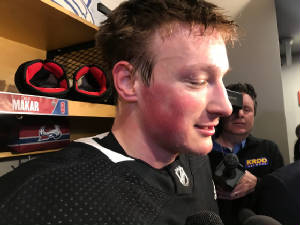 Last spring, Cale Makar and most of the UMass hockey players sitting together at the Pepsi Center Thursday night beat the Denver Pioneers in the Frozen Four semifinals and then fell to Minnesota Duluth in the championship game.
The next day, Makar -- Colorado's first-round pick and No. 4 overall in 2017 -- signed with the Avalanche and within 48 hours of the title-game loss stepped into the Colorado lineup for its Game 3, first-round win over his hometown team, the Calgary Flames. "There was such a quick transition, but at the same time, this is what you're been working for," Makar said Thursday night.
And all -- or at least most -- has gone well since, with Makar one of the early favorites to contend for the Calder Trophy as the NHL's top rookie as the Avalanche head for one of the league's bright-lights circuits, in this case consecutive road games at Newark against New Jersey Saturday, at Uniondale against the New York Islanders Monday and in Manhattan against the Rangers Tuesday.
Although he missed eight games with an upper body injury before returning to the lineup last weekend, Makar -- the Hobey Baker Award winner as NCAA hockey's top player last year -- leads NHL rookie defensemen in points, with 31, and is second only among all rookies to Buffalo's Victor Olofsson, who has 35. Makar has nine goals and 22 assists and is a plus-5.
That was after he had a goal and an assist in the Avalanche's 7-3 rout Thursday night of the defending Stanley Cup champions, the St. Louis Blues.
The Minutemen, who meet DU at Magness Arena Friday and Saturday, eagerly checked in as spectators -- for the record, following NCAA student-athlete regulations when lining up the tickets after the schedule came out -- to watch their former teammate.
"I keep in touch with all those guys," Makar said. "It's pretty awesome they were able to come, that's for sure. . . I didn't get to see them at all, but I love all those guys. I don't want to reminisce in the past, but it was awesome to have them out there and hopefully, I'll be able to see them tonight."
Along the way this season, there have been occasional reminders that as gifted as he is, the transition for young defensemen is the most difficult and even the elite at te position can look befuddled and rushed at times as rookies.
But he's back.
"I don't think I'm out of shape at all," he said. "Tonight, I'm a little bit sick, so I was taking pretty short shifts. It's stuff you deal with. It's getting comfortable again with the pace."
I asked Avalanche coach Jared Bednar if Makar's continuing education in the NHL game.
"I think we saw some excellent play before he was hurt. Now he's already faced some adversity in his pro career. It's the first time he's ever been hurt, and it lasted longer than what he wanted. I think there was some frustration there. I think coming out of that, he was trying to pick off where he was at the start of the year, he was trying to do too much when he shouldn't. . . Now he's starting to build it back.
"I expect that we're going to see real good play here from Cale going down the stretch. He's an important piece to our lineup and he just keeps getting better and better. I think that where he can grow is we get him to a point where he's mature and he gets in better condition. Not that he's not a well-conditioned athlete. He grows into a man and we get him into the area where we can start playing him more and more and get him up in the high 20s."
He means minutes, of course.