On the Colorado Avalanche shakeup
Josh Kroenke takes over, Sakic leapfogs
over Sherman, Lacroix exits into advisor role
May 10, 2013: At the Avalanche news conference in the Pepsi Center

today, I asked Josh Kroenke – the team's new president – if he had

considered completely cleaning house in the NHL team's front office and

starting from scratch. I realized later that some thought I was alluding only

to Greg Sherman staying with the organization. I wasn't. I was asking if

given the unmitigated disaster that was the 2012-13 season, Kroenke

considered getting rid of everyone … and starting over with an entirely new

front office.


"I think all options were considered," Kroenke said. "Whether we liked it or
not, we finished at the bottom of the league this year. So I had to re-
evaluate everything. After seeing the guys this year -- I know we
had some young talent -- like I said, I considered all options. I kept
coming back to the fact that some of these guys have some really
passionate feelings about
these young guys we have acquired. I believe it's
their right to get that moving forward as well, to see this thing through. I
think we're not as near far off as people like to believe and I'm very excited
about the future of this team."


The model of recent years, with president Pierre Lacroix in semi-

retirement and at least in part retaining the title and theoretical overseeing

authority as a favor to ownership, wasn't working.

His philosophies
continued to be influential in the everyday operation, but
he wasn't in
control. He was on the organizational chart, but he wasn't
around much.
He perhaps hoped his son, Eric, would end up climbing
higher in the
organization to add to the Lacroix legacy in this market, but
when Eric
departed his hockey operations role recently, it was clear that
wasn't going
to happen, either.


To his credit, Sherman never pretended to be a "hockey man" and always

portrayed the decision-making process as collaborative. But this team

finished 29th in the 30-team NHL this season for a good reason – it earned

it. It was that bad. It was far from all his fault, but that was part of the

point, too. The structure was as much the problem as the man in charge of

it. The fact that he's sticking around and kept at least the GM title, means

two things: 1, He has been a good soldier; and, 2, Titles aside, he will

return to the numbers-crunching role he had under Lacroix and Francois

Giguere before becoming GM. Greg Sherman is becoming Greg Sherman

again.


Now the puck stops with Sakic. Or at least it should.
The entire news conference was a bit strange in the sense that it all seemed

a strange middle ground and even a massaging of semantics. There was the
concession that this season was a disaster on every level. But it also

seemed to be accompanied by a "just a bit outside" mentality, by continued
faith that this team has a fine, young core and given time ...


And unless Sakic implements many additional major shakeups in the

hockey department, it seems that the same folks involved in the

collaborative decision-making on trades, signings and other hockey moves

the past few years are remaining in place.
That's putting a lot of faith in Sakic, who has had what amounts to a two-
year internship in the front office. Really, can he make that much of a

difference? I don't have a pat answer for that, other than: We'll see. He got

the promotion because of who he is, not because of his track record in
management
. A former player's greatness is part of what he is, part of his

strength, part of his instant credibility. So that's not in any way, shape or

form belittling Sakic, but to pretend that it's certain he's ready for this job

would be absurd.
We don't know.
Sorry, we don't.
He will learn on the job,
he will consult with the holdovers in the
organization, he might bring
in others with whom he is familiar, and he will
be granted a superstar's
grace period. Just how long that will be is
uncertain, though. At some point,
he will be judged as an executive,
not as a former superstar.


Absolutely, this has worked with John Elway at the Broncos, whose
internship, so to speak, was with the Colorado Crush.
Elway has the
advantage of having an economics degree from
Stanford, but also his main
strength has been his football instincts – both
handed down from his father
and honed in his own career. Sakic perhaps
will be every bit as capable
of savvy judgments and magnetic leadership
within the building right out of
the gate.


But he has to prove that. It's up to Sakic and, to an extent, to Josh Kroenke
to prove they're so dynamic, they can make that much of a difference.

Josh Kroenke was asked the obvious, but reasonable questions, about a
basketball-savvy ownership's commitment to hockey, and he said all the
right things. No, they won't just throw money around, but they'll give Sakic
the financial resources he needs.


In my view, he should have been more assertive about it. He acknowledged
the perception is out there, but whiffed on a chance to more assertively try

to shoot it down. This has reached the point where not combating that

image, including with aggressive spending, is a bad business move in the

wake of the skepticism about ownership commitment, the deterioration of

attendance and the shoving of hockey into the background of the general

sports fans' consciousness in this area. (The hockey-first fans still are out

there, even in greater numbers than the glory years of the franchise; they're

just not reaching for their wallets as often.)


A final point about Josh Kroenke: Yes, he's going to spread thin as
president for two different teams – the Nuggets and Avalanche. It's fair to
say his role, especially for the hockey team, will be something between
figurehead and generalissimo. But the important thing now is that someone
with the Kroenke name will be more accountable. I know that sounds
ridiculous to imply that the ownership's power is limited, but in this case,
the basketball-conscious ownership could shrug and essentially leave us
with the impression that while they cared, it was pretty much, well, "Pierre's
baby" – even if some economic restraints were being placed on Lacroix,
who never once complained about them, if that was the case.

Now that accountability will be more direct and emphatic, and that's a good thing.

The most unfortunate aspect of this would be if the perception is that
Lacroix was "forced out," or that the struggles of the past few seasons

somehow diminish his legacy. He wasn't and they shouldn't. What

Kroenke, Sakic and Sherman all said when I asked them about Lacroix's

legacy was sincere. I'm convinced of that. Quibble with moves and results

since the end of the lockout in 2005, but the fact is that Lacroix still

deserves credit for a major role in not just two Stanley Cup championships

and a nearly 10-year run of excellence, but in turning this into a hockey

hotbed – and I mean from the youth level on up.
.
link
Missy Franklin succeeds Glenn Morris as Coloradan Sullivan winner
Yes, the Golden Boy from Colorado was
named top U.S. amateur athlete of 1936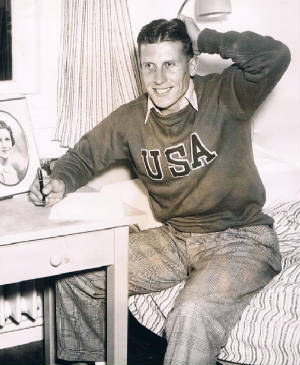 April 16, 2013: Missy Frankin, as expected, was named the winner of the Sullivan Award
as the top amateur athlete in the United States at ceremonies in Orlando tonight,
duplicating the feat of another Olympic hero from Colorado.

Glenn Morris, from tiny Simla, and the former football star and student body president at
Colorado State, won the decathlon (breaking his own world record) at the 1936 Olympics in
Berlin and then was named the Sullivan Award winner for that year. That was a bit of
a surprise, considering Jesse Owens had won four gold medals at Berlin, but I touch on one
of the reasons why he didn't in the following passage from Olympic Affair: Hitler's Siren
and America's Hero. For the record, I did change his wife's name in the book, for reasons I
touch on in the afterword. And this passage follows tumultous behind-the-scenes events that
took place when he returned from Europe, where he had been embroiled in the toxic and
contaminating affair with Leni Riefenstahl.


In December, Glenn was living in New York and working for NBC
Radio as a liaison for sports broadcasts, and preparing to compete
for the New York Athletic Club, when he and Karen were married at
her parents' home in Sterling. She gave up her teaching job and
moved with Glenn to Manhattan.

That month, he also was named the winner of the Sullivan Award
as the nation's top amateur athlete for 1936, and he angered AAU
officials when he reacted honestly, saying to the reporter who
informed him of the news: "If I won, what happened to Owens? I
thought he'd get it." He knew many of the voters were holding it
against Jesse that he quickly had declared himself a professional
after the Games, and Glenn was especially sheepish because he
didn't intend to remain an amateur much longer, either.
link
On Jackie Robinson's older brother, Mack
Silver at Berlin, then on to run at Oregon
April 15, 2013: On this day, the 66th anniversary of Jackie Robinson's
major-league debut with the Brooklyn Dodgers, my reaction to seeing the
movie "42" on Sunday is in The Denver Post and here.
In it, I mentioned the lack of backstory -- probably inevitable, necessary and

understandable -- and brought up that Jackie's older brother, Mack, was an
accomplished athlete as well. I'd been aware of that virtually since childhood
because he was among the athletes honored in the hallway displays in the
University of Oregon's McArthur Court.
I learned more about him in research for Olympic Affair, and he in fact
makes several appearances (and several speeches) in the book. As I
mentioned in the column, Robinson finished second to Jesse Owens in the
200-meter dash. Hitler was watching from his private loge, Leni Riefenstahl
and her crew were filming for the documentary Olympia, and the entire
experience of being in Berlin against the backdrop of Nazi rule left most of
the athletes at least affected. Yes, the Nazis were on their best behavior and
the worst horrors still were in the future, but the drumbeats were sounding at
an Olympics that America came close to boycotting.

After the Games, Mack ended up heading to Eugene and ran track for the
Webfoots. As Jackie would do later, Mack first attended Pasadena City
College before moving on to a four-year school. In researching my upcoming
March 1939: Before the Madness, I acquired a copy of the 1939

Oregana, the U of O yearbook. I quickly realized the deadline for the
book was early, apparently designed to enable the book to be published
and available by the end of the school year. So the details of the
Webfoots' run to the first-ever NCAA basketball title, in 1939, aren't in
the volume and the sections on the spring sports are about the 1938 seasons.

Here's Mack's picture in the Oregana, with the eyebrow-raising caption
included (sorry for the amateur cell phone picture's lack of focus).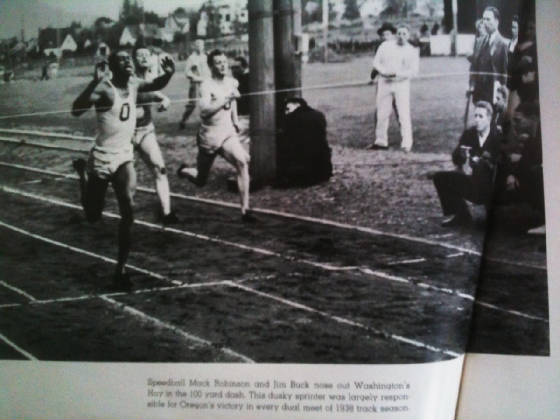 Here's Frank Litsky's New York Times obituary of Mack Robinson. Note
the challenges he faced after leaving Oregon -- challenges and maltreatment
that Jackie Robinson noticed.
link
1942 Badger and WWII Hero Passes Away in Eau Claire, Wisconsin
R.I.P., Dave Donnellan




March 31, 2013: In the picture above, I'm sitting with three members of
the 1942 Wisconsin Badgers in the Borders Bookstore in Eau Claire,
Wisconsin.
From the left, they are: Don Litchfield, a long-time local automobile
dealer; Dave Donnellan, who owned a major real-estate firm; and John
Gallagher, a fixture before retirement as, first, the football coach and
then as principal at Memorial High.
The appearance was tied to the release of Third Down and a War
to Go: The All-American 1942 Wisconsin Badgers. Donnellan's
military head shot is the second from the right in the row of
individual pictures on the cover of the hardback.
Dave Donnellan passed away on March 19. He was 90.
Damn.
This is from Christena T. O'Brien of the Eau Claire
Leader-Telegram.
During the question-and-answer session at Borders that day,
Donnellan's youngest granddaughter raised her hand.

"Were you ever scared?" 8-year-old Monica Hart asked her
grandfather.
The question, from one so young and so wide-eyed, got to me.
Even before the answer.
"All the time," Donnellan said softly. "Every single day."
In World War II, Donald Litchfield was a B-25 pilot and John
Gallagher was a Marine.
After the presentation and signing, Dave Donnellan's wife, Jane,
gently told me her husband had been too modest.
When I interviewed him, Donnellan hadn't told me he won the
Bronze Star.
Over his objections, I got that in the book's second printing and
then in the new paperback version,
Third Down and a War to Go.

I've touched on this before, and I'll say it again: Donnellan's reaction
was so typical, because I had heard something similar
from my own
father, a P-38 fighter pilot in the Pacific, and also a '42 Badger
, and
from so many others in his generation.
Additional coverage of Dave's death in the Eau Claire
Leader-Telegram:

Beloved Eau Claire businessman remembered
Editorial: Donnellan's resume only part of what made him special
Obituary
link
My choices for the top sports movies of all time
Gone With the Wind or
Slap Shot? It's a tossup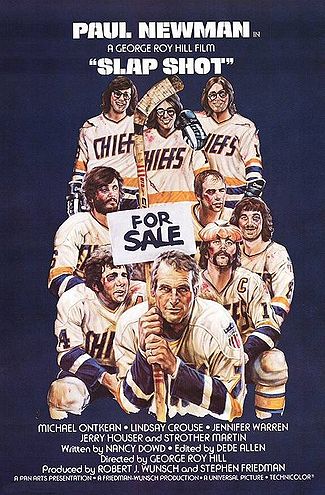 February 22, 2013: The Oscars are Sunday night, and no
sports movies are among the best-picture nominees. That's
not much of a surprise, considering only three sports-themed
movies — Rocky, Chariots of Fire, and Million-Dollar Baby —
ever have been named best picture. But there have been
many great sports films. Here's a list of my own diverse
favorites, plus some other thoughts on the genre.

1, Slap Shot (1977). Nancy Dowd's script about the fictional
Charlestown Chiefs, plus the improvisation by the great cast,
including Paul Newman and Strother Martin, made this the
best of all time. (Her brother, Ned, played Ogie Oglethorpe,
and his experiences in hockey's minor leagues were the
inspiration for her script.) The lame sequels, long delayed,
went straight to DVD.

2, Bang the Drum Slowly (1973). Mark Harris, who wrote
the novel, also wrote the screenplay, and that's always a
good sign. Not even he could quite replicate the sardonic
humor of the novel (or, actually, the series of Henry Wiggen
novels), but it was a terrific movie, starting Robert De Niro,
Michael Moriarty and Vincent Gardenia. The first novel in the
series, The Southpaw, was a better book than Bang The
Drum Slowly, but this almost certainly was a better choice
for a movie.

3, Breaking Away (1979). For a long time, Steve Tesich,
also a novelist, was my favorite writer. And this script was
why. The dry humor and the human touch made this so
much more than a "bike-racing" movie. Plus, those of us
who grew up in college towns recognized the "townie"
elements of the story.


4, Without Limits (1998). I'm a little prejudiced here,
because I was raised in Eugene and revered the film's hero,
distance runner Steve Prefontaine, after watching him
compete as early as when he was attending Marshfield High
School. (He had the attitude of a strong safety and probably
would have scoffed if anyone tried to get him to talk about
the Zen of running.) But his fellow former University of
Oregon runner Kenny Moore wrote the far better of the two
bio-pics about the great and charismatic runner who died
way too young.

5, Raging Bull (1980). De Niro plays Jake LaMotta, Martin
Scorsese directs. A dynamite one-two combination.

6, Bull Durham (1988). I actually found the most-quoted
Kevin Costner speech a bit much, but the rest was terrific. As
a teenager, I worked for and took a few trips with a
minor-league baseball team, and this movie rang true to to
me more because of those experiences than because of what
I encountered later in my occasional stints covering
major-league baseball.

7, Field of Dreams (1989). The rare case in which the
movie, again starring Costner, while a bit sappy, was about
800 times better than the overwrought book (Shoeless Joe).
Not long after the movie came out, while on a trip to cover a
football game at the University of Iowa, I was a complete
tourist, making the side trip to Dyersville and playing catch
with fellow scribe Paul Buker on the actual Field of Dreams
diamond.

8, The Longest Yard (original, 1974). I don't know why it
made me so mad that Hollywood remade this. Well, maybe
it's because so many who saw the remake actually thought it
was good. But it hit on the great marketing strategy of giving
media types bit parts so they'd hype it – and it worked. It
couldn't hold the original's you-know-what.

9, 61* (2001). Hank Steinberg wrote and Billy Crystal
directed the dramatization of Mickey Mantle and Roger Maris'
chase of Babe Ruth's home-run record.

10, Caddyshack (1980). Yeah, I can rattle off the lines, too.
It's also the greatest cable movie ever – you can tune in "x"
minutes in and know exactly where you are.

11, Bad News Bears (original, 1976). Walter Matthau was
brilliant, and so was the script. Unfortunately, the bad
sequels, a mediocre television series and yet another absurd
remake have diminished the franchise.

12, Hoosiers (1986). OK, I liked it, too; I just don't have it
as high on the list as many do.

13, Chariots of Fire (1981). One reason I was prone to like
it was because among the kids sports books I checked out of
the library in grade school were those written by Jackson
Scholz, the ex-Olympic sprinter who was one of the major
figures in this movie.

14, Rocky (1976). The sequels perhaps cause me to
downgrade this, but when it came out, it was a refreshing,
low-budget underdog story of its own. And I always say "wid"
at Pat's.

15, A League of Their Own (1992). It understandably was
billed and sold as a lighthearted comedy; in fact, Penny
Marshall directed an excellent "dramedy."

16, And I'll add the linemates of Miracle (2004) and Miracle
on Ice (1981). The latter, with Karl Malden but not Michael
Douglas, was pretty good for its rushed, television movie
circumstances; and in the former, Kurt Russell was eerily
on-target playing the Herb Brooks role.

The most over-rated sports movie ever: Million-Dollar Baby
(2004), which became an utterly absurd melodrama in its
final half. With all due respect to Clint Eastwood, Morgan
Freeman, and Hilary Swank, this has got to be one of the
worst best-picture winners ever … although some of the
recent winners give it a run for the money.

The frivolous sports movies I could watch (and have watched)
again and again: It Happens Every Spring (1949), with
Ray Milland; Major League (1989); and Damn Yankees (1958).

Best TV sports movie: Brian's Song (original, 1971).


link
A nice essay/review in prestigious Philadelphia Review of Books
Author Jim Blanchet: Olympic
Affair is a "success as both a
stand-alone novel and historical fiction"

February 18, 2013:
The
Philadelphia Review of Books
today
posted
author Jim Blanchet's
essay on, and review of,
Olympic Affair.

Here's the snippet I have posted on
the book's page on this
web site:


"Using his initial information ... and a combination of
deduction and artistic license, Frei fills in the blanks left by
history and tells his own version of the story. The
combination of the diligent research techniques he used to
write his widely acclaimed non-fiction books ... and creativity
makes Olympic Affair a success as both a stand-alone novel
and historical fiction. While simultaneously recalling the
athletic triumphs of participating nations, Frei builds a
tension-filled love affair that steals the show from the most
controversial Olympic Games in history. Combining inference
and invented dialogue, he forces the reader to invest deeply
in even the most outlying of characters, some of which he
pulls from history and personalizes through fiction
(swimmer/actress Eleanor Holm Jarrett, heavyweight
champion/restaurateur Jack Dempsey and even
chancellor/psycho Adolf Hitler). Through the developing plot,
the details of the Olympics and the skewed historical
perspective of men and women living in a pre-WWII
environment, Frei has (maybe unintentionally) created a new
sort of story regarding the US-Nazi saga ... Olympic Affair
offers a chronicle that proves why athletic drama often goes
well beyond the field (or track) of competition. An athletic
controversy, a triumph against adversity or a love affair can
bring together the fanatics, the casual followers and those
who just happen to appreciate a good yarn, no matter the
origin. And who better to tell a story of that kind than an
acclaimed sportswriter and non-fiction author turned
novelist?"

link
Tattered Cover signing and Denver Press Club Book Beat
Making the promotional rounds
in Denver for Olympic Affair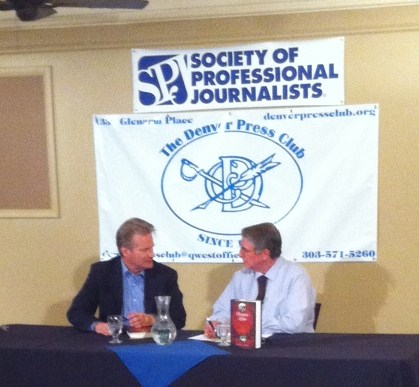 January 25, 2013:
In the past couple of weeks, I made appearances at the
Tattered Cover (East Colfax branch) and at the Denver Press Club to
discuss, answer questions about, and sign
Olympic Affair
.
The January 17 appearance was my sixth at the TC, and it remains a pleasure
and a thrill to speak at one of the nation's top independent bookstores. (One
regret: I haven't ever appeared at Powell's, which I used to haunt when we
lived in the Portland area.) This time, it was a joint "Evening of Historical
Fiction" appearance with Paul Levitt, the University of Colorado professor
emeritus whose terrific and panoramic novel,
Stalin's Barber
, also is
from Taylor Trade. Rick Rinehart of Taylor Trade moderated the discussion.
Paul and I, in fact, both publicly thanked Rick for taking a chance on our
novels -- the first ones Taylor Trade has ever published. Until recently, in
fact, the TT Twitter profile noted that it published books "in all genres except
fiction." Now, it says: "We are the trade divisions of the Rowman &
Littlefield Publishing Group. We've got books in nearly every genre! Sorry,
no zombies, no vampires." Taylor Trade also published the paperback
version of
Horns, Hogs, and Nixon Coming
; plus
'77: Denver, the Broncos
and a Coming of Age
and
Playing Piano in a Brothel
.


After the signing portion of the program, as is the custom, we both signed
extra books for the TC, so autographed copies of both
Olympic Affair
and
Stalin's Barber
are at the East Colfax branch.
Then on January 24, Bruce Goldberg of the
Denver Business Journal
, also
the Denver Press Club's president, interviewed me for a "Book Beat"
program at the DPC. Among those in the audience were fellow authors
Michael Madigan and Dennis Dressman, both former editors and
executives at the
Rocky Mountain News,
and they asked me questions
about my methodology and the book itself
. (
Mike briefly was my boss
when I worked part-time at the
News
when I was in college.)

link
Screenplay versus book: Horns, Hogs, and Nixon Coming example
Same Opening, Different Style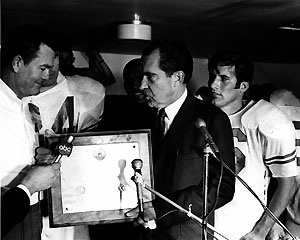 I've found that writing screenplay adaptations of existing works
–
in
these instances, of my own books
–
isn't agonizingly difficult. I've
done it three times and without going into details, all have been in or
are in "the loop." I've had meetings, lunches, cocktails at the Beverly
Wilshire and (appropriately, as you'll see) breakfast at the Hotel
Bel-Air, and a discussion in a Brentwood living room ... all of it. But,
no, you haven't seen any of those films on the screen. Yet.
I'm not saying writing an adaptation is "easy," and it's based in part
on the recognition that any script is a starting point for the director
and it will undergo considerable change in the process. And in
some cases, that's putting it nicely.
From the start, the story is already in my head and the computer,
dialogue or suggested dialogue is in front of me, and the biggest
challenge is avoid trying to simply put the book in screenplay
form. That requires stepping back, taking liberties and
–
most
important
–
deciding what to focus on and what to leave out for a
feature-length film.
Third Down and a War to Go
, the book, was about Wisconsin's 1942
college football team winning the national championship and then
going off to war, with some not coming back. For the screenplay,
I tightened the focus, making it more the story of three of the
Badgers' stars. The opening is different than that of the book, starting
with team captain and two-time All-American end Dave Schreiner
serving as a Marine in the Pacific and receiving a letter and a clipping
informing him that his Badgers co-captain and lifelong buddy, bomber
co-pilot Mark Hoskins, has been shot down on a combat mission and
is feared lost.
The Witch's Season
, the book, was about a team modeled on my
father's Oregon Ducks of the late 1960s, the famous men on his staff
and team, and the tumultuous campus. The screenplay version
compresses the time frame, ending the film right after Nixon's
election, rather than on his Inauguration Day. It leaves part of the
story unresolved, but with enough foreshadowing for viewers to fill in
the blanks themselves.
Horns, Hogs, and Nixon Coming
was the most challenging,
perhaps because it's the one that I could envision being done as
a mini-series rather than a film. For several reasons, I won't give away
the gist of the decisions I made, but I will say that I cut out alot of
the story and back story and made it very specific.
Two of those three are non-fiction books, and I found that the
experience of doing the screenplays
–
taking a true story and
imagining dialogue and scenes
–
helped greatly when writing
Olympic
Affair: Hitler's Siren and America's Hero
, which even more than the
other books is almost what I consider the novelization of a
screenplay. (A screenplay that doesn't exist.)
Now, for an example: Although there are major differences between
the HHNC book and screenplay, I started both with the same 1985
"scene"
–
former Razorbacks defensive back Bobby Field, then an
assistant athletic director at UCLA, encountering former President
Nixon outside the Hotel Bel-Air. After this, of course, the story flashes
back to 1969. As it turns out, of course, while Nixon remembered
quite a bit about the events of December 6, 1969 game in
Fayetteville, there was a lot more going on that he
didn't
know
about.
Here's a link to the opening chapter in the book
–
actually, the
Prologue
–
on the Simon and Schuster web site.
Now here's the opening segment of the screenplay. I can't supply
the popcorn and keep in mind that when I originally wrote it, it was
roughly eight times as long before I was reminded it needed to be
snappy and set the stage for the flashback.
EXT. UCLA FOOTBALL PRACTICE FIELD, LOS ANGELES – DAY
Sprinklers spray as Bobby FIELD, late-30s, fit, and wearing a gray "UCLA FOOTBALL"
T-shirt, takes off at a one-time serious athlete's stay-in-shape pace.
EXT. NORTH EDGE UCLA CAMPUS, LOS ANGELES – DAY

Field approaches the campus entrance and sprints across the street, entering Stone Canyon
Boulevard.

TITLE:
LOS ANGELES
MARCH 30, 1985
MALE RADIO NEWSCASTER (v.o.)
Among the stories we're following on KNX 1070: Reclusive ex-President Richard Nixon is
visiting his native Southern California, and he was spotted having dinner at Chasen's last night
with Paul Keyes, the producer of the old "Laugh-In" TV series. No word on whether
President Nixon reprised his attempt at the show's "Sock It To Me" catchphrase on the
show during the 1968 campaign.
FEMALE RADIO NEWSCASTER (v.o.)
John, you have to say that right. It was a question.
MALE RADIO NEWSCASTER (v.o.)
(Bad Nixon imitation)
"Sock it to
me
?"

EXT. STONE CANYON BOULEVARD, BEL AIR – DAY
Field runs up the winding road. Hotel Bel Air is ahead. Three Men in suits walk toward Field.
AGENT 1 and AGENT 2 are big and fit. The man in the middle is Richard NIXON at age
72, getting morning exercise. Ten feet short of Nixon, Field puffs out a greeting.
FIELD
Good morning.
EXT. HOTEL BEL AIR PARKING LOT, BEL AIR – DAY
Field has reversed his direction and is coming down the hill. He spots Nixon again, next to the
hotel's canopied entrance. Field detours into the parking lot and slows to a walk. As the
Agents step forward, he approaches the former president and lifts his right hand in a
self-conscious greeting.
FIELD
Hello, Mr. Nixon … Mr. President. Sorry to bother you, sir, but I decided I should introduce
myself. I'm Bobby Field. I'm the football defensive coordinator on Terry Donahue's staff at
UCLA.
NIXON
Sure. You had a fine season.
Nixon offers his hand. Field shakes it.
FIELD
Thank you, sir.
(beat)
As a matter of fact, in 1969, I was a defensive back for the University of Arkansas and you,
sir, came to our game in Fayetteville against…
NIXON
…Texas!
FIELD
Yes, sir.
A limousine pulls up. The DOORMAN opens the back door. Nixon doesn't move.
NIXON
Terrific game! Numbers one and two in the nation. Texas with James Street running the
wishbone offense and throwing that long pass … Arkansas with Bill Montgomery firing away
to Chuck Dicus … That fine Texas boy, Freddie Steinmark, visited me later at the White
House … I was in the stands, freezing, with Governor Rockefeller and George Bush and
Senator Fulbright … and it comes down to the final minutes and it's anyone's game … and
…
AGENT 1
Sir, we should go.
NIXON
What a thrilling finish! And when it was over, I went to both dressing rooms.
FIELD
Yes, sir, this is the second time I've shook your hand. This time, I'm not crying.
Agents nudge Nixon into the car. Limousine pulls away. Field watches with the doorman.
DOORMAN
That must have been some football game, him rattling all that off. He had a hard time coming
up with his wife's name yesterday.
TITLE COMES UP: HORNS, HOGS, AND NIXON COMING
link
Adding to my newspaper column on approach of Oregon vs. Colorado
The first game ever in Autzen
Stadium and beyond

October 22, 2012:
With another matchup between my alma
mater (Colorado) and the team my father once coached
(Oregon) coming up on Saturday,
my Monday Denver Post
commentary
is about my reflections on the first game ever
played in Autzen Stadium, plus those quite different times.
The reaction via direct communication has been very
gratifying, and I thank those who have taken the time to
express it. I was even nicely reminded that because of an
ABC strike, Keith Jackson didn't work the game as scheduled
on ABC, and the commentators were former coaches from
each of the two schools -- Len Casanova, in his first season
as the Oregon AD; and Dal Ward, the former coach at
Colorado. The irony is that at each school, the athletic
department offices are named after them -- the Casanova
Center and the Dal Ward Center.
We added the program cover from that game to the online
version of the column, so that's there now. The cover for
the first game ever in Autzen Stadium is an aerial photo of
the Oregon campus, which doesn't include the new
off-campus stadium. In that shot, Hayward Field, the
former football stadium that to this day remains famous
for hosting track and field competition and being in the
background of an "Animal House" scene, is at the top left.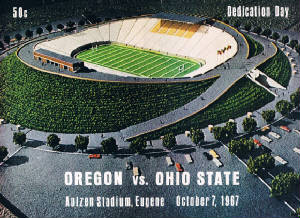 As you can see at the left,
Autzen was on the cover of
the program two weeks
later, when the Ducks
played Ohio State in
the Dedication Game. I
vaguely remember Woody
Hayes marveling that
Autzen was built for only
$2.3 million, and I think he
meant it as a compliment.
To put that in perspective, plugging the figure in on online
calculator yields the fact that it's equal to about $16 million in
2012 dollars. And now Colorado State is talking about
building a very basic on-campus stadium for $246 million,
considered a modest figure today for any stadium. I'm not
an economist, and I didn't take Econ at CU, so I'm sure the
direct comparison that way is misleading, but it's at least
interesting. As alluded to in the column, Autzen was built in
14 months, and it basically was shoving a bunch of earth
together to form a berm and pouring concrete into it to form
a bowl.
Additional points to accompany the column:
-- Below is a page from the '67 Oregon-Colorado program,
and serves to make my point about my father's original
coaching staff and how his World War II service was not
mentioned in his coaching biography. Two of the men below
(John Robinson and George Seifert) were NFL head coaches;
a third (Bruce Snyder) came within one play of winning a
national championship as the head coach at Arizona State.
Two other future NFL head coaches also were involved in my
father's program. Gunther Cunningham was a linebacker on
this '67 team and subsequently joined my father's coaching
staff, first as a graduate assistant. Norv Turner was a Ducks
quarterback, recruited from Martinez, Calif.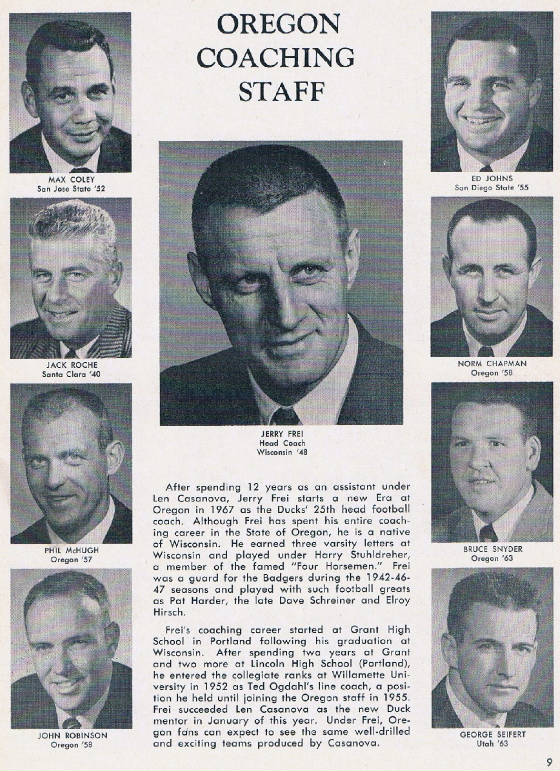 Also unexplained is the "late" reference to Dave
Schreiner. Perhaps readers in the late 1960s still
remembered that he was a two-time All-American end and
Big Ten Conference MVP who was killed in action during the
Battle of Okinawa in World War II. Also, Elroy Hirsch was
better known as "Crazylegs," and the story of that team is
told in
Third Down and a War to Go
.
-- Several mentioned to me in email and Twitter responses
that this column sounded as if it could be a hint of another
book.
In fact, I've already done it.
The Witch's Season
is a
roman a

clef
novel about those Oregon teams, the men involved,
those crazy times on one of the nation's cauldron campuses,
and college football. The actual college football part is quite
timeless, in my view.
link
Out of the blue, a touching email about a WWII pilot and the sweetheart who never forgot him
"Madison Gillaspey
never came back"


September 26, 2012
: Today, I was emailed that picture.
The woman is Irene Smith.
I'll get to her story, but first, the background.
After the 2004 publication of
Third Down and a War to Go: The All-
American 1942 Wisconsin Badgers
, I heard from Arlene Chandler, who had
been the fiancee of Bob Baumann, one of my father's two teammates on that
team who had been killed in the Battle of Okinawa.
Arlene passed along letters and pictures from her time with Bob, when she
was Arlene Bahr, and I included the material in the paperback
Third Down
and a War to Go
. Some of those pictures are on the book's page on this web
site
here
.
Today, I was reminded that Arlene and so many others lost sweethearts
during the war, men with whom they had talked about spending lives
together.
I received the email from Cindy Smith in Montrose, Iowa.
She told me she had come across my November 2000
Denver Post
story that
served as the starting point for
Third Down and a War to Go
. She had been
searching for information on a World War II pilot named Madison Gillaspey.
She started checking after attending an air show in Burlington last week with
her mother, Irene Eck Smith. When it was announced that the third Friday in
September was an annual day of remembrance for American POW and
MIA, Irene was moved to tell her daughter more about losing her fiancee
during World War II.
His name was Madison Gillaspey.
Irene called him "Bud."
Madison and Irene Eck had attended high school together in Argyle, Iowa,
were long-time sweethearts and were engaged to be married. While he was
serving in the Pacific, she took flight lessons and was on the verge of taking a
solo flight as a pilot herself when she got word that Madison was missing in
action and presumed dead. Irene told her daughter that she was heartbroken
and never flew again. Irene eventually met and married Cindy's father,
Wendell Smith, taught grade school for many years, and now is a widow.
My dad was in the 26th Photo Squadron, whose pilots were entrusted with
the one-man P-38 fighters reconfigured into reconaissance planes. They flew
them unarmed, with the cameras replacing guns. They flew alone or in
two-plane missions over Japanese targets, taking pictures in advance of the
bombing runs.
My Dad had told me of how a small group of flyers in the 26th Photo
Squadron, grouped together by the accident of the alphabet, had become
close. Ed Crawford, Jerry Frei, Don Garbarino, Madison Gillaspey and
Ruffin Gray. They made a pact that they all would come through the war
alive. Because of an alphabet cutoff after training Gray ended up with
another unit, but he remained in touch.
In February 1945, my father caught up to his unit, by then at Lingayen in the
Philippines, after a brief leave. He saw one of the P-38s taking off.
Here's what he told me, years later, and this was both in the
Post
article and
in
Third Down and a War to Go
:
"I asked one of our people, 'Who's that?' He said it was Madison Gillaspey,
and he was going on a low-level mission to Ipo Dam. I went over to the
squadron area, to the others' tent. It always was Ed Crawford, Don
Garbarino, Madison Gillaspey, and me. But while I was gone, they'd moved
another pilot in with them when they got to Lingayen, so I was going to go
get a cot and be the fifth."
He didn't have to get the cot.
"Madison Gillaspey never came back," Jerry Frei said. "No one ever knew
what happened, but we lost two planes over Ipo Dam."
My dad remained in touch with the other men in that tent over the years.
They missed Madison Gillaspey.
That at the top is of Irene at the Keokuk (Iowa) National Cemetery,
where Gillaspey has a memorial stone, though his remains never were found.
And here's Argyle, Iowa, High's Class of '41, with both Irene and Madison.
They're in the top row. Irene is the second from left, Madison is at the right.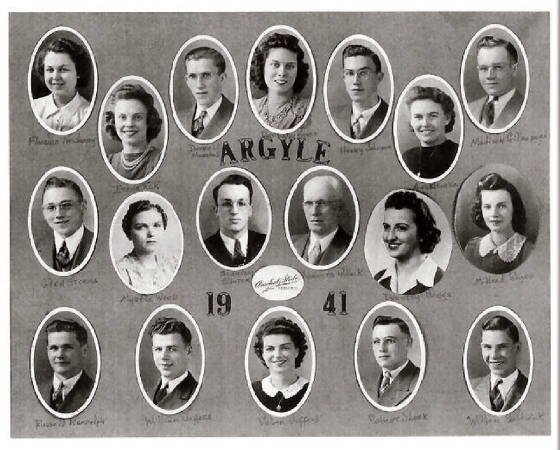 I've mailed Irene a copy of
Third Down and a War to Go
. I hope she likes it.
The tentmates: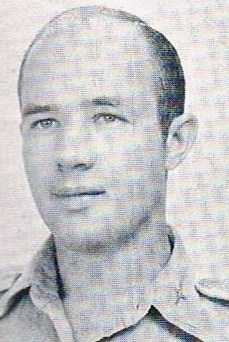 Madison Gillaspey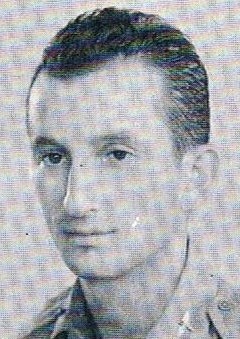 Don Garbarino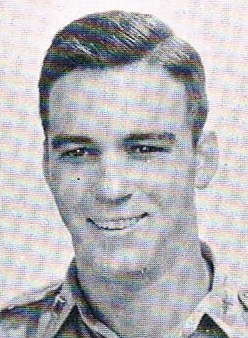 Ed Crawford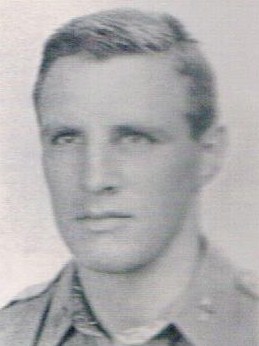 Jerry Frei
link
Leni Riefenstahl and her 1974 appearance in Colorado
As 39th Telluride Film Festival
continues, a look back at the first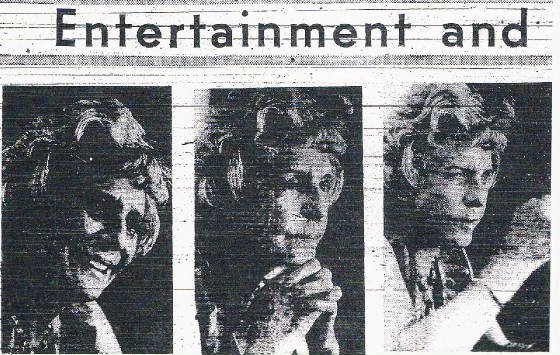 September 3, 2012:
Showing his latest action thriller,
Argo,
Ben Affleck is
the most prominent figure at the 39th Telluride Film Festival, which
concludes today.
Above, that's Leni Riefenstahl in Telluride for the inaugural Festival in 1974.
When the pictures were taken, she was speaking in her hotel room with
Denver Post
film critic Rena Andrews.
Yes, the appearance of the German actress and filmmaker at the event was
controversial and drew protests. She joined director Francis Ford Coppola
and actress Gloria Swanson.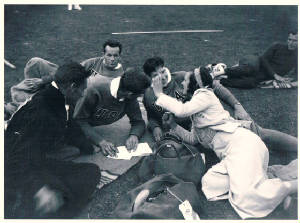 Two of her films were shown at
the showcase evening sessions of
the Festival --
Blue Light
, a 1932
drama Riefenstahl directed and
starred in; and Part 2 of
Olympia
,
a documentary about the 1936
Oympics in Berlin. Nobody
seemed to note in the coverage
that one of the featured athletes in
the Olympics documentary was
Glenn Morris, the American gold
medalist in the decathlon who was
raised in Simla, Colorado; starred in football and served as student body
president at what now is Colorado State University; and represented the
Denver Athletic Club in his post-graduate track and field competition.
It wasn't until 1987 that Riefenstahl admitted in her memoirs that she'd had
an affair with Morris during the filming of
Olympia
, and that at one point,
she even had dreamed of marrying him. Instead, he married his college
girlfriend late in 1936, and Riefenstahl admitted she was crushed and bitter.
Morris had told a few of the affair and near death mused that he should have
stayed in Germany with Riefenstahl after the Olympics.
That's all part of my upcoming fact-based
Olympic Affair: A Novel of
Hitler's Siren and America's Hero.
In fact, the book begins in 1974 with
Riefenstahl's visit to Colorado -- and then flashes back to 1936.
The above is of Riefenstahl with Morris and the other decathlon competitors
during the second day of the 10-event test. Let's just say there does seem to
be a mutual attraction apparent there.
More on Olympic Affair
link
Meeting Neil Armstrong
The rare time I got an autograph:
From the first man to walk on the moon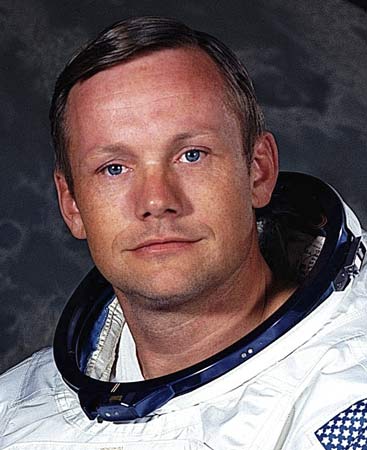 August 24, 2012: I was shaken to hear
of Neil Armstrong's death today.
In 1987, I followed around the first man
to walk on the moon as he played in the
pro-am portion of the Fred Meyer
Challenge, in a group with pro Jay Haas.

That Sunday pro-am preceded the annual
Monday and Tuesday two-man team
tournament in Portland that was
conceived and hosted by PGA Tour
standout Peter Jacobsen. It informally
was called "Peter's Party" and always
followed The International, and
Jacobsen's partner always was Arnold Palmer.
I still vividly remember the reaction to Armstrong that day. Armstrong was
wearing a floppy yellow hat and I kept overhearing comments as members
of the gallery recalled where they were when he took that historic first
step.

At one point, someone asked him what it had been like to hit a golf ball on
the moon. He didn't point out that that was Alan Shepard Jr., instead
saying, "You can hit it right over the horizon!"
He signed a lot of autographs that day. One was for an 11-year-old girl,
Amy Donaldson, who asked him to sign her Disney World souvenir
autograph book. I asked her if she knew who Armstrong was, and she
looked at me as if I were nuts.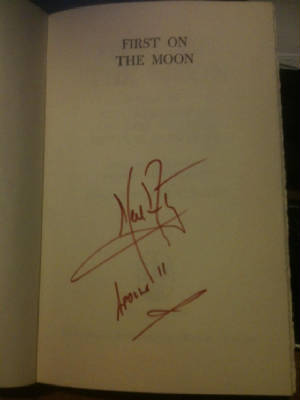 "He's an explorer-hero," she said. "I
look up to him because he — oh, how
do I put it? — he was strong enough to
go up in something he didn't know
would work or not. It would be scary to
me."
That also was a reminder that Armstrong
and John Glenn were the most prominent
examples of the men and women of the
space program, often serving to
represent all the others -- some who gave
their lives.

I asked another fan, Mike Barrett, why he
had shaken Armstrong's hand.
"He's an
American hero," Barrett said. "I think we're lacking American heroes right
now. He embodies what this country is all about. That's why I went out of
my way to shake his hand. I was watching on TV in Eugene and I had
tears in my eyes. Sure, I did. Walter Cronkite was choked up, and so was
I. I'm sure we all were."


When Armstrong stepped onto the moon, July 20, 1969, I was about to
begin the ninth grade. I choked up that day, too.


After Armstrong finished his round in Portland, I approached him and
asked if we could talk for the column I was writing. He nicely said that
with only isolated exceptions, he didn't do interviews, and this wasn't
going to be one of the exceptions.


We spoke casually for a minute or so, and then I did something I'm
embarrassed to admit and have done only this one time in my professional
career when on the job. The statute of limitations has run out on this, I
hope. But I felt like doing it because, yes, he's an American hero.


I got his autograph, too.
link
The Honeymooners Meet The Boys of Summer
Ralph Kramden / Jackie Gleason Statue
at the Port Authority reminds me...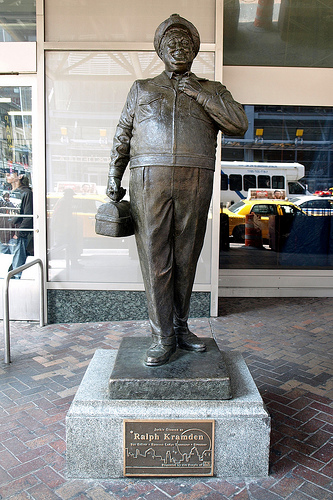 June 22, 2012:
On our
recent trip to New York
, we several times passed by
the Ralph Kramden statue outside the Port Authority.
I resisted the urge to lecture the heathens who had no idea what it represented
and often used its base as a park bench.
Yes, I'm a
Honeymooners
maven, have seen the "Classic 39" many times and
quote such terms as, "Helloooo ball!", "string of poloponies" and "Can it core
a apple?" Jackie Gleason, Art Carney, Audrey Meadows and Joyce Randolph
are among my icons.
And this gives me an excuse to share here the
Honeymooners
"script" I wrote
to honor Gleason when he died in 1987.
It's also included in
Playing Piano in a Brothel.


Mighty Ralph at the Bat
Fatigued after driving the Madison Avenue bus in Manhattan,
RALPH KRAMDEN enters the Chauncey Street apartment in
Brooklyn. At the table are neighbor ED NORTON and TOMMY
MANICOTTI, a member of the Norton-coached stickball team,
plus ALICE KRAMDEN and her mother, MRS. GIBSON. Nobody
notices Ralph's entrance. All are listening intently to the radio on
the kitchen table.
RADIO ANNOUNCER: Mantle hits a bouncer to the mound! Labine
throws to Hodges! The Dodgers have beaten the Yankees 8–5
and the 1955 World Series is tied at two games apiece with Game
5 coming up tomorrow at Ebbets Field!
(All cheer.)


TOMMY: The Dodgers are going to murder 'em, huh, Mr. Norton?


NORTON: Like we say in the sewer, the Yankees are goin' right
down the drain. Too bad you won't be able to see it.


MRS. GIBSON: If my Alice had only married that rich Howard
Morgan, getting tickets would be a snap.


ALICE: Now, mother . . .
RALPH: Leo Durocher was wrong! (He slams his lunch bucket on
the table.) Nice guys don't finish last, they get stuck with mothers-
in-law who look like Sal Maglie!

MRS. GIBSON: My son-in-law, the heavy hitter!
NORTON: The heaviest! If he could hit his weight, he could beat
out
Roy Campanella behind the plate!
ALICE: What do you mean, Ed? The Dodgers do want him behind
the plate. They need a new backstop.
RALPH: Haaaar-dee-har-har-har. (Smiling smugly, he walks slowly
toward the table.) Now, normally, if you were talking about tickets to
a game like this, you'd say, "Fat chance."
NORTON: Then if anybody has a chance, you do!


RALPH: The Yankees' clubhouse man rides my bus. I've told him
about that uranium field I'm going to buy and that the first thing I'm
going to do after I make my millions is to buy a ballclub. He wants
to get on my good side. All I gotta do is go down to the gas station
and call him. Two tickets.
Like that!

(Snaps fingers.)

TOMMY: You mean it, Mr. Kramden?


RALPH: You play hooky and I'll do the rest. (He glares at his
mother-in-law.) I'll show you who has pull.


TOMMY: Gee, thanks, Mr. Kramden!
(An hour later, Alice is alone
with Ralph, who holds his head in his hands.)


RALPH: Alice, I've got a biiiiiig mouth. I'll have to tell Tommy he
has to go to school, after all. Some big shot I am, huh?
ALICE: Why don't you just wait until the morning? Something will
come up.
(It's now the next morning. After a knock, Tommy rushes in
excitedly.
Alice puts her hands on Tommy's shoulders.)


RALPH: (Looking away.) Tommy, there's something I have to tell
you.
ALICE: (Smiling.) Yes, Tommy, Mr. Kramden will let you use the
tickets only if you promise to tell your teacher the truth about why
you're missing school.


TOMMY: Are you kiddin'? She'll be the first one I tell! She loves
Duke
Snider.
(Alice pulls two tickets out of her apron pocket and
hands them to
Tommy. He runs out. Ralph is flabbergasted.)


ALICE: Now, you, Mr. Pull Hitter, don't you ever promise Tommy
anything like that again.


RALPH: But how?
ALICE: I used to babysit. You don't even know this, but one of the
kids was named Sandy. Well, I went over to Sandy's mother's
house last night and explained the situation and she said I could
have two of their tickets. Besides, Mrs. Koufax said, Sandy's only
nineteen and he almost never pitches and he'll have other World
Series—if he ever can learn how to control that fastball of his.


RALPH: (Hugging Alice.) Baby, you're the greatest!
link
Happy 80th birthday to the Orange Crush architect
Friends, family, former players, and
coaching comrades salute Joe Collier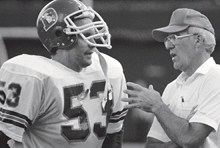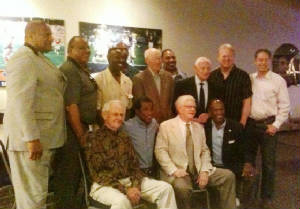 June 17, 2012: Last night at Sports Authority Field at Mile High, former
Broncos defensive coordinator Joe Collier -- the muse behind the famed
"Orange Crush" defense -- was feted in honor of his recent 80th birthday.

It was a private event, organized by his daughters and son Joel, the assistant
general manager of the Kansas City Chiefs, so I'm not going to go into much
detail here. But it was fun to touch bases with several members of the
"Orange Crush" and that coaching staff. I will disclose that among the stories
told were several about how Joel served as a ballboy and air-horn
reveille sounder at the Broncos' training camps.

I made it clear in '77 that I consider Collier -- who served under three head
coaches -- the top defensive coordinator of all time in the NFL, both because
of his cerebral innovation and his savviness in adapting to his personnel.

My amateur cell-phone picture is of the former Broncos players and coaches
at the gathering, and the coaches are Collier (brown coat, light shirt, middle
of the back row), plus Paul Roach, Red Miller and Myrel Moore.

On a personal level, Collier and his wife, Shirley, were good friends with my
late parents, and I know how much they loved Joe as much more than a
coach.

Excerpt from '77: Brain Trust: Joe Collier and Company

link
They say the neon lights are bright
Back from New York: Broadway and Baseball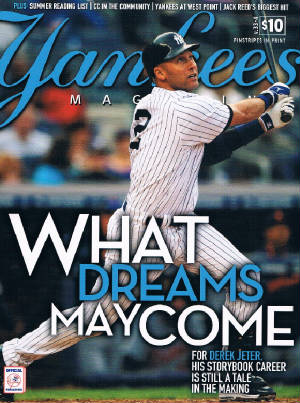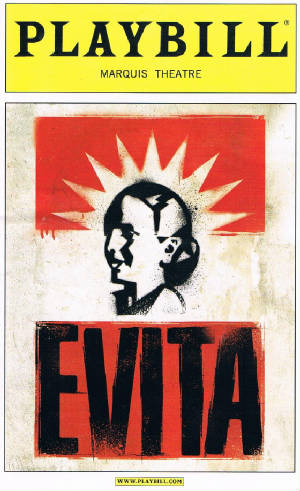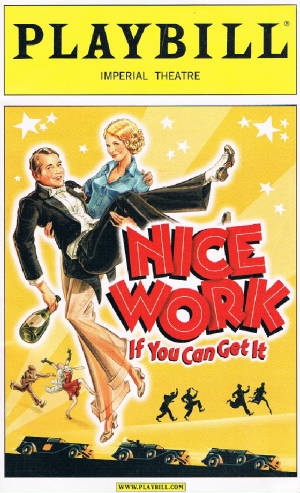 June 9, 2012:
Helen and I are back from a quick trip to New York. I
touched bases in the book world and we also went to two Broadway
musicals --
Nice Work If You Can Get It,
starring Kelli O'Hara and Matthew
Broderick; and
Evita,
with Ricky Martin and Elena Roger -- and the
Yankees-Tampa Bay Rays game.
And I also visited with my New York
resident brother, David, of Westminster Kennel Club renown
.
My interests in theater and music -- mostly rock 'n roll -- are among the many
I have outside of sports.
This previous journal entry about Chess gives
additional background about that.
Earlier this year, in fact, I sought to switch
departments at the
Denver Post
to become John Moore's successor as
theater critic. He accepted a buyout the
Post
offered to veteran staffers late
last year. I hoped to step over to the features department and take John's
place.
I'm from a family with a mix of sports and music genes -- my father was an
athlete and coach, my mother was a musician and teacher -- and my interests
reflect that mix. While several of us Frei children were good athletes in the
conventional sense, the best athlete arguably was the one who didn't go into
sports -- Susan, the ballet star. In contrast, I can't carry a tune, can't dance a
step, and can't even play "Chopsticks" on the piano or anything at all on the
guitar.
Becoming a newspaper theater critic/writer seemed a natural change-of-pace
switch. It didn't work out. Film critic Lisa Kennedy took on the added
responsibility of covering theater, too. She's doing terrific work.
The positive is that I'm being allowed to remain a theater fan in my private
life, rather than taking on the responsibility of serving as a "critic." Frankly,
though, what I was especially looking forward to was writing about the
theater scene and the people in it. I wonder things like: How do understudy
rehearsals work? How did understudy Cassie Okenka learn the role of Glinda
in "Wicked" after joining the first national company in Portland, while being
part of the ensemble, and then be able to go on as Glinda for a few nights
here in Denver? How does a "swing" learn all those roles -- and keep them
straight?
When I reviewed the Bill Cain play
9 Circles
at the Curious Theatre in
Denver, I realized I much rather would have caught up with the show's
impressive young lead, recent Southern Mississippi master's program grad
Sean Scrutchins, and told his story. Who was he? How'd he come to play
this role for Curious? Where was he hoping to go from there? In my sports
career, that's what I've done best, whether the pieces were for
The Sporting
News
or a newspaper about future Hall of Fame players, or about obscure
"hard-boot" horse trainers. Exploring, asking, watching, listening.
Of course, in my sportswriting career, I've often been an acerbic critic, but I
know I would have found it hard to reconcile saying exactly what I thought
of especially smaller local productions, if I found them to be flawed. These
would be people doing what they loved, certainly without financial reward in
mind. The answer, of course, is that expectations, resources and even
audiences have to be taken into consideraton during the evaluations.
While I was pondering the switch, I did a lot of reading. I went through Frank
Rich's collection of his
New York Times
reviews during his 1980-93 tenure as
the paper's theater critic. Mostly, I flipped through the book until I came to a
show I had seen -- in New York or elsewhere. Often, we had seen the same
New York production, and I paid especially close attention to those reviews.
They were longer and more detailed than than most you'll see in a paper,
even the
Times
, nowadays, so that was the first asterisk.
I often agreed with most of what he said about those shows, but disagreed
with his conclusions. Case in point: I
knew
that
Chess
had all those problems,
I nodded when he pointed them out, but I shook my head when he said they
essentially ruined the show. One example of an underappreciated, smart
show we both liked was the wickedly funny Larry Gelbart-Cy Coleman
musical,
City of Angels.
Near the end of the book, he mused that he wondered if he should lower his
standards, pander to the "tourist" mentality, and approach reviewing with a
different mindset. I understood what he was getting at. Yet I believe there's
room for applying high standards while at least loosening the tie, maybe even
having a beer before the show, and conceding that theater doesn't have to be
a work of art to be successful.
Rich championed
Sunday in the Park with George
and even conceded he
took grief for doing so. We saw it, too, and while I'm a huge fan of both
stars, Bernadette Peters and Mandy Patinkin, I am not at all embarrassed to
say I found it sleep-inducing.
When I saw the acclaimed drama
Bengal Tiger at the Baghdad Zoo,
with
Robin Williams, last year in New York, I left the theater thinking it was
the kind of show many critics raved about because smart and influential
critics are
supposed
to like this kind of play. I thought of that later when I
reviewed
9 Circles
last year; I asked myself if I was following that lead in
proclaiming it a strong play and production. I convinced myself my
admiration and praise were earned and genuine.
Yes, I've been accused of arrogance and elitism when discussing my own
writing and offering my views on sports. Here, I'm admitting as a theater
"critic," I would have been what some in that world might have considered
"lowbrow."
It's a matter of expectations, resources and standards. In the 2012 Broadway
of $145 (give or take) ticket prices, you have every right to high
expectations, but what makes me laugh about that is that a lower bowl ticket
at the Pepsi Center for the Colorado Avalanche-Columbus Blue Jackets
hockey game (in November) is about the same price. But there's nothing
wrong with conceding that theater is both entertainment and art, and if a
show works as the former, while falling short of deserving to be considered
the latter, who the hell are we to say it's a failure? I've seen many, many
shows I neither "liked" nor admired, but couldn't resist enjoying. (
Rock of
Ages
is one of the many examples.)
On to the two shows we saw on this trip.
Nice Work if You Can Get It,
with Joe DiPietro's book built around Gershwin
songs, received 10 Tony nominations, but has gotten so-so mainstream
media reviews.
We had seen Kelli O'Hara four times previously -- in Denver in
Jekyll and
Hyde
, and in New York in
Sweet Smell of Success, Pajama Game
, and
South Pacific.
And we'd caught Matthew Broderick in
Brighton Beach
Memoirs, The Producers
and
The Odd Couple
.
O'Hara again was great, and we were more than willing to overlook the
complete implausibility of her character and the story. Broderick was fine,
even holding his own in an extended ballroom-type dance sequence across
furniture with O'Hara, and I respect his continuing loyalty to the theater,
which despite his family background and deep roots in the craft, he really
no longer "needs."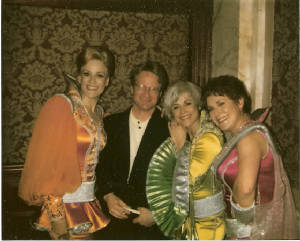 Veterans Michael McGrath and
Judy Kaye were hilarious, and
they're both up for Tonys this
weekend as featured performers
in musicals. (
Update
:
They both
won. That's Kaye at the right in
the picture of me with the
Original Broadway Production
leads of Mamma Mia. I'm
between Karen Mason and
Louise Pitre.)
If McGrath and
Kaye didn't steal the show, they
at least kidnapped it for significant
stretches. Estelle Parsons doesn't make an appearance until late in the
show -- so late, she probably could be having dinner at Bricco at the opening
curtain and still comfortably make her entrance as scheduled to serve to tie
up the loose ends in the formulaic, by-the-numbers but fun, plot.
I'm convinced 99 percent of those at the Imperial had a blast; I'm guessing
the other 1 percent were miserable because they'd had tainted oysters at
dinner...or maybe they were mad that
Chess
didn't even rate a mention in the
"At This Theatre" page in the Playbill. (I've told you, that show's devotees
can be a little wacky.)
With
Nice Work
, I again was reminded that reviews can be helpful in making
choices and provocative afterwards in framing your own
reaction, but shouldn't be swallowed whole. Again, my experience has been
that I agree with quibbles or even outright criticisms from reviewers, but than
catch myself adding, "Yeah ... so?" In this instance, quoth the Times:
"...artificial froth." To which I'm convinced most at the Imperial would have
responded: "Yeah ... so?" Or, "And
Anything Goes
isn't?" You don't need to
check your intellect at the door to react that way.
That's where today's abundance of alternative evaluations -- in blogs and
elsewhere -- can be significant voices, and the dilution of major critics'
make-or-break influence has been a positive. I'd say that even if I made the
move to the critic's role. Nobody should have that much power.

Evita
was a slightly different story, primarily because of the casting of Elena
Roger as the lead in the first New York revival since the original production
ran from 1979-83. I'd seen the show before, but not in New York and not in
many years, and I had forgotten what a strong double-threat ensemble cast it
requires to support the handful of major characters.
Ricky Martin more than held his own as Che. (
Update:
Here, he's featured
in "And the Money Kept Rolling In" on the Tony Awards telecast
.)
Roger is a tiny Argentinian who drew raves playing the role in London in
recent years, and casting a woman from Eva and Juan Peron's homeland for
the role is a brave novelty. Her accent is an intriguing touch, but not
indispensable, especially in a work in which we know the English dialogue is,
in essence, a translation. She's an excellent dancer, too.
The problem here was that, at least on the night we attended the show, her
voice wasn't strong enough for the part and became almost raspy at times as
she snapped off final notes. I can't help but think that most in the audience
were wondering the same thing:
Is she sick? Is her voice worn out?
In a production that has an "alternate" Eva, Christina DeCicco, who plays the
role on Wednesday nights and Saturday afternoons, and two ensemble
members also listed as understudies, there doesn't seem to be much excuse
for a lead going on with a significant voice issue.
Admire her for going on and note that baseball players go on the DL with
muscle tightness, but she either needed to step aside -- or, if that's just the
way she is much of the time, the role in New York deserves better.
Martin and Michael Cerveris (as Peron) and a stunning ensemble -- including
such veterans as Timothy Shew, one of
Les Miserables'
Jean Valjeans; and
Brad Little, who played the Phantom of the Opera in one of the
touring productions that passed through Denver -- can't carry this without an
electric Evita in all eight performances each week.
With that huge stipulation, we enjoyed it, though, and would recommend it.
And, yes, we went to the new Yankee Stadium. It was my first visit there,
and what I heard was exactly right -- at times, you still think you're in the old
place, and that can be both good and bad. It's obvious this was built for the
private boxes and luxury levels. Why not just build a new stadium -- a real
new stadium? (Sacrilege, I know.) We were there on the 67th anniversary of
D-Day and the Yankees indeed honored veterans of the landing. The
problem was, it was about 15 minutes before the first pitch, there couldn't
have been more than 5,000 people in their seats, and it seemed almost
insulting and reduced to the trivial. The Yankees won 4-1, behind pitcher
Ivan Nova, in front of a crowd announced as over 38,000. I have no doubt
that many tickets were sold, but in-house attendance was about 25,000 -- no
more.
I also was reminded that for all the Yankees' nods to tradition -- including
having Bob Sheppard's tape-recorded voice still introduce Derek Jeter, not
having ridiculous "walk-up" music for each hitter, and having the monuments
behind the centerfield wall -- even the game's showcase franchise has caved
in and added much of the usual silly marketing gimmicks so pervasive in
MLB now. Screeching announcers give trivia quizzes to fans between
half-innings, for example. Yes, even the Yankees ...
And the beers are $9.
link
More on activist former NFL player Dave Pear and links
Internet becomes a weapon
in former NFL players' fights
May 14, 2012: My story on activist former NFL player Dave Pear is in the
Sunday Denver Post and here.

Over the years, I've written many pieces about former players' physical
struggles.

One was this 2007 major story on former Broncos. I had tons of material left
over from '77 research. Although the book wasn't published until 2008, I had
made the decision by then that going too deeply into epilogue-type stories on
the book's major figures would make it anticlimactic. So much of my
material wasn't going to make the book, and I also used it as the framework
for new interviews for the story specifically.


Other pieces along those lines:
Tom Glassic's fight for disability
Haven Moses' heartening recovery from a stroke

As noted in the Sunday story, Pear's blog — here — has become a very
influential voice among former NFL players. The recent emphasis on
concussions has added elements to the arguments in the ongoing debate over
how much responsibility the league should assume, and the extent of
financial support it should provide, for former players suffering from physical
problems. Pear's major point long has been that the league is in denial about
the toll taken on former players and that disability benefits through the
league's Bell-Rozelle retirement plan are too difficult to obtain and/or
inadequate.

The activists and influential also include former Baltimore Colts and San
Diego Chargers center Bruce Laird and the Fourth and Goal Foundation.

Web site: www.FourthAndGoalUnites.com
Blog: http://nflretirees.blogspot.com

Here's more from Dave Pear (pictured is his 1976 bio from the Tampa Bay
Buccaneers' inaugural media guide):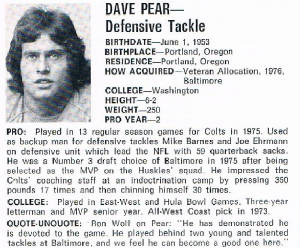 In his fifth NFL season, with the
Raiders in 1979, Pear suffered a
neck injury when tackling Seattle
running back Sherman Smith.

"It was just another tackle," Pear
said. "It popped a disc out of my
neck. I thought I could shake it
off, but it progressively got
worse."

Without undergoing surgery, he
played through the 1980 season,
and the Raiders' victory over Philadelphia in Super Bowl XV was his final
game.

"It looks like I went out on top, with the Super Bowl, but that last season, I
didn't play alot," Pear said. "I spent time going to the hospital, getting shots
in my neck. The Raiders were doing just enough to say, 'Well, we tried.'"

He said that included being given pain pills and other medications.

"During the Super Bowl, the person who replaced me got knocked out and I
got to go in for about 20 plays or so and I was able to make a couple of big
plays," Pear said. "After the game, (Al) Davis said about how this was the
Raiders' finest moment and all this because we were the first wild card team
to win the Super Bowl. Well, when the training camp started the next season,
and by then it was two years of this, I was in pain 24 hours a day. So they
released me and I went and saw Al Davis in his office.

"I said, 'Al, look, I broke my neck two years ago, I played hurt for you for
two years.' I said, 'I even helped put some diamonds in the ring you're
wearing.' I said, 'You can't turn you back on me, Al.' He looked at me and
told me he wasn't going to take responsibility for my neck injury and so on
my own I had to go to the Stanford Medical Center and had a doctor drill
this bulging disc out of my neck with a finger drill. And then I had the disc
fused a couple of years later."

Pear added: "I talked about Al every time I could, explaining who the real Al
Davis was. "Al wanted to portray himself as an advocate for the players. The
reality was, he was an advocate for some players. He was selective."

Pear has been at war with both the league and the NFLPA, both under Gene
Upshaw and current leader DeMaurice Smith.

"You're out there thinking, 'It's only me,'" he said. "You call up your union
back then and they were rude to you. They screamed at you or they
wouldn't answer the phone and they acted like you were lookign for charity.
All you were looking for was information. What really changed this whole
thing was the internet. We started talking to each other, comparing stories.
And that's brought us to where we are right now. The last thing the NFL
ever wanted was for these concussions to become something they had to
admit was an issue. This is a league that wouldn't even acknowledge that
people with broken necks and backs were disabled."

It should be noted that Davis, who passed away last October, isn't around to
respond, but this isn't the first time Pear has criticized Davis, and the
long-time Raiders' owner declined comment for other stories about Pear in
recent years. And to be fair, the disability issue is complicated, and so are the
going-forward debates over the toll of the game. But I believe this is
indisputable: The outspoken advocates for former players, including Pear and
Laird, deserve to be heard.
link