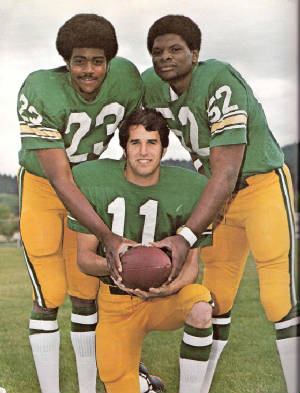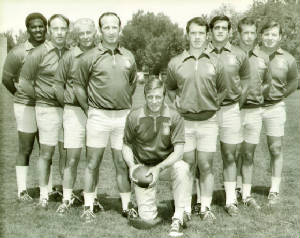 NOTE: At this point of the 2009 roman a clef novel The Witch's Season, based on the University of Oregon and the Oregon Ducks, the Cascade Fishermen are preparing for a mid-season 1968 game against the Air Force Falcons. Fisherman linebacker Jake Powell is the leader of the Campus Coalition Against the War and long has been involved in protests on campus, including a heated demonstration against allowing military recruiters to set up in the Student Union. Continuing in that role, Powell is going to be part of major protests against the Vietnam war -- and the Air Force's role in it -- all game week, including on gameday. One of his best friends since high school is fellow Cascade student Annie Laughlin, head of the state chapter of the Students for a Democratic Society, and his girlfriend is student journalist Kit Dunleavy. Here, Jake meets with school president Neal Hassler and football coach Larry Benson to alert them to, and discuss, the protest plans. Both Hassler and Benson have been the object of virulent criticism from state residents and athletic boosters for allowing Powell and other players to be visible in the anti-war movement. Among the critics are the athletic director, derisively nicknamed "Doubleheader" for an infamous scheduling faux pas. Cascade is coming off a painful loss to Washington in Seattle, where Jake Powell drew a crippling pass interference call on the Huskies' final drive as one official made it clear it was a response to his notorious off-field activism.
After the Fishermen looked at the films of the Washington game – and Jake received repeated reassurances, even from Todd Hendricks, that the pass interference call was bogus – Jake nervously approached Benson as they were leaving.
"Coach, can I talk to you for a few minutes?"
"Football or politics?" Benson said with a tight smile.
"Well, both, but mostly politics."
"Come by my house tonight. Nine o'clock."
* * *
Jake started the disclosure tour at seven. He borrowed Kit's car keys and made a call from the corner. A few minutes later, he was in Neal Hassler's living room.
The president listened as Jake outlined the picketing plans. Hassler didn't let on, but his reaction was relief, especially because the more militant Annie wasn't with Jake. Hassler told Jake peaceful picketing would be tolerated.
"Anything beyond that," Hassler said, "there will be problems. I will not have the people attending the game harassed. I will not have anyone from the Air Force, either the academy or the service, treated as anything but guests." He got up and walked around, look­ing outside from a room with no windows. "Disrupt the football game, and the student disciplinary actions, not to mention the legal ones, will be serious."
"I understand that," Jake said. "I can live with that."
"Good," said Hassler. "By the way, what's Coach Benson think about you being involved in this?"
Jake laughed. "I'm about to find out."
* * *
Benson lived on a cul-de-sac on the south end of town, part of the way up Gilman Butte, the landmark everyone could spot for about the last thirty miles of the drive either way on Interstate 5. One of the Cascade rites of passage was the grade school hike up to the top of the butte. The view could be stunning, one of two ways. Ei­ther the kids could stand at the top and look down on the breathtak­ing Willamette Valley, stretching to the north, or have what usually was the first-time experience of actually being above the clouds.
When Jake pulled Kit's car into the driveway, two deer were in Benson's front yard. They bolted. Jake decided he was having that effect on everyone lately.
Patricia Benson, the quiet woman who always was waiting out­side the locker room when Jake left after games, was in the living room, reading with the television on. She smiled and greeted Jake warmly as Coach Benson directed him toward his den, at the corner of the house on the ground floor. The kids, Jake guessed, must be upstairs.
Benson's den was a gallery of pictures, and he didn't say a word as Jake found himself drawn to look them over. Jake saw a young Benson with his dog and his parents on a farm; shots of his wedding with the men in military uniforms; and a photo of him with his wife and five children that ran with a Times-Register story after he was ele­vated to head coach. The football section featured a team picture of the 1942 Minnesota Gophers, and Jake quickly spotted his coach in the fourth row. Tightly aligned pictures showed the Cascade teams from the five years of Benson's head-coaching tenure, including this season.
Jake had spotted the military pictures first, but had saved them for last. He was thinking of his own father as he peered at the pic­ture of a young – very young – Benson in flight helmet and uniform, sitting in an open cockpit. Benson said softly, "Army Air Forces, Pa­cific, 1944."
Jake had read quite a few stories about his coach and the press guide biographies, but he didn't remember anything other than the most vague of references to Benson's combat experiences. Benson had referred to them only briefly to Jake ("I flew during World War II") during the recruiting process, because Jake's high school coach had told Benson that Jake's father had been killed in Korea. But Jake never had heard any of his teammates talk about the coach's World War II experience, and he assumed few, if any, were aware of it.
"How come you never talk to us about this stuff?" he asked Benson.
"It's not something that comes up in casual conversation, is it? It was just something we did. We did what we had to do. Sometimes I just wonder what your generation is going to be saying to your kids if they're challenging you. When they're challenging you."
"We'll just ground 'em," Jake said.
As Jake went from picture to picture, of Benson standing next to a plane, of the pilot with his buddies outside the barracks, of a training class at graduation, he quietly asked the questions.
"What kind of plane is that?
"P-38 fighter, twin-engine."
"How old were you?"
Benson paused and put both hands on his knees as he leaned against the edge of the desk. "I was nineteen when I got my wings," he said. "Sixty-seven combat missions later, I was twenty-one and I felt thirty. I also felt lucky. When I went in, I was hearing guys tell me the definition of discipline was saluting everyone during leave and a making the bed the right way, and I learned that discipline is what you can call on when you need it."
He sighed.
After a few moments, he said, "I respect your passion on this. But I still have to say I don't want you or Keith Oldham, or any other players, picketing on gameday. On gameday, until the game's over, it's football. No armband, no picketing."
"Now you sound like Doubleheader and Gamberg! You say you want us to have lives away from football..."
"That's still true! This isn't too much to expect in return. How would that look to your teammates? You're about to play the number nine team in the country, you're carrying around a sign at the main gate and have to run in to get your uniform on for warmup!"
"But–"
"I'm not going to have somebody following you guys to see what you do before you have to be in the locker room. I want you to give me your word."
"All right," Jake said, reluctantly.
"Good," said Benson. "You came close on the recruiters. This time, if you – that means your people – do something to those play­ers or any of the Air Force people, you are going to have a lot more important people to answer to than me."
Benson tapped an unsharpened pencil in the palm of one hand.
"I will consider it a personal betrayal if something happens to embarrass this program or this university on Saturday. Think about Neal Hassler and the others whose butts are on the line because they won't be coming after your people with fire hoses. Get that across to your friends. Nothing ugly."
Jake raised a hand and opened his mouth, but couldn't get it out.
Benson said, "You think you're not necessarily involved if some­one goes overboard. But, damn it, you're going to have to accept some of the responsibility. And the armband? It should be a team thing or not at all. You will skip that. Who doesn't know where you stand, anyway?"
Most coaches, Jake knew, by now would have told him to clean out his locker and move to Russia. "Okay," he said.
Mrs. Benson was standing in the doorway. "Phone, Larry," she said. Benson walked down the hall to the bedroom. Jake went back downstairs with Mrs. Benson.
Humphrey was on the news, speaking in a packed Astrodome. "No one man can alone lead this country out of crisis and into a certain, happier future," Humphrey said. "But if you will trust me, I tell you that I shall call forth from America the best that lies within us."
The reporter said Humphrey had issued a statement, saying if President Thieu of South Vietnam refused to have his government participate in the Paris talks, the U.S. should go ahead without him.
The newscast switched to Nixon and a clip from Meet The Press. He was denying that he believed the bombing halt had been timed to help Humphrey in the election. "I must say that many of my aides and many of the people supporting my candidacy around the coun­try seem to share that view," Nixon said. "They share it, I suppose, because the pause came at that time so late in the campaign. But President Johnson has been very candid with me throughout these discussions, and I do not make such a charge."
Talk about trying to have it all ways, Jake thought.
NOTES: President Hassler is based on a former UO president who after being caught in the middle between militant students and an outraged public, was killed when he drove his Volkswagen head-on into a logging truck. Most considered it to be suicide. In The Witch's Season, after angry demonstrations all week, including picketing of the Falcons' arrival, a controversial incident indeed took place at halftime of the Air Force game.