The latest:
June 8: On Coors Field becoming Wrigley Field West
June 6: Should Columbine be torn down?
May 29: For $3 million more, Broncos bought Chris Harris' happiness
May 28: NBA should steal elements of the NHL/MLB draft systems
May 25: Memorial Day: Why Dick Monfort was named after his uncle
May 21: The most obvious Ring of Fame omission still is ...
May 14: Avs vs. Nuggets? One is closer, one is better
May 10: Killers want(ed) fame. Do we give it to them?
May 6: You know what they say about Game 7s...
May 5: On the Kentucky Derby fiasco
May 2: If Grubauer plays like that ...
May 1: "Z" on the line between physical and irresponsible
April 30: The Sky is falling. Ah, the fluctuations of playoff hockey
April 29: Girard & Makar: What a bad ... What a great idea!
April 28: Last time both Avs and Nuggets made second round?
April 26: 20 years ago, at another Sharks-Avalanche Game 1 ...
April 23: For Grubauer, 6 days off is a good ... and bad ... thing
April 23: On 30th anniversary of release, a look back at Field of Dreams visit
April 20: Honoring a man who went back to his school and made a difference
April 20: The Beloved 13
April 20: Them Flames is done like dinner
April 17: Regardless of result, Bednar back on solid footing
April 15: No. 1 vs. No. 8: In the NHL, either can win
April 15: Welcome to the NHL, Cale Makar
April 13: Donated heart, do-over ... and a kicker.
April 7: Previewing Mile High Sports Magazine story on Irv Brown patch
April 5: St. Patrick's Day II: Rockies' home opener
April 4: Just making the playoffs not enough for Avs
April 3: Great night at Colorado Sports Hall of Fame
March 30: Embedding with the All-American High School Musical
March 23: MacKinnon soldiers on
March 21: CU in the NIT ... just like the first NIT
March 10: Catching up with Tad Boyle, about then and now
March 7: Trying to make a case for keeping Keenum
February 27: Two young Israelis in Colorado to play hockey
February 13: On the trade for Joe Flacco
February: Two columns on the great Irv Brown
February 7: Sakic's support of Bednar is the right thing to do
February 4: Colorado connected vets receive French Medal
January 26: Is it time to play the confectionary salesman in net?
January 20: Can Kroenke Sports Stay on a Roll?
January 14: Here's why a Colorado nurse was with Supreme Court
January 13: Alex English could score 50 ... quietly
January 2: Flying The Hump and more: An epic life
May 6, 2019
You know what they
say about Game 7s ...
No, what do they say?
Anything can happen. Anything.
That's the scenario the Avalanche set up Monday night, rolling with the punches and ultimately getting a Gabe Landeskog goal at 2:32 of overtime to beat the San Jose Sharks 4-3 and extend the Western Conference semifinal series to a Game 7 Wednesday night at San Jose.
"It's going to be a lot of fun," said J.T. Compher, the Chicago-area native and former Michigan Wolverine who had two of the Avalanche's goals in regulation in Game 6. "It's a great opportunity for us to go to the Western Conference finals. We've been counted out many times this year. This says a lot. We're very resilient and we're going to be ready to go."
The surprising thing about Monday wasn't that the Avalanche won, but that the Avalanche won on a night when the top line was on the ice for all three of the Sharks' goals and was pointless until Landeskog ended it in overtime.
I clumsily worded a question to Compher, nothing that he and linemate Tyson Jost, who scored the first Colorado goal, had pitched in on a night when the first line hadn't been productive -- at least not until overtime.
"You say they didn't do anything," Compher said, "but those guys still are playing 25 minutes a night, they'e playing hard, they're creating scoring chances, and they just weren't able to get one in tonight. Luckily, we were able to pick up the slack a little bit."
So it's on to Game 7.
"It's a huge step for our team, it's a great opportunity for us," Landeskog said. "Sixty minutes away from the Western Conference final. Who would have thought before the season, who would have thought before the series, or whatever. For us, we keep believing.The last thing they to do is wanted to play another one at home in San Jose. We accomplished that, we won this one, now we have to regroup. It was nice to get this one tonight and hopefully build off of it. . . That Compher line stepped up and had a good game when we needed them. People keep talking about depth and how important that is in the playoffs and they sure showed it."
Here's why the Avs have a shot in Game 7:
They've proven to themselves they can win in San Jose, breaking through with a 4-3 win in Game 2.
This will be the second consecutive Game 7 for the Sharks after their comeback against Vegas in the first round, and that's added to the toll taken in pro sports' most relentless and testing postseason. The Avalanche, in contrast, had six days off after its five-game win over Calgary.
And the longer a Game 7 is scoreless or close, the more pressure there is on the Sharks, who finished second in both the Pacific Division and the Western Conference in the regular season.
Remember Avalanche Game 7s at home against Minnesota in 2003 -- Patrick Roy's final game -- and 2014? Andrew Brunette and Nino Niederreiter ended them in overtime and the Wild advanced. Both times the Avs played nervous and tight -- and lost.
"No doubt, it's a big one," Landeskog said. "It's also a 60-minute hockey game that needs to be won. Yeah, you have to give it the credit, it deserves to be a Game 7, but you don't want to blow it out of proportion and all of a sudden, it becomes a big monster, a big mountain that you have to climb. For us, I like where our team is at. This was a big victory for us. Hopefully, this momentum can carry into Wednesday night. It'll be a fun one."
Of course, it's entirely possible the Sharks score early and often Wednesday night, diluting the tension, and then romp, but going in, the Avalanche is under little pressure.
If the Avs lose Game 7 on the road, it will not be followed by scorching post-mortems, since they were a longshot to even make the postseason in February before awakening, largely thanks to Philipp Grubauer finally providing top-flight goaltending.
Plus, the Avs are only two years removed from the worst NHL season in nearly 20 years and the worst on the bang-for-the buck basis of all time, considering they were scraping the salary cap ceiling while finishing with only 48 points.
Yes, they dipped from 95 to 90 points this season, but again sneaked into the playoffs in the No. 8 spot in the West, and has progressed from an orange slices six-game loss to Nashville a year ago in the first round to the win over Calgary. Now, regardless, this will go down as at least a gutty, resilient effort against the Sharks as part of the exciting and overlapping Nuggets and Avalanche appearances in the second round.
For much of this season, it seemed as if the rebuilding project had hit a speed bump. Now, though, only the curmudgeonly won't agree that with Nathan MacKinnon is developing into a "generational" No. 1 overall pick, after all. Around him, and not just on the top line with him, there is considerable promise.
Yes, Joe Sakic knew what he was doing, and not just with the haul in the Matt Duchene trade, but with so much else, including the 2015 trade that sent Ryan O'Reilly to Buffalo for Compher's rights, Nikita Zadorov and Mikhail Grigorenko; plus the drafting of Tyson Jost at No. 10 overall and Cale Makar at No. 4.
And this season will last at least one more game.
A Game 7.
Then after Dennis Leach sang the national anthem, we were back to the games.
April 17, 2019
Regardless of result,
Bednar back on
solid footing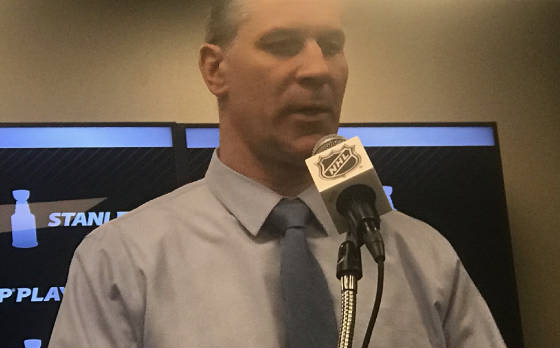 By the time Jared Bednar arrived at the interview room podium after the Avalanche's 3-2 overtime win over the No. 1-seeded Flames gave No. 8 Colorado a 3-1 series lead Wednesday, midnight was approaching.
Yes, as unlikely as this seemed early in the third period, when the Avalanche trailed the Flames 2-0; as farfetched as it seemed a week ago; and as impossible as it seemed a little over two months ago, the Avalanche is one win away from winning a series for the first time since 2008 and advancing to the Western Conference semifinals. J.T. Compher and Mikko Rantanen got the third-period goals that forced overtime, and Rantanen scored at 10:23 of O.T. to end it.
"It's going to be hard," Bednar said of getting that fourth win in the series. "It's the hardest one. Everyone knows the last one, the one you're trying to get to close out a series, is the hardest one. That's a proud team over there, Calgary, it's a really good team, they have a lot of character, they're well-coached, I mean, it's tough. Now we have to go into Calgary and find a way to win another hockey game."
And to think that in early February, this team was reeling.
I scrolled down to find this, but it didn't take long. On Feb 7, when the Avalanche had lost five in a row and won only five of its previous 24 games, I felt compelled to comment about Joe Sakic's apparent refusal to cave in to NHL conventionality, scapegoat his coach, fire him during the season and summon all the cliches about how it was just time for a change.
That would have been so easy to do, and Bednar's rollercoaster experience as a first-time NHL head coach -- and his first experience in the NHL, period -- would have come to an end. He would have been only a few months removed from being a finalist for the Jack Adams Award, but that status adds little immunity. And even after I wrote that column, the Avalanche losing streak reached eight before the turnaround.
Of course, Sakic had a similar opportunity after the Avalanche's horrific 48-point season in 2016-17, the worst bang-for-the-buck season in the NHL's cap era ... and perhaps ever. But the circumstances of Bednar's first season bordered on the bizarre, with Patrick Roy's late resignation and an ill-constructed roster (and payroll) in advance of major reconstruction, and Sakic conceded all that. Not to mention it would have required he had made a mistake in going with a coach who never had spent a day in the NHL as either a player or assistant coach.
But it wouldn't have raised too many eyebrows if Sakic made a move in February. He stuck with Bednar, though, and the Avalanche went 16-7-3 down the stretch, secured a second straight playoff berth and now have the 3-1 lead on the Flames, meaning there's a significant chance of the two No. 1 seeds -- Tampa Bay was swept by No. 8 Columbus in the East -- will lose in the first round.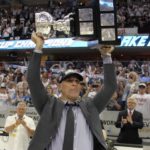 Jared Bednar with the AHL's Calder Cup in 2016. The Lake
Erie Monsters went an incredible 15-2 in the playoffs.
Bednar is continuing to demonstrate he belongs in this league and that one of the most inexplicable decisions in his past was Doug Armstrong's firing of Bednar as the coach of the Blues' AHL affiliate at Peoria in 2012.
Since then, Bednar has held aloft the Calder Cup at Lake Erie (Cleveland) in 2016, when he was working for the Blue Jackets' organization, and moved up to the Avalanche.
The man from Saskatchewan, who climbed through the ranks of the ECHL and AHL as both a player and coach, is a genuine inspiration for dues-payers.
After the morning skate Wednesday, I asked Bednar about his evolution over the past three years.
"One thing is just learning to be patient and when to push," he said. "You come into the league as a young guy and it's your first opportunity, and you've had some success other places. I had an idea of how I wanted to coach and what my beliefs are, but it's getting the buy-in from your leadership group and opening those lines of communication.
"It took some time here in my first year and we had change in personnel in my second, and really getting to know our leaders and some of the guys that are impact players for us now for a couple of years. I try to be patient, fair, and as honest as I can with them. But there's still times when I think I have to push their buttons to try to get more out of them and I think I've learned that along the way."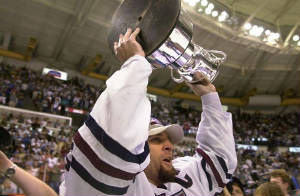 With the ECHL's South Carolina Stingrays. Jared Bednar
got to celebrate winning the Kelly Cup both as a player
and as a coach.
Gabe Landeskog, although only 26, has been the Avalanche captain for seven seasons.
"I think as far as 'Bedsy' goes, he's obviously grown into that role," Landeskog said after the skate. "He had a tough season obviously his first season, and we all did, but I think he's evolved, he's grown as a coach. He's figured things out as he goes along, whether that's with communication with us as players, or what we as players need, or for systems or coaching on the bench or whatever it is, it just seems like he's that much more comfortable in that role and being an NHL coach.
"I think every single guy in this room will say the same thing about 'Bedsy.' He's a great coach and a good communicator and he's a really smart hockey man."
At the next stall after the skate, Nathan MacKinnon also spoke about Bednar. Keep in mind that before MacKinnon's breakthrough to becoming one of the top players in the league, he and Bednar had some tense moments, as when the rookie coach reacted to a rolling of the eyes on the bench from MacKinnon by briefly -- but rather noticeably -- benching him.
"'Bedsy's' been great," MacKinnon said. "He's always even keel. He's never up and down, which is awesome."
Rantanen called Bednar "a great coach. He's really honest with players. He's still pretty positive, trying to bring everything positive. He gives us confidence, too. If you make mistakes, he's not going to rip you about that. If you do it repeatedly, maybe then, but hopefully guys in the NHL are going to learn from that. He's a great coach and I really like him."
Now he's closing on on his first playoff series win as an NHL head coach. And his team is reveling in the three straight wins in this series, including the wild comeback one Wednesday night.
"What's the point of giving up in the playoffs?" MacKinnon asked me after the game. "We knew we could score two and we were dominating the whole play. . . We just felt like we could come back against a really good team. We felt like they were a little winded at altitude and managed to come back. It's awesome, especially when you have the momentum and you're feeling it, and the crowd is so awesome, it's so fun to be part of it."
Compher's goal got the Avalanche going.
"There's no quit in this group," Compher told me. "We showed that in Game 2 and throughout the season. We believe that once we get going, there's no stopping us. But that's a huge one, to keep the momentum going in this locker room. We knew (Mike Smith) was good tonight, we had to continue to get rebounds and shots at the net, and if it took a greasy one..."
April 15, 2019 (Part I)
Cale Makar will jump
right into Avs' lineup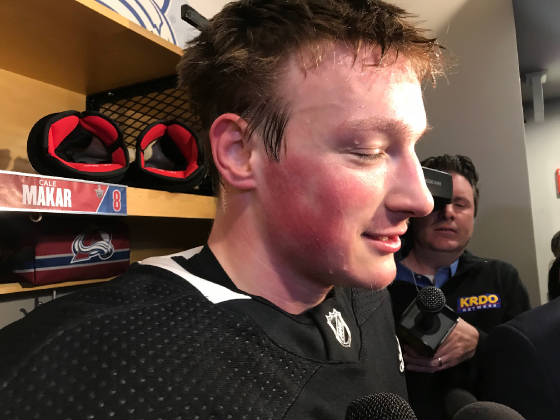 It's a little bit, well, eerie.
Two days after finishing his collegiate career in a UMass loss to Minnesota-Duluth in the Frozen Four championship game in Buffalo, and one day after signing a three-year entry level contract with Colorado, 20-year-old defenseman Cale Makar is set to make his NHL debut with the Avalanche Monday night in Game 3 of the first-round playoff series against his hometown team -- the Calgary Flames.
That's why the sizable Calgary media contingent was among those jockeying for position around Makar's stall after the Avalanche morning skate.
"It's a weird feeling playing against the team you grew up loving," Makar said. "My allegiance is with another team now, so we'll see how it goes."
As arrivals to the pack brought the subject back to him growing up a Flames fan, he noted, "Obviously, watching them in the '04 Cup run, it's a different feeling."
When he stepped through the bench and onto the ice for the morning skate, his teammates already out there cheereed.
It was both a welcome and a teasing.
Hey, kid ...
"It's a weird moment," said Makar, who signed following his sophomore season with the Minutemen. "I don't think it's really sunk in for me yet. But no, this is a great group of guys, I can tell meeting everybody right off the bat."
He said his parents, long-time Flames fans, had converted, "but I've definitely got a lot of messages from friends who are going the other way."
Nobody asked for my vote, but I would have thought it more wise to let Makar literally get his feet on the ground in Denver for a few days, watch Monday's game, practice with the Avalanche Tuesday and play in Game 4 Wednesday. Yes,the upper body injury that knocked Samuel Girard out of the lineup for Game 3 changed the dynamic. Yet I still would have held Makar out until Game 4.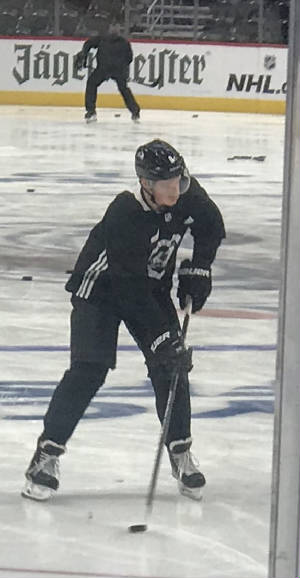 Instead, the Hobey Baker Award winner -- who previously had attended Avalanche development camps after going to Colorado at the No. 4 overall pick in the 2017 draft -- is jumping right in. At several points Monday morning, he phrased it as "if" he played, but it was obvious, even before Avalanche coach Jared Bednar later confirmed it, that Makar was going to play.
"Not too much nervousness, I don't think," he said. "I'm just going to go out there and play and try and do my thing and we'll see."
Makar, who worked with the second power-play unit at the skate, added, "I just need to go out there and do what they need me to do. I'll provide offense if I have to and hopefully be steady on the defensive end as well. . . I don't think it's too much pressure. You're going to feel a bunch of different emotions, but you have to be be prepared for that. You kind of live your life to get to this moment. It'll be fun. This team's capable of doing a lot. They're a fast team and I'm excited to get going with them, hopefully tonight."
Makar called the last few days "pretty crazy. I was supposed to fly out of Buffalo (Sunday), and got rerouted to Toronto. It's been a long travel day, but I'm rested up." He joked that Sunday night he "had a really nice bed, the sheets were nice." He said that he had watched as many Avalanche games as he could during his stay at UMass, "if I wasn't doing homework at night. I like the way they play, I think they're very fast, and I think they can fit in really well."
In the media room a few minutes later, Bednar said Makar would replace Girard, listed as day to day, in the lineup.
He said Makar initially would be paired with Patrick Nemeth, "but we'll move him around a little but to try and get him in positions to succeed."
I asked Bednar whether playing Makar immediately was automatic.
"No, I thought through it, for sure," Bednar said. "I mean, it's a big time of the year, a big decision, young guy coming right out of college. But what makes the decision easier is the type of player he is and the type of person he is and the type of year he had in college. So he's a guy that we want to try and get in the lineup here and see if he can help us, and tonight's a perfect opportunity to do that."
POSTSCRIPT: Sure enough ...Understandably, after Makar was so impressive Monday night, I took some teasing for having opined that I would have held Makar out until Wednesday, but I'll stand by my reasoning and won't indulge in revisionism here. Because you know what they say, right?
... and some are rained out.
April 7, 2019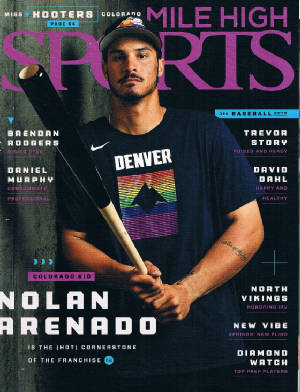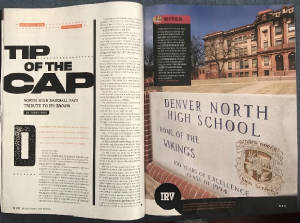 Feature on Denver North High School baseball
team honoring the late Irv Brown.
April 4, 2019
Making playoffs praiseworthy,
but Avalanche needs to
take another step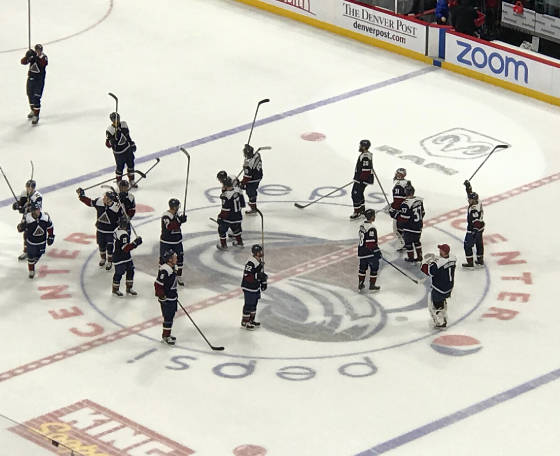 Avalanche players salute the crowd after the 3-2 overtime win over Winnipeg.
It's this simple, and it's what I asked Avalanche coach Jared Bednar about after his team beat Winnipeg 3-2 in overtime Thursday night and clinched a playoff spot.
(Actually, the Avs clinched a playoff spot when regulation ended and they were assured of a point, but you know what I mean.)
When the Avalanche was struggling and seemingly destined to iss the postseason, it was getting rotten goaltending most of the time. It was demoralizing and draining, leaving the Avs playing with a dread that a mistake always would end up in the back of the net and that the goalie wouldn't do his job -- which is saving their bacon on many nights and flat-out stealing games on others.
It needed one of the goalies -- Semyon Varlamov or Philipp Grubauer -- to step up.
And one finally did.
Grubauer was staunch and stingy down the stretch, infusing confidence in the Avalanches game and leaving himself going into the olayoffs as one of the hottst goaltenders in a league in which anything can happen in the playoffs if your goalie gets hot, stands on his noggin, gets into the heads of the opponents and keeps the puck out of the net.
"It's a huge part of it, no question," Bednar said. "Most of the time and especially this time of year, you need exceptional goaltending. Average goaltending just isn't good enough. We've been getting that. Our goaltenders have beeen giving us a chance to win every night and we're spreading around our scoring. We fought through adversity if you look at the injuries we had.
"You go back three weeks, a month ago when Landy got hurt, when Mikko got hurt and see where we are in the standings, it would have been easy for our team to give up. But I love the character and push and determination and the will to win from our group. That's what I'm most proud of right now. To kick down the front door and get to the playoffs and finish the way we fionished is an exceptional job by our leaders, by all the guys stepping up and our secondary scoring and special teams have been better, golatending has been outstanding."
That's spreading around the credit, of course, and I get that. It's not "wrong." But without Grubauer awakening, little of that would have mattered.
So now, for the second season in a row, Grubauer goes into the postseason as a No. 1 goalie. A year ago, his team -- the Capitals -- ended up winning the Stanley Cup, but it was after Grubauer wilted in the first two games of the opening round series against Columbus and Braden Holtby took over.
"It's been quite the ride here," Grubauer said after the game Wednesday night. "Games we lost and games we won. It's pretty amazing that we actually made it. It could have gone the other way, too, but we have a good group here. . . It's been fun and now the real fun starts."
I asked him about being in the same situation as a year ago, and what he learned from that experience he can take into this playoff run.
"Last year was tough," he said. "I don't think in Wahington we played our best hockey in the first two games and it cost us. We have to find a way to play 60 minutes against our next opponent and be ready from the get-go. . . . It's a new year. I played a couple more games that last year and I think that's going to help me and played a couple of good teams the last couple of games and, yeah, I'm looking forward to it."
The NHL playoffs are the most relentless and physically and mentally testing postseason in sports, and one of the beauties of it is that anything can happen -- largely because of that influence of goaltending. A No. 8 seed can advance or even win the Stanley Cup, as the Los Angeles Kings did with Jonathan Quick in net in 2012. That's something that can't happen in the NBA. It just can't.
"Everybody's looking forward to that," Grubauer said. "Anything is possible. In the playoffs, everything is brand new."
So for the second straight season, the Avalanche is a No. 8 seed. A year ago, it was an unexpected and even amazing accompishment, considering Colorado went from the worst bang-for-the-buck NHL season (48 points while scraping the salary cap ceiling) ever, to 95 points. The Avalanche gave the Predators a competitive six-game series and it was disappointing, but not thunderously so. This year, one of the possible impediments is that sense of satisfaction for that in-season recovery and turnaround. The first-round matchup against the Flames, who hadve 107 points of this typing, is formidable. But for this team to be truly worthy of praise for progress this season, yee, it needs to knock off the Flames.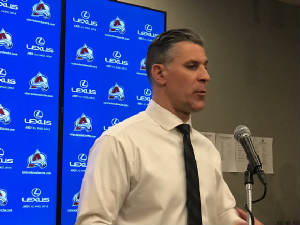 "To me, this is a prove-it season," Bednar said. "Last year, noone expected us to get in. There was no pressure on us. We had a bunch of young kids come in and energize our group, our young core took over the leadership role and things started to roll for us. We had a certain stick-to-itiveness or resolve to our group that was fun and we just kept winning and found a way to get in. We won the right games down the stretch and got in. This year, it was a very similar feeling. I think the presssure got to us a little bit at times. We stumbled around in the middle of the season. But to finish the way we finished and we were much better down the stretch this season and learned some things from last year about what it takes to win. That shows a lot of growth to me.
"Hopefully, we can carry that into the playoffs. Our mindset's not going to just me we got in, great, let's go have some fun in the playoffs. We're gonig into it with a purpose. I think that's the feeling our group will have. If we keep playing the way we're playing right now, we can be a dangerous hockey team."
March 21, 2019
CU in the NIT? 81 years ago,
they were in the first one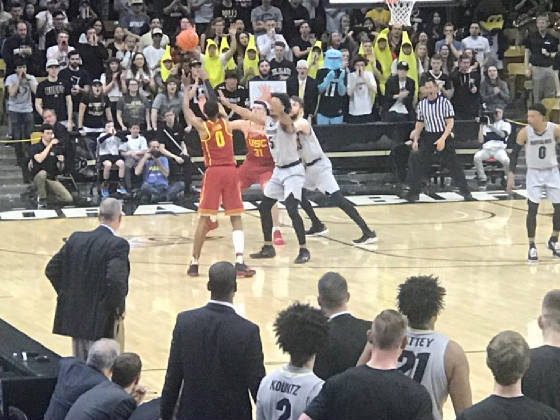 Tad Boyle watching from the sideline in the Buffs' final regular-season game against USC
When I researched March 1939: Before the Madness, I came across three things about the University of Colorado program in that era that I hadn't known. And I was reminded of them as the 2018-19 Buffs accepted a bid to the NIT and beat Dayton in the first round, and it turned out that they'll play host to another NIT game against Norfolk State on Monday night. That's because Norfolk State knocked off Alabama in the first round.
One, the Buffaloes appeared in the very first National Invitation Tournament in 1938. It's a bit confusing because at the time, the NIT wasn't even officially called that. The Metropolitan Basketball Writers Association, with an eye on following the success of regular-season doubleheaders staged in Madson Square Garden, organized and staged the 1938 and 1939 tournaments and also flaunted the conflict of interest, hyping them to the point where you'd think Roanoke College -- one of the six teams in the 1939 tournament -- was the equal of the top teams in the nation.
Two, the reason the Buffaloes were considered a marquee drawing card and coveted as a member of the 1938 field was that their star was one of the highest-profile college athletes in the nation at the time.
Byron "Whizzer" White.
Yes, the future U.S. Supreme Court justice, the renowned football hallfback, also played basketball for the Buffs.
I didn't know that.
Here's the story of that first NIT, from the pages of my book:
* . * *
* . * . *
OK, that's No. 1 and No. 2.
No. 3 is that when the National Association of Basketball Coaches indeed put together the first NCAA tournament for 1939, setting up four-team regionals in San Francisco and Philadelphia,with one representative from each of eight districts, and then a championship game in Evanston held in conjunction with the NABC convention, the Buffaloes were one of a handful of teams turning down invitations. My opinion is that by the end of the season, the eventual champion -- Oregon -- was the best team in the nation, and the Ducks routed all three of their opponents, Texas, Oklahoma and Ohio State. But we'll never know how the Buffaloes would have done.
Here's how that came about, again from March 1939: Before the Madness.
* . * . *
The next day, the head of the NCAA Tournament's Rocky Mountain district selection committee, Wyoming coach Dutch Witte, said his group had recommended to Harold Olsen that Big 7 runner-up Utah State—coached by the respected Dick Romney, a former multiple-sport star himself and a member of a prominent Utah family— get the NCAA bid.
Harold Olsen went along with that, and Utah State's athletic council quickly accepted the invitation.
* . * . *
If the Buffs win two more games, beating Norfolk State and then the Xavier-Texas winner, they'll make the NIT's Final Four in Madison Square Garden.
January 26, 2019
Is it time to try the
confectionary store
clerk in the Avs' net?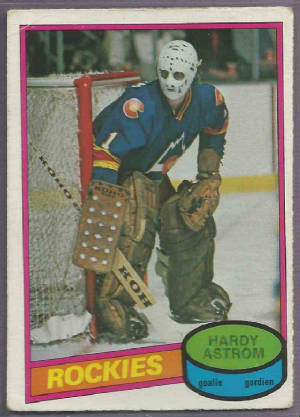 At the arrival of the All-Star break and then its bye period, the Avalanche had gone 5-13-3 in its previous 21 games.
The biggest shock of all is that Colorado still is hanging on to what would be the second wild card playoff spot in the Western Conference by its fingernails. Seven teams, including the Avalanche, are within three points of one another in the race for the two spots. Yes, the Avs, thought to be on the rise after last year's 95-point season, seems to have been reduced to shooting for a wildcard spot again.
I'll concede this: The Avalanche is not perfectly constructed.
The Avs need more secondary scoring, beyong the NordiCanadian Line of Nathan MacKinnon centering Gabe Landeskog and Mikko Rantanen.
They every once in a while falls victim to the perills of having two undersized, if speedy and crafty, defensmen among the top six. Neither Tyson Barrie nor Sam Girard are capable of physically intimidating work in front of the Colorado net. Or anywhere else. And as a group, the Avs' "D" has been no better than mediocre.
But let's be real.
The major problem here is the goaltending.

The lack of faith in the men is in the net is debilitating for any team, and one of the reasons is that it becomes a rationalization. . . or a self-fulfilling prophecy. Teammates become tight, overly concerned that a single mistake too often can lead to a puck in the back of the (wrong) net. And on the rare nights when the goaltending is major-league and larcenous -- in other words, on the nights when the Colorado goalie has done his job -- the post-game narrative is a condescending overreaction, as if Semyon Varlamov or Philipp Grubauer has reprised Patrick Roy or Dominik Hasek in their primes and the game video should be sent to the Hall of Fame in Toronto.
With 32 games remaining, of course, it's possible that one or the other could snap out of this and give the Avalanche competent work in the net. But for now, this is just flat-ut unacceptable: Varlamov has a goals-against average of 2.82, only 25th among NHL qualifiers, and a save percentage of .908. In his contract year, while attempting to prove that he can stay healthy, the issue of whether he again can do elite work moving forward in the net has reappeared. Grubauer's goals-against of 3.38 is awful, 46th among the 50 qualifiers, and his save percentage of .891 is below what I tend to call the Astrom Line for a reason.
Flashing back to the 1979-80 season -- yes, nearly 40 years ago -- the outspoken and snappily-attired Don Cherry passed through to coach the lowly Colorado Rockies for one season.
Cherry hated his goaltenders. The goaltending indeed was bad, but in retrospect, I probably concurred too easily with Cherry's position that Hardy Astrom, who was acquired from the New York Rangers and making decent money, was the worst NHL goalie of all time. That team had a lot of problems beyond its own crease.
A handful of others in the league who played twenty or more games that season had worse goals-against averages than his 3.75, and there were even a couple who played more than half their teams' games—Hartford's John Garrett and Los Angeles's Mario Lessard. Regardless, Cherry held his nose long enough to use Astrom in 49 games, while also trying Bill McKenzie, Michel Plasse, and Bill Oleschuk in the net.
It came to a head in February, when the Rockies had to settle for a 4–4 tie at Hartford when Plasse had only 17 saves.
Cherry had let loose many times, but he got into high gear that night. "Our goaltending was horse—-," he said, standing a few feet from the trailer where I had done a between-periods interview with a fledgling Connecticut-based cable operation called ESPN. "Let's face it. Come on. Let's be honest. We're not going to go anywhere until we get a goalie. I've tried everyone except the guy who works in the confectionary store."
Jared Bednar's code word for substandard goaltending is "OK." As in, "He was OK." He hasn't tried to insult anyone by letting the goalies off the hook, but he hadn't let loose, a la Cherry, either.
It's that simple. If the Avalanche doesn't big-time goaltending, from someone, down the stretch, this season will be both regression and a huge disappointment, wasting the magical work of the top line.
January 13, 2019
Alex English was both
smooth and breathtaking
.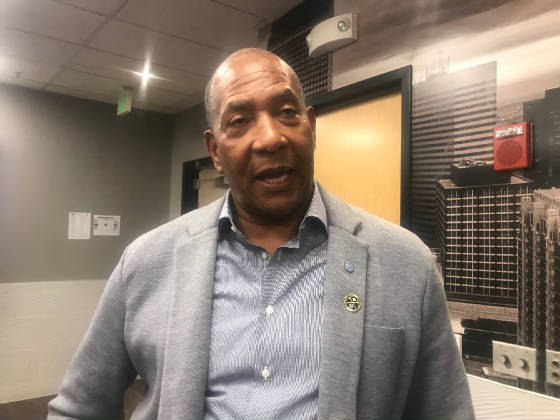 Alex English at the Nuggets' game against Portland Sunday night.
On Sunday night, the Nuggets commemorated "Skyline" night by wearing their retro jerseys -- which look like someone put the original skyline jerseys in the washing machine with way too much bleach -- against Portland and honored former smooth-as-silk forward Alex English.
I went to say hi and be a part of English's pre-game media availability.
The previous time we visited was at the Nuggets' home opener last season, against Sacramento in October 2017. The Nuggets honored a handful of former players that night, including English, David Thompson, Dan Issel, Byron Beck and Dikembe Mutombo.
This time, the spotlight was on English ... alone.
Although his number (2) was retired in 1992, when the Nuggets still played in McNichols Sports Arena, and it now hangs in the Pepsi Center, English for many years felt a disconnect with the Nuggets after his trade to Dallas and then during his working career as an assistant coach and scout. He wasn't shunned; it was more apathy. Now, in part thanks to vice president of basketball operations Lisa Johnson, a treasure trove of institutional knowledge, the Nuggets have done a better job of re-embracing their past.
"I feel much better," English said. "If you look at most teams that are successful, they're successful because they have a history that is part of their success. You look at the Lakers, you always see Kareem and Magic and Kobe talk about that being their team. And the Celtics as well. So I think history is vey important. I can compliment them on reaching out to all of their former players and bringing them back and making them feel like they are a part of what they have been, what they've built."
He said of his reacton when he returns: "Of course, it's a different arena. But it's always great to come back, especially now that they're doing so well, and to see the fans come out to support them ... I have fond memories of being here in Denver and playing for Doug Moe and playing for the teammates I had. I had a wonderful time."
I joked with him about having fond memories of the irascible Moe, whose verbal prodding made English a better player -- and whose passing-game, relentless-movement offense made English a star.
"To you guys, he was probably like a big mean, ol' bad boy," English said. "But he was a big baby. You get him off the court, get him out of the environment, he's just a big baby."
After the hockey Rockies moved to New Jersey in 1982, I was switched to the Nuggets beat.
Alex was aready there.
Because of the convivial atmosphere in McNichols Sports Arena in those days, with media wandering through both offices, I didn't feel as if I was starting from scratch, and I knew a lot of folks in the Nuggets' organization. Moe already was calling me "Dip----," as he did with everyone he liked (or, in some cases didn't like).
One of my first assignments on the beat was to cover the then-troubled Thompson's trade to Seattle, and all the dramatic subplots surrounding it. (He never got to wear the skyline jersey.)
Thompson's departure nudged English a bit more to the Nuggets' forefront, and that was the silver lining.
English was the sneakiest, sleekest, smoothest big-time scorer in NBA history, always moving in the passing game. He was not made for SportsCenter highlights; what he did was maneuver, glide, float ... and score. His nickname -- "Pink Panther" -- was apt.
At the end of the night, if you weren't tracking it, you'd go: "He had how many points?" And they all counted.
He was a great player who didn't get enough credit because of his low-key personality and a game that took paying attention to, to truly appreciate. The Nuggets were his third stop, after Milwaukee and Indiana, and we hadn't seen this coming.
Among the English highlights the Nuggets show of English when they honor him is one that believe sums him up. It was a gliding shot over and past a challenging Maurice Lucas, then with Phoenix. It was nothing flashy, but he simply got the shot with one of the most physical players in the league with his arms up and within, oh, 18 centimeters.
That's how Alex scored. averaging 25.9 points in 11 seasons with the Nuggets. He scored in traffic or without flashiness leaned almost imperceptively just far enough to get the shot off -- and in.
I asked him how his game would fit in today's league.
"Well, you know I'm not a three-point shooter," he said. "I still would be a mid-range game player. There's some room for mid-range. I worked with DeMar DeRozen in Toronto. He's a mid-range player that I love to see play. That's missing in the game today. But it's exciting to see guys come down and if they know how to shoot threes, to make threes. It's exciting to see that. Different style, though. For a minute there everybody was talking about defense and trying to play like the Pistons. And as we evolved and as the Golden State Warriors started playing like the Denver Nuggets of old, everybody said, 'That's how we need to be playing.' Everybody's kind of migrated back to the old ways with the addition of the threes."
He was asked what he thought when seeing James Harden launch 15 three-pointers in a game.
"It drives me crazy," he said. "Even though I scored a lot of points, and I shot the ball a lot, I was a team player. I liked getting my teammates involved and letting them be a part of the game as well."
But that was the beauty of the passing game, with its constant moving -- of both bodies and ball. By definition and design, everyone was involved, regardless of who scored. Including guard T.R. Dunn, who rarely kept the ball for more than four-tenths of a second.
"I wish I was still coaching," English said. "It's an unstoppable offense. Even if you wanted threes, you still could get threes. But nobody has adapted, or tried to adapt Doug Moe's offense. It was so successful, as you know ... And contrary to what people say about us playing defense, if you look at the teams that forced the most turnovers, blocked the most shots, we were always there. We had three, or four, actually, of the toughest defenders that have played the game in T.R. Dunn, Bill Hanzlik, Elston Turner, and Wayne Cooper's got to be there for shot blocking."
English has been watching this Nuggets team with great interest from afar.
"They've got a good vibe going," he said. "They're winning. It helps when the fans come out and support you. And they've got a good coach. Mike Malone's a very good coach. He's done a very good job of bringing them together ... I personally feel they'll be in the Western Conference Finals, if they continue to play like this. They're such a balanced team. Even though (Nikola) Jokic and (Jamal) Murray get a lot of credit, when I watch them I see a lot of different pieces that contribute. I'm glad to see Will Barton back. I feel like he's a major part of their success and once he gets back and gets acclimated to playing, he's going to be a big contributor. And you all haven't had Isaiah Thomas yet. I coached Isaiah Thomas in Sacramento. I think he's going to be a bg plus for this team because he can score. Tough little guy."
Sandy Clough of "The Fan" asked him about Jokic, who a little later would have 40 points, 10 rebounds and 8 assists against the Blazers.
"He sees the floor so well, he scores, he shoots threes," English said. "The only other player in the league right now that I feel is comparable to him is DeMarcus Cousins, who I coached in Sacramento. He's got a lot of the same skills and maybe Anthony Davis."
Now, about those skyline jerseys. I've told this story before, but it's appropriate. The Nuggets unveiled the original version at a news conference after holding a fan contest to design them. At the news conference, they said they had brought in a special model, and then Kiki Vandeweghe came out in the new jersey. And we were told that after lengthy negotiations, he had just agreed to a new, long-term contract. They had managed to keep that quiet, and it was a big deal.
Shortly thereafter, the winning designer visited me at the newspaper office.
He was mad that the Nuggets hadn't exactly followed his design.
January 2, 2019
From Flying "The Hump"
to founding turf farm,
Johnson led epic life