Mile High Sports, February 21
If NHL stays away next time, too, USA should go all college
Mile High Sports, February 14
Kerfoot continues to show (Ivy League) worth
Brazilian Lucas Siewert
coming into his own
as Buffs' sophomore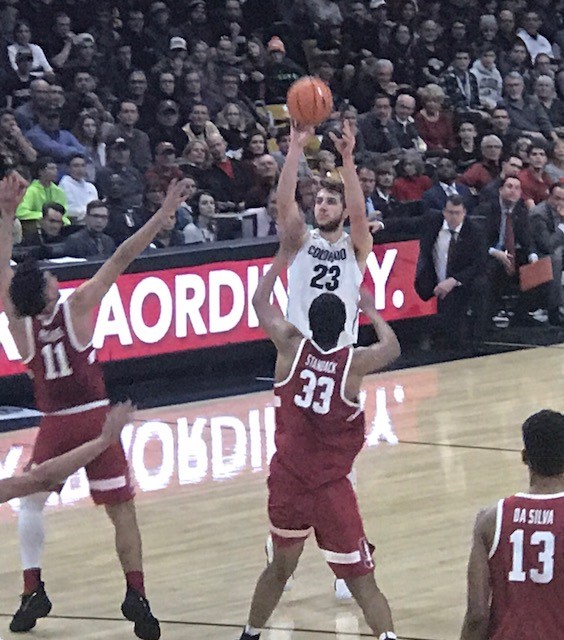 February 10
BOULDER -- When Lucas Siewert arrived in Southern California from his native Brazil to enroll as a freshman at Cathedral High School, virtually across the Harbor Freeway from Dodger Stadium, his basketball ambitions were limited.
"I came to the United States, focusing on high school," he said Sunday afternoon at the Coors Events Center. "I didn't really know what college basketball was when I moved here, and that just kind of happened with the flow of me doing good in high school."
Tad Boyle and his staff noticed him as he quickly emerged as a star for the Phantoms and ultimately averaged 23 points as a senior for a team that reached the CIF-Southern Section Division 3A quarterfinals.
"I actually ended up committed to Arizona State, but the (Herb Sendek-headed) staff got fired and I decommitted," Siewert said. "They (the Boyle staff) recruited me again and they were my first option."
That's how the 6-foot-10 sophomore from Joinville, Santa Catarina in Brazil came to CU.
On Sunday, in a 64-56 win over Stanford at the Coors Events Center, he came off the bench to lead the Buffs with 17 points, hitting 4 of 6 three-pointers, and adding 7 rebounds. His three-pointer with 3:00 left -- pictured above -- gave the Buff breathing room, opening up a 59-52 lead.
From there, they went on to the win that made them 7-6 in the Pac-12 and 15-10 overall, preserving the hope that winning out in the regular season and picking up a couple of victories in the conference tournament might be good enough to sneak the Buffs in to the NCAA tournament. Otherwise, of course, CU would have to duplicate the unlikely run of the 2012 team to the Pac-12 tourney title to make the NCAA field.
The strange thing now is that only the league leader, Arizona (10-3) has fewer than five conference losses, and the Buffs are part of an eight-team pack with five (UCLA, USC, Washington, Oregon) or six (Arizona State, Utah, Colorado and Stanford) defeats. So it's not as outlandish as it might seem at first glance to say the Buffs have a legitimate chance to finish third or fourth in the regular season.
The resurgence aainst the Cardinal came after the Buffs were dreadful, passive and unenergetic in a 68-64 win over California Wednesday and Boyle spent the three off days letting his team know how unhappy he was about that.
"Coach challenged me on the glass after the Cal game, so I tried to meet his challenge," Siewert said. "Then the shots were just falling for me."
Siewert's previous career high was 14 points, and -- curiously -- that came against Stanford in Boulder last season. He was 4-for-5 on three-pointers in that game, meaning he has been 8-for-11 against the Cardinal behind the arc in the Coors Events Center in two seasons.
"I know last year, I had my career high against them too," he said. "I thought about that, so that kind of gave me some confidence as well.
In 23 games this season -- he missed two games in November because of injury -- he is averaging 17 minutes, 2.6 rebounds and 5.3 points. He spent much of Sunday setting picks for McKinley Wright IV and the other Buffs' guards on the perimeter, but also went to the boards and popped out to receive a pass and take the three-pointer.
And four of them, including the crucial one down the stretch, went in.
"I'm trying to make this, how do you say, not a rare thing, but to be a standard thing," he said. "That's the player I'm trying to be. In past games, I've been doing really good and that's what I'm trying to become every game."
Boyle noted, "Obviously he shot the ball well from three today. He really gives defenses problems because in screens are you going to guard McKinley or Dom (Collier) or one of those guys coming downhill or are you going to guard him on the pick and pop. But I'm more proud of Lucas' seven rebounds than I am the 17 points. Obviously I like him shooting the ball the way he is and he gives us shot in the arm offensively, but when he defends and he rebounds like he did tonight, he really helps this team."
Wright had an off shooting afternoon, going 4-for-15 from the floor, and finished with 10 points, and fellow guard George King was the other Buff in double figures with 11. Forward Tyler Bey, limited to 18 minutes because of foul trouble, added 10 points and 6 rebounds.
So now it's off to Washington State and Washington for the Buffs.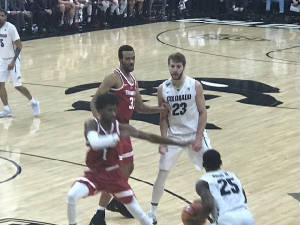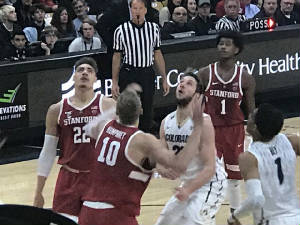 Left, Lucas Siewert setting a screen for McKinley Wright IV. Right, Siewert and Tyler Bey (1)
at the offensive board.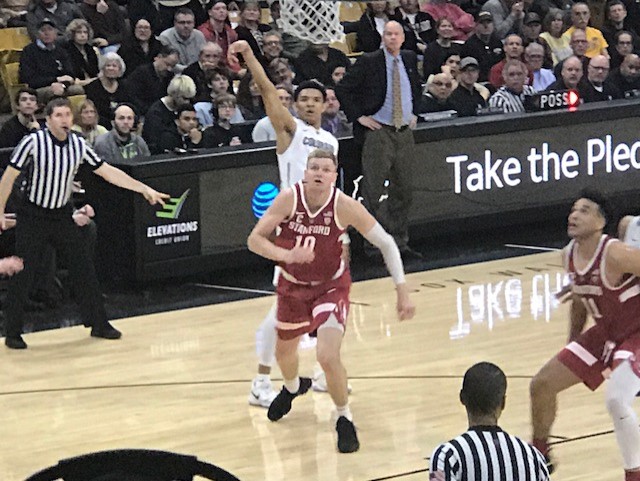 Tyler Bey follows through on the shot that went in, putting CU up 52-49 with 5:36 left.

Mile High Sports, February 9
Bowman Brothers Reunion in Eagles' final ECHL season
My Mile High Magazine
stories on Coloradans heading
to 2018 Games at PyeongChang
February 5
The final count, barring injuries or other adustments, of Colorado-connected athletes on the Team USA rosters for the Winter Olympics was 31.
I did stories on six of them for the February edition of Mile High Sports Magazine, now out and available.
Here the online versions of those stories, each with links to the digital edition of the magazine: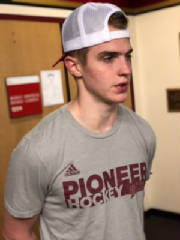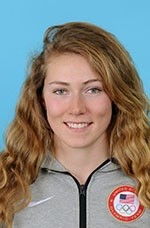 Mikaela Shiffrin, Alpine skiing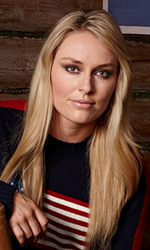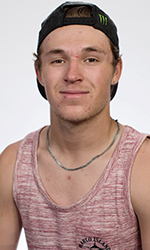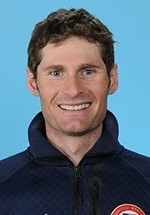 Bryan Fletcher, Nordic Combined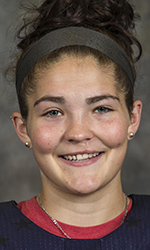 Mile High Sports, January 21
All Aboard the Avalanche Bandwagon!
On Nikola Jokic: Why can't he do
that every night? (The sequel)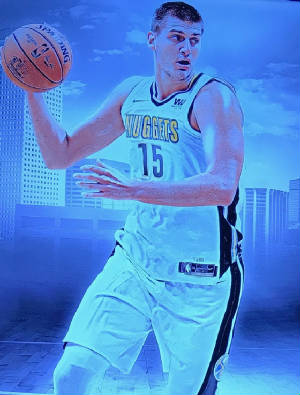 January 16
That image of the Nikola Jokic at left is from the same digital board in the Pepsi Center arena level hallway that displays pictures of five Avalanche players on hockey nights.
Yes, one of the Avs shown is Nathan MacKinnon.
The Serbian basketball center and the Canadian hockey center both are 22.
Their situations have more differences than similarities, of course, but what strikes me is that for several years, I've been writing about MacKinnon's obvious talent -- yet his mercurial play.
One night, whether with the Avalanche or for Canada or Team North America in international play, he would tantalize, flashily producing goals and making plays, leading to the reflexive question: Why can't he do that every night? Then the next game, he would revert to more flash than substance. And at the end of the season, his numbers would add up to underachievement, as when he had 16 goals in the Avalanche's horrific 2016-17 season.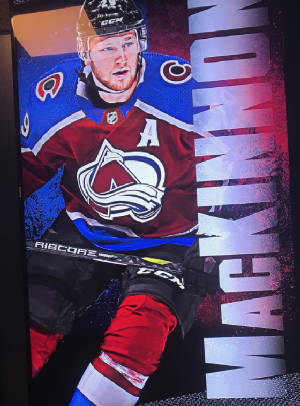 Now, one of the major reasons for the Avalanche's stunning improvement is that since November 1, MacKinnon -- the NHL's No. 1 overall draft choice in 2013 now in his fifth season --has done it, loosely speaking, every night. He has been the NHL's best player in the stretch. Will it last? That's open to debate and subject to realism, but my point here is that I've found myself wondering the same thing about Jokic, who on some nights has been dominant, stunningly impressive as an all-around, skilled center with an uncanny passing ability for a big man.
Why can't he do that every night?
That question is raised, for both Jokic and MacKinnon, with the concession that it's a standard, a lofty goal that never will be attained. Not in basketball and not in hockey. But it is the expectation of greatness, and now the issue is when it more ruthlessly will be a challenge thrown at Jokic, and when he won't be babied because, among other things, he's only a second-round draft choice and already a "find" in this league.
Jokic had one of those eye-popping nights Tuesday, when he had 29 points, 18 rebounds and 7 assists in the Nuggets' 105-102 win over Dallas. One of his assists was a blind behind-the-back setup pass to Wilson Chandler. The Nuggets relinquished most of a 23-point lead before hanging on.
Why can't he do that every night?
"Nikola's a good player," said Denver coach Michael Malone. "Obviously,he's not going to be great every night. I lknow everybody expects that from him, but I think we have to get off his back a little bit and give him a break. At San Antonio, he was terrific and tonight, I thought we featured him early, played through him extensively. We knew that their starting five, with Dirk Nowitzki, and our starting five, that we could look to go at him a little bit and make Dirk have to defend and make him play both ends of the floor. Our guys kept finding him all night long, so Nikola took it upon himself just to be aggressive, confident and be very confident and efficient."
At that point, I asked Malone about those expectations he had just mentioned, whether there would be a point we could expect Jokic to meet those standards night in, night out.
"It's a process," Malone said. "This is his third year in the NBA and he was a second-round pick. Now all of a sudden people want him to be Superman. Very, very few players in NBA history come in, first, second or third year and put a franchise on their back. But what you love about Nikola, he doesn't shy from it. It's not easy at times for him. But right now we're just focusing on one game at a time, forgetting about all the other stuff."
One step in Jokic's maturation would be getting away from his aggravating and seemingly incessant whining about the officiating, which distracts him.
A little later, I mentioned to Jokic that his coach had just talked about avoiding placing unrealistic expectations on Jokic at this point of his career and then asked him what expectations he was putting on himself now.
"To win as much games as possible," he said. "I just want to win the games. Today was kind of my night, whatever, I had to score a lot and I was aggressive, not just scoring, but as a rebounder. So just to win as much as possible."
Jokic has shown the flashes. In 37 games this season, he is averaging 16.2 points, 10.3 rebounds and 5.1 assists.
As was the case with Nathan MacKinnon until the switch went on, it's a compliment to Jokic to expect more, to make the standard sustained stardom.
Mile High Sports, January 14
Jonathan Bernier on holding down the Avalanche crease
Mile High Sports, January 12
Mile High Sports, January 7
Mile High Sports, January 1
Carl Soderberg: From albatross to asset
Magazine-type sports talk
can work in Denver, too ...
as a change of pace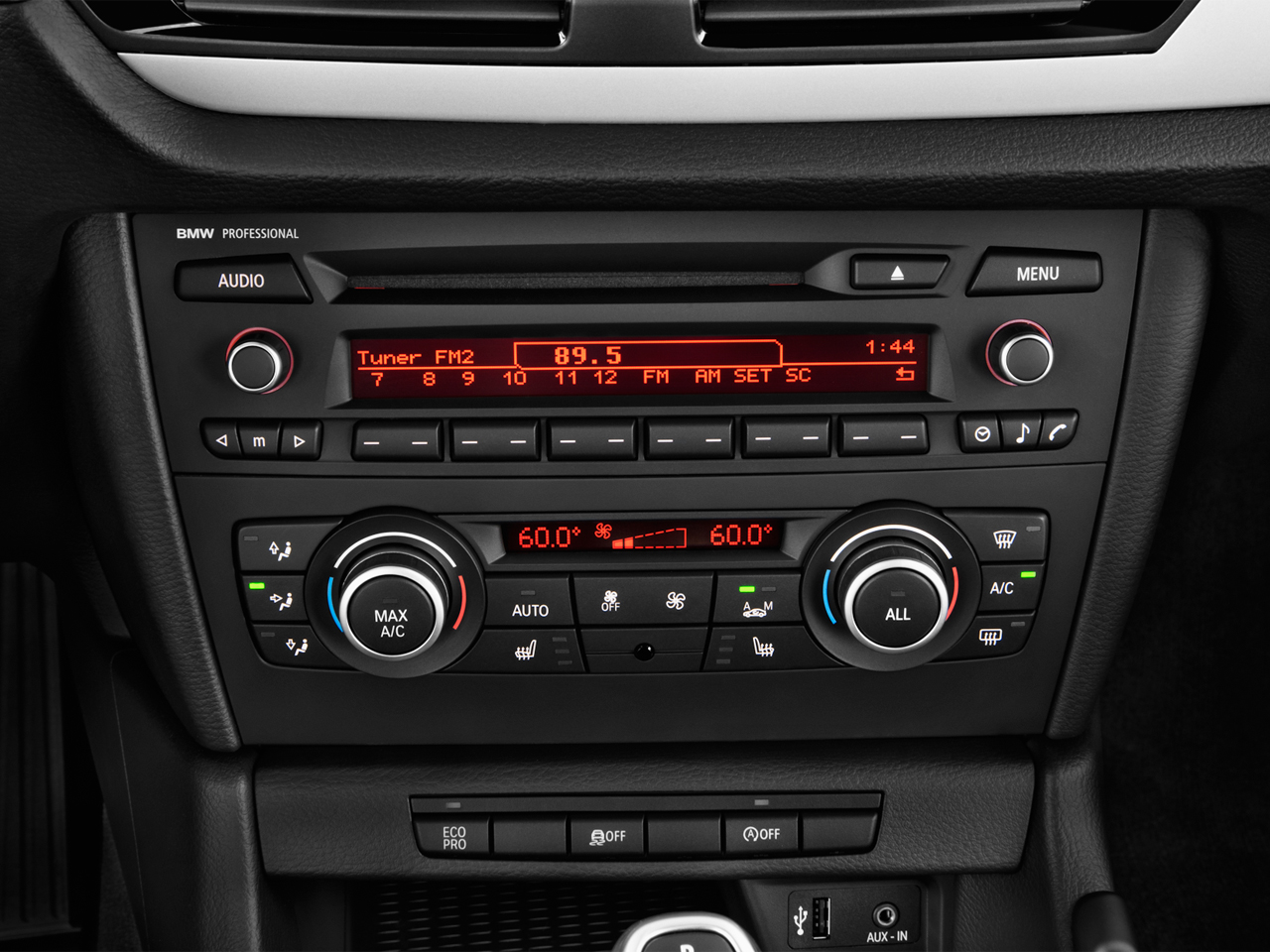 December 27
A couple of years back, I placed tongue in cheek -- well, mostly -- and proposed an "Anything But Broncos" sports talk radio show for a general sports fan audience.
Our subject matter could be free form and eclectic, touching on anything on the Colorado and national sports scenes except the Broncos. That would mean the Nuggets, Avalanche, Rockies, CU, CSU, DU, Air Force, Rapids, Mammoth, Outlaws ... and more. Yes, and more. If CSU Pueblo is in the Division II national football playoffs, for example, we'd find a way to talk to ThunderWolves coach John Wristen, perhaps closing with his recommendation about where to get the best Pueblo slopper or what to order at the Mill Stop or Latronica's.
Implicit in all of it would be that you might not be a fan of everything we talk about, but through guests and discussion, we'll try to make it interesting, entertaining and educational. Yes, about all of those teams. There are terrific stories tied to every team in the state. They can be found and told. And when we're done with a segment, if you say, "I didn't know that...," or "That was interesting...," or "Mike Bobo sounds like a good guy," or, "That really ticks me off," we've succeeded.
The callers would be in on it, and they would know that the second they mentioned anything remotely connected with the NFL team, we'd hang up on them. It could become part of the routine, with callers intelligently discussing, say, the Rockies' Charlie Blackmon for four minutes and then at the end of the call add, "But about Brock Osweiler ....," before the click.
The idea never got anywhere.
The time might be right now.
Before I go any farther, though, I need to concede this would be a niche show with a gimmick. At least at the start.
Despite their problems, the Broncos still are the undisputed kingpins of the Colorado sports market. They always will be. Even now, as the Broncos have "slipped," discussion of dysfunction can draw as much interest, or more, than picking apart mediocrity. Talking Broncos -- all, most or any of the time -- is safe, common denominator radio for ratings and business purposes. I get it.
I've done radio work in Denver on several stations, mostly as a weekend co-host and a fill-in co-host during the week. I have enjoyed it. I mostly enjoyed it when we did more than talk about the Broncos. But I also remember the time my co-host and I talked about Tim Tebow for three hours. Later, a close buddy confronted me, saying he was sick of the myopic approach, both on the station and on that show, and arguing we should have talked about other things. Then he added, "But while I have you, let me tell you what I think about Tebow ...," and he proceeded to talk about Tebow for 10 minutes.
That, to me, is Denver sports talk radio in a nutshell.
I'd love to hear or do that "Anything But Broncos" show. I'd concede that the Broncos are No. 1, but what could we possibly say that hasn't been covered, and usually to the point of overkill, elsewhere? And covered to the point that so much of the Colorado sports scene has been overlooked or underplayed? This would be a niche approach that won't be for everyone.
Even those proclaiming they want more broad-based subject matter on more stations and shows would have to be willing to be open-minded. No Broncos. None at all. That's the gimmick and the concession: You can get that anywhere else, even on the eclectic shows in the market (and there are some). One segment would be about the Avalanche, the next would be about CU hoops, the third about the Nuggets ... and so on. If you're interested in one of those, but not the other, would you tune out? Or would you stick with us, agreeing that listening to discussion about a team you don't passionately follow -- say, DU hockey and an interview with NCAA championship coach Jim Montgomery -- also can be good radio? Neither will this join the niche shows of single-sport and/or team emphasis -- about the Rapids and soccer, for example. This will not be a haven for fans who tightly focus on one team or sport only, beyond the Broncos, or get deep into analytics. This is a magazine-type show for a general audience. About ... Anything But Broncos.
Absolutely, this kind of show is more for another age, when listeners were in the den or the office, accustomed to staying with a single show -- perhaps for the entire show. It s not made for getting in and out of the car, though I believe sampling it during the commute or the run to the store could work, too. You will not be turning on the radio and hearing the exact same things discussed as earlier in the day, even if it was different hosts; or the day or week before. In other words, don't tell me you've had it up to here with Broncos talk, then when I toss out the many alternatives, you say, "Who cares about CU basketball?"
As a two- or three-hour alternative and change of pace, an Anything About Broncos, magazine-type show could work. It could find a niche.
But about Demaryius Thomas ...
Click.
Mile High Sports, December 18
Tyson Barrie isn't pictured, but he's still in the picture
Mile High Sports, December 17
On this (unnamed) line, Landeskog amps it up
Mile High Sports, December 15
Mike Boryla: Ex-Eagles
quarterback-turned-playwright,
turned-anti-football/NFL crusader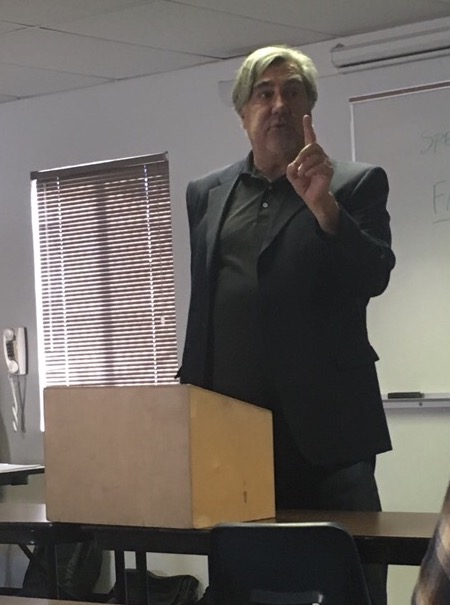 Mike Boryla (Photo by Taylor Oxenfeld)
December 7
Former Regis High, Stanford and Philadelphia Eagles quarterback Mike Boryla is on a crusade. To kill football.
Boryla, who lives in Castle Rock, visited my Journalism 3130 class Thursday at Metropolitan State University of Denver to tell my students about that ... and a lot more.
Those of us in Boryla's e-mail chain receive frequent fiery missives about the NFL, citing the scourge of CTE and the league's maneuvering to downplay its impact -- yes, despite the $1 billion settlement designed to make money available to affected former players. Boryla even has argued that the NFL could be declared a terrorist organization, shutting it down and subjecting its revenues to confiscation. He told my class he knew that wasn't going to happen, but he takes that stance to make a point.
Boryla talked about the toll he has seen brain injuries take on former teammates, including with the Eagles and also All-Star Games, as was the case with Mike Webster, the former Steelers center who died at age 50 after many years of physical and psychological problems. And he also addressed what be believes is the continued underplaying of studies demonstrating the seriousness of the problem, and the denial of current players who often seem to believe it can't or won't happen to them.
Boryla recently underwent a first wave of neurological testing as part of the lawsuit, and his discussions with the medical professionals involved set off bells of recognition. When he was an accomplished tax attorney for nearly 20 years and was entering his potentially prime years in the climb-the-ladder profession, he began having cognitive problems and not feeling comfortable with the fine-print legalistic rhetoric so ingrained in the legal field. He moved into mortgage banking from 2004-11, but even then, he began feeling more creative and soon he dove enthusiastically into writing.
He believes the creative right side of his brain was taking over. The affected analytic side of his brain was giving up control.
Boryla suffered three significant concussions as a player, one at Regis and two with the Eagles.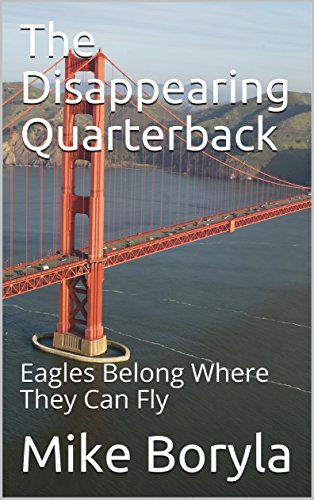 Now, at 66, Boryla considers himself a full-time playwright and screenwriter, best known for his one-man play, "The Disappearing Quarterback," peformed 30 times in two separate runs at Plays and Players Theatre in Philadelphia and seven times in Denver at the Bug Theatre and the Denver Center for the Performing Arts' Loft Theatre. (That's the digital version at left.)
After a performance during the play's second run in Philadelphia, Boryla got word backstage that a man in the audience was asking if he could meet with the play's star. Boryla agreed, and soon he was having a heart-to-heart with the audience member.
The man explained his name was Bill Musgrave, he had been raised in Grand Junction, and like Boryla, he also had won the Gold Helmet that goes to Colorado high school football's top player-scholar.
Musgrave revealed he was the Eagles' quarterback coach.
He also said he had enjoyed the play, and the two men talked about -- among other things -- the Biblical references and the quarterback craft. The two men haven't yet had a reunion since Musgrave joined the Broncos' staff, but it could happen at some point.
The play Musgrave and many others have seen and enjoyed opens with Boryla alone on the dark stage. After 35 seconds of organ music, the audience hears him calling a play in the Eagles' huddle in 1975. "All right, men," he says, breathing hard, "third-and-7, we need this! Black right zip ... run pass 37 ... 655 choice. 'Khunya,' watch for the red dog."
Forty-two years ago, that was Boryla's way of asking the Eagles' all-pro tackle, Jerry Sisemore, to be vigilant on the play-action pass. In the theater, the spotlight then shines on the face of Boryla. And the plays -- both the football play portrayed and the stage play itself -- take off.
Boryla suffers a concussion on "Black right zip ... "
Then Boryla's script flashes back to earlier stages of his life, and of his football career. The work is in the tradition of Hal Holbrook playing Mark Twain or Julie Harris playing Emily Dickinson -- one-character, one-actor plays. Except Mike Boryla plays Mike Boryla.
When Mike was born, his father, Vince, was playing for the New York Knicks. Vince later spent time as GM of the Knicks, Utah Stars and the Denver Nuggets, and the family moved to Denver and made it the Boryla base when Mike was in the third grade. At Regis High, then still in North Denver along with what then was known as Regis College, he took Latin for four years and loved his coaches, Dick Giarrratano in football and Guy Gibbs in football. Though he won the Gold Helmet in 1968, four years after Bobby Anderson and two years after Freddie Steinmark, he was a more accomplished basketball player and went to Stanford on a basketball scholarship.
"I talked them into letting me try out for football," he once told me. "Once I had my second spring practice in football, the coaches came up to me and said, 'You're not playing basketball any more. You're a football player."
For two years, he backed up Jim Plunkett, who became and has remained a close friend, marveling at Plunkett's touching shyness despite his prominence as a Heisman Trophy winner. Then he started as a junior and senior and was drafted in the fourth round by the Bengals in 1974 before his rights were traded to the Eagles.
He started three games as a rookie, mostly backing up Roman Gabriel, and still planning on a short career before going to law school. That offseason, before he and his wife, Annie, were married, he lived in his van in the Bay area.
After the second of his three seasons with the Eagles, as an injury replacement following the dropping out of Fran Tarkenton and Roger Staubach, Boryla came on late in the Pro Bowl to replace Jim Hart and threw two touchdown passes to lead the NFC to the win.
Boryla told my class that he hadn't even expected to play, but Eagles tight end Charle Young went to NFC coach Chuck Knox and insisted on it. Then, Boryla said, the two TD passes came on the special plays each QB got to install in the NFC playbook -- the "Boryla Special" and the "Hart Special."
He was traded to Tampa Bay, sat out the entire 1977 season because of injuries, then played in only one game in 1978 before quitting football for good. He left a lot of money on the table, walking away. He was banged up and he just wasn't interested.
For years, he scrupulously avoided any media exposure. He cited a passage in Genesis as an instruction to not look back. But as "The Disappearing Quarterback's" opening approached, he went along with the need for publicity and did an interview with the Philadelphia Inquirer's Frank Fitzpatrick. I saw the story and soon reached out to him to do a newspaper story here, too. We've been friends since, meeting for coffee in shops that have become his preferred writing venues. He joked with my class that home is too quiet and that he doesn't mind writing kids tripping over him and the voices rising as the caffeine takes effect.
His projects are ambitious and varied, including "The Clone of Jesus of Nazareth," which combines material from three of his plays into a 40-page screenplay treatment; plus the plays "Long Ago and Far Away" and Ministers of Satan."
On the side, he's taking on football.
The irony is I've also met and written about Deb Ploetz, whose lawsuit against the NCAA follows the death of her husband, Greg, the former Texas defensive lineman who is a major figure in Horns, Hogs, and Nixon Coming. Greg was found to have severe CTE after suffering from dementia-like symptoms in the final years in his life, for one stretch being brought to the Denver area so marijuana oils could be used in his treatment. Deb's motivation isn't financial, it's to continue her quest to convince parents not to let their children take up football.
I believe Deb and Mike could have quite a talk.
Here's a YouTube interview with Mike. Among other things, he calls the NFL "psychotic."
Mile High Sports, November 30
Mile High Sports, November 22
Red Miller was a Ring of Fame figure
Here before he was a Ring of Famer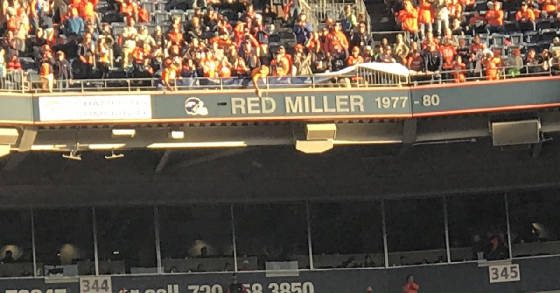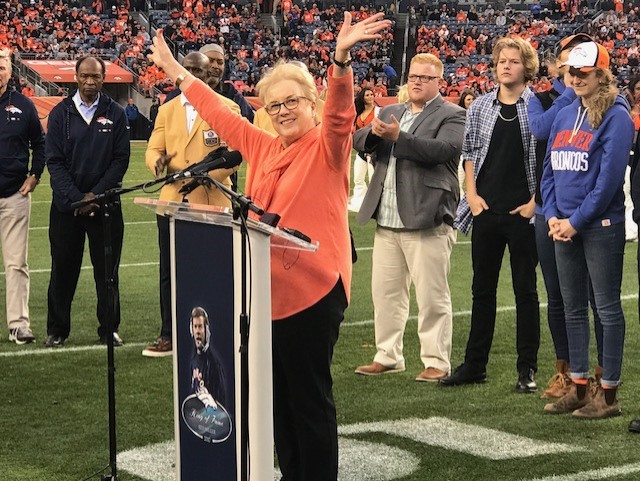 Nan Miller, Red's widow, praises the Denver fans on Red's behalf during the halftime ceremony.
Behind her are Red's grandchildren and that's Orange Crush safety Billy Thompson at the left.
November 19
I could hear Red Miller saying, "Thata way, Nan."
His widow, Nan, did a terrific job representing Red and his family Sunday at the halftime ceremony inducting the former Broncos coach -- at long last -- into the Ring of Fame. The ceremony by necessity was brief, but it was well done and did Red justice. With Annabel Bowlen, owner Pat Bowlen's wife; PR man emeritus and unofficial team historian Jim Saccomano; and Tom Jackson, representing Miller's players in his two stints in Denver (the first stint as an assistant), also speaking, Nan was up to the challenge of honoring Red and thanking those he coached, worked with and affected. That includes the Denver fan constituency that helped make that 1977 season magical -- both those who lived it and those who cared enough to learn about it ... even if that meant being regaled by parents, bartenders and scribes who correctly swear it was a ground-breaking experience for the Denver market that couldn't be duplicated.
Nan and Red were married after Red's coaching career was over, and he was a successful stockbroker. But Nan gets it, knows what this is all about and -- most of all -- loved Red.
Finishing up her turn at the podium at halftime, she saluted "the greatest fans in the NFL. You've been here since 1960, a lot of you, and Red loved you. You loved him back."
In the interview room after the ceremony, Nan expounded on their reaction when getting the news about the Ring of Fame. "Really, truly we thought it woud never happen," she said. "We thought those days were past, you know. So it was quite a surprise. But it was just kind of quiet and peaceful. . . He has been appreciated for the last 40 years, really, by this community. And that's what it's all about, really. It's the little kids that come up and they don't even know who he is, but their mom and dad say, 'Hey,' and they're just so excited that he'll sign a football. The neighbor kids, he takes them to our basement and says, 'Hey, pick out something,' and that just means the world to those little kids. They never forget that. As we go about or daily business, in and out of restaurants and the grocery store and whatever, somebody always stops him and says, 'Thank you for what you did in 1977,' or, 'It was so much fun back then. Our family had so much fun.'
"It was wonderful and it was magic. For anybody who was here back in '77, it was unbelievable. It turned the town on end for sure and put us on the map."
In the time I spent with Red researching '77: Denver, the Broncos, and a Coming of Age and then in our occasional visits in ensuing years, we never once talked about the Ring of Fame. He attended ceremonies when his former players were honored, but I never got the impression he was embittered by, or even concerned with his exclusion. There were understandable lingering feelings about his early 1981 firing, which was a fluke because the Phipps brothers sold the team to Edgar Kaiser, and Kaiser wanted the hot, young coaching prospect of the time -- Cowboys assistant Dan Reeves.
Yes, Reeves did a good job in his stint here and even was the first Broncos coach to make the Ring of Fame, and it certainly was Kaiser's prerogative to make a change, but it wasn't "right," either. But Pat Bowlen took over the team soon after, and Red was in Denver the whole time, working, retiring, and living with Nan in south Denver.
Red took the head coaching job with the ill-fated Denver Gold for the USFL's 1983 inaugural season to be a head coach and stay in Denver, but he never got another NFL chance, in part because he was unwilling to become an assistant again as an intermediate step. In particular, if he had accepted an offer to join the Raiders staff -- yes, the Raiders -- he might even have been able to move up there or better position himself as a possible second-chance hire in the coaching carousel. He feuded with tight-fisted Gold owner Ron Blanding, who zealously wanted to stick to the new league's low-cost model to the point of ridiculousness, from the start and lasted only half of a season on the job before -- oh, the irony -- Craig Morton replaced him. (That added to the strain in the Miller-Morton relationship.)
Red's Ring of Fame honor was long overdue, and it was unfortunate that it was posthumous. But it was appropriate and worth celebrating.
Next up should be Otis Armstrong, who isn't on the Ring of Fame despite winning an NFL rushing title. The catch there is Armstrong's long-ago legal battles with team doctors over serious neck and spine injuries. But that shouldn't matter. He's deserving.
This from earlier about Red: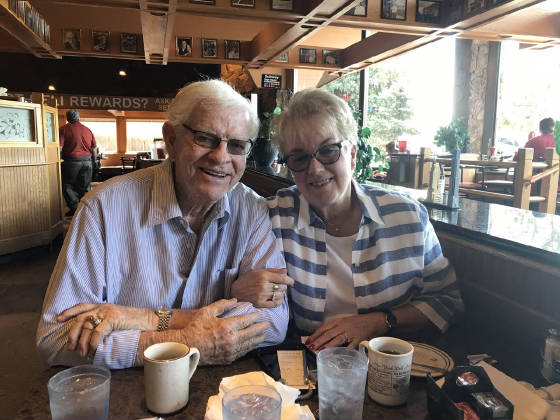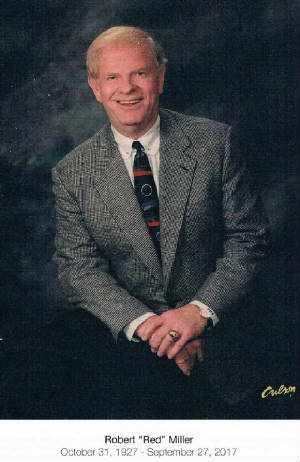 October 5
Red Miller, who had suffered a stroke nine days earlier while watching the end of the Broncos-Chargers game at home, passed away in the early morning hours on September 27, and his funeral in Greenwood Village today was a moving experience.
What a terrific man.
At the Thursday service, Red's son Steve -- who like Red is a gifted pianist -- honored Red by playing "A Closer Walk With Thee" and "Somewhere Over the Rainbow," as well as offering memories of Red in a turn at the microphone. His wife Nan also spoke, as did grandchildren Taylor, McLane, Bobby, Nick and Cory, and it all was touching. Many members of the '77 Broncos attended and Billy Thompson represented Red's former Bronco players in a turn at the microphone.
The above is Red and Nan when I had breakfast with them on August 23 at New York Deli News. We had an enjoyable conversation, and he already was looking forward to and excited about his induction into the Broncos' Ring of Fame at the November 19 game against the Cincinnati Bengals.
Here's what I call the Quintessential Red -- Red being Red -- passage from '77, about the Raiders rivalry.
And this is an additional excerpt, about Red's background, including growing up in Macomb, Illinois as the son of a coal miner and scrambling for everything he had.
I'm proud to have told his story.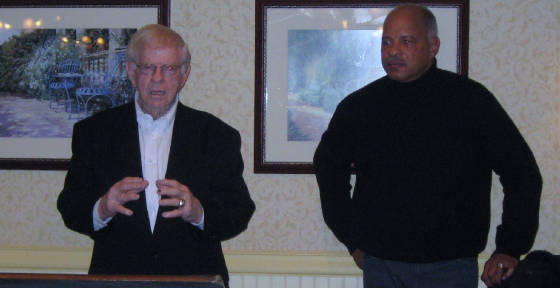 Red and Haven Moses, of the M&M Connection, when they appeared with me at a book-signing
function for '77 in 2007. When Red was done, his listeners were wanting to run through a wall.
An emotional Folsom
finale for Lindsay, Irwin
and the CU seniors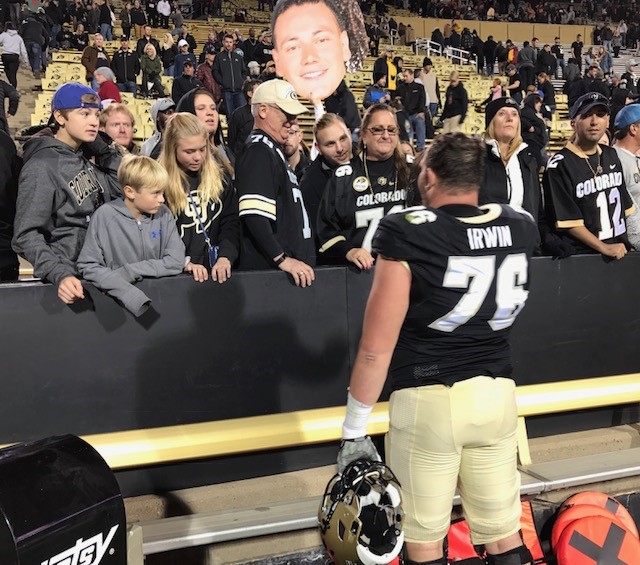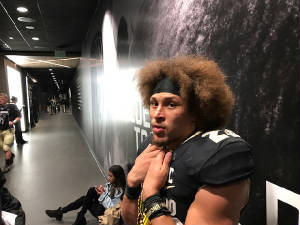 November 11
BOULDER --Phillip Lindsay and Jeromy Irwin both wear a "C" -- for captain, not Colorado -- on their jerseys.
They both lead and they both battled emotions Saturday when they played the final games of their CU careers at Folsom Field. Following the 38-24 loss to Southern California that dropped the Buffs back below .500 and left them needing to win at Utah on Nov. 25 to be bowl-eligible, they were among the 21 seniors who returned to the field about 15 minutes after the game for an informal group picture -- and I snapped away, too.
And they have been through the Colorado program's recovery -- even if that recovery has hit a speed bump this season.
Irwin, in fact, was part of the nadir year, playing as a true freshman in CU's embarrassing 1-11 season in 2012 before he missed all of 2013 with a broken foot and most of 2015 after suffering a torn ACL in the second game. He received a rare medical hardship redshirt for that season, so there he was on the Folsom Field screens Saturday night introducing himself as part of the starting lineup against Southern California, proclaiming "sixth-year senior" as if it was a badge of honor.
Which, of course, it is.
Lindsay will depart the program as its all-time all-purpose yardage leader, and that understates his role in the Buffs' progress. (If you wince at "The Rise" now, or were never buying in, you have to concede there has been progress ... and the diminutive Lindsay has been an inspirational force in all of it.)
After he rushed for 68 yards, equaling his lowest total of the season, on 20 carries against the Trojans, Lindsay wasn't brought to the interview room, but spoke to a small group of us outside the dressing room. I asked him about the emotions of the night, starting with carrying flowers to his parents -- including father Troy, a former standout running back at CSU -- in the pregame Senior Day ceremony and knowing that with or without a CU bowl bid, this was it for him at Folsom.
"For me, I keep my emotions to a minimum," Lindsay said, unconvincingly. "It's not about me, it's about my teammates, and I go out there and I do it for them. One of these days, I'll be able to come in this stadium and sit back and reminisce about all the good times and stuff like that. But right now, we're focusing on that we have one more game left, one more game for me to be a Colorado Buffalo, on top of the bowl, so it's going to be exciting."
Then I asked how far the program had come in his five years -- including a redshirt year in 2013 after he played in only two games as a Denver South senior because of of a torn ACL.
"You guys can see that better than I can," he said. "I feel like it's come a long ways. It's college football. You have good years, you have bad years, you have medium years. You just have to keep rolling with it."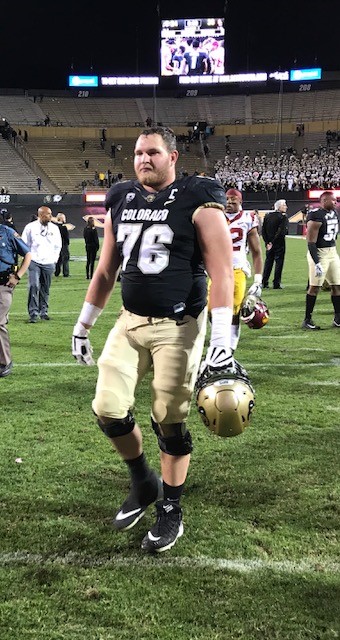 In the interview room, CU coach Mike MacIntyre said Lindsay has "unbelievable passion for the state of Colorado, for the University of Colorado, and a passion in playing for his teammates and his family. His inner drive is probably the best I've ever seen or been around. And it's not just game day. It's every day of the week. His attitude and perseverance has got him to this point. He's a really good athlete, he's done a lot of great things, but the thing that separates him from most people is his perseverance and his positive drive."
Lindsay will go into the Utah game with 1,402 yards rushing on 283 carries, for a 5.0-yard average. He always credits his offensive line, and Irwin is the anchor of that group.
Irwin hasn't been in the program since the Bush administration ... it only seems like it. By the way, although this is natural to wonder about, or even to assume, but he is not related to brothers Hale Irwin, who went on to play a little golf) and his brother Phil, and Phil's son Heath, a guard who played seven seasons in the NFL. Jeromy is the youngest of a set of triplets, and his brother, Sean, was a tight end for the Buffs from 2013-16. Born in North Little Rock, Arkansas, Jeromy came to Boulder from Cypress Fairbanks High in Cypress, Texas, about 25 miles from Houston.
He graduated last spring, and he has seen a lot in his six years in the program.
After coming off the field following the relatively somber senior photo session, he told me of the emotions of the day: "They're high and they're rough. It's going to be my last time playing at Folsom and it's over. That's a tough one to swallow. But that's behind me. It's only been behind me for five minutes, but but it's behind me now and we have to move on to Utah after the bye week and we get better and we get rested."
Sean was on the Buffs' sideline with a field pass, and Irwin's family was in the stands -- including in the front row after the game, when Jaromy came over to say hello to all.
"I just tried to keep the emotions in today," Jaromy told me. "They came out a little bit in the locker room at halftime. I've done a lot of things -- tears, blood and sweat in this program."
The Buffs were trailing 20-0 and had only 152 yards of total offense at the half.
So what did he say?
"I rallied the offense together and just told them, 'I'm not going out like that.' We were getting beat 20-0 and it takes more heart rather than to go out there ane roll over. That's what I told them, 'We have to go out with our hair on fire and get back in the game. We played a lot better in the second half. We made too many mistakes early."
Because of his unique situation, Irwin is the only Buff who played under Jon Embree in that one-win season before MacIntyre took over.
"From one win to 10 wins (last year) and now to five, with us hopefully getting a sixth and make a bowl apearance," Irwin said. "But I've seen a lot here and I could be a part of bringing the program back to where it needs to be. There's more to it than wins. Just the culture around this program is so much better these days. Guys care and guys really leave it out there on the field. They don't come out there thinking we're just going to roll over and get beat and go home any more. We're out there to play and we're going to win.
"But it's coming to and end, which is sad. But I've been here for six years, so I've been expecting it. I can't stay any more. It's still the same here. Young kids come in and they learn, either the hard way or through experiences, and that's just the way college goes."
As Lindsay spoke in the tunnel outside the dressing room, Irwin was nearby, by now talking with Mark Johnson on the radio post-game.
He nodded at Irwin.
"He's an old man," Lindsay said. "He's been here six years. He's a dominant lineman. I'm looking forward to seeing him on the next level. You know, it's going to be said to leave these guys, but one door closes, another door opens. That's the way I look at it."
Wait. I know I should be pounding the table and the keys, screaming about the Buffs' regression. This wasn't my first visit to Boulder of the season, though, and I've talked about all of that before in previous pieces. This was the Seniors' Day, and although they aren't departing after a season that wasn't entirely unexpected, but also represented underachievement, they have been part of building a foundation. The major upgrade in faciities -- promised to MacIntyre in his original contract and constructed after the requirement to raise the money before proceeding was tweaked -- also has been instrumental. But this class showed up before the recruiting pitches could include claims -- justified claims, not delusional wishful thinking -- that the Buffs were keeping up with both the Joneses and the Ducks ... and everyone else.
And they leave the program a better place than when they arrived.
Legends Return:
D.T., Alex breathtaking
in their own ways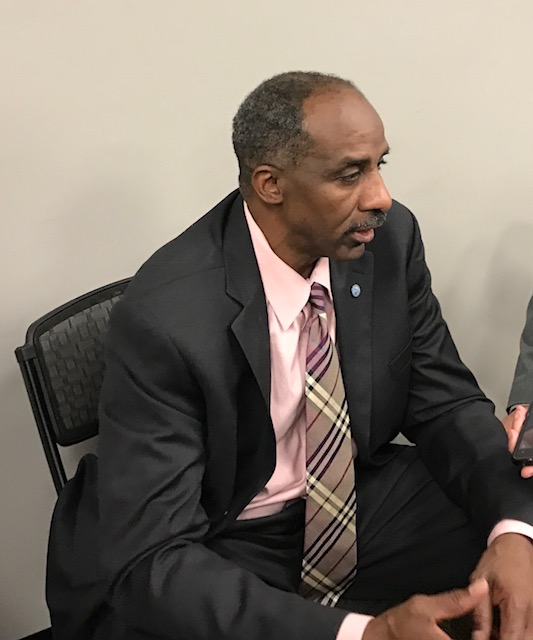 David Thompson, above, and Alex English, below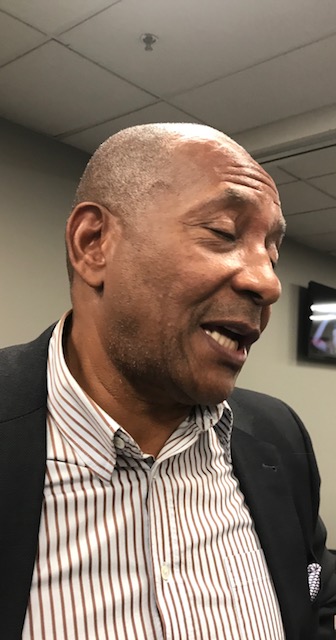 October 21
After the NHL approved the sale of the Colorado Rockies and their move to New Jersey in 1982, I was switched to the Denver Nuggets beat.
Because of the convivial atmosphere in McNichols Sports Arena in those days, with media wandering through both offices, I didn't feel as if I was starting from scratch, and I knew a lot of folks in the Nuggets' organization. Doug Moe already was calling me "Dip----," as he did with everyone he liked (or, in some cases didn't like).
I assumed I would enjoy covering, among others, David Thompson, who was listed at 6-foot-4, but wasn't that tall and outjumped men six inches taller. The Skywalker. The man whose signing with the ABA Nuggets in 1975 hastened the merger and for a stretch was the most electric player in the NBA, with only fellow ex-ABA star Julius Erving in the same conversation.
By the early '80s, injuries and personal demons had slowed him down, and in 1981-82, his scoring average was down to 15 points per game and his game was diminished. But I still was looking forward to covering him and, yes, was hoping for a Thompson renaissance.
The Nuggets traded him to Seattle -- first for Wally Walker, and then, after the NBA ruled that Walker couldn't be traded, ultimately for Bill Hanzlik.
The sad thing was that news of Thompson's drug problems were becoming public, and I had to write some of the stories and even ask him about the issues.
After two undistinguished seasons with Seattle, and a horrific knee injury suffered at Studio 54 in New York, his career was for all intents and purposes over. He tried to come back with Indiana in 1985, but didn't play a regular-season game.
At their home opener against Sacramento on Saturday night, when the Nuggets brought back and feted Thompson, plus Alex English, Dikembe Mutombo, ABA original Byron Beck and Doug Moe, I asked Thompson after the halftime ceremony if he ever looked back and wondered what he might have been if he stayed healthy and stayed with the Nuggets. At the time of his trade, the Nuggets were committed to the Moe up-tempo, push-the-pace passing game that accentuated his talents.
Under the upbeat circumstances, I didn't ask more directly about the drug issues, which Thompson has publicly acknowledged since, long after he turned his life around.
By that 1981-82 season, his relationship with Moe -- since repaired -- was strained (and that's putting it nicely). Moe even had Thompson coming off the bench, with non-shooting T.R. Dunn starting at shooting guard, for much of D.T.'s final season in Denver. Later, I had to write the story about how the Nuggets front office even had him shadowed, presumably in an attempt to see if evidence could be gathered that would enable Denver to void his "extravagant" five-year, $4 million contract.
"We had a good run," Thompson said. "We could have had some good teams and maybe won a championship. But I enjoyed my seven years here and I really hated to have to go when I left and went to Seattle, but I knew it probably was the best thing for me when I left."
What might have been ...
That's pretty much the universal reaction to Thompson's career. I share it.
Even the way it played out, Thompson was one of the most influential athletes in Denver pro sports history, beginning with the signing that was a major impetus for the merger. And in that final season of the ABA, when Thompson was a rookie, the fun part was that in a league that shrunk from nine to seven teams during the season, the New York Nets, with Erving, seemed to come in every two weeks. I was attending CU at the time, and we'd go to the ticketing service window in the University Memorial Center on weekday game days and get $4 tickets to the games against the Nets or Kentucky. Thompson alone was worth the price of admission.
"The travel was difficult, but the style of play was great," Thompson said. "The only thing I didn't like was that we had to go up against Dr. J like 13 times. But other than that, it was pretty good. And then I'm proud to be one of the key figures in the Nuggets making the transition from the ABA to the NBA and coming in and right away winning division titles. That's something they can never take away. We had a good group of guys, too, and that made it fun."
I asked Issel, his former teammate, about what Thompson could have been.
"When we were sitting there on the court, I was sitting next to Dikembe," Issel told me. "They were showing David's highlights. Dikembe said, 'Man, I can't believe he could jump like that.' And I told Dikembe, I said, 'If David hadn't had his demons, he would be as good as anybody who ever played this game.' I really believe that. He was phenomenal. He had it all. A 44-inch vertical jump, he could shoot the outside shot. I mean, he still was a great player. He's in the Naismith Hall of Fame. He would be talked about in the same sentence as Doc and Magic and Larry and Michael."
Thompson's departure did nudge English a bit more to the Nuggets' forefront, and that was the silver lining.
English was the sneakiest, sleekest, smoothest big-time scorer in NBA history, always moving in the passing game. He was not made for SportsCenter highlights; what he did was maneuver, glide, float .. and score. His nickname -- "Pink Panther" -- was apt.
At the end of the night, if you weren't tracking it, you'd go: "He had how many points?" And they all counted.
He was a great player who didn't get enough credit because of his low-key personality and a game that took paying attention to, to truly appreciate. The Nuggets were his third stop, after Milwaukee and Indiana, and we hadn't seen this coming.
Among the English highlights the Nuggets showed during the halftime ceremony was one that I thought summed him up. It was a gliding shot over and past a challenging Maurice Lucas, then with Phoenix. It was nothing flashy, but he simply got the shot with one of the most physical players in the league with his arms up and within, oh, 18 centimeters. That's how Alex scored. averaging 25.9 points in 11 seasons with the Nuggets. He scored in traffic or without flashiness leaned almost imperceptively just far enough to get the shot off -- and in.
"I had a wonderful time here," he said. "I never looked at it as a job. For me, when I got on the floor, it was entertainment. I was a dancer. And I danced the whole night."
English always has spoken his mind -- even if quietly. He was heartened by the Saturday ceremony.
"I've always felt like the Nuggets ever interwove their history with their present," English said. "For years now, they've not disowned the older guys, but you have to know your history to move forward, to go where you want to go. These players need to know that the game didn't just start when they got here on the floor. There were a lot of great players, great people before them. I think that's important for them to know. As they move forward, they can look in the history books and know these guys. The Skywalker. The Horse. That's the part of history they need to know came from this city. And there's a lot more. They only recognized us tonight, but there are a lot of other great people and players that have meant a lot to the Denver Nuggets."
English also enthusiastically endorsed the upcoming retirement of guard Fat Lever's number. My fellow former Nuggets beat writer, Mike Monroe, asked English about that.
"It's a long time coming, man," he said. "You guys were here. You saw what he did. They talk about Russell Westbrook now and I said, 'Hey, I played with a guy who did this every night.' He defended. Remember, he was one of the leaders in steals. They said we didn't play defense, but we had three of the best thiefs in the NBA -- T.R. Dunn, Fat Lever and Elston Turner."
I asked him if he ever watched his own highlights, such as the ones the Nuggets showed Saturday night.
He said he has them.
But there's only one problem.
"I've got them on Beta," he said. "I don't have a Beta player anymore."

Doug Moe's granddaughter:
From Nuggets anthem to starring
in 20th Anniversary Tour of "Rent"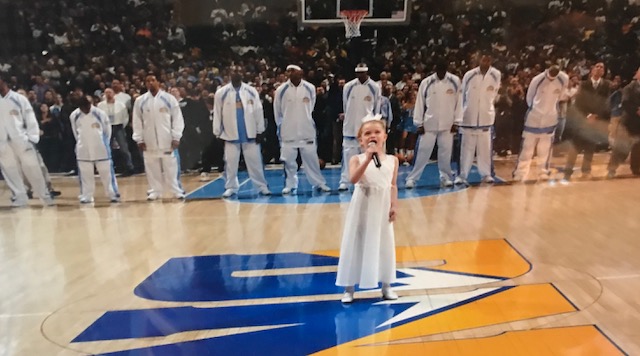 Lyndie Moe singing the National Anthem at Nuggets' game.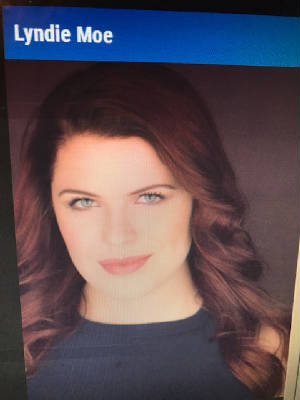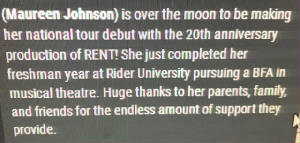 October 21
In advance of the Nuggets' home opener tonight, Helen and I just had lunch with Doug and Jane Moe, plus Bill and Dan Ficke, at (where else?) Big Bill's New York Pizza. Doug, the long-time Nuggets coach (including when I covered the team), is going to be among those introduced and honored at the game tonight. His jersey, No. 432, representing his number of wins with the Nuggets, hangs from the Pepsi Center rafters.
During the conversation, it came out that Doug and Jane's granddaughter, Lyndie Moe, will be coming to Denver next month with the 20th Anniversary Tour of "Rent," playing at the Buell Theatre from November 14 through November 21. She is among the stars, playing Maureen Johnson, the role that Idina Menzel originated off- and on-Broadway and my fellow Wheat Ridge High graduate, Annaleigh Ashford, played in the later off-Broadway revival. (Coincidentally, the original Roger from "Rent," Adam Pascal, is in Denver now, playing Shakespeare in the touring company of "Something Rotten.")
The photo above of Lyndie singing the national anthem was 13 years ago, and she still is only 19, and she has been cast in the iconic show and has joined the company after finishing her freshman year at Rider University.
Here's the "Rent" tour's web site.
If you check out that schedule, in part since "Rent" has been on the national tour circuit off and on for so many years, this is a challenging tour to cities large and not-so-large, with the eight-day stop (after two days were added on the back end) in Denver a long stay for this company.
The usual Broadway routine is eight performances a week. Here, in Denver, after the schedule change, the 20th Anniversary "Rent" company will perform 10 shows in eight days, with no days off.
Spare us the whining about having to play games on back to back nights, guys.
One thing we know: If Lyndie got any of her talent from her paternal grandparents, it's all from Jane.
Here's more from the DCPA site on Rent's stand in Denver, including ticket information.
Catching up with the Finns: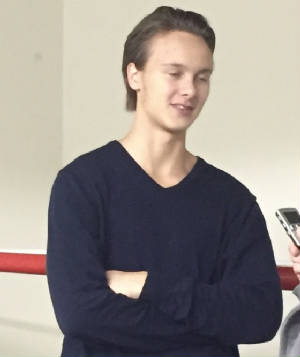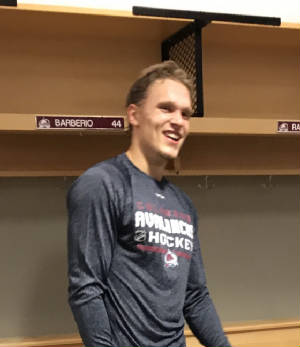 DU's Henrik Borgstrom Avalanche's Mikko Rantanen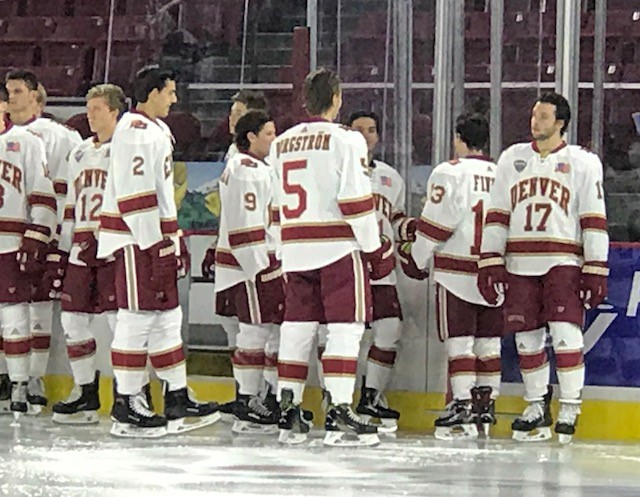 Henrik Borgstrom (5) and his Pioneer teammates before the team picture was taken Tuesday.
After ruling out "one and done,"
Borgstrom is back with Pioneers
September 26
There were times last season, during the University of Denver's NCAA title run, when I'd catch myself wondering: How did Pioneers freshman center Henrik Borgstrom ever last until the Florida Panthers claimed him with the 23rd choice of the 2016 NHL draft?
And not only that, how did he go unclaimed the year before, his first year of draft eligibility?
Even on a team with eventual Hobey Baker Award winner Will Butcher and World Junior Championships American hero Troy Terry, plus other players that helped make the Pioneers a terrific blend of talent, character, grit and chemistry, Borgstrom often took over games.
He was only 19 and looked young enough to be counting down the days to the driver's license test. Listed at 6-foot-3 and 185, he was lanky and in need of being locked in the weight room.
He was playing thousands of miles from home, something European players become accustomed to, but only after that year of two of coping with the culture shock and their second languages as everyday communication, especially testing when that also includes university classrooms.
After piling up 22 goals and 43 points in 37 games as a freshman, Borgstrom is back for a second season with the Pioneers, ruling out a one-and-done scenario that would have been similar to Tyson Jost, the No. 10 pick last year, signing with the Avalanche after his freshman season at North Dakota and joining Colorado for the stretch run. It wasn't shocking, given that his physical immaturity was obvious, including to the Panthers. But Borgstrom returning still is a huge boost to the Pioneers' chances of repeating.
"I don't think I was ever too close," Borgstrom said Tuesday at Magness Arena. "In my mind, I had a clear picture of this year and in my opinion, I just needed a year of two more. . . I even talked with Florida, but I kind of knew I wanted to come back and I don't think I'm ready to go there yet. I want to be confident about myself."
The intriguing complication was that Montgomery, the ex-NHL journeyman forward who won't move on to coach in the NHL unless it's on his terms and in the right spot, interviewed for the Panthers' head-coaching opening that eventually went to former Avalanche defenseman Bob Boughner, an assistant with the San Jose Sharks last season.
"At first, the team was waiting for him to make his move," Borgstrom said. "But he has built this program and I feel like he's so smart, he knows so much about hockey, it was scary if he would have left. We're so happy he came back, too."
Borgstrom added he "would have considered" signing with Florida if Montgomery had taken the Panthers' job, but it's worth noting that even as an NHL coach, Montgomery likely would have considered it best for Borgstrom -- and his NHL organization -- in the long run to play at least one more season of NCAA hockey.
"It would have changed a lot," Borgstrom said of a possible Montgomery departure. "Monty was the guy who recruited me here, with (assistant) David Carle. I kind of thought who would be the next coach and stuff like that. You have to go over all that stuff and it was kind of scary."
On Tuesday, Montgomery noted of Borgstrom: "It's amazing how much strength he's put on. I think the biggest thing is for him to gain that professional consistency, coming every day to get better. It's scary what he can be if he attains that simple goal, I don't think he really can be stopped."
A recent bout with mononucleosis after his return to Denver in August temporarily derailed Borgstrom's offseason conditioning program.

"I actually put on 10 pounds in the summer, but I lost it. Once I got back here, I got sick and I wasnt able to eat or anything," he said. "I'm trying to get that weight back. I felt strong. I still feel stronger than last year, for sure, but I want to get that rate back. I feel better right now."
So now the quest is for a repeat, a daunting task in any sport -- and any level.
"Our goal is to win another 'natty,' and that's the first thing in my mind," Borgstrom said. "That's why a lot of players, guys like (Evan) Jansen and Troy (Terry), they decided to come back, too, to accomplish the same thing. Personally what I want to do is be a better hockey player this season, more consistent all the time and be at my best level every night. I know that's possible. I just have to get a focus a lot better in certain games."
There probably was more of a chance that Terry, the Highlands ranch product who was Anaheim's fifth-round choice in 2015, would sign over the summer, but he also is back and a candidate to play for the U.S. Olympic team in South Korea early next year.
"He had a great season last year and this season obviously we have a special team again here at the university," Borgstrom said. "It's a great opportunity for him to represent his country again. I don't know if he can be more of a hero (than in the WJC last season) after last year, but hopefully he can do it."

Rantanen hoping to build on
solid rookie season for Avalanche
September 24
When Mikko Rantanen scored six goals in his final eight games of Colorado's horrible 2016-17 season, the Avalanche at least avoided the additional embarrassment of not having a single 20-goal scorer.
Goals at Dallas and St. Louis on the season-ending road trip left Rantanen with 20 on the nose, and I talked with him about it in the visiting locker room at the Scottrade Center after the final game. There was a certain symmetry to the accomplishment, too, since the Finnish rookie was -- and still is -- only 20.
"Of course, it's a good milestone," Rantanen said. "But it's such a tough season for the team, it's tough to be too happy. I'll try to do it more often too."
Rantanen managed to reach 20 goals despite suffering an ankle injury suffered in a rookie showcase game against San Jose, missing training camp and then starting the season at San Antonio on what amounted to a four-game rehab and conditioning assignment. He also missed two of Colorado's final 10 games with a lower body injury before returning for that final two-game road trip.
If the young Finn is the Avalanche's leading goal-scorer again this season, that won't be a good sign. That's got little to do with Rantanen himself, but more to do with the expectations and necessity for Nathan MacKinnon, Matt Duchene (if he isn't traded) and Gabe Landeskog to greatly improve on their production in mostly horrific and underachieving years. As the 10th overall choice of the 2015 draft who spent most of his first pro year going through indoctrination to the North American game in the AHL at San Antonio, Rantanen is on track to perhaps threaten the 30-goal barrier this season.
He had his first goal of the exhibition season Sunday night in a 5-1 win over the Minnesota Wild at the Pepsi Center.
"It's hard to say," Rantanen said after the game. "I never try to say how many goals I'm going to score. I just want to play hard and if it comes, it comes."
Last season, Ratanen's emergence was one of the few positives in what was the NHL's worst single-season performance since the 1999-2000 Atlanta Thrashers stumbled to 39 points ... as a first-year expansion franchise.
"The sky's the limit for Mikko," Avalanche coach Jared Bednar said after the rout of the Wild. "I have high expectations for him. He's not going to sneak up on anybody now. So he's going to get the other team's best defenders every night, which he did for the most part last year as well. He's going to play a lot of minutes and we want to use him properly. For me, I think he can become more consistent. We've got to make sure he's pushing the pace for our team on a nightly basis, for every period and every shift."
Rantanen is playing on a MacKinnon-centered line, and that seems likely to remain the case when the Avalanche opens the regular-season with a three-game trip to face the New York Rangers, New Jersey Devils and Boston Bruins.
"I want to get better all-around, defensively, too," Rantanen said. "I want to be more effective in the O-zone, too, to help the team and try to get more possession time. That's what we need as a group and if you are on the power play, that needs to be better, too. We're younger and we're faster, too, and the game is going that way, where you need a lot of fast guys to build on. We have that and it's going to be an exciting season."
As general manager Joe Sakic promised last season, the Avalanche has jettisoned marginal -- or worse -- veteran talent and gotten both younger and faster. What that will translate to in the standings is far from certain, but Rantanen more is among contemporaries this season than he was when he was the "kid" in 2016-17.
"I don't think I'm going to be playing a lot different," he said. "I'll be playing smarter, only because I know the league better. I know what to expect, so it will be easier this year. Everybody knows what last season was, so we have to forget it and go forward. I think everybody's hungry to win this year and get some crowds back."
On "Frozen":
Let Her Sing, Let Her Sing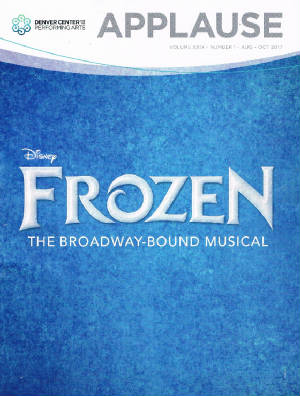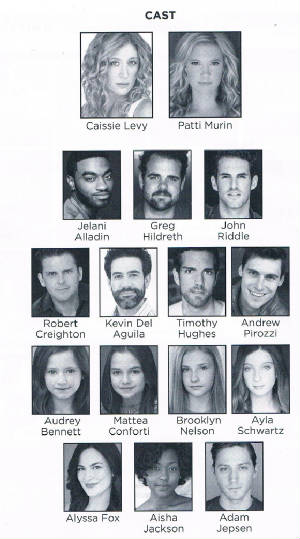 Checking in with the Rams:
We're talking about practice ... fields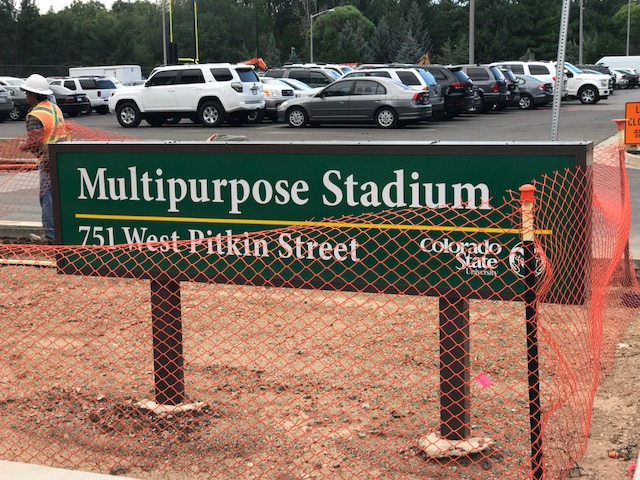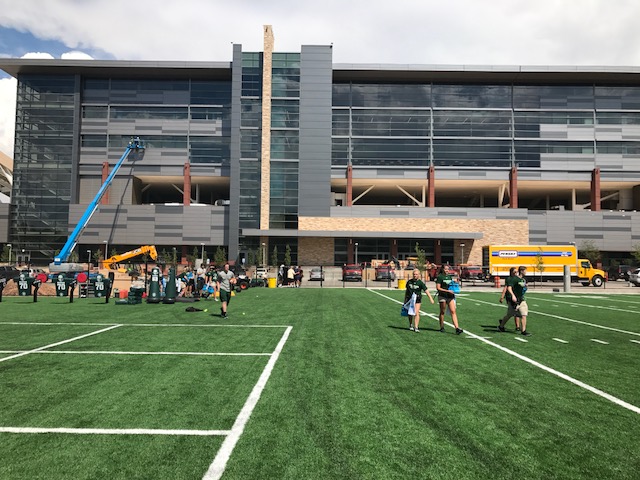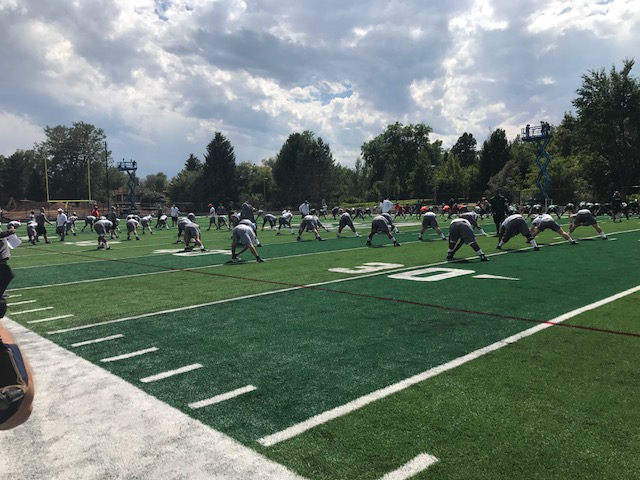 The new practice fields, against the backdrop of the west side of the stadium.
FORT COLLINS -- With the days counting down before the Multipurpose Stadium's first game, against Oregon State on August 26, I attended a Colorado State practice on the artificial turf fields just west of the stadium.
With the stadium understandably getting much of the attention, this has been underplayed: These are the practice fields that, at least in theory, might not have been.
They weren't locked in as part of the original plan, and CSU hoped to keep the project within spending constraints that would enable the practice fields to be an "add-on" while keeping the bonded indebtedness within the original budgeted amount.
Here's what athletic director Joe Parker told me in May in advance of president Tony Frank's updating report to the CSU board of governors: "We bought some things off our 'add-alternate' list with contingency dollars, including the practice fields on the west side and a couple of other pieces. The practice fields never were in the project to begin with, and that was the one thing we wanted to make sure we could add, if we managed the project well. It's an almost $3 million investment."
Let's be realistic: After going through all of this, CSU would have searched for virtually any way possible to get the practice fields into the stadium project.
Maneuver through that labyrinth and then have the Rams continue to practice on inadequate fields next to Moby Arena, or perhaps other nearby areas on campus, and not next to the stadium? I'm assuming the Rams still would have dressed for practice and been headquartered in the plush new quarters at the stadium, but the walk would have been, well, a pain.
To the public, it would have been no more an eyebrow-raising curiosity, and it certainly wouldn't have diluted the enthusiasm over the stadium, but to the Rams program itself, it would have been a slight asterisk amid the euphoria. A plush new house with a carport instead of a garage. A nice new car with a stupid donut spare tire. (Oh ... they all come that way?) "Hamilton" tickets for the night after Lin-Manuel Miranda left his show.
Because of the geography around the stadium -- with Lake Avenue near the southern side and Pitkin Avenue at the northern side -- there wasn't unlimited space for the new practice fields, and Mike Bobo will have to make do with what amounts to a field and a half of artificial turf, as opposed to roughly twice as much space on the grass and artificial turf fields next to Moby.
I asked Bobo whether the lesser practice space affected anything he and his staff could try to do.
"It does a little bit," he said. "But I actually like the closeness of everybody, on the practice fields. We had a lot of space, but parts of the practice fields were so far away, sometimes we weren't as crisp when we changed between periods or (when) we changed drills. We're able to fly around a little bit more. We're always going to be moving at practice. I felt more energy. And the biggest reason is I like the surface. The surface is 10 times better, many times better than the surface there. It was hard for our guys to go fast and keep their feet. So this surface helps us a lot."
Senior tackle Zack Golditch, from Aurora's Gateway High, noted: "I don't feel we need tons of space. We have our field and another field next to it. Offense and defense, you only really need two fields. The turf is amazing, the facilities are amazing, and I think it will change the program. It's something we even saw this first day of practice. And now, when you think about the vidoes and the graphics years ago about what this place was going to look like, it looks exactly what it was supposed to look like. I don't think it's teally hit me yet, but it's incredible. And to be able to practice right there and to visualize ourselves playing in there August 26, it's pretty cool. To be from Colorado and to be able to open the stadium, I think that will be a life-long memory."
So, no, it isn't just the stadium on game day. But building this place is a huge step forward on the overall facilities front, too.
"I think that you can build team chemistry a lot faster when you have a facility where guys aren't here just to lift and are then going straight home," said quarterback Nick Stevens. "There's guys around everywhere, the new locker room, the new players' lounge, and I see guys going into the weight room a lot more motivated to do extra work and stay around because the facilities are so nice, they kind of want to get the most use out of it. It helps chemistry-wise, that's for sure."
Within the past two years, I've toured the upgraded football facilities at both Oregon and Colorado as part of existing stadiums, and CSU's new digs in the new stadium itself are in the same league -- figuratively, not literally. Including the practice fields. Everything's in one place.