CONTENTS (Top down)
1, Red Miller, the battler
2, The officials took over the game
3, Looking ahead to the Rocky Mountain Showdown
4, And nearly six years later ... Colorado State opens its stadium
5, On Denver's pre-Broadway "Frozen": Let Her Sing, Let Her Sing
6, Checking in with the Rams: We're talking about practice ... fields
Red Miller, always a battler:
Rooting for the former Broncos coach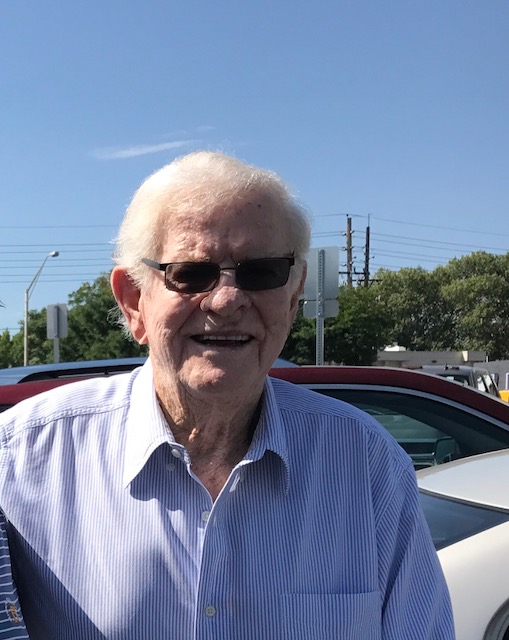 September 17, 2017
Thoughts and prayers go out to former Broncos coach Red Miller, who suffered a stroke Monday night while watching the end of the Broncos-Chargers game and faces a battle to recover.
But one of the many things about Red is, he's a battler. Always has been. Always will be.
I've stayed in touch with Red and his wife, Nan, since I researched and wrote '77, and I have valued their support. An email from Nan to friends has updated us on Red's situation, but I will leave most of that private.
The above is Red after I had breakfast with him and Nan on August 23 at New York Deli News. We had an enjoyable conversation, and he already was looking forward to and excited about his induction into the Broncos' Ring of Fame at the November 19 game against the Cincinnati Bengals. The honor is both well-deserved and overdue. Red's role in the transformation and evolution of Denver as a sports market was monumental.
Here's what I call the Quintessential Red -- Red being Red -- passage from '77, about the Raiders rivalry, as excerpted on a newspaper site after Red was named to the Ring of Fame. This is not meant to be a book plug. It is meant to tell you about Red. And what makes him Red. And why I know he will fight this, too.
And this is an additional excerpt, about Red's background, including growing up in Macomb, Illinois as the son of a coal miner and scrambling for everything he had.
Buffs likely would have won, anyway,
but officials ruined the Showdown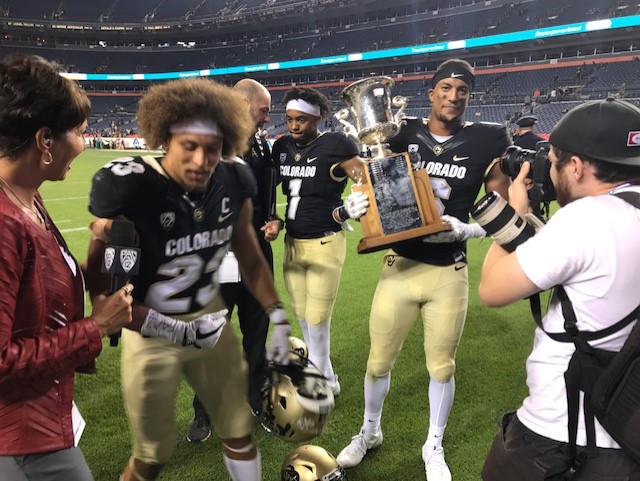 Buffs Phillip Lindsay and Shay Fields as defensive back Evan Worthington holds the Centennial Trophy postgame.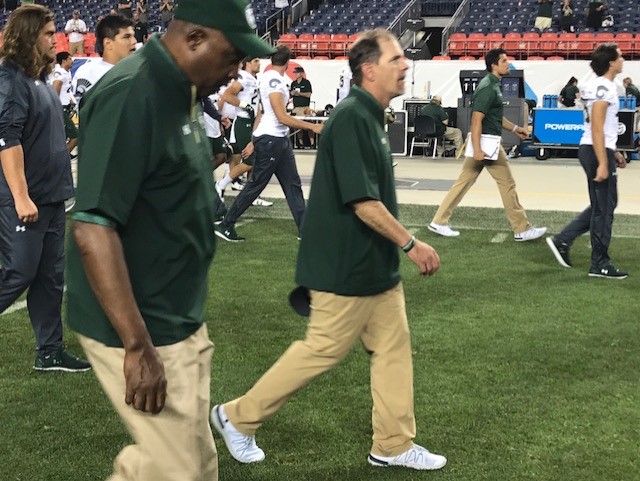 Mike Bobo was not a happy man coming off the field after the game -- and it wasn't (just) about his team's play.
September 1, 2017
Late in the third quarter of the Rocky Mountain Showdown Friday night at Mile High Stadium, after an offensive pass interference call on Colorado State wide receiver Michael Gallup wiped out his catch and a 33-yard gain to the Colorado 15, the Rams called timeout.
Clearly, the major reason was to provide Rams coach Mike Bobo a chance to let the Pac 12 officiating crew know that this was getting ridiculous.
It was the third offensive pass interefence call on the Rams, and the earlier ones negated CSU gains of 17 yards to the CU 9 in the first quarter and 27 yards for an apparent score two plays earlier in the third. Those Nick Stevens completions went to Olabisi Johnson and Detrich Clark, respectively, who drew the interference calls. And to add to the frustration for CSU, an apparent Stevens 40-yard TD pass to Johnson two plays after the interference call on Clark also was negated because of a CSU personal foul on guard Jeff Taylor for illegal hands to the face.
The interference penalties ranged from marginal to, well, head-scratching perplexing in what turned out to be the Buffs' 17-3 win.
None of them should have been called.
I'm not sure I've ever written this before because I usually disdain this approach, whether from media, fans, players or coaches.
The officials took over the game and ruined it.
It's most common in basketball, but aggravating in any sport.
After the Buffaloes won, their celebration after collecting the Centennial Cup -- curiously, sans any significant ceremony -- was surprisingly low-key. Yes, the Buffs celebrated. Yes, they probably are the better team. Yes, they likely would have won without those calls, and even if, say, Johnson's catch had stood up to get the Rams to within 17-10, the dynamic would have changed and with more of a sense of urgency, CU might have responded offensively.
But that TD suddenly would have made it more interesting.
After the scoreless second half, CSU ended up outgaining the Buffs 397-345 on a night when the announced attendance of 73,932 -- given the many obvious blocks of empty seats in the stadium that seats 76, 125 -- led to raised eyebrows, too. When the game ended, contrary to what I wrote in the piece between this one, Bobo and CU's Mike MacIntyre's handshake was perfunctory at best. Bobo was peeved. Not at MacIntyre, but peeved. To be fair, and to be clear, this was not just about the officiating, but it entered into it. And when Bobo opened the floor for questions in his post-game news conference, I noted that he had used that timeout to express his opinion to the officials, then asked him what he said and what he thought of the officiating.
"It's like, Terry, like I just told our football team," he said. "We talk about having a standard, and our standard is edge ... and excuse-free. We don't make excuses. We let other people make them for us. We didn't win the ballgame, so we didn't do what we came here to do."
MacIntyre eventually got around to praising the CSU defense and highly respected defensive coordinator Marty English, but he didn't exactly jump on the chance to say, hey, that was a pretty good football team the Buffs had just beaten. That doesn't offend me and I mention it only because it was so noticeable and a departure from what I expected to hear. Yes, this is an in-state rivalry and sharp-edged, but I wondered if Bobo's brusqueness after the game entered into it. And to MacIntyre's credit, he didn't try to sell any malarkey about the calls being justified.
"The calls go either way all the time," MacIntyre said. "We all watch it on film and calls always can go either way. There is no doubt about it. You never complain about the officiating. We have a quote at CU: No excuses, no regrets."
It was CU's opener, and it showed. But now the Buffs have a couple of walkovers coming up -- against Texas State and Northern Colorado -- before the conference opener against Washington in Boulder on Sept. 23.
Bobo wasn't grinning about this, but he noted that after the 44-7 loss to the Buffs a year ago, he wasn't sure what kind of team he had -- and set about finding out in throwing-against-air practices as he challenged the Rams. Now, CSU has gone 1-1 against Pac 12 teams in the first two weeks and this has done nothing to diminish expectations that the Rams -- with a favorable conference schedule and a down division -- will contend for the Mountain West's Mountain Division title.
NOTE ON PLAY-BY-PLAY
Here's the play-by-play listing for the offensive pass interference call on the Rams in the first quarter:


Later, the play-by-plays have differing versions of the third-quarter Stevens-to-Detrich Clark pass, two plays before another P.I. call on Johnson negated a touchdown. Here's the one handed out after the game, showing Stevens-to-Clark was a 22-yard play to the 5.

And here's the (correct) one transmitted by email, showing it was a 27-yard TD called back.

They could carpool to banquets:
The Rival(ry's) coaches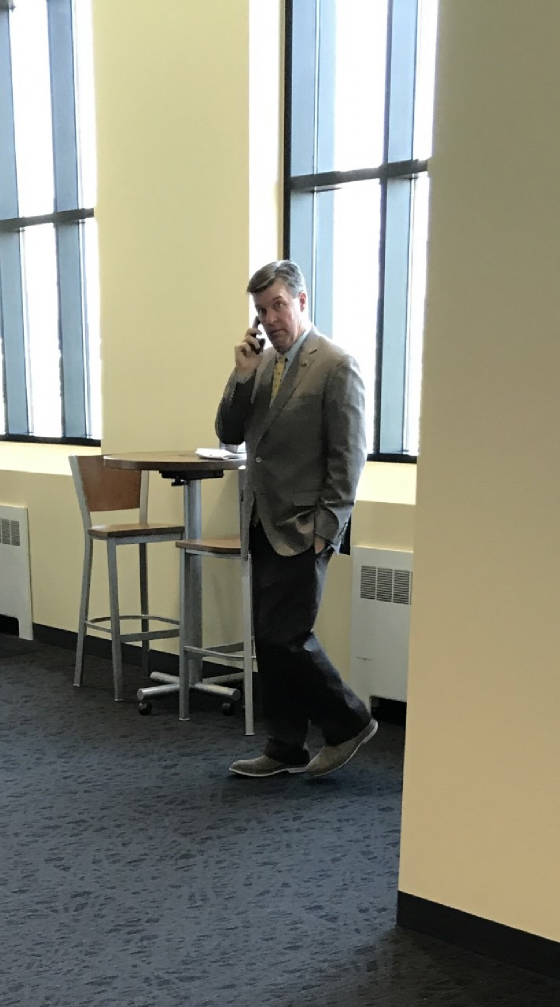 Part of the week's obligations: Mike MacIntyre does a radio interview after his Tuesday news conference.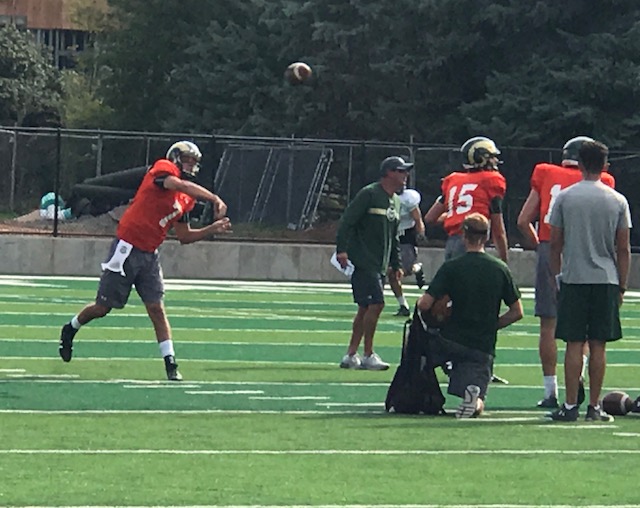 In Fort Collins Tueday, Rams quarterback Nick Stevens throws in the early part of practice
with Mike Bobo standing by with the practice plan in hand.
August 31, 2017
FORT COLLINS -- Several times a year, Colorado's Mike MacIntyre and Colorado State's Mike Bobo end up at the same banquets, luncheons or other functions.
It is not often enough to cultivate a friendship, nor are the circumstances conducive to encouraging it.
And now on Friday night, they will shake hands and make small talk on the field at Mile High Stadium before the game, and then after it's over, again briefly wish each other the best of the luck the rest of the season before one heads to the dressing room and the other prepares to accept the rivalry trophy with his raucous team gathered around him.
This week, I asked both coaches on Tuesday -- one in Boulder, one in Fort Collins -- their feeling for the state of the rivalry.
"I've said for a long time, it's a 365-day-a-year rivalry," MacIntyre said. "I saw a guy the other night at the thing I had to speak at, he showed me a picture of an outfit he had to wear to work (when CSU won). He said, 'Coach, I don't want to have to wear this outfit again.' ... You have little things like, little ribbins. I even had one person who said they lived in Fort Collins znd every time CSU beats CU, they get letters about going to a funeral. It's just one of those things, it reverberates throughout the state. You have little side things like that all the time that make it more of a rivalry. I think it's pretty cool, pretty fun."
In Bobo's case, it involves seeking to a checkmark, since the Rams are 0-2 in the rivalry under him. (The Buffs are 3-1 against CSU under MacIntyre.)
"We need to win it to make it a rivalry," Bobo said. "Since I've been here, we haven't won. That would help, to go out and perform well and find a way to win a ballgame. But it's definitely a rivalry, it's Colorado-Colorado State, it's the two schools in state, and we play it in Mile High Stadium and there's going to be 70,000-plus people there, and that tells you the importance of the game. There's passion for both sides, for both those fan bases. As the head football coach when you're addressing your football team, you want them to play well, for yourself, your university and your fan base."
None of that moved the needle, and as both coaches tended to the media details in the shortened week, the themes remained consistent, not quite as scripted as if being read off a teleprompter, but close to it. Bobo tends to be more shoot-from-the-hip and spontaneous in his conversations with the media, but the switch from more informal standing post-practice availabilities in the hallway in the Moby Arena complex to the stage and table in the new stadium's home team interview room has led to him slightly toning down that approach. But both were being careful this week, diplomatic, complimentary. As as coaches, yes, MacIntyre and Bobo know what the other is going through, about the commonality of the experience, and that in this case has led to mutual respect.
The rivalry is scheduled for three more meetings -- in 2018 and 2019 in Denver and 2020 in Fort Collins -- before shutting down for at least two seasons. I've been on record for many years that the game belongs on the campuses, not in Denver, and now that CSU based its stadium campaign on extolling the on-campus gameday experience, the staging in Denver makes even less sense. However, if this week's game is a terrific show, on every level, the selling of this game as a bit like -- not exactly like, but like -- Georgia-Florida in Jacksonville or Texas-Oklahoma in Dallas again is more credible.
There is room on the non-conference schedules for a home-and-home series in 2023 and 2024, and a gentlemen's agreement is in place on that, if not signatures. Also, I don't rule out something happening to reconfigure the 2019 Colorado schedule, with the Buffs' "home" game against the Rams moving from Denver to Boulder, and the Sept. 7 game against Nebraska -- the second in the home-and-home against the Cornhuskers in the revival of that rivalry -- moving from Boulder to Denver.
And nearly six years later ...
Colorado State opens its stadium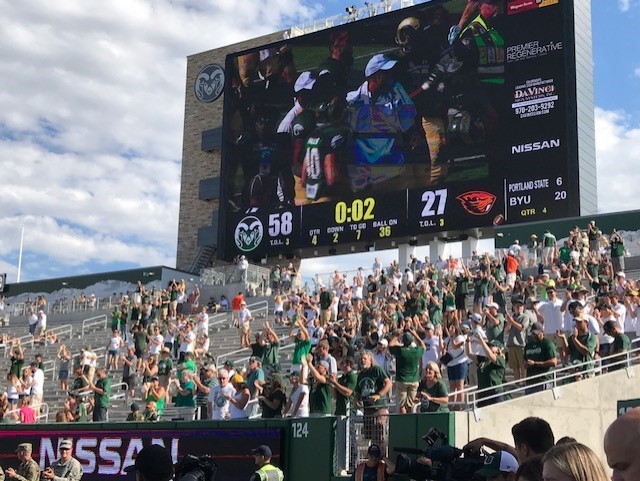 The final seconds roll off the clock.
August 27, 2017
FORT COLLINS -- As the Oregon State-Colorado State kickoff approached Saturday at the Rams' new on-campus stadium, I found the story online and thought back to my chat with school president Tony Frank in his office in December 2011.
(An aside: From here on, until CSU sells the naming rights to the stadium, I'm just going to call it Sonny Lubick Field. The $20-million contribution over 30 years to transfer the Sonny Lubick Field designation from Hughes Stadium to the new facility was roughly what CSU hoped to get for naming rights, anyway, helping explain why the school is willing to wait for the right offer for the stadium name. Folsom Field works for Colorado. Sonny Lubick Field can work for Colorado State, at least until the naming rights are sold.)
A few weeks before my talk with Frank, prominent alumnus, former quarterback and booster Jack Graham had reacted to athletic director Paul Kowalczyk's pitch to him to contribute to upgrading the Hall of Fame room at Moby Arena by saying that wasn't a difference maker.
A difference-maker, Graham said, would be … get this … an on-campus football stadium. Soon, he was extolling the project to Frank.
This is part of the transcript of my conversation with Frank a month later.
FRANK: "When Jack came to me [in mid-November] and was saying, 'You know, this Moby idea that I've been pitched to contribute to is interesting, but I don't think it changes the game. I think what would change the game is an on-campus stadium.' And he started talking about the big view for athletics and some of his experiences that he'd had and what had led him to talking about this…He said, 'I would like to lead the effort to raise the funds to build an on-campus stadium.' So we talked about that for a while and I said, 'Let me think about that a little bit.' And the more I thought about it, the more I thought, 'This is exactly the sort of thing I'm looking for.'
"So I went back and met with him the next week … I said, 'The on-campus stadium is great, I think it's a great project, but I don't think it's a game-changer. The game-changer is a cultural change in athletics and that starts from the athletic director down. I'm thinking of making a change there and are you interested?'"
FREI: Can we anticipate an on-campus stadium?
FRANK: "Well, I think we'll try hard to get there. Immediately, when you say something like that, people say, 'Where are you going to get the money?' We don't know. We haven't raised a penny for it. There's not been a cent committed. And, 'Where will you put it?' At this point, I have people in Facilities going, 'Really? An on-campus stadium? OK…and what exactly can we tear down?' So we're going to have to figure out a place to make that work and what that looks like. I don't know if we'll get there or not. I think we'll try hard, because I do think that would be a big factor. One of the things I do think about that is the idea of recreating that college game day atmosphere where your alumni are coming back, bringing their kids, and people are coming to your campus. You can get somebody out of Denver, with a high school kid, and they can say, 'Hey, let's go up and watch the CSU game, and while they're here, they could see this campus.' We have this great campus and what a great way to get people on it. Even if we were successful and start really packing people in at Hughes, the people who aren't from CSU are never going to connect to this campus, never are going to see that. So I don't know if we're going to get there or not. We're going to try hard."
CSU pulled it off.
Six years later, Sonny Lubick Field opened.
Wedging it in among other coverage duties at the newspaper, I extensively covered and opined through the process, much of the time from 2015 on finding ways to schedule myself for CSU coverage around Avalanche coverage. I wrote about the stadium process through forums, board of governors meetings, controversies, steps forward, steps back, and the ultimate green-lighting of the project on December 6, 2014, and then the construction.
And Saturday, the first game.
The Rams were impressive in the 58-27 pummeling of Oregon State, with Nick Stevens throwing for 334 yards and three touchdowns -- quite a contrast to the disastrous season-opening performance against Colorado a year that led to him being pulled and losing the starting job until freshman Collin Hill suffered a season-ending knee injury against Utah State on Oct. 8. CSU has elite talent at wide receiver, most notably Michael Gallup, and the problem won't be scoring points. The defense gave up 333 yards to Oregon State in the first half before playing well in the second, coming up with Tre Thomas' game-breaking 44-yard interception return for a touchdown to open up a 34-20 lead.
I asked both Stevens and senior center Jake Bennett what that first=game experience was like, especially considering that if they keep coming back, they can still be bragging in their 50s that they played in the stadium's first game.
"It was incredible," Stevens said. "Like you said, there's only one first game here, so you're a part of history of the stadium forever. Haley (Nick's wife) bought me a brick on my birthday last year so our names are on the stadium forever. That's a real cool deal when you can have something that's going to be here forever. We';re obviously not going to build another one of these in five years, so you're legacy is going to be here for awhile. So it was really, really an awesome atmosphere, and I'm glad it turned out the way it did."
Said Bennett, from Lakewood's Bear Creek High School: "Right now, I think it's damn cool. I played in the last game at Hughes, the first one here and I can also say that we won both. It's just something special for me and something I'll be able to tell in my glory years later down the road."
Graham, the proud parent, was there. Fact is, as bitter as their parting was -- and it was, and still is, more bitter than publicly disclosed -- the stadium would not have been built without the combined efforts of these two men. Shepherding the project through the labyrinth approval process couldn't have been pulled off by anyone but Frank, with his deep reservoir of credibility and record of success at CSU, and if he had accepted another job before the green lighting, the 2017 opener might have been at Hughes Stadium Saturday.
Graham's idea and energy were indispensable, of course, and John Morris -- first Graham's deputy, then his interim successor -- made crucial contributions that helped keep the project from unraveling. And even Jim McElwain -- yes, Jim McElwain -- had a hand in it, since without that remarkable 10-2 season in 2014 as the Board of Governors were about to decide the fate of the stadium proposal, it would have been much harder to gain approval.
And late Saturday afternoon, McElwain's successor -- Mike Bobo -- looked out at the assembled media in the home team interview room at field level and appropriately opened with: "First of all, I just wanted to say how excited I am for this university, this community, the Fort Collins community, our fan base. It was an awesome day to be a Ram."
Oregon State is going to have a hard time avoiding the Pac 12 North cellar, but the Beavers were a major test of legitimacy for the Rams. If they weren't good enough to beat the Beavers on this emotional opening day, they would have had no shot at beating the Buffaloes in the Rocky Mountain Showdown Friday night and a painful 1-3 start would have been looming. Now, with CU playing its opener and the Rams having a game in the book, this shapes up even more as a competitive, fun night at Mile High Stadium (yes, that too) -- regardless of which team wins.
The stadium? There still are a few bugs in the system, and the major one was that concession lines were intimidatingly long. That can be taken care of, though. Traffic was no worse than conventional football game-day traffic, and in fact, the drive from Denver to the stadium -- albeit with the plan to arrive at least two hours before the game -- actually took less time than it does on a business or school weekday, given Fort Collins' growth, weekday traffic and the fact that the entire city seems to be under construction.
Long-term, the Rams' hope to get to the Big 12 or otherwise break into a Power 5 league, or to become the powerhouse of the Mountain West, took a huge step forward Saturday. Attaining the latter might lead to the former. The stadium was in progress when league officials interviewed CSU and other possible expansion candidates, so it already has come into play as a selling point.
Unfortunately, in the college football arms race, nothing is stagnant. Oregon's showcase facilities not long ago were the gold standard. But the Ducks two years ago opened up a new football operations building connected to Autzen Stadium. So many other schools, including CU, have upgraded existing stadiums and built new facilities to go with them. New gets old fast. Now, with CSU's football facilities, including adjacent practice fields, concentrated at the stadium, the trick is going to be to stay on top of things.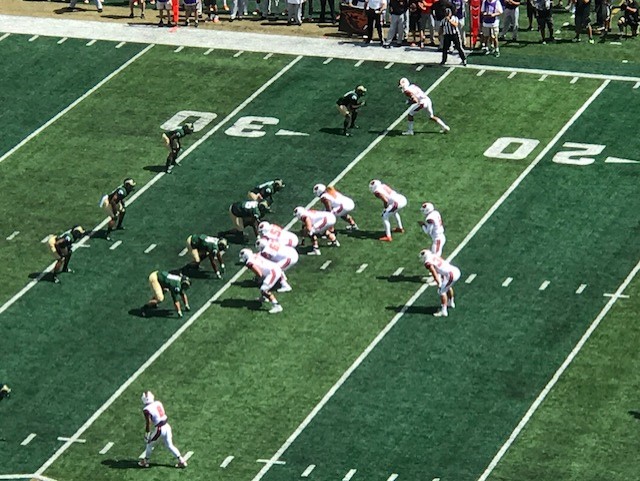 The Beavers are about to run the first play from scrimmage in the new stadium.
Ryan Nall (34) ran for one yard.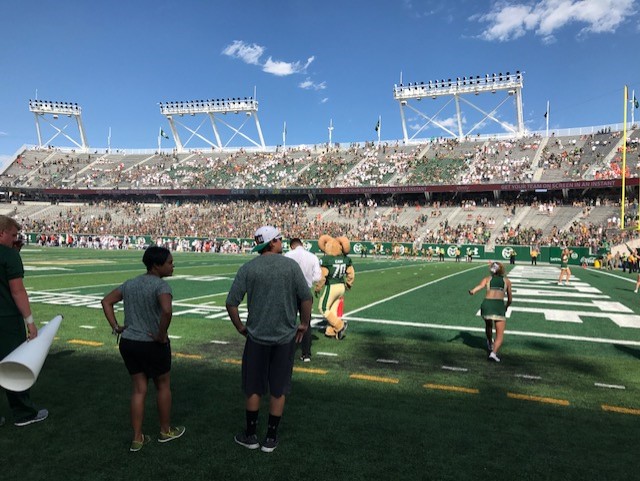 From the field late in the game. As CU has known for years, and CSU discovered Saturday,
one of the perils of putting the stadium next to the library is that when the games get
out of hand, students rush off to study. (That's the story and we're sticking to it.)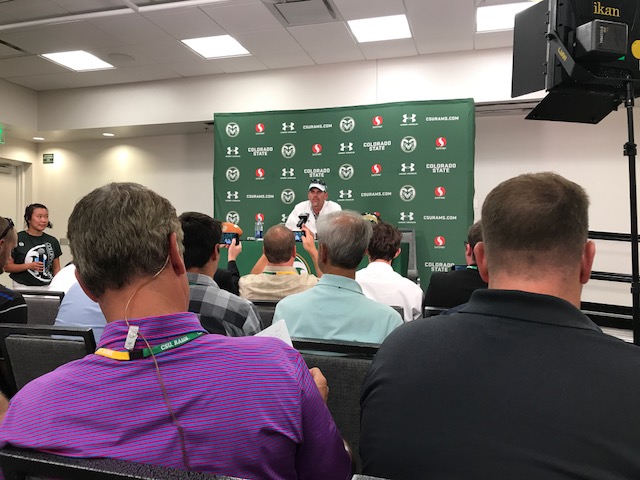 Mike Bobo post-game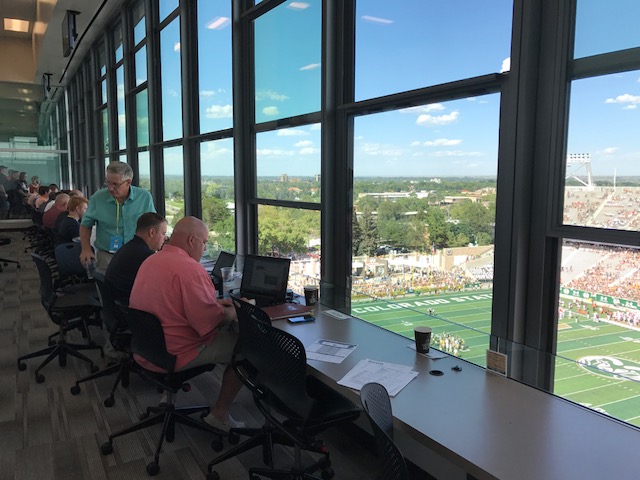 Front row of the new press box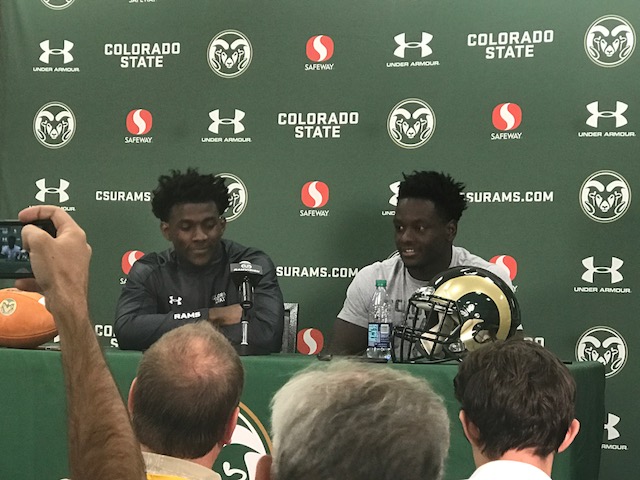 Wide receivers Detrich Clark and Michael Gallup in the interview room.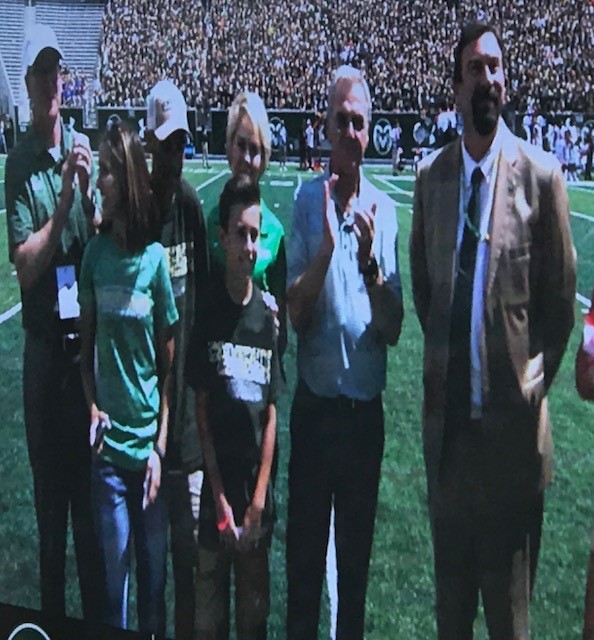 Scoreboard shot of Sonny Lubick, as in Sonny Lubick Field, with Tony Frank.
My story on the $20-million donation that enabled the Sonny Lubick
Field designation to be transferred to the new stadium.
Blog with full transcript of that December 2011 interview
My June 2012 column on no turning back on stadium project
My February 2013 column on Jack Graham
On "Frozen":
Let Her Sing, Let Her Sing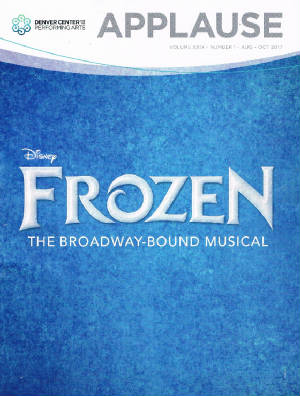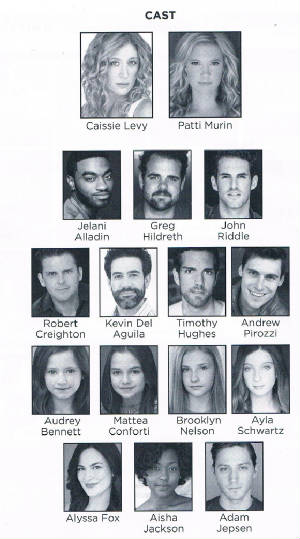 August 25, 2017
Checking in with the Rams:
We're talking about practice ... fields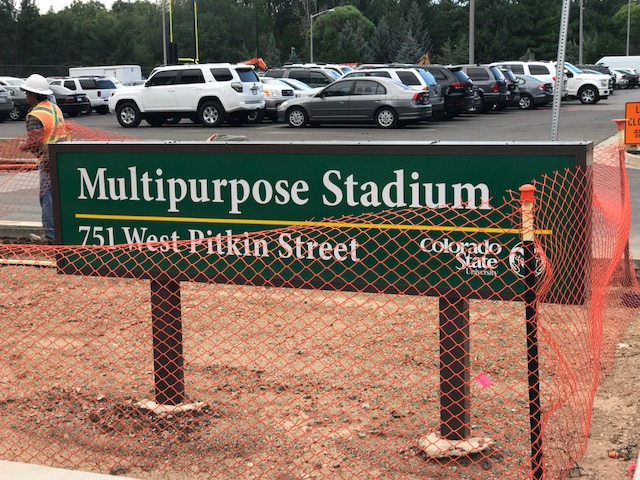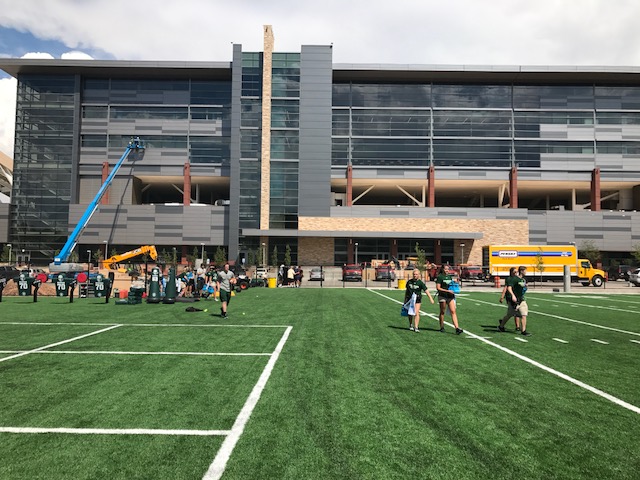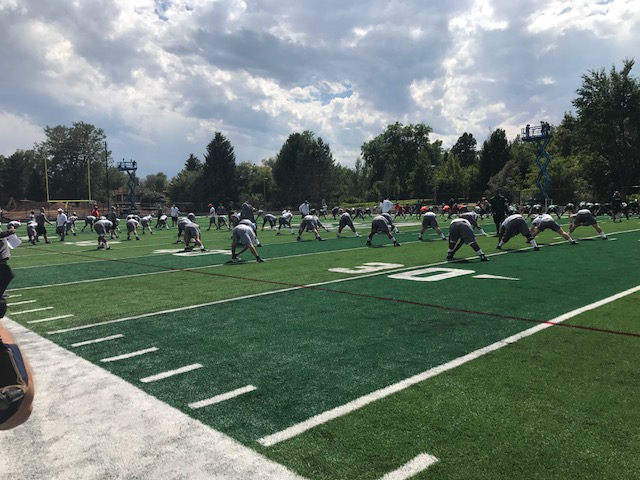 The new practice fields, against the backdrop of the west side of the stadium.
FORT COLLINS -- With the days counting down before the Multipurpose Stadium's first game, against Oregon State on August 26, I attended a Colorado State practice on the artificial turf fields just west of the stadium.
With the stadium understandably getting much of the attention, this has been underplayed: These are the practice fields that, at least in theory, might not have been.
They weren't locked in as part of the original plan, and CSU hoped to keep the project within spending constraints that would enable the practice fields to be an "add-on" while keeping the bonded indebtedness within the original budgeted amount.
Here's what athletic director Joe Parker told me in May in advance of president Tony Frank's updating report to the CSU board of governors: "We bought some things off our 'add-alternate' list with contingency dollars, including the practice fields on the west side and a couple of other pieces. The practice fields never were in the project to begin with, and that was the one thing we wanted to make sure we could add, if we managed the project well. It's an almost $3 million investment."
Let's be realistic: After going through all of this, CSU would have searched for virtually any way possible to get the practice fields into the stadium project.
Maneuver through that labyrinth and then have the Rams continue to practice on inadequate fields next to Moby Arena, or perhaps other nearby areas on campus, and not next to the stadium? I'm assuming the Rams still would have dressed for practice and been headquartered in the plush new quarters at the stadium, but the walk would have been, well, a pain.
To the public, it would have been no more an eyebrow-raising curiosity, and it certainly wouldn't have diluted the enthusiasm over the stadium, but to the Rams program itself, it would have been a slight asterisk amid the euphoria. A plush new house with a carport instead of a garage. A nice new car with a stupid donut spare tire. (Oh ... they all come that way?) "Hamilton" tickets for the night after Lin-Manuel Miranda left his show.
Because of the geography around the stadium -- with Lake Avenue near the southern side and Pitkin Avenue at the northern side -- there wasn't unlimited space for the new practice fields, and Mike Bobo will have to make do with what amounts to a field and a half of artificial turf, as opposed to roughly twice as much space on the grass and artificial turf fields next to Moby.
I asked Bobo whether the lesser practice space affected anything he and his staff could try to do.
"It does a little bit," he said. "But I actually like the closeness of everybody, on the practice fields. We had a lot of space, but parts of the practice fields were so far away, sometimes we weren't as crisp when we changed between periods or (when) we changed drills. We're able to fly around a little bit more. We're always going to be moving at practice. I felt more energy. And the biggest reason is I like the surface. The surface is 10 times better, many times better than the surface there. It was hard for our guys to go fast and keep their feet. So this surface helps us a lot."
Senior tackle Zack Golditch, from Aurora's Gateway High, noted: "I don't feel we need tons of space. We have our field and another field next to it. Offense and defense, you only really need two fields. The turf is amazing, the facilities are amazing, and I think it will change the program. It's something we even saw this first day of practice. And now, when you think about the vidoes and the graphics years ago about what this place was going to look like, it looks exactly what it was supposed to look like. I don't think it's teally hit me yet, but it's incredible. And to be able to practice right there and to visualize ourselves playing in there August 26, it's pretty cool. To be from Colorado and to be able to open the stadium, I think that will be a life-long memory."
So, no, it isn't just the stadium on game day. But building this place is a huge step forward on the overall facilities front, too.
"I think that you can build team chemistry a lot faster when you have a facility where guys aren't here just to lift and are then going straight home," said quarterback Nick Stevens. "There's guys around everywhere, the new locker room, the new players' lounge, and I see guys going into the weight room a lot more motivated to do extra work and stay around because the facilities are so nice, they kind of want to get the most use out of it. It helps chemistry-wise, that's for sure."
Within the past two years, I've toured the upgraded football facilities at both Oregon and Colorado as part of existing stadiums, and CSU's new digs in the new stadium itself are in the same league -- figuratively, not literally. Including the practice fields. Everything's in one place.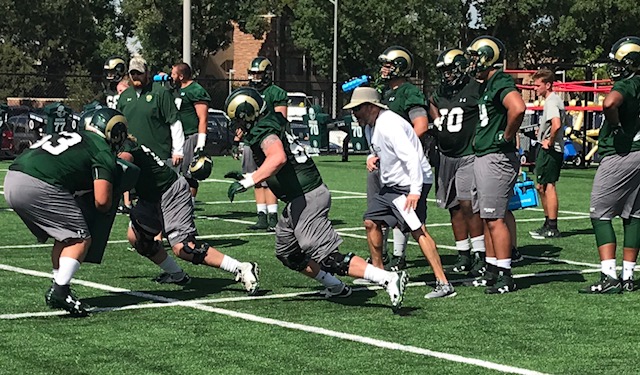 Zack Golditch (61) works in a drill under the watch of offensive line coach / offensive
coordinator Will Friend on the Rams' new practice field.