The latest, in order below:
October 19, 2019
With Avs, Pioneers,
hockey's on a roll
in Denver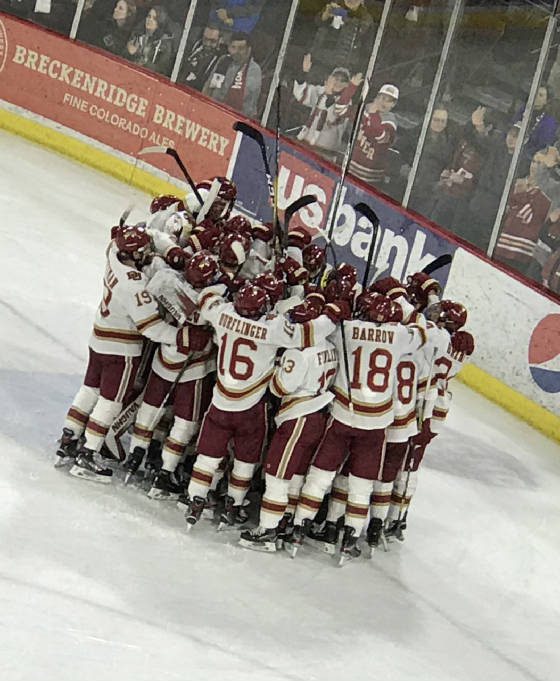 Pioneers celebrate Saturday night's 6-4 win over Boston College.
The Avalanche is 7-0-1 after beating the Lightning 6-2 at Tampa Bay Saturday night.
The University of Denver Pioneers are ranked No. 1 in the country and are 6-0 after finishing off a two-game weekend sweep of sixth-ranked Boston College with a 6-4 win Saturday night in Magness Arena.
There isn't a hotter hockey market in the country. Not Detroit's Hockeytown. In the broader sense, not Minnesota's State of Hockey. Not anywhere.
I was at Magness Arena Saturday night, watching the Pioneers hold off the Hockey East's Eagles, who got goals from a pair of freshmen who also were 2019 Avalanche high draft choices -- winger Alex Newhook (16th overall) and defenseman Drew Helleson (47th). This game was much more wild that DU's 3-0 win Friday night. That one still was 1-0 late.
I almost never get into this, but the most perplexing thing about it is the scarceness of coverage from Denver traditional media for the nation's current No. 1 team and Frozen Four semifinalist last season.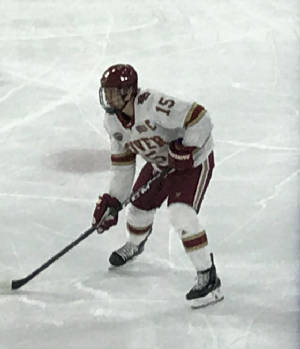 Ian Mitchell against BC Saturday night.
The Pioneers are younger and faster than they were last season, with sage leadership from senior center Tyson McLellan, who had two goals against BC Saturday; and junior defenseman Ian Mitchell, DU's captain, who got his third goal of the season.
The young Eagles came with 10 NHL draft choices on the roster, while seven Pioneers have been drafted.
"They're a top 10 team and we knew that they were going to be very skilled," Mitchell said of BC. "They had a push there in the third period" -- closing to within 5-4 -- "but we withheld it. There's a great feeling in our dressing room that we can be one of the best teams in the nation. That's one of the most skilled teams we're going to face all season and we were able to handle them and limit them to four goals for the weekend was pretty solid."
The program played host to the 2019-20 roster's families, but McLellan's dad, Todd, wasn't able to make it. He's the head coach of the Los Angeles Kings and had other matters to attend to over the weekend. But Mitchell's family was in from Calahoo, Alberta, just outside of Edmonton, and they were going out for sushi after the game.
Mitchell, a second-round choice of the Blackhawks in 2017, quickly and decsively announced his intention to return to DU for his junior season after the semifinal loss to Cale Makar and UMass, rather than explore signing with Chicago. If he'd done that, he'd likely be with the Rockford IceHogs of the American Hockey League.
"I kind of always knew in my heart that I needed to come back another year," Mitchell told me. "I wanted to come back. And this kind of start definitely validates it. I'm thrilled to be back. Being the captain is a hige responsibility and a huge honor. I'm a guy that the other guys on the team look up to and I don't take that lightly. Every day, it's the little things I do on the ice, and to prepare for practice. I hope what I'm doing is rubbing off on the rest of the team."
I asked DU coach David Carle about Mitchell's evolving leadership role.
"What makes him special is he's able to look in the mirror better than anyone else and hold himself accountable," Carle said. "That allows him to hold his teammates accountable and adds to the selfless culture and the level of accountability we have in that culture."
The Blackhawks who would control his rights until Aug. 15 following his senior season if he stays at DU for a full four-year career. Then he would become an unrestricted free agent.
"They probably call once a week to see how I'm doing, and check in on me," he said of the Blackhawks. "I'm very thankful that they've been supportive about me coming back here another year. . . I'm just trying to focus on this year. Obviously, I want to sign with the Blackhawks. They've been great to me and I think there's a great opportunity for me there. It's not somehting I'm thinking about too much, but I definitely want to play for the Blackhawks."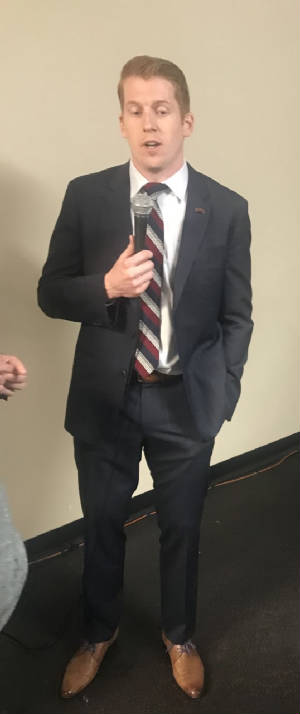 DU coach David Carle
Carle, in his second season as Jim Montgomery's successor, still is only 29. He hit the ground -- or ice -- running last season after moving up from assistant coach, and he seems to be even more emphatically putting his stamp on the program in his second year behind the bench.
After the Saturday night win, he agreed that the series against the Eagles was an early season measuring stick for the Pioneers, who previously had swept non-conference road series at Alaska Fairbanks and Lake Superior State.
"We feel like if they're not the best team in the East, they're one of the top three teams," Carle said of the Eagles. "That team resembles a BC team of four or five years ago ... They have some really good players over there. We had a mental challenge, too,coming off the road after coming back 4-0 and not thinking it was going to be easy just because we were at home, and I thought our guys rose to the occasion really well this weekend."
DU has a weekend off before a November 1-2 home series against Niagara. Then they open the National Collegiate Hockey Conference schedule against the two-time defending national champion, Minnesota Duluth, on the road on November 8-9.
October 16, 2019
The boys from Halifax
meet again -- and maybe
have another donut
Nathan MacKinnon as a rookie in 2013-14,
when he won the Calder Trophy as the
NHL's rookie of the year..
Tonight in Pittsburgh, the Penguins' Sidney Crosby and the Avalanche's Nathan MacKinnon will meet again on the ice at PPG Paints Arena. It will be on NBC Sports in a thing called a "Avalanche televised game."
The longtime friends both were raised in the Halifax, Nova Scotia, Regional Municipality -- MacKinnon in Dartmouth's Bel Ayr Park neighborhood, Crosby in nearby Cole Harbour -- and both played in the Cole Harbour Bel Ayr Minor Hockey Association programs. MacKinnon, now 24, is eight years younger than Crosby, and as the Avalanche's star center has progressed, the two annual Pittsburgh-Colorado games have evolved from curiosities early in MacKinnon's career to rightfully hyped meetings of two of the league's top players.
In 2017-18, MacKinnon was second in the Hart Trophy voting to New Jersey's Taylor Hall (he should have won), and Crosby was 17th. Then last season, 2018-19, Crosby was second to Tampa Bay's Nikita Kucherov and MacKinnon was sixth.
For several years, Crosby and MacKinnon have trained together in the offseason. They also did commercials together for Tim Hortons. The Hortons chain, named after and co-founded by NHL defenseman Tim Horton, is a Canadian institution, but now roughly 20 percent of its outlets are in the United States. The Crosby-MacKinnon campaigns were hilarious.
In 2015, for example, a woman was shown at the drive-through screen at a Tim Hortons in Dartmouth.
She heard the young man taking her order ask her a strange question.
"Who would you rather be stranded on a desert island with? Sidney Crosby or Nathan MacKinnon?"
Reflectively, the woman answered: "I love 'em both, both hometown boys. But Nate's a little young for me, so I guess I'll go with Sidney."
The Hortons worker retorted: "All right. I mean, young at heart, but I'm very mature for my age."
Starting to put two and two together, the woman looked like she was suspicious.
After she drove forward, reached the window and spotted MacKinnon and Crosby, she exclaimed, "Holy ..." then added to MacKinnon, "You're still too young for me."
I talked with MacKinnon about the campaign after a practice as the Penguins were about to play in Denver in December 2015.
"He came in the league when I was about 10," MacKinnon said of Crosby. "Being from the same hometown, it was exciting to have someone like that to look up to. Now it's more of a friendship. It's funny looking back that I idolized him. I consider him a buddy, one of my closest friends. We train together the majority of the summers and do golf trips and stuff like that. It's different now, for sure."
They've been linked even more the past few years by the Tim Hortons shoots.
The raw footage in 2016 showed Crosby announcing: "Welcome to Hortons. May I take your order, please?"
And the two local boys went from there.
They shouldn't quit their night jobs.
"We were both terrible," MacKinnon said. "They show the average time it should take for cars to come through. The normal was like 22 seconds, and we were over a minute. We were pretty bad. But we were giving out free stuff, so people enjoyed that."
MacKinnon said he was at first a bit anxious.
"Everybody knew who Sid was, obviously, but I think the majority of people recognized me," he said. "Which was nice, because I was a little nervous."
At several points, Crosby asked customers -- who still were at the ordering screen and couldn't see the window workers -- trivia questions.
One was: "Can you name a hockey player from the East Coast?"
"Uh, Sidney Crosby?" a woman answered
"Good answer, drive right through."
When several answered Crosby, MacKinnon was exasperated.
Then Crosby tried to prompt a woman who had named him. "From Cole Harbour, who else comes to mind?" he asked.
"Oh!" the woman exclaimed. "There's this guy, my God, he just got drafted a year ago! Oh, last name begins with an 'M.' Um ... McGinnis!"
MacKinnon, as are many Canadians and U.S. residents in select markets, was raised on Tim Hortons.
"What do I like?" he asked. "Oh, a Boston Creme. It's like a doughnut with white goo inside. My dad always took me there when I was a kid after my early-morning practices to get a Boston Creme."
The next offseason, one commercial in the campaign showed driver Crosby and passenger MacKinnon pull up to the restaurant's drive-through screen in a red Hortons truck.
"Welcome to Tim Hortons," says an unseen female. "What can I get for you?"
"Hi, I've got a big order coming for you here," Crosby says. "A hundred and 35 coffees ..."
MacKinnon is cracking up, and the female asks incredulously: "A hundred and 35 coffees?"
When she punches in that part of the order, it triggers an automated voice response: "The quantity entered exceeds maximum."
After apparently placing the rest of a massive drink order, Crosby and MacKinnon pull up to the window. Workers, by now knowing what's going on, have gathered there to see the two hockey stars, and when Crosby jovially asks if the order is ready, he says they will instead pull the truck around to the parking lot and come in for the coffee, orange juice, water and milk. In the lot, MacKinnon gets out and tries to guide Crosby -- unsuccessfully at first -- to back the truck into a spot between the lines.
"It took about five hours," MacKinnon told me of the commercial shoot. "It was awesome."
"The past couple of years, he's become one of my best friends," MacKinnon said. "We see each other every day in the summers training, or hanging out, or going on golf trips or whatever. We've become closer as I've gotten older."
The 2016 commercials, for example, were packaged as three "stops":
"Tims Run, Stop 1: Loading Up," involved picking up the huge order in the truck.
"Tims Run, Stop 2: Game On," showed Crosby and MacKinnon visiting a kids' street hockey game.
"Tims Run, Stop 3: Fire Drill," featured the hockey stars' visit to a firehouse.
MacKinnon also appeared on, and was a huge fan of, the 2001-18 Canadian television series "Trailer Park Boys."
Did he have his actors' union card?
He laughed and said he actually got a letter from the Screen Actors Guild-American Federation of Television and Radio Artists.
"If I paid, I could be a certified actor," he said.
(Postscript: If you "got" that headline, you're a true hockey fan.)
October 9, 2019
KSE honcho Hutchings
takes to the (Altitude)
airwaves, re: TV dispute
I just got done listening to Matt Hutchings, executive vice president and COO of Kroenke Sports and Entertainment, plus President and CEO of KSE Media Ventures, on Altitude Radio's morning show with Vic Lombardi, Marc Moser and Brett Kane. Matt's a good guy and I consider Vic and Marc good friends. (I haven't met Brett.)
Here, I'll mainly have Hutchings lay out the Altitude position about the contract discussions involving the KSE "house" network that carries Nuggets, Avalanche, Mammoth and Rapids games.
"There's information out there that we came out and asked for a huge increase because our teams are both really good, all three teams at the Pepsi Center were good last year, so we came out and asked for really high rates," Hutchings said on the air. "That is blatantly false. That's not true. For anybody to say that is disingenuous and it's just not true.
"Our agreements expired at the end of August. We had 15 years of relationships and deals with Comcast, DirecTV and ATT/DISH. Five years ago, they all stepped, we had great renewals, they were happy. So we took the rate that we finished with and we asked for a nominal increase, percentage increase to move forward with the next round of our extensions. They came back and said no, that was not in their wheelhouse, so we came back and we offered 5 percent. And we said, 'Look, we're happy to even stay the first year flat.' We could go with any term. They have not accepted that.
"So we did not come out and ask for a huge increase. We's even come back on multiple occasions to ask for various ways to get a deal done, and they're not engaging with us. Essentially what they've come back with ... is two of the carriers came back with economic terms in the deal they presented were less than 50 percent of what we had previously. One was a 70 percent reduction. So to put that in kind of easy terms to understand, essentially if we paid somebody $10 an hour for something, what they came back with, two of them said we are only going to pay you $5 now and one of them came back and said we're only going to pay you $3."
Lombardi jumped in and said accepting those rates "would not allow us to broadcast the games."
Hutchings responded, "It's economically not viable. They know that. They knew we can't accept those deals. So when they say, (Altitude) took the games away from you, no, they took the games away from us and the fans. They know that it's not economically viable and more important ... two of the big carriers have their own regional sports networks. They are not asking themselves, they are not putting this in deals they're putting in front of their own networks and they'ree not putting them to each others' networks. We are the only network in the country that's being asked to do this right now. We're an independent t and there are only four or five independents in the country. We are the only network in the country that is being asked to do this. They know that this is not economically viable.
"In order for sports teams to be successful in today's world, and really for the last 15, 20 years, you have to have broad-based distribution. What they've put forward is just not economically viable. And they know that."
One problem, though, is that the KSE "DON'T BLOCK MY ..." campaign is backfiring with intelligent consumers who get that nobody is blocking anybody, that it's a business dispute in an evolving marketplace, that contracts have expired and nobody can carry the games without contractual agreements. And sports fans sometimes have a hard time accepting that not everyone is a sports fan, and many consumers are rebelling against high cable or satellite bills, and the companies would be derelict as business models -- the sort of business models Hutchings cites -- to not react. Plus, there is no moral obligation on the part of the Big 3 to "buy" the Altitude product at all.
"Those three carriers have taken these games from the fans," Hutchings said. "The disinformation out there is that we've been unreasonable, we're trying to get more money, we're holding back is just patently false. It's not true. We have come to the table multiple times trying to get a deal done and offering every kind of option to these carriers to get something done. All three of them have come back and refusd to engage in good-fath negotiations and put something there that's economically viable for us and good for them. What they put forward is absolutely not ... we can't accept it. And they know that.
"And again, you have to go back to the fact, why are they picking on Denver. Why are they picking on our teams? Why are they picking on Colorado and the region when they're not doing this to anyone else? And by the way, AT&T and DirecTV just extended their deal with our friends down the street at Coors Field and we're happy for them, that's terrific. The bottom line is they all know what we've offered is fair and equitable for both. We're happy to negotiate in good faith, but they've got to come to the table ... They're all saying the same thing at the same time, which is concerning."
October 5, 2019
After loss to Arizona,
let's face it: Buffs are
officially mediocre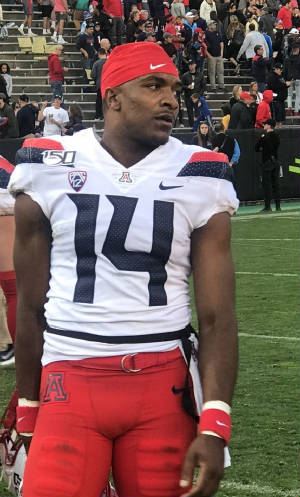 Khalil Tate after he threw for 404 yards against CU.
BOULDER -- The Buffaloes were banged up, most significantly minus their two injured marquee receivers from DeSoto, Texas. Laviska Shenault Jr. again didn't play and K.D. Nixon wasn't on the field in the second half.
Tight end Brady Russell also left the game.
They also were short of manpower at defensive back by the end of the game, eliminating packages and flexibility.
At low ebb, the Buffs were minus nine starters overall, five defensive and four offensive.
So there were reasons, not excuses for their 35-30 loss to Arizona Saturday at Folsom Field.
And it came down to not making a stop as the Wildcats went 77 yards in 13 plays to get the go-ahead touchown with 6:51 left and then stalling out on the subsequent possession with 2:23 remaining.
Wildcats quarterback Khalil Tate might wish that he can play all his road games in Boulder. Two years ago, as an 18-year-old coming into the week as the Wildcats' backup, he piled up 469 yards of total offense (142 passing, 327 rushing) in a 45-42 Arizona win in Boulder, stealing the headlines from a CU senior running back -- Phillip Lindsay (whatever happened to him?) -- who ran for 281 yards as be became the program's all-time leader in career all-purpose yards.
This time, Tate was 31-41 passing for 404 yards and three touchdowns, while rushing only four times for 23 yards.
So the Buffs are 3-2 and this is coming into focus: That's what they are in their first season under Mel Tucker. Decent. Gutty. Yet ultimately mediocre.
There will be no mouth-dropping turnaround with Tucker taking over after the collapse that led to Mike MacIntyre's ouster last year.
With Oregon coming up in Eugene Friday and a tough conference schedule remaining, this now has the look of a team that again will go into the stretch hoping -- at best -- to attain bowl eligibility.
The comeback overtime win over Nebraska now seems less impressive, given the Cornhuskers' hiccups since.
The overtime loss to Air Force at home remains disappointing.
The split with the Arizona schools wasn't a surprise and the loss at home to the Wildcats canceled out the thrilling win over Arizona State at Tempe.
"We've got a really disappointed locker room, obviously," Tucker said. "We've got to give Arizona a lot of credit. They made more plays than we made, they executed more often than we did. We felt like in the first half like we left some plays on the field on both sides of the ball."
"On offense, we had penalties. On defense, we were stopping the run, but we weren't getting off the field on third down early in the game and we gave up some big plays. We were able to start to get off the field on third downs where we stopped the run game, but still, we gave up some big plays in the second half. Offensively, we were able to move the ball ... We had some guys open, we missed some plays and when you play a good football team, you really can't afford to leave plays on the field."
Tucker noted, "Injuries are part of the game. Next man up is not a cliche. It's what's required. We had enough guys to finish the game. We were able to put 11 out there on each snap, so there's really no excuse or no explanation."
During the game, CU revealed that cornerback Chris Miller underwent ACL surgery Friday and is done for the season; defensive end Mustafa Johnson has a high ankle sprain and in addition to missing the Arizona game, will be out another one to four weeks; and that Shenault has a core muscle strain and will remain day-to-day. Nixon threw for a 38-yard TD to Dimitri Stanley on an end-around pass in the second quarter before departing.
Against the Wildcats, Steven Montez continued to be maddeningly mercurial, impressive one moment, befuddled the next. He was 28-42 for 299 yards and one TD,with 10 of his completions going to Texas Tech transfer Tony Brown, for 141 yards.
"It's definitely disappointing because we don't practice our butts off all week to go out there and lose," Montez said. "I think it definitely can be taken as a learning experience. I think there's a lot of things that we can clean up, especially on offense specifically. I think we did a lot of good things, too, so it's not all bad."
It's a lot of mediocre.
A year ago, this team was 5-0 ... a deceptive 5-0.
This year, they're 3-2 ... and it seems about right.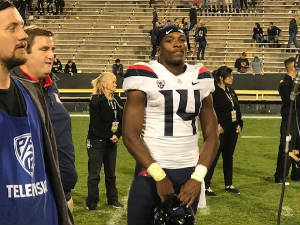 Look familiar? Khalil Tate, then only 18, after he amassed
469 yards against CU in Boulder in 2017.
October 2, 2019
Plan the parade,
Mayor Hancock:
Avs will win Stanley Cup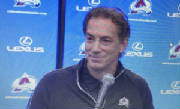 This is not a "per sources" news flash, nor was it leaked to me by, oh, I don't know, NHL Central Registry.
One of the beauties of the NHL is that any of the 16 teams making the playoffs could win the Stanley Cup.
It's not just rhetoric.
It's not marketing department propaganda.
It happens, thanks to hot goaltending and other variables in the most physically and mentally testing postseason in professional sports. The Blues were the worst team in the NHL for a significant part of the 2018-19 season before starting the run that culminated in an unlikely.championship
The Avalanche has gotten that good. It usually takes good fortune and a few good bounces, not flukish good luck, to make it through and end up taking turns holding aloft Lord Stanley's lovely parting gift to the Dominion of Canada. But now, the planets don't even need to be completely aligned for the Avalanche to claim the franchise's third NHL championship -- and its first in 19 years.
It may well turn out might turn out that the Avs are a year (or more) away, or that we're all overrating them, but on the eve of the regular-season opener at home against Calgary, I'll get this on the record. I'm a contrarian, and in 24 years of covering the franchise, I've been accused of bending over backwards to avoid being labeled a homer, but I honestly believe this. Coming out of the challenging Central Division, the Avs can -- and will -- pull it off.
If you're reading this, I probably don't have to rattle off the reasons, or the potential pitfalls.
This mainly assumes Philipp Grubauer's work in goal during the regular season stretch run and postseason was a harbinger, not an aberration.
I might be the only person on the planet still wondering if Colorado's defense, with the unquestionably electric and talented Cale Makar and Samuel Girard still possibly paired, could be too small for the 82-game grind -- even after the departure of Tyson Barrie. Joe Sakic's offseason acquisitions -- some of which he discussed at his Wednesday news conference (pictured) -- seem to have addressed the issue of secondary scoring, and Nazem Kadri's sharp-edged emotion could be beneficial for this team ... if he finally knows when not to step over the line to counterproductive and selfish.
Nathan MacKinnon's progress from underachieving and disappointing, to being the sort of generational talent he wasn't even billed to be when he went first overall in the 2013 draft, has been enjoyable to watch. There no reason to expect his improvement to slow, and part of that is his attitude: He has remained hungry, he is in superb condition as a leader of offseason work in Vail, in addition to with Sidney Crosby in their native Halifax, and he won't be affected by the weirdness of his contract situation.
He was wide-eyed and awed when he signed a seven-year, $44.1 million extension that runs through 2022-23. He initially was overpaid. For the past couple of seasons, his deal was about "right." And now, in part because Mikko Rantanen's cap hit will be $9.25 million for the next six seasons, MacKinnon will be "underpaid." But that's the NHL's hard cap -- I still hear folks saying the Avalanche should do right by McKinnon and give him a new deal -- and renegotiation is impossible.
The most underplayed aspect of the Avalanche's return is that Colorado is only a little over two years removed from the worst bang-for-the buck season in NHL history, when it had 48 points in a hideous 2016-17 as it scraped the salary cap ceiling. (That's really hard to do.) In that context, the turnaround -- which led to No. 8 seeds the past two seasons and a first-round upset of the Flames last season -- has been stunning.
Now comes the bigger challenge. This hasn't gone unnoticed. The Avalanche won't sneak up on anyone. Colorado is a fashionable choice to make additional waves this season. I hate going along with the crowd, caving in to fashion.
But count me in.
"We expect to make the playoffs and make a run at the Stanley Cup," Sakic said Wednesday. "Pretty much every GM at the start of the year is going to say the same thing. Tht's our expectation, get off to a good start, play consistent. We like our group internally. We want to win and that's our goal. . . I believe in this group. I believe that we have a chance. It's not going to be easy. It never is. But we're confident in this group and we know the type of character we have in there. They have one goal. That's to win. And we believe in them."
Coaches under fire: Vic Fangio and Mike Bobo
Altitude vs. DISH/DirecTV/Comcast
Celine Dion, Columbine and Opening Night at the Pepsi Center
A sea of red, but a crushing Cornhusklers loss
Mel Tucker gets his first
Advice for Andrew Luck from another former Stanford QB
Bobo sets high stakes for Showdown's last stand in Denver
My story on Pat Bowlen in SportBusiness
CU's Steven Montez: Throwing against the wind
From CSU: Warren Jackson is next in line
From CSU: Collin Hill
From CU: Are they "Mel's Guys" yet?
Vic Fangio: His Way
Rockies: No Excuse. No excuse at all.
Garett Bolles' make-or-break season
Denver's Dan Ficke named coach at Belmont Abbey
Erik Johnson's filly wins at Saratoga
Jared Bednar, the man from Saskatchewan, signs extension
Coloradans Horan, Pugh celebrate World Cup title
WWII combat nurse Leila Morrison on returning to Omaha Beach
And at the end of the day of dealing, Joe Sakic said...
Just another day at Sloan's Lake
For $3 million more, Broncos bought Chris Harris' happiness
NBA should steal elements of the NHL/MLB draft systems
Memorial Day: Why Dick Monfort was named after his uncle
The most obvious Ring of Fame omission still is ...
Avs vs. Nuggets? One is closer, one is better
Killers want(ed) fame. Do we give it to them?
You know what they say about Game 7s...
On the Kentucky Derby fiasco
If Grubauer plays like that ...
"Z" on the line between physical and irresponsible
The Sky is falling. Ah, the fluctuations of playoff hockey
Girard & Makar: What a bad ... What a great idea!
Last time both Avs and Nuggets made second round?
20 years ago, at another Sharks-Avalanche Game 1 ...
For Grubauer, 6 days off is a good ... and bad ... thing
On 30th anniversary of release, a look back at Field of Dreams visit
Honoring a man who went back to his school and made a difference
The Beloved 13
Them Flames is done like dinner
Regardless of result, Bednar back on solid footing
No. 1 vs. No. 8: In the NHL, either can win
Welcome to the NHL, Cale Makar
Donated heart, do-over ... and a kicker.
Previewing Mile High Sports Magazine story on Irv Brown patch
St. Patrick's Day II: Rockies' home opener
Just making the playoffs not enough for Avs
Great night at Colorado Sports Hall of Fame
Embedding with the All-American High School Musical
MacKinnon soldiers on
CU in the NIT ... just like the first NIT
Catching up with Tad Boyle, about then and now
Trying to make a case for keeping Keenum
Two young Israelis in Colorado to play hockey
On the trade for Joe Flacco
Two columns on the great Irv Brown
Sakic's support of Bednar is the right thing to do
Is it time to play the confectionary salesman in net?
Can Kroenke Sports Stay on a Roll?
Here's why a Colorado nurse was with Supreme Court
Alex English could score 50 ... quietly
Flying The Hump and more: An epic life
September 17, 2019
Horrible news for Hill, Rams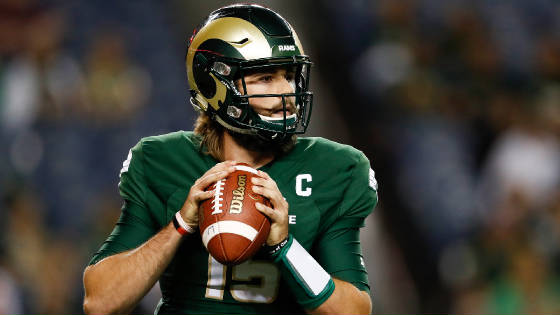 CSU coach Mike Bobo Tuesday confirmed that junior quarterback Collin Hill suffered a torn ACL against Arkansas Saturday and will miss the rest of the season. It's the third time he has suffered the same injury in his left knee, and it's a pity. Hill actually stayed in the game for two more plays before coming off. He'll undergo surgery again after the swelling lessens.
"He's in good spirits. He was out at practice today after you guys (media) left," Bobo told reporters at his post-practice availability. "Like I said after the game, great human being. I just can't say enough about the kid. Even during the game, he knew it was torn and he came back out and was being supportive of the guys and the quarterback Pat (O'Brien) who was in there."
O'Brien, a redshirt junior, is a transfer from Nebraska, and his backup will be redshirt sophomore Justice McCoy.
I went back and read the stories I did on Hill after a one-on-one interview with him on Media Day for this site and for the Mile High Sports Magazine September issue that doubled as the Rocky Mountain Showdown program.
I only wish the optimism had turned out to be warranted.
Now the decision will be whether to try to rehab a third time and give it another shot next season, if doctors approve. It would seem unlikely that he would be ready for spring practice.
(Scroll down for my August 5 commentary on Hill: How a young quarterback from South Carolina ended up in Fort Collins.)
Coaches under fire: Vic Fangio and Mike Bobo
Altitude vs. DISH/DirecTV/Comcast
Celine Dion, Columbine and Opening Night at the Pepsi Center
A sea of red, but a crushing Cornhusklers loss
Mel Tucker gets his first
Advice for Andrew Luck from another former Stanford QB
Bobo sets high stakes for Showdown's last stand in Denver
My story on Pat Bowlen in SportBusiness
CU's Steven Montez: Throwing against the wind
From CSU: Warren Jackson is next in line
From CSU: Collin Hill
From CU: Are they "Mel's Guys" yet?
Vic Fangio: His Way
Rockies: No Excuse. No excuse at all.
Garett Bolles' make-or-break season
Denver's Dan Ficke named coach at Belmont Abbey
Erik Johnson's filly wins at Saratoga
Jared Bednar, the man from Saskatchewan, signs extension
Coloradans Horan, Pugh celebrate World Cup title
WWII combat nurse Leila Morrison on returning to Omaha Beach
And at the end of the day of dealing, Joe Sakic said...
Just another day at Sloan's Lake
For $3 million more, Broncos bought Chris Harris' happiness
NBA should steal elements of the NHL/MLB draft systems
Memorial Day: Why Dick Monfort was named after his uncle
The most obvious Ring of Fame omission still is ...
Avs vs. Nuggets? One is closer, one is better
Killers want(ed) fame. Do we give it to them?
You know what they say about Game 7s...
On the Kentucky Derby fiasco
If Grubauer plays like that ...
"Z" on the line between physical and irresponsible
The Sky is falling. Ah, the fluctuations of playoff hockey
Girard & Makar: What a bad ... What a great idea!
Last time both Avs and Nuggets made second round?
20 years ago, at another Sharks-Avalanche Game 1 ...
For Grubauer, 6 days off is a good ... and bad ... thing
On 30th anniversary of release, a look back at Field of Dreams visit
Honoring a man who went back to his school and made a difference
The Beloved 13
Them Flames is done like dinner
Regardless of result, Bednar back on solid footing
No. 1 vs. No. 8: In the NHL, either can win
Welcome to the NHL, Cale Makar
Donated heart, do-over ... and a kicker.
Previewing Mile High Sports Magazine story on Irv Brown patch
St. Patrick's Day II: Rockies' home opener
Just making the playoffs not enough for Avs
Great night at Colorado Sports Hall of Fame
Embedding with the All-American High School Musical
MacKinnon soldiers on
CU in the NIT ... just like the first NIT
Catching up with Tad Boyle, about then and now
Trying to make a case for keeping Keenum
Two young Israelis in Colorado to play hockey
On the trade for Joe Flacco
Two columns on the great Irv Brown
Sakic's support of Bednar is the right thing to do
Is it time to play the confectionary salesman in net?
Can Kroenke Sports Stay on a Roll?
Here's why a Colorado nurse was with Supreme Court
Alex English could score 50 ... quietly
Flying The Hump and more: An epic life
September 14, 2019
That was no fluke:
Falcons dominated Buffs
most of the game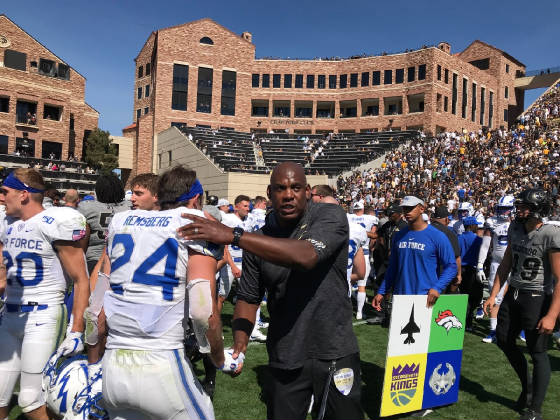 CU coach Mel Tucker congratulates AFA running back Kadin Remsberg,
who rushed for 150 yards on 23 carries.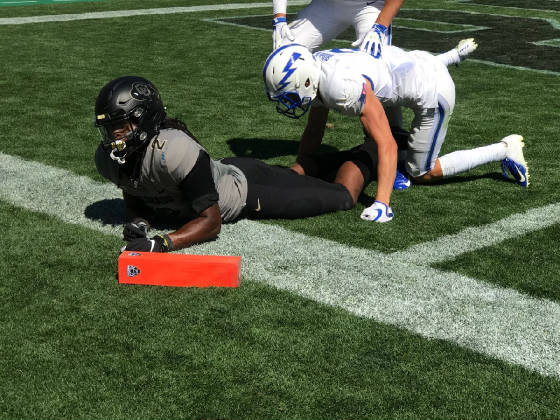 The last play of overtime: On 4th-and-12 from the AFA 16, Steven Montez's
pass for Leviska Shenault Jr. falls incomplete.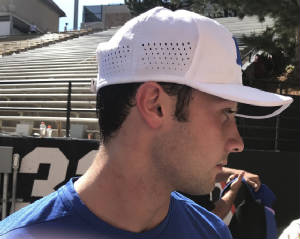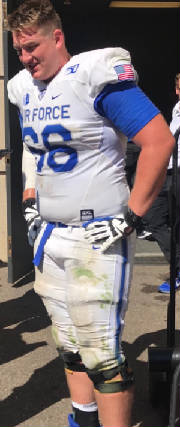 Kadin Remsberg, left, ran 25 yards for the winning TD in overtime and guard Nolan Laufenberg, right,
from Castle Rock's Castle View High School, did strong work up front in his home state.
BOULDER -- Air Force coach Troy Calhoun Saturday afternoon enthusiastically greeted and congratulated the Falcons as they entered the tiny visiting locker room lobby in the Dal Ward Center at the north end of Folsom Field.
They had just beaten Colorado 30-23 in overtime in a game the Falcons dominated, yet almost slip away before Kadin Remsberg ran 25 yards for a touchdown on the first play of overtime and the AFA defense kept the Buffs out of the end zone to end it.
As raucous as the on-field and even locker-room celebration seemed to be, Calhoun a few minutes later almost seemed to be doing an imitation of Bill Belichick at a podium, unexcitedly saying, in effect, "It's on to Boise."
As he finished up his post-game radio interview on the Falcons' network, he did allow, "For about 45 minutes of football, it was really pretty impressive. From the middle of the first quarter to the middle of the fourth quarter, I don't know if you could have played much better defense."
But when I next asked him what the win meant to him and his program, he didn't exactly gush. The Falcons' Mountain West Conference opener is Friday night at Boise State.
"It was a really, really good one, but at the same time we have to get back on feet," he said. "We have a short week this week, so we have to bounce back and get to Friday."
I politely suggested he wasn't allowing himself to be joyous about what might be the biggest win of his coaching tenure at his alma mater.
"I probably would if I had a real week, a longer week to be able to do that, Terry, but at the same time it was really a remarkable effort by our guys and their guys too. Just tip your cap. . . Last week (against Nebraska), you know what Colorado did and they did it again today. So credit to them, too."
He said of the in-state rivalry, revived after 45 years: "It's one game. It really is. That's not to understate any one game. For our grads, there are a lot more importan things going on in the world."
It's been so long, prhaps it's understandable that few seemed to get the context and background of the rivalry's end -- and then resumption. The last three AFA-CU games in Boulder -- 1968, '71 and '73 -- were played during the Vietnam War, and Falcons players of the era had to steel their ears to derisive taunts from students in opposing stadiums. In fact, in my novel, The Witch's Season, set in 1968, a protest turning ugly at a Falcons road game is a major plot element, and it was based on what I saw as a kid and heard since.
But times have changed, and Saturday, there was a fighter flyover befrore kickoff and as far as I know, the CU students' reaction to the Falcons was either respectful or a shrug, with AFA being just another opponent on the field at Folsom.
It was just football, and the Falcons would have romped minus their two lost fumbles.
And then it ended in OT, shortly after Remsberg ran down the right sideline and dived into the end zone for the tie-breaking -- and ultimately winning -- touchdown.
"It's huge win, it's exactly what we needed going into the (conference) season," Remsberg said. "We have Boise next week..." -- I have a hunch Calhoun made that point in his post-game speech -- "...coming off a huge Colorado win, and we're going to be rolling from now."
Remsberg's TD run turned out to be the Falcons' only offensive play in overtime.
"I got the ball and I knew my team needed me and I told myself there's no way I'm not scoring on this play," he said. "As soon as I got in open space, it was over. . . It would have taken a lot to tackle me."
Remsberg is a junior from Newton, Kan., and the Falcons' national roster and appeal in theory would water down the impact of its games against in-state opponents, with Army and Navy higher on the list of concerns and priorities. That's especially true with CU, given the long gap between meetings.
"It means a lot more," Remsberg said. "We haven't played them in so many years and we come up here. We want to be the kings of Colorado. That's how we look at it. We're going to play CSU this year, too, and we're going to beat them. That's our stance on playing the Colorado teams, so this feels great."
Remsberg also mentioned the axe many Falcons have when facing Power Five conference teams, and that's not receiving scholarship offers from Power Five programs. For Falcons junior starting guard Nolan Laufenberg, it's more personal than than when he goes against both CU and CSU. He's from Castle Rock's Castle View High School, and neither the Rams nor Buffs showed any interest in him.
"I feel like I was passed over by a couple of Colorado schools," Laufenberg said. "This is one of them. To come here and put it to them is awesome."
Gone are the days the Falcons can't get behemoth linemen into school -- their nose guard, Mosese Fiftita, is 6-foot-1 and 330 pounds and even Laufenbeg is listed at 6-3 and 295 -- but they're still not supposed to be as dominant up front against a Power Five opponent as they were Saturday.
This was no fluke.
It was a beatdown.
August 26, 2019
Advice for Luck from
another ex-Stanford QB
who quit young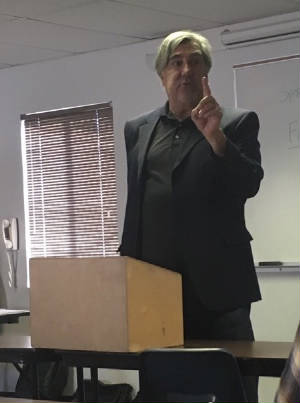 Read about anti-NFL activist Mike Boryla here.
August 23, 2018
My story on Pat Bowlen
is on SportBusiness.com
The site is subscription only for the viewing of articles, but here's a look at how it's presented. The story covers Bowlen's legacy and also the drama involving the Bowlen Trust and the maneuvering over which of two Bowlen daughters -- if either -- takes over as principal owner. SportBusiness is based in London, but also has a Miami office.
August 11, 2019
High school football
hanging in there ...
more so than I expected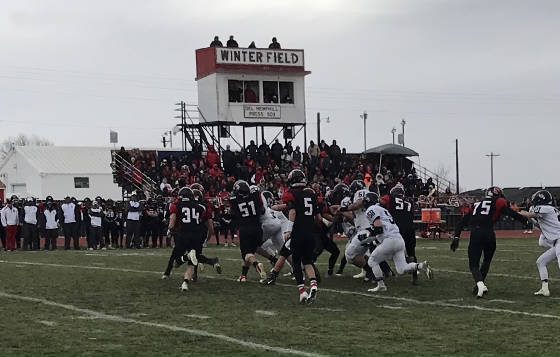 Limon vs. Strasburg
If you drive past your area high school Monday in Colorado, you might see the football team going through its opening day of practices.
Reports of high school football's imminent death have been extremely exaggerated ... and I was part of it.
Over the years, as I've played (briefly) and written about football, I've experienced and witnessed the physical toll the game can take.
I've seen how many of my journalism and book subjects in college and pro football have been struggling later in life with various maladies and after death have been shown to have had significant CTE, or brain damage.
The most notable on that front was Greg Ploetz, the Texas defensive tackle in Horns, Hogs, and Nixon Coming. For what I've written about Ploetz, go to my HHNC page and scroll down to where an archive of my stories on him appear at the right. New there (and also here) is a link to my column on woodypaige.com about his wife, Deb, reflecting a year after accepting a settlement in her lawsuit against the NCAA and continuing her crusade against football itself.
Beyond the college game, the NFL's $1 billion concussion settlement highlighted the peril of playing the game -- especially as a career -- while also essentially limiting the league's liability. (Albeit at a staggering cost, but there's plenty of money to go around.) It can be both stunning and aggravating to notice how today's players still often are in denial, acting as if they are invulnerable or at least willing to put off consideration of the risks.
Yet as this has played out, it hasn't been unreasonable to wonder about the future of the game. The most expreme scenario would be that liability and other issues literally kill off football at all levels, but that isn't happening.
The more pertinent big-picture issue is whether participation at the youth and high school levels drops so significantly, NCAA and NFL football becomes more of a gladiator pastime than it even is now.
Would parents' concerns about the sport cause more of them to say, "No, you're not playing football."?
It has become a cliche, but the water cooler or easy talk-show question often has been whether you'd let your kid play.
If you'd asked me in, say, 2012, I would have thought that by 2019, high school football would be in more trouble than it is now, and that participation would have slipped far more than it has. I wondered if rural school districts could afford the liability insurance now, as the end of the decade approaches.
No question, the numbers have dropped. The National Federation of High School Associations says the peak in particpation for 11-man teams was a in 2009-10, and that it has dropped about 6.5 percent since, but the number of players still is over one million nationally. The other significant possibility is that we haven't seen the effects of the doubt over the safety of the game show up in participation levels at the high school level, and that could take place as those declining to play -- or not being allowed to play -- youth football get older.
But for now, football is hanging in there.
Part of it is due to the realization that the risk of suffering concussions is almost universal in sports, especially given the increased awareness of the issue, the need to diagnose and dictate protocol. In football, yes, but in soccer, lacrosse, even baseball, certainly hockey ... and more. Plus, we've gotten so much smarter over the physical parameters of practices. I'm not sure Oklahoma drills were the embodiment of evil they have been portrayed to be, and I believe some of the no-contact, or no-tackling-to-the-ground standards in practices have been a bit of overreaction. But I understand why it has happened.
So....
This is my stand on football now.
It's still OK for kids to play it.
As long as they're not rushed into it too young.
As long as their coaches are qualified.
As long as they WANT to play it and aren't being pressured into it by parents, peers or anyone else.
And as long as it's made clear that if they don't enjoy it, quit. Don't buy into the crap that you'll be a quitter in life if you quit football ... or the piano.
In my generation, the problem was that if you were a good athlete, or even a marginal one capable of donning pads, holding tackling dummies and liked being known as a football player, you were both under pressure -- even in the mirror -- and expected to play football. Even if you liked another sport more, and were better at it.
It's healthy that we're past that.
It's a fine line because I believe that while skipping football because you enjoy another sport more is fine and understandable, or because you don't enjoy it, period, overspecialization can be a plague.
It's good for young men and women to play multiple sports, rather than a single one, often year-round on traveling and club teams and buying into it because of the usually ridiculous belief that a college athletic scholarship is the inevitable reward.
Yes, some of the slippage in football numbers has been because of overspecialization, and that bothers me.
But if the kids out there Monday for the first football practices are there because they want to be, I'm still with the program.
NOTE: This column also ran in the Portland Tribune and its afillates, the Clackamas Review/Oregon City News. Access that version here.
August 5, 2019
Collin Hill won't look
back. Now, he's healthy
and ready to lead Rams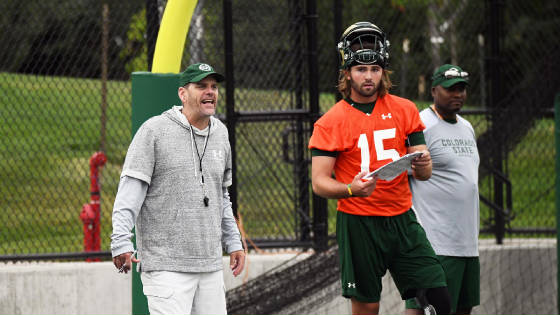 Mike Bobo and Collin Hill (Don Reichart photo / CSU)
FORT COLLINS -- In that 2014 offseason, Collin Hill was the heir apparent starting quarterback at Dorman High School in Roebuck, S.C.
He and his Cavaliers teammates traveled to Athens, Ga., and won the 7-on-7 camp competition at the University of Georgia.
The Bulldogs' offensive brain trust -- head coach Mark Richt and offensive coordinator Mike Bobo -- noticed the big quarterback, who actually lived in Moore, S.C., adjacent to Roebuck.
"We wound up winning it," Hill told me Monday at Colorado State's Canvas Stadium, on the Rams' Media Day. "It was after our first or second game, my coach said, 'Come over here,' and I talked with Coach Richt and Coach Bobo. So I was like, 'Whoa...'
"That was the first time a college coach talked to me. I was really kind of nervous and excited. Coach Bobo met my parents and established kind of a bit of a relationship. We talked on the phone and I went to a camp and a visit."
The problem was that Jacob Eason, one of the nation's top quarterback prospects in the Class of 2016, committed to the Bulldogs in July 2014 and Hill became, at best, the fallback.
"They just said, 'Hey, if something changes, we'll call you, and we're not sure we're going to take another (quarterback) or not,'" Hill said.
But after Hill's junior season, CSU hired Bobo to succeed Jim McElwain as head coach in late 2014, and Bobo knew the Bulldogs' fallback could be a higher-priority recruit in the Mountain West.
"He kind of hit me up," Hill said.
Quarterbacks coach Ronnie Letson watched Hill throw to be sure.
"They offered me and I came out on a visit and loved it," Hill said.
So that's how the 6-foot-5 kid from South Carolina ended up in Fort Collins, and he has been through ups and downs since arriving on campus in 2016. The downs include two ACL surgeries on the same knee in a year and a half, and he's entering the 2019 season as a redshirt junior starter, holding off a challenge from Nebraska transfer Patrick O'Brien.
Although he made it back on the field last season after suffering his second knee injury as a Ram while playing pickup basketball in mid-March 2018, just before the opening of spring practice, Hill wasn't close to full strength and mobility. Washington transfer K.J. Carta-Samuels was the starter much of the season as Hill essentially rehabilitated on the fly, completing 109-of-202 passes for 1,387 yards.
"I feel great, I really do," Hill said. "It was really nice to go through a full offseason, starting in January, doing all the lifting and the running and then getting in 15 practices. The knee feels really strong."
It was a bit surprising in 2016 when Bobo benched holdover starter Nick Stevens early in the season and abandoned plans to redshirt Hill. After a one-game trial for Faton Bauta, Hill ended up playing in five games and starting four as a true freshman before suffering the season-ending knee injury against Utah State on Oct. 8.
He redshirted in 2017 as Stevens finished out his career, then was poised to be the starter when his knee went out in that pickup hoops game and he again faced a long rcovery.
Now he still can seem a green quarterback, though he's going into his fourth season in the Bobo program and the Rams' coach considers him a savvy veteran.
"I feel line he's crossed that threshold," Bobo said Monday. "I feel lik being able to play at the end of last year was very beneficial for him and then having a spring practice ... Last year was little like a sophmore year, though there were years in between. He had a lot of success early on as a freshman and then his second year, he struggled and we struggled a little bit. He had that spring practice to go through and kind of work through some things, I kind of feel he's in a good position.
"He's got really good command of the offense and the more he can do, the better we can be on offense because can put our offensive line in a better position to execute when we can get in and out of the right play. . . We have to put more on him this year."
On the first day of all drills, Bobo noted that Hill was more decisively playing the part of leader.
"He has taken over this team and doesns't shy away from those expectations," Bobo said. "He's got an ego, too. He wants to be considered one of the best quarterbacks in the country. But you have to go out there and do that. I think he's embraced that."
Hill labels his CSU career a "mixture" of experiences.
"I don't know exactly how many games I've played in," Hill said, "but I haven't played in as many as you'd think I would have. At the same time, I do fel like I've been in the offense a long tiome and I know what's going on. I could look at it like I haven't been in a lot of games, but at the same time, I'm still in all the meetings, I'm still watching the games, watching the film, so I feel very confident in the offense. I do feel like I have command of the offense and that's the key to moving the guys."
One question about his career revolves around what might have happened if Hill had been redshirted as a true freshman rather than being rushed in to temporarily supplant Stevens.
"I don't play the what if game," Hill said. "It hasn't been easy. It hasn't ben all sunshine and rainbows, but I think I've grown in the situation I've grown as a player, and as a man, and in my relationship with the Lord. It's all been a bit of a atest fo me. You could look at it like, 'Oh, man, this guy has had it rough.' But if you put things in perspective, it's just a game, it's just a knee ligament. There are a lot of worse things out there. I totally understand that."
Of course, with Bobo running the offense, Hill has worked with his head coach more than most quarterbacks.
"I've learned so much, I really have," Hill said. "That's one of the reasons I came out here, why I ended up coming all the way out here. I wanted to play for him. I know what he did for guys at Georgia. He's taught me so much about Xs and Os and defenses, so I feel like he's really helped me develop as a quarterback."
This fall, starting with the Aug. 30 opener against Colorado, Hill will be charged with helping lead a recovery in the wake of the Rams' 3-9 debacle a year ago. This will be his second appearance against CU. He was 1-for-4 for 5 yards in the 2018 Showdown.
"I really think we've had a really good offseason," Hill said. "I feel like as a result of the things I've gone through, the way I carry myself, that has given me an opportunity to be a leader on this team. I'm an older guy and it kind of goes with the position too. I'm really excited to kind of take over and be that guy, the leader trying to push everybody."
Part of that offseason for him was serving as a counselor in June at the Manning Passing Academy in Thibodaux, La.
"Man, it was cool, it was a lot of fun," Hill said after the first preseason practice. "The Mannings were really cool. They're really good people. . . It was cool to meet other college kids. I got to work with eighth though 12th graders. That was cool to kind of build relationships with them, too. I enjoyed it. You work out really twice a day, in little sessions with the high school kids, too."
He said he talked with Peyton Manning "for a while one night, about what he did in the offseason, how many times would he be throwing, if you're doing drills, what drills, how much film are you watching, What are you watching? Is it teams? All that kind of stuff. I don't think there's necessarily one specific thing, but there were a lot of nuggets along the way."
During one drill, with the quarterbacks rotating, Hill threw a pass and heard a voice behind him, saying, "Good ball."
"I turned around," Hill said, "and it was Peyton Manning. I was like, 'Ooooh, that's pretty cool.' But, yeah, he was really down to earth, to talk to, and it was really kind of surreal to talk to him. He's a legend, don't get me wrong, but to talk to him, he's super humble."
Collin Hill's CSU Stats
2016, true freshman: 75-for-129, 2 INT, 8 TDs, 1,096 yards
2018, redshirt sophomore: 119-for-202, 7 INT, 7 TDs, 1,387 yards
July 22, 2019
It's a make-or-break
season -- maybe even
preseason -- for Bolles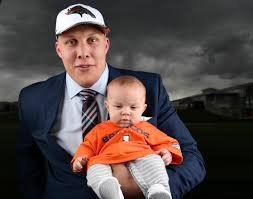 After the Broncos' season-ending loss to the Chargers, I was on the field and then behind Garett Bolles as the Broncos' tackle headed to the locker room.
He went over to the section at the southwest corner of the stadium, near the dressing-room portal, and greeted his wife, Natalie, and their young son, Kingston.
The mood was somber, but the scene was touching.
Then Bolles went into the tunnel and once he was out public sight, while still on the move, repeatedly and heatedly bashed his helmet against the wall and punctuated it all with guttural shouts.
It hit me: That's Garett Bolles in a nutshell.
Now, at age 27 and as he approaches his third season and at least in training camp remains installed at left tackle -- now playing next to rookie guard Dalton Wisner, from Kansas State and Wiggins -- this is inescapable:
Bolles' development, or lack thereof, is one of the key issues of the 2019 camp and preseason, and beyond. This new coaching staff, including offensive line guru Mike Munchak, should be and will be allowed to independently make a decision on Bolles' suitability to remain the starter or even on the roster. There's no guarantee he'll be either against the Raiders on Sept. 9.
It's Bolles' make-or-break season, as least when it comes to the issue of whether he ever will be worthy of the faith the Broncos showed when they made him the first offensive lineman taken in the 2017 draft, at No. 20 overall.
To do that, he must be more than a journeyman bouncing around and hanging on in the league.
He must be that cornerstone left tackle. For the Broncos. And soon.
You're laughing? You're saying that ship already has sailed and the Broncos have scaled back their best-case scenario expectations for Bolles? If he can just hold on (to coin a phrase) to the starting job at a key position on merit, not on the basis of what Denver has invested in him, both in terms of money and expectations, that's about all you can hope for?
Perhaps.
But it would be a mistake to give up on him. Yet.
There's so much at stake.
Unless the Broncos are better at protecting the quarterback than they have been in recent years, the acquisition of Joe Flacco will have only minor impact.
At 34, Flacco is neither elusive nor a statue, but has the step-here, step-there maneuverability that can be part of the bigger picture. This is no newsflash, but he needs major-league protection to be effective.
Case Keenum had his problems and Trevor Siemian never was going to be the answer, but the the ineptitude up front handicapped them and Siemian especially was banged up.
Now, in attempting to bill Flacco as the difference-maker, John Elway deserves credit for acknowledging the misjudgments about quarterbacks the franchise has made since Peyton Manning's retirement. (Hello, Paxton ...)
But the backdrop should include the reality that offensive line improvement -- under Munchak's tutelage -- should be at the top of the list of priorities.
And Bolles is the biggest variable there.
The way training camp works, story lines often reflect what the Broncos themselves are advancing and hoping for, but the talk of Bolles showing signs of maturation -- including from veteran guard Ron Leary -- is genuine. He also likely will benefit from playing next to Risner, savvy beyond his years and capable of providing on-field direction for Bolles.
Ah, but what of his holding and his mistake-prone play?
It seems as if he has drawn flags not just during the game, but during pre-game warmup and at halftime.
Some of them, perhaps even many or most, had been video-definition of holding calls, or overt tackles, but sometimes it's not so simple and reputation comes into play in such a subjective decision making process.
It isn't about what holding is; it's about what's called holding.
The respected veteran offensive lineman? Hey, (wink), it's not holding if it isn't called.
The guy with the reputation for holding at every opportunity? The same maneuver is holding.
That's the double standard so prevalent in all sports. Reputation plays a major role.
I'm not turning this into an officials' vendetta defense of Bolles.
I'm just saying part of his battle is earning that respect and having the flags stay in the pocket on the gray-area calls.
He has to get better, much better, for all of that to happen.
I still think he's capable of it, and that the Broncos being enamored in 2017 of a big man with such athleticism was understandable. Plus, he was raw. Lanky coming out of high school, he wasn't even a prospect. As my profile below outlines, before he developed an offensive lineman's physique, he took two years off from football and then played two years at Snow Junior College and only one at Utah in the Pac 12 before entering the draft and breaking in as a 25-year-old rookie.
But this is his last chance to show he can be that cornerstone.
What often seems to be forgotten or at least underplayed is that last November, he -- and the offensive line as a unit -- seemed to be coming around. The Broncos won three in a row and questions from the media to the offensive linemen were prefaced with remarks about them starting to prove the critics wrong. Then the wheels fell off down the stretch.
I admit I'm rooting for Bolles in part because of that quick-hit profile I did on him from Dove Valley in the weekend of the 2017 draft. I'm proud of it for a lot of reasons, but mostly because I managed to put it together, tracking down other figures in his life and career, in about 36 hours.
Bolles' story is compelling.
Read my Denver Post online version, with pictures, here.
To read just the text, continue:
April 28, 2017
In August 2011, Greg Freeman was in his company truck in Lehi, Utah, about 30 miles south of Salt Lake City.
The owner of a garage door installation and service company who dabbled as a high school lacrosse coach, Freeman spotted a teenager he had known for years, first coaching him in lacrosse as far back as seventh grade; and then as his own children and wife, Emily, helped tutor the kid through high school.
Garett Bolles, who had just turned 19 and had graduated from Westlake High School two months earlier, was at the side of the road near his family home, carrying garbage sacks and duffel bags full of his belongings.
Garett's father, Grove, fed up with his son's propensity to get into trouble at the wrong place, at the wrong time, with the wrong people, and with the wrong things, had kicked him out, saying that for the good of all, Garett needed to find somewhere else to live.
Freeman pulled over. He spoke with Garett and got the story. He called Emily. He explained the situation and asked his wife: "What do you want me to do?"
At the Broncos' Dove Valley headquarters Friday, Emily Freeman, 47, recalled her reaction.
The Freemans had four children of their own, two boys - including a son, Josh, in the same graduating class as Garett at Westlake - and two girls. They both knew Garett fell far short of qualifying for a halo. Yet they were about to add a third son.
"I hit my knees and prayed," Emily said. "I thought, 'God will know. He'll know what's right for Garett, he'll know what's right for our kids.' ... It was clear as day. 'Bring him home.' I said, 'Greg, put his stuff in the truck and bring him home.' "
On Friday, Greg Freeman, 49, was only a few minutes removed from being teary-eyed as the Broncos' 2017 first-round draft choice, Utah tackle Garett Bolles, thanked the couple he now calls his parents at his introductory news conference at the team's headquarters. Bolles was the NFL's No. 20 overall choice, the first offensive lineman taken. And this was all less than six years after he literally had nowhere to go ... and ended up with the Freemans.
"He was struggling with growing up," Greg recalled. "He was known by the city police and things of that nature by first name and he knew them by first name. He did have an issue with vandalism and spent the night in the jail, and so, yeah, he was a wayward kid needing some love and guidance."
Said Emily: "Even behind all of the hard things that were going on at home and with the law, and everything he was facing, you just saw inside there was a kid with so much potential. He just needed someone to tell him it was there."
Grove Bolles works in real estate financing and has remained in Garett's life since that night, and attended the draft in Philadelphia on Thursday as part of Garett's entourage. The one thing that can't be doubted: This worked out for the best after Garett, always a handful, was adrift following his high school graduation.
"He had a pretty good senior year in high school football," Grove said Saturday. "Not quite good enough to be a college player, but you could see that that talent and the future was there. He kind of struggled with not having a landing board out of high school. His two older brothers, Kyle and Weston, served LDS missions and he wasn't quite sure if he was ready for that on the maturity level. He wasn't quite sure he was ready for the workforce and what he wanted to do.
"So he decided to start partying. It got pretty out of hand."
Grove and his wife had split up the year before and as a single father, Grove still had Garett and his two younger brothers and sister in the household.
"I'm a real hands-on dad," he said. "I've been an integral part of his life, his whole life. I've probably spent more time with him than any of my other children because he needed it. We've always been very close in that regard. When he started spinning out of control, we had a lot of talks about maturation and focus and direction and being patient in life's process and understanding he was going to have to find himself and be more disciplined in his choices. Well, he chose to hang around a bunch of knucklehead kids who were pretty bad kids."
Grove said he felt as if he had lost control of his son.
"I wouldn't say his partying was exceptional or extraordinary," he said. "Typical things of young boys trying to find themselves in life. Drinking, a little bit of drugs. But his disrespect at home had gotten off the charts. ... It was understandable what he was doing, but it certainly wasn't acceptable. Finally, one day I came home on a Saturday morning and there were three of his buddies in his room who were forbidden to be in my house. Two of those kids went on to prison and jail."
Grove said he told Garett's buddies to get out of the house.
Then he turned to Garett.
"I said, 'I'm going to give you four hours to get your stuff out of the house, and when I come back, if you're here, I'm going to get you arrested for trespassing.' He said, 'You're kidding, Dad.' I said, 'No, this has come to an end. You need to get out of the house. I'll still keep being your dad, still love you, still going to support you, but you can no longer live here. You're upsetting the household, you're not helping, your brothers and sister don't like you being around right now, you need to find someplace else to live. I'll be there for you, but you can't live here.'"
Grove said he emphasized that if Garett got his act together and showed he could be respectful long-term, he could return to the family's home. But not until then.
When Garett moved in with the Freemans, Greg and Emily declared there were three rules. Garett would attend weekly services at the Church of Jesus Christ of Latter-day Saints, he would tithe 10 percent of any income he made to the church, and he would turn off and turn over his phone every night.
"Garett and I have a real interesting relationship," Emily said. "He'll tell you he's scared of me, which is funny, my kids laugh so hard. But he knows when I tell him something, I'm serious about it. When he came in, I said there won't be any warnings. I said, 'You break one of these rules and we'll help you find somewhere else to live.' I wasn't going to leave him on the street. He never did break them. He went to church every single Sunday. He paid his tithing. None of the kids that worried me came around. There were other battles along the way that we would go through and work out one by one."
As Grove Bolles spoke Saturday, he was very enthusiastic in his praise of the Freemans and while expressing gratitude for what they have done with their rules that Garett accepted in reassessing his life.
"Garett would call me frequently, sometimes several times a day and say he was adjusting to a new household, new rules, a new environment," he said. "I said, 'That's Emily and Greg's house, I know what kind of household they have, it's a great place, you need to adjust and abide by their rules. But you can't come home.' I said, 'I'm here for you, I'm still your dad, I'm still going to love you, that's where you need to be right now.'
"I think it's a classic example of what a mother- and father-run household can do as compared to a single-parent household. ... I was completely involved in his life and all his activities. I want to focus on the positive, what's Garett's made of his life and how Greg and Emily have helped. I've been there supporting him unwaveringly the whole time. I didn't abandon him. I didn't disown him. If anything, I was more involved in his life than ever. But I had to support Greg and Emily in their efforts because that was his last chance. I saw that and he saw that."
Greg Freeman noted: "His real father put him out for lessons of good love. Grove is still a good friend of ours. At that point, Garett needed a different direction, and I happened to be there."
The lore is that, before all that happened, Garett was "kicked out" of five schools as he was raised in Lehi. That's misleading because it treats suspensions as expulsions.
"I just fought a lot," Bolles said in a conversation in the lobby outside the Broncos' position meeting rooms Friday. "I had a lot of anger, because there was a lot of turmoil at my house."
Struggling at times because of attention deficit disorder with hyperactivity (ADDH), Garett transferred from Lehi High to the new Westlake High during his junior year. At Westlake as a senior football player, he got caught up in that vandalism incident at Lehi - his former school.
"I spray-painted my archrival high school," Bolles said sharply. "Whatever you want to think of that, you can. I was just a high school kid playing a high school prank that went wrong so I don't really think about it. That stuff's in the past. I'm going to bury it and never bring it back up. I'm a Denver Bronco and that stuff's behind me. Now I have to work with a team to make them better and make me better."
Michael O'Connor at the time was, and still is, the athletic director at Westlake.
"He can be a character at times, as everyone knows," O'Connor said of Bolles. "All the things he went through and all he's done to make his life better, it shows a lot about who he is. But he and a couple of kids obviously didn't make the right decision then and they spray-painted (Lehi's) turf field. That was at the very beginning of the season, so he ended up having to sit out a few games. That flustered him, and he's a passionate kid. He's emotional, and everything comes from his heart right away. I know they got fined and the kids had to pay for it. There were three or four of them, all suspended.
"He wasn't on track to graduate. But something sparked right after football season. ... He got his work done and then some and he graduated. We could have given up on him. We didn't give up on kids."
As he played football and lacrosse and also met the Freemans and others for tutoring during his high school years, Bolles talked about someday playing in the NFL. (Westlake didn't have a lacrosse program. Freeman was the lacrosse coach at Lehi. So even after Bolles transferred to Westlake, he played high school lacrosse for Freeman at Lehi.)
Emily Freeman, among others, reminded Garett that academically he wouldn't pass the NCAA's muster to receive a scholarship. He was a decent high school football player, but lanky and immature physically. His NFL talk seemed complete fantasy.
For the next 18 months, after moving in with the Freemans, Garett worked for Greg as a garage-door technician. He not only liked the work, he became very good at it. "It's my passion," he said. "It's something I love to do. Anyone out there that needs help with their garage door, call me, I'll be there."
Said Greg: "My thought was this guy probably will take over this business and be in the garage-door business his whole adult life."
Starting in early 2013, Bolles also spent nearly a year on an LDS mission to Colorado. He officially was based in Colorado Springs, but spent much of his time in Pueblo.
"I loved Pueblo," he said. "They're great people down there. The food's outstanding; they put the green chili on the burgers and they smother burritos. Fat food for offensive linemen like me. I loved them; I have so many friends and friendships that always will play a big role in my life."
Returning to the Freeman home in early 2014, he again worked with Greg's company. But by then, he had grown and gained a lot of weight. As he played on an adult team in a summer lacrosse league, with Greg as a teammate, he displayed eye-popping speed and athletic ability for a big man.
With encouragement from Grove, who did some checking with a football coach friend, and from the Freemans, Garett and Emily Freeman ended up meeting with a Brigham Young University assistant coach in Provo. The coach summoned Snow Junior College coach Britt Maughan to meet Bolles, and Maughan invited him to attend the start of preseason practices on what amounted to a tryout.
The Freemans told Garett, OK, if he earned a scholarship at the junior college program in Ephraim, Utah, great. If he didn't, it was back to the garage-door business.
"My mom told me, 'If you have cleats on you, you're the first one on the field and the last one off, you run everywhere,' " Bolles said. "That's what I did. I kept running and doing what I needed to do to make myself successful."
He got that scholarship, and after his freshman season, it was obvious he was capable of playing at the major-program level. In March 2015, he attended Snow's "True Badger Night."
"It's a dance, and then you go into the bell tower and it's a big kissing frenzy," he said. "I had a warm feeling to go and there she was, and I told her, 'Let me show you how a real man kisses.' That's what happened."
"She" was Natalie Williams.
"She gave me her phone number and I thought it was one of those when girls give you fake numbers, but it was the right number," Bolles said.
Now Natalie Bolles, she also was at Dove Valley on Friday.
"The first night we hung out, I asked him about his life because it was my first time meeting him," she said. "He just told me his life story. Like everything. I just saw the passion and the caring person that he is. I cried when he told me his story. I said this guy is so sweet, he's so nice, he's a guy I would like to keep hanging out with."
He even told her about garage doors. Really. "He loves to talk about it," she said. "That was one of his favorite things. If you ask him anything about a garage door, he'll tell you how to fix it, where to get it, how long it will last." She added something that's especially interesting in light of his ADDH struggles. "Once he retains information, it's there," she said.
They were engaged in June 2015, married in December 2015 and now are the parents of 4-month-old son Kingston, who was in "Lion King" Garett's arms when the Broncos' top draft choice joined NFL commissioner Roger Goodell on the stage in Philadelphia on Thursday. Kingston also was with his parents at Broncos headquarters Friday.
As a sophomore at Snow, Bolles was the Western States Football League's offensive player of the year. As a tackle.
Once planning to attend BYU, he decided to consider other options after he became one of the most highly sought junior college players in the country. Sifting through offers from power five programs, he chose the backyard school, Utah, and was an all-Pac-12 choice as a junior last season before declaring for the draft.
"He had a strong desire to be the best and is willing to put in the time afterwards," Utah offensive line coach Jim Harding said. "If we would have an individual period, and he maybe didn't feel like he got the technique down, he would grab me after practice and ask to work that technique again."
Did he see any of the troubled kid that Bolles once was?
"No, I didn't, and that's what I told the scouts," Harding said. "I can't say that about every kid I have in the offensive line, but on Friday and Saturday night, I'm not wondering what Garett Bolles is doing or if he's doing the right thing. Nothing that is in his past ever showed up when he was at Utah. ... He got married when we were still recruiting him, and he's been with Natalie ever since he came to campus, and that's a real stabilizing influence for him.
"The Freemans are a tremendous positive influence on him, and I think it's tremendous where Garett is going because it's the closest place it could have been to Utah. Emily and Greg have done wonders for him."
It's a story that doesn't need to be made up.
July 9, 2019
Jared Bednar's
contract extended
through 2021-22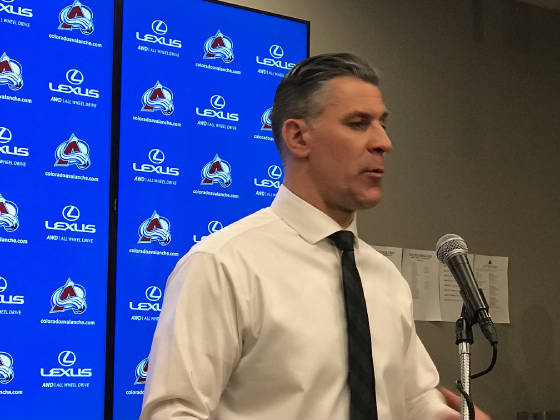 The Avalanche Tuesday announced that Jared Bednar, who had one year remaining on his contract, to a two-year extension.
So he's under contract through 2021-22, which passes for security in a league that champions the scapegoating of coaches in times of trial.
It's well-deserved. After three seasons as Patrick Roy's replacement, Bednar has settled in -- as much as a first-time NHL coach (or NHL anything) can -- as an unflappable, respected voice behind the bench, with an intuitive sense of which buttons to push.
It was a long time coming for the man from Saskatchewan.
* * *
The grain storage elevator was the tallest structure in the village. Population fluctuated, and if the count was taken at the right time, it might crack 300. This was Elbow, Saskatchewan, halfway between Regina and Saskatoon, and elementary school student Jared Bednar was the son of an often transferred Royal Canadian Mounted Police officer, settling in and making new friends.
Bednar was used to it.
"Every two or three years, we'd move," Bednar told me.
Born in Yorkton, Saskatchewan, Bednar spent the most time in his childhood in a big city, Humboldt, population 5,000, because his father, Wally, was stationed there twice, including when Jared was beginning to advance through the ranks of youth hockey.
"In rural Saskatchewan, you live, breathe, eat, sleep hockey," he said. "That's what you do. So it didn't matter what time of the year, you found a way to play, whether you're playing street hockey on the pavement or ice rinks or outdoors on ponds. That's all we did. Well, we played other sports as well, but we found a way to make sure we were getting our hockey in every night -- that and watching 'Hockey Night in Canada.' "
Bednar hoped to play for the Humboldt Broncos, the local Tier II team, or maybe -- just maybe -- major junior's Saskatoon Blades. As a big, tough defenseman who saw dropping the gloves and fighting as part of the job description, he attained both, eventually playing four seasons in the Western Hockey League with the Blades and the Spokane Chiefs, Medicine Hat Tigers and Prince Albert Raiders. He went unclaimed in the NHL draft and was 21 when he finished his major junior career.
"I assumed that I was going to play at at least the American League level," he said of the NHL's "triple-A" feeder. "When that didn't happen and I wasn't part of an NHL team and I didn't sign, I was thinking, 'What do I do now?' "
His coaches had contacts in what then was called the East Coast Hockey League, a step down from the AHL, and he caught on with the expansion Huntington (W.Va.) Blizzard.
"I didn't know anything about the league," Bednar said. "I'm 21 years old, I'm leaving Saskatchewan and Western Canada really for the first time to jump in my car and drive down to West Virginia and play hockey. I had no idea what it entailed."
Bednar was a stay-at-home defenseman, even more popular with crowds and his teammates because he dropped the gloves to avenge and defend and also because at that level, at least one good scrap a night was part of the league's identity and box-office allure.
"It was something I could contribute to help my team, so I did it," Bednar said. "I wanted to play and I loved my teammates."
In Huntington, the home of Marshall University, Bednar met and started dating the woman who later would become Susan Bednar. In his third season, though, he was traded to the South Carolina Stingrays, based in Charleston.
"I was crushed," Bednar said.
The immediate silver lining was that his teammate, roommate and best friend, Dan Fornell, was traded with him, and they quickly became valuable members of the Stingrays.
"We always referred to him as 'Bedrock,' " said Rob Concannon, a Stingrays teammate who now is president of the ECHL team. "He had a cool persona about him, and at one point he had the long hair and an earring. ... We find out that we're getting Jared Bednar and Dan Fornell from the Huntington Blizzard and we said, 'Let's look at the guys' stats!' That first (expansion) year, Jared was minus-82. Minus-82! So of course we were all saying, 'Who the hell are these two guys?' And then they came to town.
"I played a kind of antagonistic role and Jared would turn to me and say, 'Coocs, you go out there and do whatever you want, I have your back.' That's what he was. He always had your back."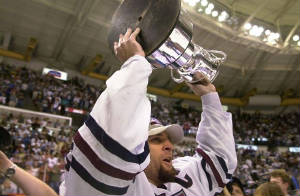 As the South Carolina Stingrays' captain,
Jared Bednar holds aloft the Patrick J. Kelly Cup.
Jason Fitzsimmons was the Stingrays' goaltender.
"He was a great teammate," Fitzsimmons said of Bednar. "He stood up for his teammates, he spoke with his actions and he held people accountable. I think those are things he has taken over to the coaching side."
The Bednars came to love Charleston so much, he and Susan Bednar and their two children made it their base during Jared's subsequent hockey travels.
The Stingrays won the league's Patrick J. Kelly Cup twice when Bednar played for them, in 1997 and 2001. In between, he had brief stints in the AHL with St. John's and Rochester, and in the International Hockey League with Grand Rapids, but wasn't considered an NHL prospect. He didn't mind going back to the Stingrays and winning championships.
"It was awesome," he said. "You don't know any better. I didn't know any better. I went down there and we were drawing 10,000 fans a game, selling out our building and they're treating us like we were an NHL team. We were Charleston's team, South Carolina's team and the fans were great."
In 2002 he was pondering whether to play another season when Fitzsimmons, the former goalie, moved up from assistant coach to head coach. On the night of his hiring, Fitzsimmons asked Bednar, who lived two blocks away, to come to his house for a talk. He asked Bednar to retire and become his assistant.
"I wanted to stay in hockey and I didn't know if I was going to be able to do that as a player," Bednar said. "Probably the biggest factor in me deciding was I had played one way my whole life. I wasn't the most talented, but I was real competitive. I had some anxiety at certain points in my career about fighting, but generally I fought because I was in the moment and wanted to do it. My last year, that kind of went away. I was at a spot where I had my son and I didn't feel that I battled to the point I did the rest of my career."
He was torn. He told himself he wanted to play one more season, return to his passionate role and go out that way. But he told Fitzsimmons yes.
His coaching career had begun.
"I fell in love with it," he said. "It gave me a chance to work and learn and make a lot of mistakes."
Bednar and Fitzsimmons, who remain close, were on the Stingrays' bench together for five seasons.
"Even though I was the head coach and he was the assistant coach, I viewed it as being co-coaches," Fitzsimmons said. "I learned a lot from him. I knew I was pretty green and we were both young kids and I knew that being an ex-goaltender, I used to talk about the game with him and I knew we had the same philosophy. I think I kind of talked him out of playing another year and I think now, 15 years later, he's probably thankful I did that for him."
In 2007, Fitzsimmons moved on to the Washington Capitals as a professional scout, and Bednar became South Carolina's head coach. In Bednar's second season, the Stingrays won the Kelly Cup again in 2009, and as much as he loved Charleston, he was wondering whether he might be able to coach at a higher level.
He signed on as an assistant to Jim Playfair, a former NHL defenseman who was the head coach of the AHL's Abbotsford Heat.
"I quickly realized that first and foremost, our personalities connected," said Playfair, recently named the associate coach of the Edmonton Oilers. "There just weren't many loose parts in his coaching and his disposition as a person. His connection to the players. His attention to detail. His preparedness. I was just really impressed that coming out of the East Coast League, that he was as well-versed in handling video tape and teaching structure and getting his point across to the players."
Playfair recalled a conversation with Bednar after the Heat was eliminated from the playoffs and the coaches and players were in the Calgary airport.
"I said, 'Look, you are past being an assistant coach at this level. I think you're good enough to be a head coach,' " Playfair said. "I made some phone calls to different general managers that I had relationships with that I thought might be looking for a good, solid, young coach."
The St. Louis Blues hired Bednar to be head coach of their AHL affiliate, the Peoria Rivermen. So he had gone from ECHL assistant to ECHL head coach, from AHL assistant to AHL head coach and he was on the path to the ...
Not so fast.
The Rivermen were 81-63-12 in his two seasons, but Bednar's contract wasn't renewed.
"It was disappointing," he said. "I'd put a lot into that and I felt like it was my chance. I'm a competitive person. I want to win and we didn't, but I thought our staff and myself put a lot into that team and I felt we did everything we could with the group we had. ... I think deep down I worried a little bit that that was my chance as an American League head coach. But I'm of the belief that everything happens for a reason."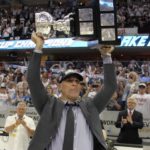 As coach of the Lake Erie Monsters,
Jared Bednar holds aloft the Calder Cup.
The Columbus Blue Jackets hired him as the second assistant for their AHL franchise, the Springfield Falcons. After two seasons, Falcons head coach Brad Larsen -- a former Colorado winger -- moved up to the Blue Jackets' staff, andBednar was a head coach again. The Blue Jackets' affiliation switched to the Lake Erie Monsters in Cleveland for 2015-16, and the Monsters stormed through the AHL playoffs and won the league's Calder Cup. Bednar signed a new two-year contract with the Blue Jackets' organization, but after Roy's stunning Aug. 11, 2016 resignation, the Avalanche interviewed Bednar and hired him two weeks later.
He kept his poise through his painful introduction to the NHL, the dreadful 48-point season in 2016-17, and Joe Sakic kept the faith, conceding the rebuild in progress had placed Bednar at a great disadvantage. Then came the stunning turnaround in his second season behind the bench, when the Avs jumped to 95 points.
Although the Avalanche's midseason lull last season seemingly placed his job in jeopardy under conventional NHL standards, Sakic never came close to firing Bednar and Colorado recovered to claim its second straight No. 8 Western Conference seed and this time knocked off Calgary in the first round.
And now he's under contract for three more seasons.
June 17, 2019
She came ashore at Omaha Beach, too:
WWII nurse Leila Morrison back in
Colorado after D-Day visit to Normandy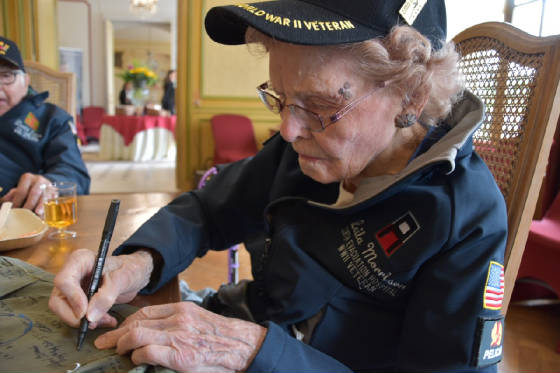 Leila Morrison in Normandy, signing the jacket of Best Defense Foundation program director
Ralph Peeters, who lives in The Netherlands. (Photo courtesy Ralph Peeters)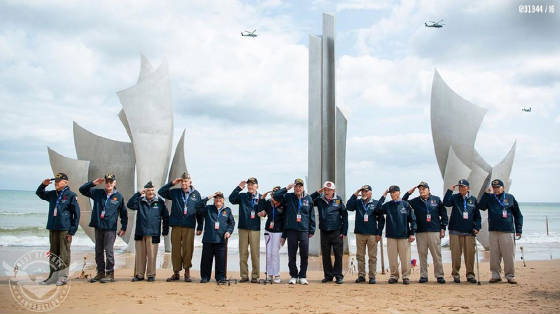 Leila Morrison is seventh from left (in white pants) among the Best Defense Foundation-escorted
veterans on Omaha Beach. (Best Defense Foundation photo)
On June 6, the 75th anniversary of D-Day, former Army nurse Leila Morrison looked out over Omaha Beach.
"I just couldn't believe it," Morrison told me Monday. "It was so different from 75 years ago, when we arrived. There wasn't anything recognizable except maybe the sand on the beach. It brought back so many emotions and everything else you had inside of you."
Morrison is 97 and since 2010 has lived in a senior citizens' home in Windsor, between Fort Collins and Greeley.
This often is lost in the narrative, but Leila (then known as Leila Allen) and other Army nurses came ashore shortly after the D-Day landings and moved with the battle lines and the U.S. troops across Europe, working under trying conditions in operating "rooms" that actually were triage tents. With the 118th Evacuation Hospital, she witnessed both the carnage of war and, at the Buchenwald concentration camp, the results of the horrific actions of Nazi Germany in implementing the unspeakable "Final Solution."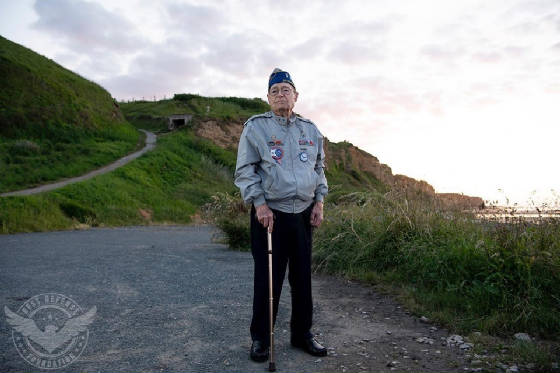 Russell Pickett, 19 when he made it through German fire
to reach Omaha Beach, at the landing site.
(Best Defense Foundation photo)
Morrison was the only woman among the 14 U.S. veterans of the Normandy campaign taken to France for the D-Day commemoration by the Best Defense Foundation, a remarkable organization founded and run by former San Diego Chargers linebacker Donnie Edwards. The group sat behind President Donald Trump at the official commemoration ceremony, and Trump introduced and hugged one member of the party, Russell Pickett, who as an 19-year-old private in the 29th Infantry Division was among the first to arrive on shore, braving the German fire. French president Emmanuel Macron helped Pickett stand.

"Today, believe it or not, he has returned to these shores to be with his comrades," Trump said of Pickett. "Private Pickett, you honor us all with your presence."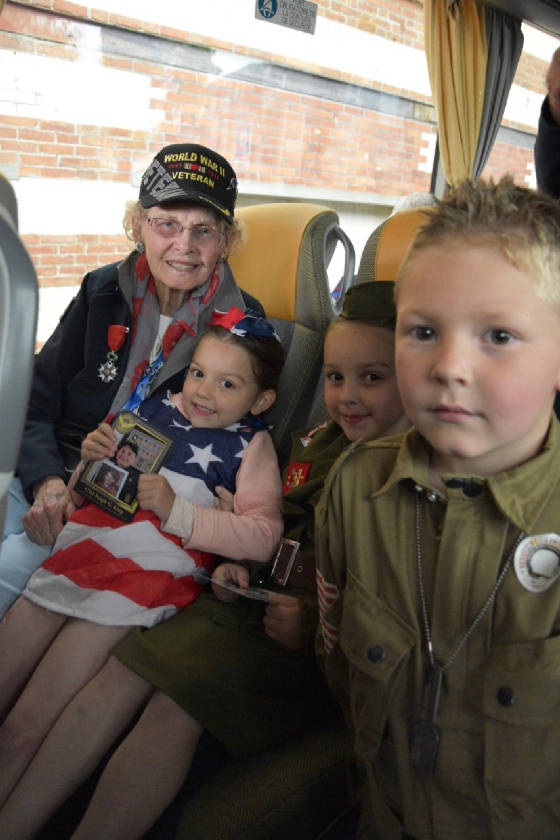 Leila Morrison with French children
(Best Defense Foundation photo)
Leila Morrison was sitting nearby.
"There are very few of us left from World War II," she said. "They told us while we were there that we were probably the last World War II folks who would be there for a public ceremony, and it really was a big one."
The commemoration ceremony was the highlight of the Best Defense Foundation's 10-day trip, which also took the veterans to Paris and other and other French cities and sites.
"It was quite a trip, especially for an old woman," Morrison told me. "It's taken me longer to get over than I thought. It was a schedule for a teenager. But we made it and I'm thankful I could. We were treated like royalty. The French people respected us and gave us every courtesy possible. They were just happy to serve us. Even though it's three generations later, the people seemed to really be willing to remember it and they're teaching their children about what happened. We went to a couple of schools and the children really welcomed us and had made little banners. They seemed to know and understand quite a bit about World War II."
The Best Defense Foundation, which takes veterans back to the sites of their combat, came across her story and invited her on the momentous 75th anniversary trip.
She met the group in Los Angeles and they flew -- in First Class, thanks to upgrades from United Airlines -- to Paris and eventually ended up in Normandy.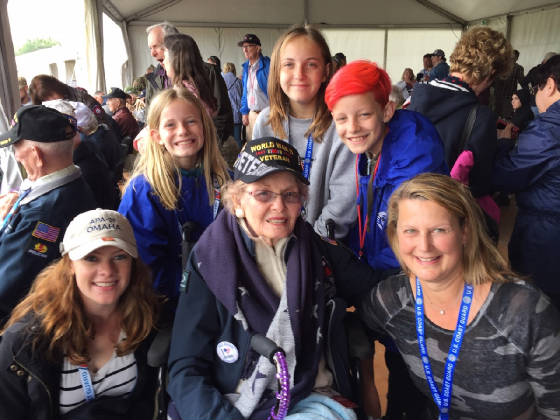 At Normandy, Leila Morrison, center, is surrounded by
other Coloradans, from left: Julie Mann, Lilly Schroeder,
Brooke Moser, Quinn Schroeder, Carrie Vaughn.
(Photo courtesy Marc Moser)
Activists who support Edwards include Jake Schroeder, who is the head of Denver's Police Activities League and sings the National Anthem at Avalanche games; and Avalanche television broadcaster Marc Moser. They have become close friends of Ralph Peeters, the Best Defense Foundation's Netherlands-based program director.
Both Moser and Schroeder were at Normandy for the 75th anniversary with their daughters and interacted with Morrison.
Morrison became beloved among Best Defense Foundation personnel and charmed the young people meeting the American visitors.
"She was an inspiration and a lovely lady to have on the program," Peeters told me. "She was an ambassador for all nurses who served in World War II."
Anna Becker, another Foundation program director involved with the trip, said Morrison "was the sweetest and nicest person there. An absolute angel! All the boys loved her!"
Raised in Blue Ridge, Georgia, Morrison entered the Army Air Corps as a nurse after her graduation from nursing school in 1943. Her training was at Lowry Field in Denver and Santa Ana Air Base, and then Camp Bowie in Texas. There, she was shifted to the Army and soon was commissioned as an officer. Also while at Camp Bowie, she met a dashing Army officer named Walter Morrison at a dance and turned down his virtually immediate marriage proposal, saying she couldn't get married while a war was raging. But they remained in touch.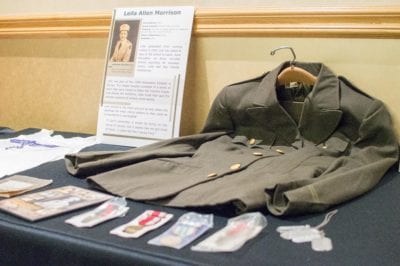 Leila Morrison's Army uniform and medals
(Photo courtesy AJ Frankson / Collegian)
She was transported to Scotland on the coverted (and packed) Queen Elizabeth, went through additional training and briefly was stationed in England before she was assigned to the 118th Evacuation Hospital. Then she and other nurses traveled on a British ship, the Southampton, to Omaha Beach.
Morrison said it was "a couple of months" after the D-Day landings. The battle lines had moved on, but the goal was for the medical personnel in the unit -- including 40 doctors and 40 nurses -- to catch up.
"We could not come in very close, because of the mines and sunken ships still there in the harbor," she said. "So we had to swing off this little, bitty ship on this rope ladder. Some GIs were there in this little LST (Landing Ship, Tank) boat. I think that's the name of it. It opens up in the front. We went in on that, and we walked out of it onto the beach. There was a two-and-a-half-ton truck there, and that's what we toured Europe in, all the rest of the time. They took us down to a small town there in Normandy and then we proceeded on to where the lines were to set up our hospital."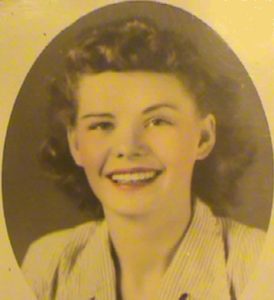 They moved through France, Luxembourg (in the Battle of the Bulge), Germany and Czechoslovakia.
"It was all in tents," she said. "We lived in tents. The hospital was in tents. It was all a bunch of tents with a big red cross on top."
(That was to identify it as a hospital, making it off limits for bombing under international law.)
In tents, the unit treated the seriously wounded, hoping to get them alive to better facilities, usually station hospitals. Yes, think a M*A*S*H unit -- but even more makeshift and more on the move.
"Our hospital worked like a big emergency room" she told me. "We only took emergencies. If we thought a soldier would not make it back to a station of a general hospital, we took them and brought them out of shock and stopped their hemorrhaging for surgery. We gave many, many units of blood plasma. There was no preservation of whole blood at that time, so the next best thing was blood plasma. It was a powder we had to mix with sterile water. We gave that to almost all of them."
When I asked her about following the battle lines, she responded: "Many times we didn't even know where we were. It was a complete blackout, of course, and we traveled a lot at night. We'd say, 'Where are we?' And most of us would say, 'Well, I don't know. Somewhere in Germany or somewhere in France.'"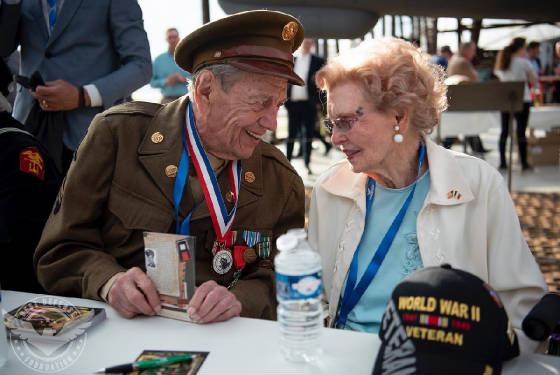 Veteran Pete Shaw and Leila Morrison on the trip to Normandy
(Best Defense Foundation photo)
Eventually, they arrived at Weimar, Germany and the site of the notorious Buchenwald concentration camp. It had just been liberated.
"Some things I didn't believe," she said. "We pulled into the town and set up our tents and we were told that we would be moving on the next day. Then they told us that evening, 'Buchenwald is just across the stret here, you could walk over there,' They said, 'You girls be ready in the morning because we're going to have to go down there and help out.' The next morning, we were ready to go and they came and said, 'You girls can't go today. The doctors are already down there and the conditions are too deplorable for you girls. You have to wait until tomorrow.' So that's what we did.
"The next day we went down and they had it cleaned up -- I guess that's what you would call it -- to a certain extent, and we saw things that I still hav a hard time believing. The poor people."
They saw the crematorium, stacks of bodies and emaciated survivors.
"The crematorium, they had it worked out like a factory of murder," she said. "It was a two-story place and they had eight ovens on each side of this brick crematorium."
After Germany's surrender and and after returning to the U.S., Morrison was told she would be deployed in the upcoming invasion of Japan. But that nation surrendered in August 1945.
The storybook wartime romance had a happy ending. Leila married Morrison, who served in George Patton's U.S. Third Army. They were married for 65 years before Walter's death. Leila was a civilian nurse for 30 years, and she came to Windsor from Georgia to be near her son, Wally, and his family.
For many years, Morrison said, she didn't talk much about her wartime experiences with anyone but he husband.
"The two of us could talk about it and understand," she said. "But just didn't talk to other people about it," she said. "I hear people say, 'Oh, my grandpa served, but he wouldn't talk about it.' We didn't either, for years. We had two daughters and a son and my daughter asked years later, 'Well, Mom, why didn't you tell us some of it? You never mentioned it to us.' It was all such a horrible thing and my husband and I could talk to each other. He understood. We had an outlet for the two of us because we could share it."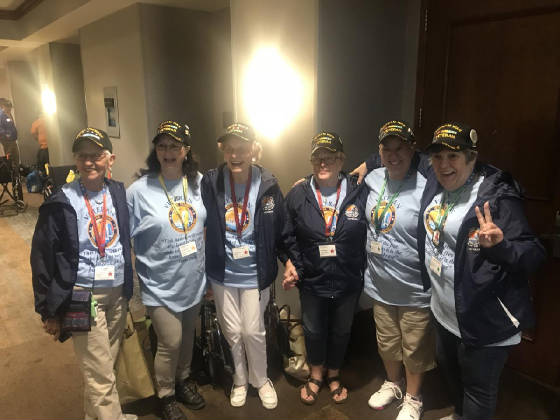 Leila Morrison is third from left in this shot from the Many 2018
Honor Flight Northern Colorado trip to Washington D.C. She's with
four women veterans from the Vietnam War era and one from the Korean War era.
The past 13 months have been dizzying for Morrison. She was one of 123 veterans who were part of the Honor Flight Northern Colorado trip to Washington D.C. in May 2018, the next-to-last trip for that organization before it shut down in the wake of the death of Col. Stan Cass, its founder and organizer, then was rebooted as High Plains Honor Flight.
Next, in a February ceremony at her retirement home in Windsor, she was one of six World War II veterans with Colorado connections who received the French Legion of Honor Medal for their service in Europe. I previously profiled Harry Maroncelli, Bill Powell, Philip Daily and Joe Graham, and will merge this piece with that to make it a single five-veteran group profile here.
Other members of the Best Defense Foundation group received the medal while they were in France.
Honoring Morrison and the others was part of a labor of love for Donnie Edwards and the Best Defense Foundation, who earlier in the year escorted a group of surviving veterans to Iwo Jima.
During the trip to France, he told the Chargers' web site: "I am very honored and proud to bring these great men back to Normandy and also very proud to be bringing back a WWII nurse who served in triage tents, nursing our wounded men. We've attended ceremonies, parades, visited schools, and several of our veterans will be receiving their French Legion of Honor Award. We will spend time with the vets in private settings where they are able to reconnect with each other and share memories and stories."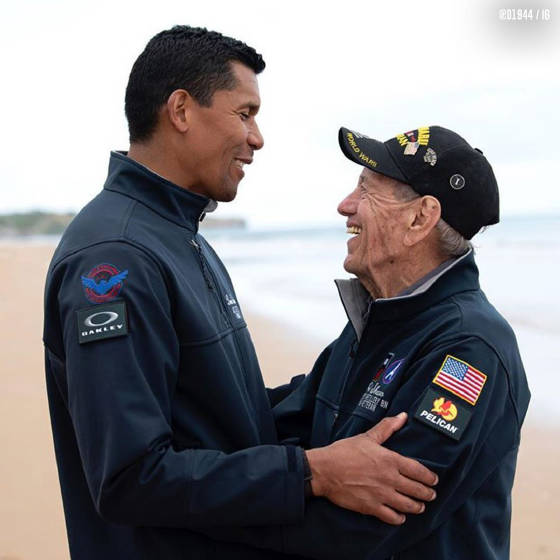 Donnie Edwards on Omaha Beach with vet Pete Shaw
(Best Defense Foundation photo)
The group also visited cemeteries and laid wreaths. But it all came back to Omaha Beach, the focal point of the trip.
"When we first pulled up, I looked out there at that big ocean," Morrison said. "It was a cloudy day. The wind was blowing. I thought, 'Oh, my goodness, how in the world did I ever have nerve enough to swing off the side of that ship?' I just couldn't believe I had done that. Of course, 22 years old and 97 years old makes a little bit of a difference there."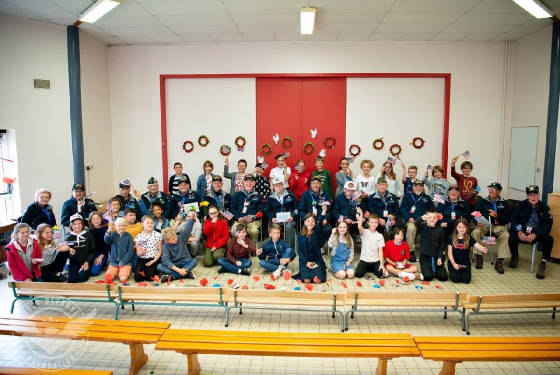 Leila Morrison and the other veterans on the Best Defense Foundation Trip at an
elementary school in Carentan. (Best Defense Foundation photo)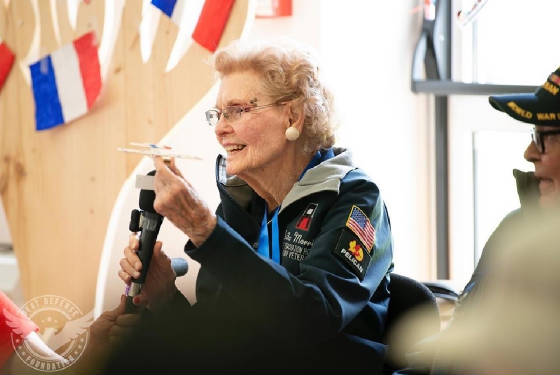 At the Carentan elementary school, Leila Morrison talks to the children.
(Best Defense Foundation photo)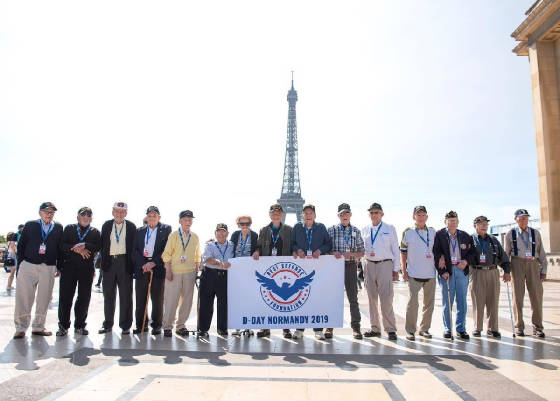 In Paris, Leila Morrison is seventh from left among the veterans.
(Best Defense Foundation photo)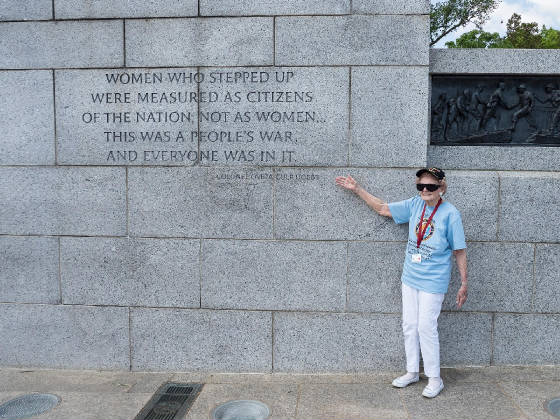 Leila Morrison in early 2018, on the Honor
Flight Northern Colorado trip to Washington DC (Photo courtesy Tami Stieger,
Honor Flight Northern Colorado)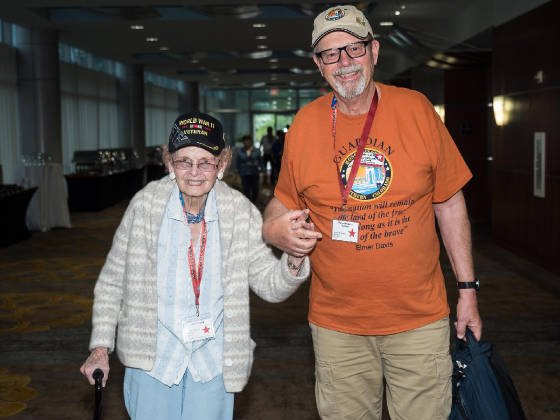 Leila Morrison with her son, Wally, during the
Honor Flight Northern Colorado trip to Washington DC in early 2018.
(Photo courtesy Tami Stieger, Honor Flight Northern Colorado)
June 14, 2017
RIP, Pat Bowlen,
a Hall of Fame
owner and man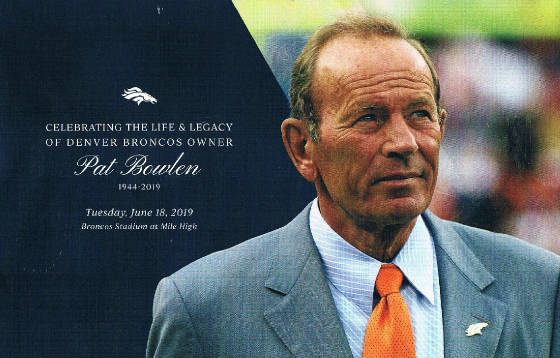 Among the first memories that flashed when I heard of Pat Bowlen's Thursday night death were these:
-- A triathlon competitor, he rode his bike to training camp. From Denver to Greeley, where the Broncos held training camp for the first 18 summers of his ownership.
-- When my father, Jerry Frei, and John Elway's father, Jack Elway, died three months apart in early 2001, Bowlen spoke at both memorial services. He eloquently saluted the two veteran football men who were close friends and had worked for the Broncos for many years, much of the time sharing an office at Dove Valley and also serving as hosts for staff Happy Hour at their suite in the University of Northern Colorado's Lawrenson Hall. They were Jack & Jerry, and Bowlen called for a symbolic toast with Jack's favorite, Sky vodka.
Those sorts of specific and personalized memories vary this morning, but whether you just follow the Broncos or were intimately involved with the franchise, you most likely have them.
Sadly, Bowlen's upcoming induction in the Pro Football Hall of Fame's Class of 2019 will be posthumous.
After a five-person selection subcommittee recommended his choice last August, we heard and read the recitation of his "qualifications" mostly as if this is solely an exercise in analytics, accounting and merit points for serving on 15 league ownership committees during the league's phenomenal economic growth .
Updating following the 6-10 record in 2018, the Broncos still have had as many Super Bowl appearances (7) as losing seasons under his ownership.
As an influential member of the league's television committee, he was instrumental in pushing for Sunday Night Football, a revenue and ratings jackpot since 2000; and also in bringing the Fox network into the broadcasting mix in 1994, which pressured the rights fees additionally into the stratosphere.
All of that undoubtedly came into play in the talking-point consideration of contributor candidates in the meeting room at Canton last year.
This is what was underplayed.
Most important, Bowlen did it right.
From the top of the organization, he oversaw a mostly first-class operation for 30 years until he officially stepped aside from an active role in acknowledgment of his Alzheimer's diagnosis.
Not all has been perfect.
Before John Elway returned to the organization as the head of the football operation, there was toxic and counterproductive infighting within the front office and football operation.
At times, because of all the maneuvering, the organization was dysfunctional and Bowlen's trust in the chain of command could be misplaced, until he stepped in and said, "Enough..." That could be in emotional times between friends, as when he and Wade Phillips and Shanahan parted ways, or when he was embarrassed and angered by Josh McDaniels' graceless incompetence and immaturity and signed off on firing him during the 2010 season.
The Broncos recovered under John Elway, who returned in 2011 as VP of football operations and added the GM title the next year. Since Bowlen relinquished control to the Pat Bowlen Trust, president and CEO Joe Ellis has served as de facto owner, and the possible passing of the controlling ownership torch to one of Bowlen's daughters, Beth or Brittany, remains a puzzlingly intricate soap opera.
In his active years as owner, Bowlen was not warm and fuzzy. But neither was he, as often has been tossed out there, especially in his early days in Denver, shy or aloof.
He picked his spots.
With those he trusted or respected.
Even in dealings with the media, he was far more accessible than sometimes has been portrayed. Plus, he was thoughtful, offering insight and information only he could have delivered. But you had to pay attention, had to get past the somewhat soft-spoken, matter-of-fact tone to realize just how unfiltered he was being. He answered all but the most unreasonable or brainless questions, rarely hiding behind the no-comment cloak. Attempts since his withdrawal from an everyday role to bill him as the supreme optimist are understandable, given the temptation to idealize his tenure, but inaccurate. He wanted to win, and he hated it when the Broncos didn't. That especially was true when he felt his trust was misplaced.
During the early years of Bowlen's ownership, affable GM John Beake could be his bad cop, in dealings both in the building and outside. But there was a sort of winking understanding that what Beake said could be coming from Bowlen. They weren't fooling anyone.
To me, the most interesting aspect of his influence in league and broadcasting circles is that it underscores his selectivity. Nobody tuned out Bowlen because of relentless, ego-driven bombast. When he talked, yeah, you darned well better listen. He not only knew what to say, he knew when to say it - and whom to say it to. He was a facilitator, but he also would call bluffs.
In the era of increased player movement, the "family" feel within an organization is harder to nurture. Yet when Bowlen was operating as the owner, that feel could permeate the organization even if the family, as many families do, has traumatic moments.
He is "Mr. B."
He was not a meddler, as is the Redskins' Daniel Snyder.
He was not a former football player and astute businessman who operated as his own general manager and loved the spotlight, as does the Cowboys' Jerry Jones.
He was the owner, working out at the Broncos' facility in the early mornings as the players arrived, and greeting players by name as they joined the organization. He was not one of the "guys" so much -- i.e., he wasn't a regular at the Smiling Moose or the State Armory in Greeley during training camp -- as he was the man in charge who didn't expect pandering.
Perhaps even uncomfortably, he successfully campaigned for six-county voter support for an indispensable new stadium, with more than two-thirds of the funding coming from the public. That was 1998, shortly before voter rebellion and recognition of revenue possibilities made predominantly privately funded stadiums more feasible.
He was a class act.
In that sense, he was a Hall of Famer all along.
P.S., June 18
I was among the approximately 5,000 who showed up at Broncos Stadium at Mile High Tuesday to honor Bowlen.
Here are my amateur pictures from the well-done and touching displays.
It was as much a tribute to the Broncos' accomplishments and first-class operation during Bowlen's ownership tenure as it was to Bowlen himself, but the two are inexorably intertwined.
And that's the way Bowlen would have wanted it.
That's the point.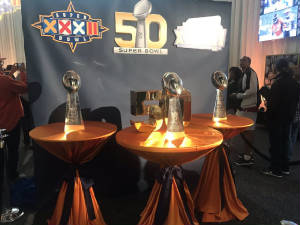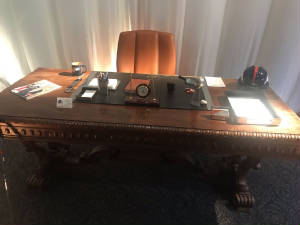 Lombardi Trophies Pat Bowlen's desk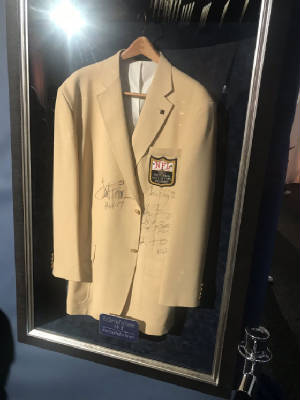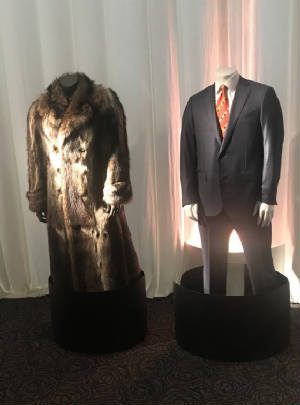 Left: Jacket signed by Broncos Hall of Famers
Right: Bowlen's famous fur coat and a more modest outfit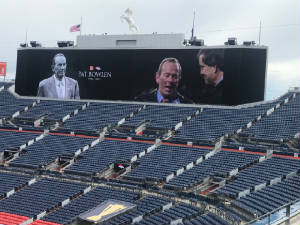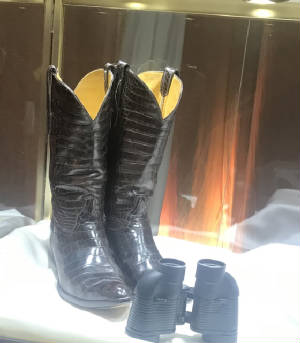 Left: Bowlen and Jim Nantz, Super Bowl post-game
Right: Bowlen's boots and binoculars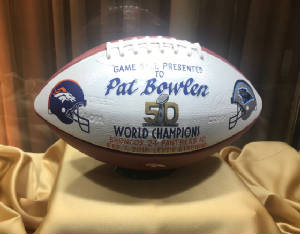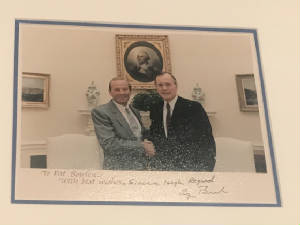 Left: Super Bowl L game ball
Right: With President George H.W. Bush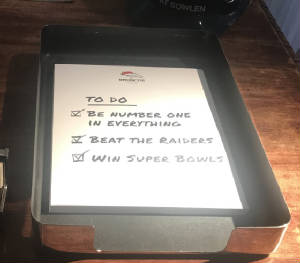 On Bowlen's desk
May 6, 2019
You know what they
say about Game 7s ...
No, what do they say?
Anything can happen. Anything.
That's the scenario the Avalanche set up Monday night, rolling with the punches and ultimately getting a Gabe Landeskog goal at 2:32 of overtime to beat the San Jose Sharks 4-3 and extend the Western Conference semifinal series to a Game 7 Wednesday night at San Jose.
"It's going to be a lot of fun," said J.T. Compher, the Chicago-area native and former Michigan Wolverine who had two of the Avalanche's goals in regulation in Game 6. "It's a great opportunity for us to go to the Western Conference finals. We've been counted out many times this year. This says a lot. We're very resilient and we're going to be ready to go."
The surprising thing about Monday wasn't that the Avalanche won, but that the Avalanche won on a night when the top line was on the ice for all three of the Sharks' goals and was pointless until Landeskog ended it in overtime.
I clumsily worded a question to Compher, nothing that he and linemate Tyson Jost, who scored the first Colorado goal, had pitched in on a night when the first line hadn't been productive -- at least not until overtime.
"You say they didn't do anything," Compher said, "but those guys still are playing 25 minutes a night, they'e playing hard, they're creating scoring chances, and they just weren't able to get one in tonight. Luckily, we were able to pick up the slack a little bit."
So it's on to Game 7.
"It's a huge step for our team, it's a great opportunity for us," Landeskog said. "Sixty minutes away from the Western Conference final. Who would have thought before the season, who would have thought before the series, or whatever. For us, we keep believing.The last thing they to do is wanted to play another one at home in San Jose. We accomplished that, we won this one, now we have to regroup. It was nice to get this one tonight and hopefully build off of it. . . That Compher line stepped up and had a good game when we needed them. People keep talking about depth and how important that is in the playoffs and they sure showed it."
Here's why the Avs have a shot in Game 7:
They've proven to themselves they can win in San Jose, breaking through with a 4-3 win in Game 2.
This will be the second consecutive Game 7 for the Sharks after their comeback against Vegas in the first round, and that's added to the toll taken in pro sports' most relentless and testing postseason. The Avalanche, in contrast, had six days off after its five-game win over Calgary.
And the longer a Game 7 is scoreless or close, the more pressure there is on the Sharks, who finished second in both the Pacific Division and the Western Conference in the regular season.
Remember Avalanche Game 7s at home against Minnesota in 2003 -- Patrick Roy's final game -- and 2014? Andrew Brunette and Nino Niederreiter ended them in overtime and the Wild advanced. Both times the Avs played nervous and tight -- and lost.
"No doubt, it's a big one," Landeskog said. "It's also a 60-minute hockey game that needs to be won. Yeah, you have to give it the credit, it deserves to be a Game 7, but you don't want to blow it out of proportion and all of a sudden, it becomes a big monster, a big mountain that you have to climb. For us, I like where our team is at. This was a big victory for us. Hopefully, this momentum can carry into Wednesday night. It'll be a fun one."
Of course, it's entirely possible the Sharks score early and often Wednesday night, diluting the tension, and then romp, but going in, the Avalanche is under little pressure.
If the Avs lose Game 7 on the road, it will not be followed by scorching post-mortems, since they were a longshot to even make the postseason in February before awakening, largely thanks to Philipp Grubauer finally providing top-flight goaltending.
Plus, the Avs are only two years removed from the worst NHL season in nearly 20 years and the worst on the bang-for-the buck basis of all time, considering they were scraping the salary cap ceiling while finishing with only 48 points.
Yes, they dipped from 95 to 90 points this season, but again sneaked into the playoffs in the No. 8 spot in the West, and has progressed from an orange slices six-game loss to Nashville a year ago in the first round to the win over Calgary. Now, regardless, this will go down as at least a gutty, resilient effort against the Sharks as part of the exciting and overlapping Nuggets and Avalanche appearances in the second round.
For much of this season, it seemed as if the rebuilding project had hit a speed bump. Now, though, only the curmudgeonly won't agree that with Nathan MacKinnon is developing into a "generational" No. 1 overall pick, after all. Around him, and not just on the top line with him, there is considerable promise.
Yes, Joe Sakic knew what he was doing, and not just with the haul in the Matt Duchene trade, but with so much else, including the 2015 trade that sent Ryan O'Reilly to Buffalo for Compher's rights, Nikita Zadorov and Mikhail Grigorenko; plus the drafting of Tyson Jost at No. 10 overall and Cale Makar at No. 4.
And this season will last at least one more game.
A Game 7.
Then after Dennis Leach sang the national anthem, we were back to the games.
April 20, 2019
A man who showed
you can go back to your
high school ... and make
a difference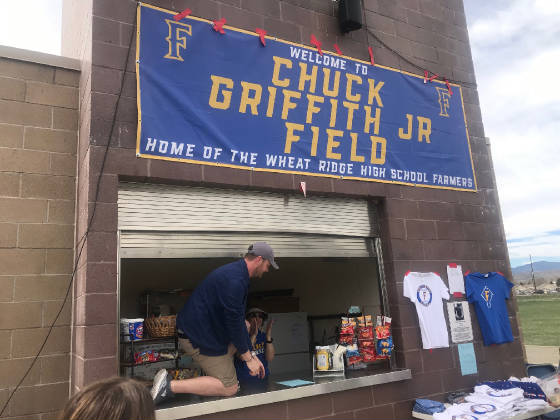 Former Wheat Ridge star quarterback Dylan Orms has just uncovered
'the Farmers' baseball field's new name Saturday. He and his brother,
Parker Orms, were second-generation Farmers. Their mother, Kathy,
went to school with Chuck Griffith and the rest of us.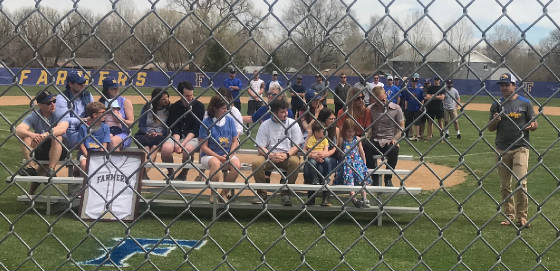 With Chuck's family in the bleachers temporarily set up on the field
before the game, Chuck and Barb Griffith's on, Tyler, whose appearance
and mannerisms are remarkably like Chuck's in young adulthood, speaks during the
ceremony. Barb is in the blue shirt at center. Those are recent vintage Farmer baseball
players behind them, those who from 2003-16 benefited from Chuck's support of the
program under coach Adam Miller.
On Saturday, ex-Wheat Ridge Farmers spanning generations gathered at Everitt Middle School for the dedication of the WRHS baseball park as Chuck Griffith Jr. Field in advance of the Farmers' game against D'Evelyn. (This was a few hours before a different sort of ceremony involving another Jefferson County high school, Columbine, and I can say with certainty that the audiences overlapped.)
Chuck's widow, Barb, and many other members of his family were at the dedication, and his son, Tyler, and nephew, Cameron Brown (a former Farmers athlete, too) spoke on their behalf.
I've written many times about being the kid who moved in during the middle of my junior year, when my father moved from Oregon to the Broncos, after we talked and decided that if I was going to leave South Eugene High, a terrific school, I should do it right away so I could play baseball at my new school as a junior and not be completely "The New Kid" as a senior. (That's the title of my young adult novel in progress.) I was lucky. I went from one great school to another and made a lot of new friends. And one of them was football captain and student leader Chuck Griffith, who ran track in the spring and eventually became my college roommate for two years at the University of Colorado.
Chuck died three years ago, It was a shock to the entire Wheat Ridge community, and below the following pictures is a blog I wrote at the time, when I was at The Denver Post.
I've adapted and touched it up here, but I hope it gives those of you who didn't know Chuck a feeling of what a great man he was; and gives those of you who knew him a lot of remindful smiles.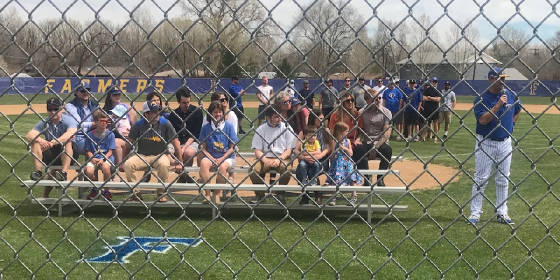 Adam Miller, who became close to Chuck, addresses the
crowd. (You're right, I should have gotten on the other
side of the screen.)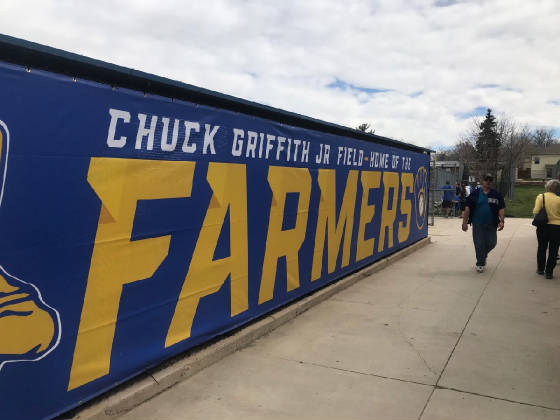 (Below is adapted from March 2016)
The Wheat Ridge High community, past and present, took a punch to the solar plexus — no, more accurately, to the heart — last week.
Chuck Griffith, 61, passed away.
As CEO of several major companies, he was a successful businessman. He was wonderful family man who treasured his wife and four children and wasn't embarrassed to display emotion when talking about them. He was a terrific friend, and a benefactor and mentor for Wheat Ridge High, its kids and its programs after he reconnected with his alma mater, starting in 2003.
He also was "Anonymous."
By that, I mean that whenever someone had stepped up and done something for Wheat Ridge kids, whether by making financial contributions to programs and school causes, or by acting as a mentor, and that benefactor officially was "Anonymous," that almost always was Chuck.
Wheat Ridge's demographics have changed since our days there. That was one of the attractions for Chuck, who loved helping kids.
We all can learn from that.
On Sunday, I was among the large gathering at the memorial ceremony at the school.
Chuck was my Wheat Ridge classmate and fellow athlete, and then my roommate for our sophomore and junior years at the University of Colorado in Boulder.
Actually, we were never high school teammates because I moved to Wheat Ridge from Oregon in the middle of our junior year, played baseball for the Farmers and then suffered a knee injury in American Legion baseball that summer. I didn't play football as a senior because of my second ACL surgery.
Chuck and Reid Gamberg were the football captains our senior year.
Chuck and I didn't grow up together, as was the case with Chuck and many of our Farmer classmates, and our friendship began later than his with many of the others in the Wheat Ridge auditorium Sunday.
But I was proud to call him my friend. My buddy. My roomie. Our third roommate from our second year of sharing a collegiate apartment, Chuck Bobershmidt, traveled up from New Mexico for the memorial, and it was great to see him.
As roommates at CU, Chuck and I both were Oscar.
We weren't inseparable, but that was part of the friendship.
Chuck dived into business studies and the business school and made friends there and on campus, eventually meeting his future wife, Barb Harvey. I was working part-time at the Rocky Mountain News on the side and had my own circle. But we were friends, capable of such whimsy as setting up a strict schedule to study for finals — and a short time into the studying, deciding we'd bolt and head to the greyhound races at Cloverleaf Kennel Club in Loveland to lighten things up. It was a rare moment of complete irresponsibility for Chuck, and I took the blame, along with the 3-4-6 quiniela box.
He made up for the break and I'm pretty sure he still aced his finals.
I gave them the college try.
When some early matches in the Denver stop of the Virginia Slims tennis tour event were played in Boulder and I went to them for the News, Chuck came along with me and marveled about what a great job I'd have after our graduation if I stuck with this. I "interviewed" Chris Evert outside Balch Fieldhouse. Chuck was with me and as I finished official work he quickly with no ulterior motives was in a conversation about the tennis tour with Evert — who was our age — as if they had known each other for years. After several minutes of this and no promise of a letup, I had to gently remind Chuck that the News was a morning paper and we needed to head back to the apartment so I could call in my material as notes.
After college, we stayed friends as he worked elsewhere, including in Cleveland and New York, before he returned to the Denver area. He always had many closer friends than me, but that didn't diminish it, and we re-tightened the ties in the past few years.
Chuck had a touch, an aura, a sincerity that could cause those he had just met to open up and then five minutes later feel as if he was an old friend. That could be as a student, a businessman, or in later life a mentor to Wheat Ridge kids.
Chuck was determined, energetic, accomplished and successful without having any trace of ego or selfishness, and that's really hard to do.
When Chuck, Reid Gamberg, Keith Lening and I attended Wheat Ridge baseball games last season, I was struck by how respectful the Farmers players were toward Chuck. To them, he was "Mr. Griffith," and they went out of their way to thank him. When baseball coach Adam Miller eloquently spoke at the memorial, it was appropriate, including if he was considered a representative of all the coaches in recent years at the school. Chuck had done so much for them, in so many ways, and I admit I was a bit embarrassed to realize I was the former baseball player and that Chuck, a track runner, had adopted the program as I stayed detached.
In the summer of 2014, three Farmer alums from our era — Chuck; Dave Logan, who was a year ahead of us, was my baseball batterymate, has remained close to Chuck and also was at the Sunday memorial; and I — spoke to the Farmers' athletes in that same auditorium at the start of the school year.
Our charge was to speak about leadership, and Chuck and Dave, well, knocked it out of the park. To this day, I remember something Chuck said vividly. He noted it had become fashionable to consider "multi-tasking" admirable. Hogwash, he said. Whatever you are doing at the moment, it is the only thing you are doing, and do it right.
There are lot of laughable, wince-inducing, business how-to and self-help books out there that make reasonable people feel as if they should check for their wallets every 15 minutes as they read. Chuck, who would look you in the eye and tell you exactly what he thought and also be telling the truth, could have written a terrific book that made those seem silly.
We didn't agree on everything, not all the time, and there was even a recent crisis because of an issue linking Wheat Ridge, one of my books, and a recent movie. But we talked it through, we realized our views weren't mutually exclusive, and Chuck offered his support.
I'm a contrarian, I ruffle feathers, and Chuck might have been the only man on the planet who could listen, look me in the eye and tell me I was, well, full of it … and rather than have me react angrily, make me think that, oh, oh, if Chuck says that, maybe I am full of it.
That's what Chuck could do.
In 2013, for our 40th high school reunion, each classmate received a copy of my book Third Down and a War to Go. Officially, of course, it was from "Anonymous," but that didn't fool anyone. No, it wasn't me. Chuck felt that book, which started with my self-discovery about my father's World War II pilot service late in his life, touched a common chord among our generation. So he bought a copy for all Farmers attending the reunion from the publisher. Anonymously … at least officially.
It's wrong to say Chuck was "unassuming." He was assertive and energetic, but was no enigma. But his success didn't change him.
Chuck was the president/CEO of Ingersoll-Dresser Pump Co.
He was the senior managing director and global head of portfolio management at Arcapita, Inc., an international private equity firm. Companies at one time controlled by Arcapita included Yakima Products, TST Automotive, Ampad, PODS, Profine, J Jill, Loehmann's, Church's Chicken, Caribou Coffee, Varel International, Falcon Gas Storage, Tender Loving Care, Smart Document Solutions, Meridian Healthcare and FORBA.
Earlier, he also was a partner and co-head of portfolio operations at Bahrain-based Investcorp International.
He was president of the engineered materials division of Johns Manville.
He was an executive vice president at Electronic Data Systems, president/CEO of Ingersoll Dresser Corp., and an executive at Allied-Signal Corp.
There was more, but that gives you an idea. I also know if Chuck had been alive in May 2017, he would have been both angry and supportive, even to the point of making a difference about something that happened to me.
Still, he came back to his high school. Quietly. Without fanfare. Without bluster. Without wanting to call attention to himself. He made a difference. He helped young people. It was his alma mater, but I can imagine Chuck doing this in another city if that's where he had been decades after his graduation from Wheat Ridge.
So, no, this is not "a Wheat Ridge story." Regardless of which high school you attended, it's food for thought.
April 17, 2019
Regardless of result,
Bednar back on
solid footing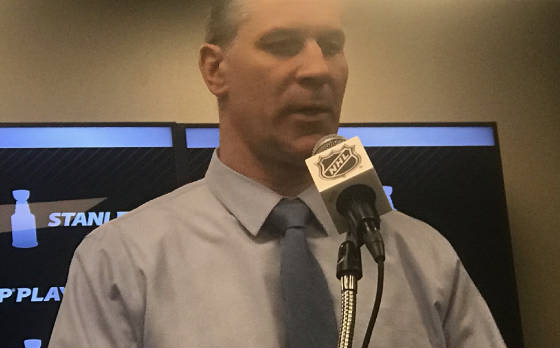 By the time Jared Bednar arrived at the interview room podium after the Avalanche's 3-2 overtime win over the No. 1-seeded Flames gave No. 8 Colorado a 3-1 series lead Wednesday, midnight was approaching.
Yes, as unlikely as this seemed early in the third period, when the Avalanche trailed the Flames 2-0; as farfetched as it seemed a week ago; and as impossible as it seemed a little over two months ago, the Avalanche is one win away from winning a series for the first time since 2008 and advancing to the Western Conference semifinals. J.T. Compher and Mikko Rantanen got the third-period goals that forced overtime, and Rantanen scored at 10:23 of O.T. to end it.
"It's going to be hard," Bednar said of getting that fourth win in the series. "It's the hardest one. Everyone knows the last one, the one you're trying to get to close out a series, is the hardest one. That's a proud team over there, Calgary, it's a really good team, they have a lot of character, they're well-coached, I mean, it's tough. Now we have to go into Calgary and find a way to win another hockey game."
And to think that in early February, this team was reeling.
I scrolled down to find this, but it didn't take long. On Feb 7, when the Avalanche had lost five in a row and won only five of its previous 24 games, I felt compelled to comment about Joe Sakic's apparent refusal to cave in to NHL conventionality, scapegoat his coach, fire him during the season and summon all the cliches about how it was just time for a change.
That would have been so easy to do, and Bednar's rollercoaster experience as a first-time NHL head coach -- and his first experience in the NHL, period -- would have come to an end. He would have been only a few months removed from being a finalist for the Jack Adams Award, but that status adds little immunity. And even after I wrote that column, the Avalanche losing streak reached eight before the turnaround.
Of course, Sakic had a similar opportunity after the Avalanche's horrific 48-point season in 2016-17, the worst bang-for-the-buck season in the NHL's cap era ... and perhaps ever. But the circumstances of Bednar's first season bordered on the bizarre, with Patrick Roy's late resignation and an ill-constructed roster (and payroll) in advance of major reconstruction, and Sakic conceded all that. Not to mention it would have required he had made a mistake in going with a coach who never had spent a day in the NHL as either a player or assistant coach.
But it wouldn't have raised too many eyebrows if Sakic made a move in February. He stuck with Bednar, though, and the Avalanche went 16-7-3 down the stretch, secured a second straight playoff berth and now have the 3-1 lead on the Flames, meaning there's a significant chance of the two No. 1 seeds -- Tampa Bay was swept by No. 8 Columbus in the East -- will lose in the first round.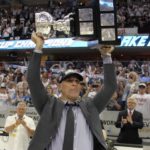 Jared Bednar with the AHL's Calder Cup in 2016. The Lake
Erie Monsters went an incredible 15-2 in the playoffs.
Bednar is continuing to demonstrate he belongs in this league and that one of the most inexplicable decisions in his past was Doug Armstrong's firing of Bednar as the coach of the Blues' AHL affiliate at Peoria in 2012.
Since then, Bednar has held aloft the Calder Cup at Lake Erie (Cleveland) in 2016, when he was working for the Blue Jackets' organization, and moved up to the Avalanche.
The man from Saskatchewan, who climbed through the ranks of the ECHL and AHL as both a player and coach, is a genuine inspiration for dues-payers.
After the morning skate Wednesday, I asked Bednar about his evolution over the past three years.
"One thing is just learning to be patient and when to push," he said. "You come into the league as a young guy and it's your first opportunity, and you've had some success other places. I had an idea of how I wanted to coach and what my beliefs are, but it's getting the buy-in from your leadership group and opening those lines of communication.
"It took some time here in my first year and we had change in personnel in my second, and really getting to know our leaders and some of the guys that are impact players for us now for a couple of years. I try to be patient, fair, and as honest as I can with them. But there's still times when I think I have to push their buttons to try to get more out of them and I think I've learned that along the way."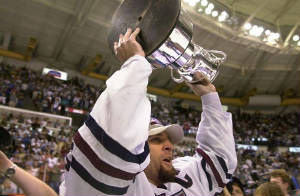 With the ECHL's South Carolina Stingrays. Jared Bednar
got to celebrate winning the Kelly Cup both as a player
and as a coach.
Gabe Landeskog, although only 26, has been the Avalanche captain for seven seasons.
"I think as far as 'Bedsy' goes, he's obviously grown into that role," Landeskog said after the skate. "He had a tough season obviously his first season, and we all did, but I think he's evolved, he's grown as a coach. He's figured things out as he goes along, whether that's with communication with us as players, or what we as players need, or for systems or coaching on the bench or whatever it is, it just seems like he's that much more comfortable in that role and being an NHL coach.
"I think every single guy in this room will say the same thing about 'Bedsy.' He's a great coach and a good communicator and he's a really smart hockey man."
At the next stall after the skate, Nathan MacKinnon also spoke about Bednar. Keep in mind that before MacKinnon's breakthrough to becoming one of the top players in the league, he and Bednar had some tense moments, as when the rookie coach reacted to a rolling of the eyes on the bench from MacKinnon by briefly -- but rather noticeably -- benching him.
"'Bedsy's' been great," MacKinnon said. "He's always even keel. He's never up and down, which is awesome."
Rantanen called Bednar "a great coach. He's really honest with players. He's still pretty positive, trying to bring everything positive. He gives us confidence, too. If you make mistakes, he's not going to rip you about that. If you do it repeatedly, maybe then, but hopefully guys in the NHL are going to learn from that. He's a great coach and I really like him."
Now he's closing on on his first playoff series win as an NHL head coach. And his team is reveling in the three straight wins in this series, including the wild comeback one Wednesday night.
"What's the point of giving up in the playoffs?" MacKinnon asked me after the game. "We knew we could score two and we were dominating the whole play. . . We just felt like we could come back against a really good team. We felt like they were a little winded at altitude and managed to come back. It's awesome, especially when you have the momentum and you're feeling it, and the crowd is so awesome, it's so fun to be part of it."
Compher's goal got the Avalanche going.
"There's no quit in this group," Compher told me. "We showed that in Game 2 and throughout the season. We believe that once we get going, there's no stopping us. But that's a huge one, to keep the momentum going in this locker room. We knew (Mike Smith) was good tonight, we had to continue to get rebounds and shots at the net, and if it took a greasy one..."
April 15, 2019 (Part I)
Cale Makar will jump
right into Avs' lineup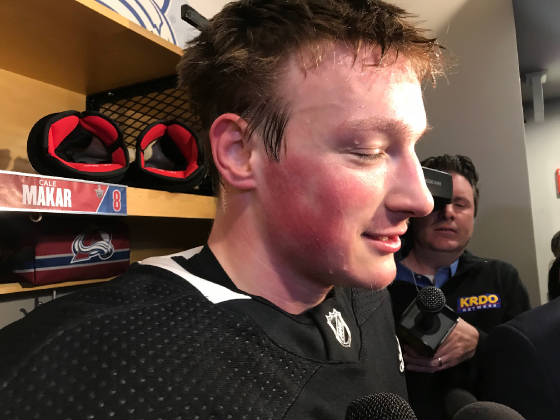 It's a little bit, well, eerie.
Two days after finishing his collegiate career in a UMass loss to Minnesota-Duluth in the Frozen Four championship game in Buffalo, and one day after signing a three-year entry level contract with Colorado, 20-year-old defenseman Cale Makar is set to make his NHL debut with the Avalanche Monday night in Game 3 of the first-round playoff series against his hometown team -- the Calgary Flames.
That's why the sizable Calgary media contingent was among those jockeying for position around Makar's stall after the Avalanche morning skate.
"It's a weird feeling playing against the team you grew up loving," Makar said. "My allegiance is with another team now, so we'll see how it goes."
As arrivals to the pack brought the subject back to him growing up a Flames fan, he noted, "Obviously, watching them in the '04 Cup run, it's a different feeling."
When he stepped through the bench and onto the ice for the morning skate, his teammates already out there cheereed.
It was both a welcome and a teasing.
Hey, kid ...
"It's a weird moment," said Makar, who signed following his sophomore season with the Minutemen. "I don't think it's really sunk in for me yet. But no, this is a great group of guys, I can tell meeting everybody right off the bat."
He said his parents, long-time Flames fans, had converted, "but I've definitely got a lot of messages from friends who are going the other way."
Nobody asked for my vote, but I would have thought it more wise to let Makar literally get his feet on the ground in Denver for a few days, watch Monday's game, practice with the Avalanche Tuesday and play in Game 4 Wednesday. Yes,the upper body injury that knocked Samuel Girard out of the lineup for Game 3 changed the dynamic. Yet I still would have held Makar out until Game 4.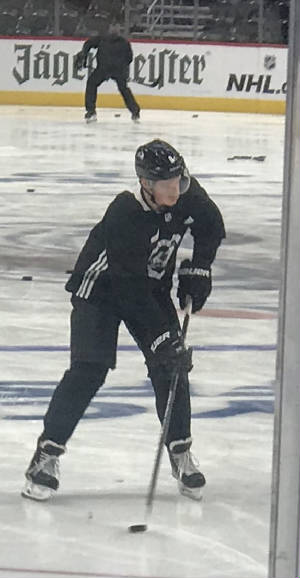 Instead, the Hobey Baker Award winner -- who previously had attended Avalanche development camps after going to Colorado at the No. 4 overall pick in the 2017 draft -- is jumping right in. At several points Monday morning, he phrased it as "if" he played, but it was obvious, even before Avalanche coach Jared Bednar later confirmed it, that Makar was going to play.
"Not too much nervousness, I don't think," he said. "I'm just going to go out there and play and try and do my thing and we'll see."
Makar, who worked with the second power-play unit at the skate, added, "I just need to go out there and do what they need me to do. I'll provide offense if I have to and hopefully be steady on the defensive end as well. . . I don't think it's too much pressure. You're going to feel a bunch of different emotions, but you have to be be prepared for that. You kind of live your life to get to this moment. It'll be fun. This team's capable of doing a lot. They're a fast team and I'm excited to get going with them, hopefully tonight."
Makar called the last few days "pretty crazy. I was supposed to fly out of Buffalo (Sunday), and got rerouted to Toronto. It's been a long travel day, but I'm rested up." He joked that Sunday night he "had a really nice bed, the sheets were nice." He said that he had watched as many Avalanche games as he could during his stay at UMass, "if I wasn't doing homework at night. I like the way they play, I think they're very fast, and I think they can fit in really well."
In the media room a few minutes later, Bednar said Makar would replace Girard, listed as day to day, in the lineup.
He said Makar initially would be paired with Patrick Nemeth, "but we'll move him around a little but to try and get him in positions to succeed."
I asked Bednar whether playing Makar immediately was automatic.
"No, I thought through it, for sure," Bednar said. "I mean, it's a big time of the year, a big decision, young guy coming right out of college. But what makes the decision easier is the type of player he is and the type of person he is and the type of year he had in college. So he's a guy that we want to try and get in the lineup here and see if he can help us, and tonight's a perfect opportunity to do that."
POSTSCRIPT: Sure enough ...Understandably, after Makar was so impressive Monday night, I took some teasing for having opined that I would have held Makar out until Wednesday, but I'll stand by my reasoning and won't indulge in revisionism here. Because you know what they say, right?
... and some are rained out.
April 7, 2019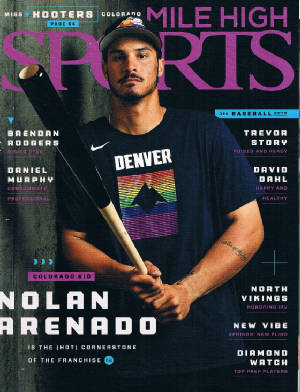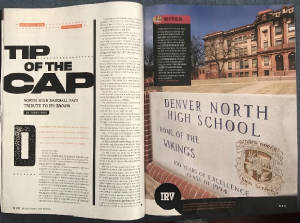 Feature on Denver North High School baseball
team honoring the late Irv Brown.
April 4, 2019
Making playoffs praiseworthy,
but Avalanche needs to
take another step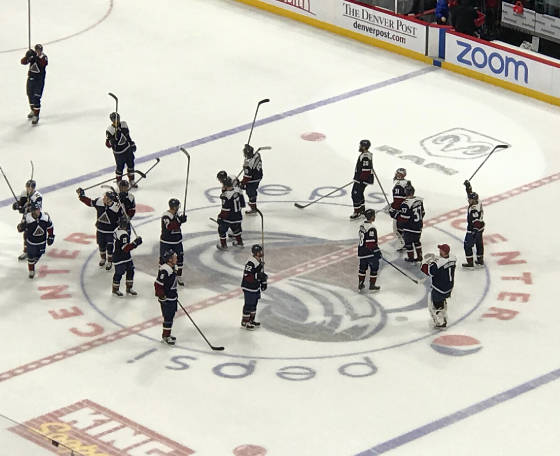 Avalanche players salute the crowd after the 3-2 overtime win over Winnipeg.
It's this simple, and it's what I asked Avalanche coach Jared Bednar about after his team beat Winnipeg 3-2 in overtime Thursday night and clinched a playoff spot.
(Actually, the Avs clinched a playoff spot when regulation ended and they were assured of a point, but you know what I mean.)
When the Avalanche was struggling and seemingly destined to iss the postseason, it was getting rotten goaltending most of the time. It was demoralizing and draining, leaving the Avs playing with a dread that a mistake always would end up in the back of the net and that the goalie wouldn't do his job -- which is saving their bacon on many nights and flat-out stealing games on others.
It needed one of the goalies -- Semyon Varlamov or Philipp Grubauer -- to step up.
And one finally did.
Grubauer was staunch and stingy down the stretch, infusing confidence in the Avalanches game and leaving himself going into the olayoffs as one of the hottst goaltenders in a league in which anything can happen in the playoffs if your goalie gets hot, stands on his noggin, gets into the heads of the opponents and keeps the puck out of the net.
"It's a huge part of it, no question," Bednar said. "Most of the time and especially this time of year, you need exceptional goaltending. Average goaltending just isn't good enough. We've been getting that. Our goaltenders have beeen giving us a chance to win every night and we're spreading around our scoring. We fought through adversity if you look at the injuries we had.
"You go back three weeks, a month ago when Landy got hurt, when Mikko got hurt and see where we are in the standings, it would have been easy for our team to give up. But I love the character and push and determination and the will to win from our group. That's what I'm most proud of right now. To kick down the front door and get to the playoffs and finish the way we fionished is an exceptional job by our leaders, by all the guys stepping up and our secondary scoring and special teams have been better, golatending has been outstanding."
That's spreading around the credit, of course, and I get that. It's not "wrong." But without Grubauer awakening, little of that would have mattered.
So now, for the second season in a row, Grubauer goes into the postseason as a No. 1 goalie. A year ago, his team -- the Capitals -- ended up winning the Stanley Cup, but it was after Grubauer wilted in the first two games of the opening round series against Columbus and Braden Holtby took over.
"It's been quite the ride here," Grubauer said after the game Wednesday night. "Games we lost and games we won. It's pretty amazing that we actually made it. It could have gone the other way, too, but we have a good group here. . . It's been fun and now the real fun starts."
I asked him about being in the same situation as a year ago, and what he learned from that experience he can take into this playoff run.
"Last year was tough," he said. "I don't think in Wahington we played our best hockey in the first two games and it cost us. We have to find a way to play 60 minutes against our next opponent and be ready from the get-go. . . . It's a new year. I played a couple more games that last year and I think that's going to help me and played a couple of good teams the last couple of games and, yeah, I'm looking forward to it."
The NHL playoffs are the most relentless and physically and mentally testing postseason in sports, and one of the beauties of it is that anything can happen -- largely because of that influence of goaltending. A No. 8 seed can advance or even win the Stanley Cup, as the Los Angeles Kings did with Jonathan Quick in net in 2012. That's something that can't happen in the NBA. It just can't.
"Everybody's looking forward to that," Grubauer said. "Anything is possible. In the playoffs, everything is brand new."
So for the second straight season, the Avalanche is a No. 8 seed. A year ago, it was an unexpected and even amazing accompishment, considering Colorado went from the worst bang-for-the-buck NHL season (48 points while scraping the salary cap ceiling) ever, to 95 points. The Avalanche gave the Predators a competitive six-game series and it was disappointing, but not thunderously so. This year, one of the possible impediments is that sense of satisfaction for that in-season recovery and turnaround. The first-round matchup against the Flames, who hadve 107 points of this typing, is formidable. But for this team to be truly worthy of praise for progress this season, yee, it needs to knock off the Flames.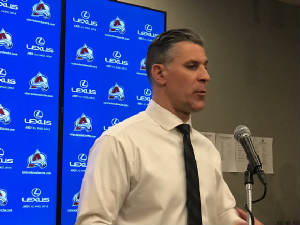 "To me, this is a prove-it season," Bednar said. "Last year, noone expected us to get in. There was no pressure on us. We had a bunch of young kids come in and energize our group, our young core took over the leadership role and things started to roll for us. We had a certain stick-to-itiveness or resolve to our group that was fun and we just kept winning and found a way to get in. We won the right games down the stretch and got in. This year, it was a very similar feeling. I think the presssure got to us a little bit at times. We stumbled around in the middle of the season. But to finish the way we finished and we were much better down the stretch this season and learned some things from last year about what it takes to win. That shows a lot of growth to me.
"Hopefully, we can carry that into the playoffs. Our mindset's not going to just me we got in, great, let's go have some fun in the playoffs. We're gonig into it with a purpose. I think that's the feeling our group will have. If we keep playing the way we're playing right now, we can be a dangerous hockey team."
March 21, 2019
CU in the NIT? 81 years ago,
they were in the first one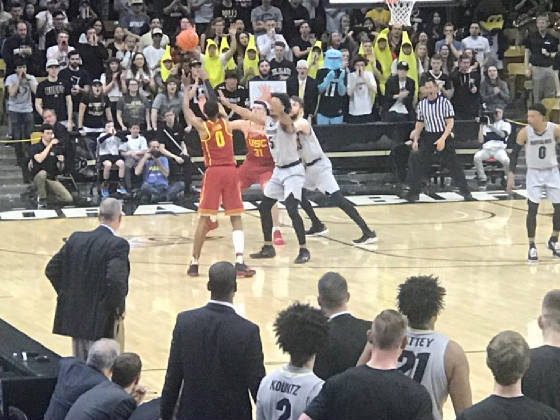 Tad Boyle watching from the sideline in the Buffs' final regular-season game against USC
When I researched March 1939: Before the Madness, I came across three things about the University of Colorado program in that era that I hadn't known. And I was reminded of them as the 2018-19 Buffs accepted a bid to the NIT and beat Dayton in the first round, and it turned out that they'll play host to another NIT game against Norfolk State on Monday night. That's because Norfolk State knocked off Alabama in the first round.
One, the Buffaloes appeared in the very first National Invitation Tournament in 1938. It's a bit confusing because at the time, the NIT wasn't even officially called that. The Metropolitan Basketball Writers Association, with an eye on following the success of regular-season doubleheaders staged in Madson Square Garden, organized and staged the 1938 and 1939 tournaments and also flaunted the conflict of interest, hyping them to the point where you'd think Roanoke College -- one of the six teams in the 1939 tournament -- was the equal of the top teams in the nation.
Two, the reason the Buffaloes were considered a marquee drawing card and coveted as a member of the 1938 field was that their star was one of the highest-profile college athletes in the nation at the time.
Byron "Whizzer" White.
Yes, the future U.S. Supreme Court justice, the renowned football hallfback, also played basketball for the Buffs.
I didn't know that.
Here's the story of that first NIT, from the pages of my book:
* . * *
* . * . *
OK, that's No. 1 and No. 2.
No. 3 is that when the National Association of Basketball Coaches indeed put together the first NCAA tournament for 1939, setting up four-team regionals in San Francisco and Philadelphia,with one representative from each of eight districts, and then a championship game in Evanston held in conjunction with the NABC convention, the Buffaloes were one of a handful of teams turning down invitations. My opinion is that by the end of the season, the eventual champion -- Oregon -- was the best team in the nation, and the Ducks routed all three of their opponents, Texas, Oklahoma and Ohio State. But we'll never know how the Buffaloes would have done.
Here's how that came about, again from March 1939: Before the Madness.
* . * . *
The next day, the head of the NCAA Tournament's Rocky Mountain district selection committee, Wyoming coach Dutch Witte, said his group had recommended to Harold Olsen that Big 7 runner-up Utah State—coached by the respected Dick Romney, a former multiple-sport star himself and a member of a prominent Utah family— get the NCAA bid.
Harold Olsen went along with that, and Utah State's athletic council quickly accepted the invitation.
* . * . *
If the Buffs win two more games, beating Norfolk State and then the Xavier-Texas winner, they'll make the NIT's Final Four in Madison Square Garden.
January 26, 2019
Is it time to try the
confectionary store
clerk in the Avs' net?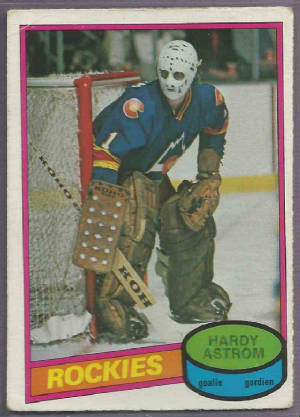 At the arrival of the All-Star break and then its bye period, the Avalanche had gone 5-13-3 in its previous 21 games.
The biggest shock of all is that Colorado still is hanging on to what would be the second wild card playoff spot in the Western Conference by its fingernails. Seven teams, including the Avalanche, are within three points of one another in the race for the two spots. Yes, the Avs, thought to be on the rise after last year's 95-point season, seems to have been reduced to shooting for a wildcard spot again.
I'll concede this: The Avalanche is not perfectly constructed.
The Avs need more secondary scoring, beyong the NordiCanadian Line of Nathan MacKinnon centering Gabe Landeskog and Mikko Rantanen.
They every once in a while falls victim to the perills of having two undersized, if speedy and crafty, defensmen among the top six. Neither Tyson Barrie nor Sam Girard are capable of physically intimidating work in front of the Colorado net. Or anywhere else. And as a group, the Avs' "D" has been no better than mediocre.
But let's be real.
The major problem here is the goaltending.

The lack of faith in the men is in the net is debilitating for any team, and one of the reasons is that it becomes a rationalization. . . or a self-fulfilling prophecy. Teammates become tight, overly concerned that a single mistake too often can lead to a puck in the back of the (wrong) net. And on the rare nights when the goaltending is major-league and larcenous -- in other words, on the nights when the Colorado goalie has done his job -- the post-game narrative is a condescending overreaction, as if Semyon Varlamov or Philipp Grubauer has reprised Patrick Roy or Dominik Hasek in their primes and the game video should be sent to the Hall of Fame in Toronto.
With 32 games remaining, of course, it's possible that one or the other could snap out of this and give the Avalanche competent work in the net. But for now, this is just flat-ut unacceptable: Varlamov has a goals-against average of 2.82, only 25th among NHL qualifiers, and a save percentage of .908. In his contract year, while attempting to prove that he can stay healthy, the issue of whether he again can do elite work moving forward in the net has reappeared. Grubauer's goals-against of 3.38 is awful, 46th among the 50 qualifiers, and his save percentage of .891 is below what I tend to call the Astrom Line for a reason.
Flashing back to the 1979-80 season -- yes, nearly 40 years ago -- the outspoken and snappily-attired Don Cherry passed through to coach the lowly Colorado Rockies for one season.
Cherry hated his goaltenders. The goaltending indeed was bad, but in retrospect, I probably concurred too easily with Cherry's position that Hardy Astrom, who was acquired from the New York Rangers and making decent money, was the worst NHL goalie of all time. That team had a lot of problems beyond its own crease.
A handful of others in the league who played twenty or more games that season had worse goals-against averages than his 3.75, and there were even a couple who played more than half their teams' games—Hartford's John Garrett and Los Angeles's Mario Lessard. Regardless, Cherry held his nose long enough to use Astrom in 49 games, while also trying Bill McKenzie, Michel Plasse, and Bill Oleschuk in the net.
It came to a head in February, when the Rockies had to settle for a 4–4 tie at Hartford when Plasse had only 17 saves.
Cherry had let loose many times, but he got into high gear that night. "Our goaltending was horse—-," he said, standing a few feet from the trailer where I had done a between-periods interview with a fledgling Connecticut-based cable operation called ESPN. "Let's face it. Come on. Let's be honest. We're not going to go anywhere until we get a goalie. I've tried everyone except the guy who works in the confectionary store."
Jared Bednar's code word for substandard goaltending is "OK." As in, "He was OK." He hasn't tried to insult anyone by letting the goalies off the hook, but he hadn't let loose, a la Cherry, either.
It's that simple. If the Avalanche doesn't big-time goaltending, from someone, down the stretch, this season will be both regression and a huge disappointment, wasting the magical work of the top line.
January 13, 2019
Alex English was both
smooth and breathtaking
.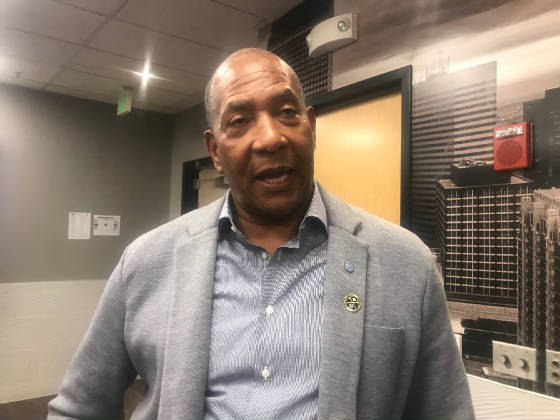 Alex English at the Nuggets' game against Portland Sunday night.
On Sunday night, the Nuggets commemorated "Skyline" night by wearing their retro jerseys -- which look like someone put the original skyline jerseys in the washing machine with way too much bleach -- against Portland and honored former smooth-as-silk forward Alex English.
I went to say hi and be a part of English's pre-game media availability.
The previous time we visited was at the Nuggets' home opener last season, against Sacramento in October 2017. The Nuggets honored a handful of former players that night, including English, David Thompson, Dan Issel, Byron Beck and Dikembe Mutombo.
This time, the spotlight was on English ... alone.
Although his number (2) was retired in 1992, when the Nuggets still played in McNichols Sports Arena, and it now hangs in the Pepsi Center, English for many years felt a disconnect with the Nuggets after his trade to Dallas and then during his working career as an assistant coach and scout. He wasn't shunned; it was more apathy. Now, in part thanks to vice president of basketball operations Lisa Johnson, a treasure trove of institutional knowledge, the Nuggets have done a better job of re-embracing their past.
"I feel much better," English said. "If you look at most teams that are successful, they're successful because they have a history that is part of their success. You look at the Lakers, you always see Kareem and Magic and Kobe talk about that being their team. And the Celtics as well. So I think history is vey important. I can compliment them on reaching out to all of their former players and bringing them back and making them feel like they are a part of what they have been, what they've built."
He said of his reacton when he returns: "Of course, it's a different arena. But it's always great to come back, especially now that they're doing so well, and to see the fans come out to support them ... I have fond memories of being here in Denver and playing for Doug Moe and playing for the teammates I had. I had a wonderful time."
I joked with him about having fond memories of the irascible Moe, whose verbal prodding made English a better player -- and whose passing-game, relentless-movement offense made English a star.
"To you guys, he was probably like a big mean, ol' bad boy," English said. "But he was a big baby. You get him off the court, get him out of the environment, he's just a big baby."
After the hockey Rockies moved to New Jersey in 1982, I was switched to the Nuggets beat.
Alex was aready there.
Because of the convivial atmosphere in McNichols Sports Arena in those days, with media wandering through both offices, I didn't feel as if I was starting from scratch, and I knew a lot of folks in the Nuggets' organization. Moe already was calling me "Dip----," as he did with everyone he liked (or, in some cases didn't like).
One of my first assignments on the beat was to cover the then-troubled Thompson's trade to Seattle, and all the dramatic subplots surrounding it. (He never got to wear the skyline jersey.)
Thompson's departure nudged English a bit more to the Nuggets' forefront, and that was the silver lining.
English was the sneakiest, sleekest, smoothest big-time scorer in NBA history, always moving in the passing game. He was not made for SportsCenter highlights; what he did was maneuver, glide, float ... and score. His nickname -- "Pink Panther" -- was apt.
At the end of the night, if you weren't tracking it, you'd go: "He had how many points?" And they all counted.
He was a great player who didn't get enough credit because of his low-key personality and a game that took paying attention to, to truly appreciate. The Nuggets were his third stop, after Milwaukee and Indiana, and we hadn't seen this coming.
Among the English highlights the Nuggets show of English when they honor him is one that believe sums him up. It was a gliding shot over and past a challenging Maurice Lucas, then with Phoenix. It was nothing flashy, but he simply got the shot with one of the most physical players in the league with his arms up and within, oh, 18 centimeters.
That's how Alex scored. averaging 25.9 points in 11 seasons with the Nuggets. He scored in traffic or without flashiness leaned almost imperceptively just far enough to get the shot off -- and in.
I asked him how his game would fit in today's league.
"Well, you know I'm not a three-point shooter," he said. "I still would be a mid-range game player. There's some room for mid-range. I worked with DeMar DeRozen in Toronto. He's a mid-range player that I love to see play. That's missing in the game today. But it's exciting to see guys come down and if they know how to shoot threes, to make threes. It's exciting to see that. Different style, though. For a minute there everybody was talking about defense and trying to play like the Pistons. And as we evolved and as the Golden State Warriors started playing like the Denver Nuggets of old, everybody said, 'That's how we need to be playing.' Everybody's kind of migrated back to the old ways with the addition of the threes."
He was asked what he thought when seeing James Harden launch 15 three-pointers in a game.
"It drives me crazy," he said. "Even though I scored a lot of points, and I shot the ball a lot, I was a team player. I liked getting my teammates involved and letting them be a part of the game as well."
But that was the beauty of the passing game, with its constant moving -- of both bodies and ball. By definition and design, everyone was involved, regardless of who scored. Including guard T.R. Dunn, who rarely kept the ball for more than four-tenths of a second.
"I wish I was still coaching," English said. "It's an unstoppable offense. Even if you wanted threes, you still could get threes. But nobody has adapted, or tried to adapt Doug Moe's offense. It was so successful, as you know ... And contrary to what people say about us playing defense, if you look at the teams that forced the most turnovers, blocked the most shots, we were always there. We had three, or four, actually, of the toughest defenders that have played the game in T.R. Dunn, Bill Hanzlik, Elston Turner, and Wayne Cooper's got to be there for shot blocking."
English has been watching this Nuggets team with great interest from afar.
"They've got a good vibe going," he said. "They're winning. It helps when the fans come out and support you. And they've got a good coach. Mike Malone's a very good coach. He's done a very good job of bringing them together ... I personally feel they'll be in the Western Conference Finals, if they continue to play like this. They're such a balanced team. Even though (Nikola) Jokic and (Jamal) Murray get a lot of credit, when I watch them I see a lot of different pieces that contribute. I'm glad to see Will Barton back. I feel like he's a major part of their success and once he gets back and gets acclimated to playing, he's going to be a big contributor. And you all haven't had Isaiah Thomas yet. I coached Isaiah Thomas in Sacramento. I think he's going to be a bg plus for this team because he can score. Tough little guy."
Sandy Clough of "The Fan" asked him about Jokic, who a little later would have 40 points, 10 rebounds and 8 assists against the Blazers.
"He sees the floor so well, he scores, he shoots threes," English said. "The only other player in the league right now that I feel is comparable to him is DeMarcus Cousins, who I coached in Sacramento. He's got a lot of the same skills and maybe Anthony Davis."
Now, about those skyline jerseys. I've told this story before, but it's appropriate. The Nuggets unveiled the original version at a news conference after holding a fan contest to design them. At the news conference, they said they had brought in a special model, and then Kiki Vandeweghe came out in the new jersey. And we were told that after lengthy negotiations, he had just agreed to a new, long-term contract. They had managed to keep that quiet, and it was a big deal.
Shortly thereafter, the winning designer visited me at the newspaper office.
He was mad that the Nuggets hadn't exactly followed his design.
January 2, 2019
From Flying "The Hump"
to founding turf farm,
Johnson led epic life