Making the promotional rounds
in Denver for Olympic Affair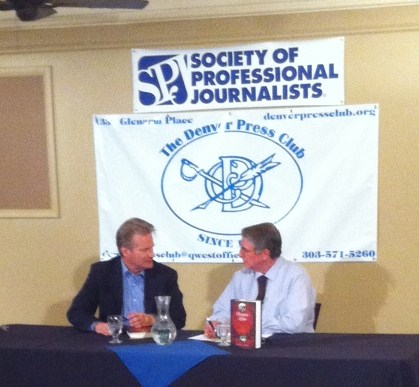 January 25, 2013:
In the past couple of weeks, I made appearances at the
Tattered Cover (East Colfax branch) and at the Denver Press Club to
discuss, answer questions about, and sign
Olympic Affair
.
The January 17 appearance was my sixth at the TC, and it remains a pleasure
and a thrill to speak at one of the nation's top independent bookstores. (One
regret: I haven't ever appeared at Powell's, which I used to haunt when we
lived in the Portland area.) This time, it was a joint "Evening of Historical
Fiction" appearance with Paul Levitt, the University of Colorado professor
emeritus whose terrific and panoramic novel,
Stalin's Barber
, also is
from Taylor Trade. Rick Rinehart of Taylor Trade moderated the discussion.
Paul and I, in fact, both publicly thanked Rick for taking a chance on our
novels -- the first ones Taylor Trade has ever published. Until recently, in
fact, the TT Twitter profile noted that it published books "in all genres except
fiction." Now, it says: "We are the trade divisions of the Rowman &
Littlefield Publishing Group. We've got books in nearly every genre! Sorry,
no zombies, no vampires." Taylor Trade also published the paperback
version of
Horns, Hogs, and Nixon Coming
; plus
'77: Denver, the Broncos
and a Coming of Age
and
Playing Piano in a Brothel
.


After the signing portion of the program, as is the custom, we both signed
extra books for the TC, so autographed copies of both
Olympic Affair
and
Stalin's Barber
are at the East Colfax branch.
Then on January 24, Bruce Goldberg of the
Denver Business Journal
, also
the Denver Press Club's president, interviewed me for a "Book Beat"
program at the DPC. Among those in the audience were fellow authors
Michael Madigan and Dennis Dressman, both former editors and
executives at the
Rocky Mountain News,
and they asked me questions
about my methodology and the book itself
. (
Mike briefly was my boss
when I worked part-time at the
News
when I was in college.)

Same Opening, Different Style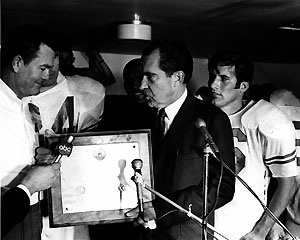 I've found that writing screenplay adaptations of existing works – in
these instances, of my own books – isn't agonizingly difficult. I've
done it three times and without going into details, all have been in or
are in "the loop." I've had meetings, lunches, cocktails at the Beverly
Wilshire and (appropriately, as you'll see) breakfast at the Hotel
Bel-Air, and a discussion in a Hollywood star's Brentwood living
room ... all of it. But, no, you haven't seen any of those films on
the screen. Yet.

I'm not saying writing an adaptation is "easy," and it's based in part
on the recognition that any script is a starting point for the director
and it will undergo considerable change in the process. And in
some cases, that's putting it nicely.

From the start, the story is already in my head and the computer,
dialogue or suggested dialogue is in front of me, and the biggest
challenge is avoid trying to simply put the book in screenplay
form. That requires stepping back, taking liberties and – most
important – deciding what to focus on and what to leave out for a
feature-length film.

Third Down and a War to Go, the book, was about Wisconsin's 1942
college football team winning the national championship and then
going off to war, with some not coming back. For the screenplay,
I tightened the focus, making it more the story of three of the
Badgers' stars. The opening is different than that of the book, starting
with team captain and two-time All-American end Dave Schreiner
serving as a Marine in the Pacific and receiving a letter and a clipping
informing him that his Badgers co-captain and lifelong buddy, bomber
co-pilot Mark Hoskins, has been shot down on a combat mission and
is feared lost.

The Witch's Season, the book, was about a team modeled on my
father's Oregon Ducks of the late 1960s, the famous men on his staff
and team, and the tumultuous campus. The screenplay version
compresses the time frame, ending the film right after Nixon's
election, rather than on his Inauguration Day. It leaves part of the
story unresolved, but with enough foreshadowing for viewers to fill in
the blanks themselves.

Horns, Hogs, and Nixon Coming (2002) was the most challenging,
perhaps because it's the one that I could envision being done as
a mini-series rather than a film. For several reasons, I won't give away
the gist of the decisions I made, but I will say that I cut out alot of
the story and back story and made it very specific.

Two of those three are non-fiction books, and I found that the
experience of doing the screenplays – taking a true story and
imagining dialogue and scenes – helped greatly when writing Olympic
Affair: Hitler's Siren and America's Hero, which even more than the
other books is almost what I consider the novelization of a
screenplay. (A screenplay that doesn't exist.) Reviewers have noted
the "cinematic" approach.
Now, for an example: Although there are major differences between
the HHNC book and screenplay, I started both with the same 1985
"scene" – former Razorbacks defensive back Bobby Field, then an
assistant athletic director at UCLA, encountering former President
Nixon outside the Hotel Bel-Air. After this, of course, the story flashes
back to 1969. As it turns out, of course, while Nixon remembered
quite a bit about the events of December 6, 1969 game in
Fayetteville, there was a lot more going on that he didn't know
about.

Here's the opening segment of the screenplay. I can't supply
the popcorn and keep in mind that when I originally wrote it, it was
roughly eight times as long before I was reminded it needed to be
snappy and set the stage for the flashback.


EXT. UCLA FOOTBALL PRACTICE FIELD, LOS ANGELES – DAY
Sprinklers spray as Bobby FIELD, late-30s, fit, and wearing a gray "UCLA FOOTBALL"
T-shirt, takes off at a one-time serious athlete's stay-in-shape pace.
EXT. NORTH EDGE UCLA CAMPUS, LOS ANGELES – DAY

Field approaches the campus entrance and sprints across the street, entering Stone Canyon
Boulevard.

TITLE:
LOS ANGELES
MARCH 30, 1985
MALE RADIO NEWSCASTER (v.o.)
Among the stories we're following on KNX 1070: Reclusive ex-President Richard Nixon is
visiting his native Southern California, and he was spotted having dinner at Chasen's last night
with Paul Keyes, the producer of the old "Laugh-In" TV series. No word on whether
President Nixon reprised his attempt at the show's "Sock It To Me" catchphrase on the
show during the 1968 campaign.
FEMALE RADIO NEWSCASTER (v.o.)
John, you have to say that right. It was a question.
MALE RADIO NEWSCASTER (v.o.)
(Bad Nixon imitation)
"Sock it to
me
?"

EXT. STONE CANYON BOULEVARD, BEL AIR – DAY
Field runs up the winding road. Hotel Bel Air is ahead. Three Men in suits walk toward Field.
AGENT 1 and AGENT 2 are big and fit. The man in the middle is Richard NIXON at age
72, getting morning exercise. Ten feet short of Nixon, Field puffs out a greeting.
FIELD
Good morning.
EXT. HOTEL BEL AIR PARKING LOT, BEL AIR – DAY
Field has reversed his direction and is coming down the hill. He spots Nixon again, next to the
hotel's canopied entrance. Field detours into the parking lot and slows to a walk. As the
Agents step forward, he approaches the former president and lifts his right hand in a
self-conscious greeting.
FIELD
Hello, Mr. Nixon … Mr. President. Sorry to bother you, sir, but I decided I should introduce
myself. I'm Bobby Field. I'm the football defensive coordinator on Terry Donahue's staff at
UCLA.
NIXON
Sure. You had a fine season.
Nixon offers his hand. Field shakes it.
FIELD
Thank you, sir.
(beat)
As a matter of fact, in 1969, I was a defensive back for the University of Arkansas and you,
sir, came to our game in Fayetteville against…
NIXON
…Texas!
FIELD
Yes, sir.
A limousine pulls up. The DOORMAN opens the back door. Nixon doesn't move.
NIXON
Terrific game! Numbers one and two in the nation. Texas with James Street running the
wishbone offense and throwing that long pass … Arkansas with Bill Montgomery firing away
to Chuck Dicus … That fine Texas boy, Freddie Steinmark, visited me later at the White
House … I was in the stands, freezing, with Governor Rockefeller and George Bush and
Senator Fulbright … and it comes down to the final minutes and it's anyone's game … and
…
AGENT 1
Sir, we should go.
NIXON
What a thrilling finish! And when it was over, I went to both dressing rooms.
FIELD
Yes, sir, this is the second time I've shook your hand. This time, I'm not crying.
Agents nudge Nixon into the car. Limousine pulls away. Field watches with the doorman.
DOORMAN
That must have been some football game, him rattling all that off. He had a hard time coming
up with his wife's name yesterday.
TITLE COMES UP: HORNS, HOGS, AND NIXON COMING