The first game ever in Autzen
Stadium and beyond

October 22, 2012:
With another matchup between my alma
mater (Colorado) and the team my father once coached
(Oregon) coming up on Saturday,
my Monday Denver Post
commentary
is about my reflections on the first game ever
played in Autzen Stadium, plus those quite different times.
The reaction via direct communication has been very
gratifying, and I thank those who have taken the time to
express it. I was even nicely reminded that because of an
ABC strike, Keith Jackson didn't work the game as scheduled
on ABC, and the commentators were former coaches from
each of the two schools -- Len Casanova, in his first season
as the Oregon AD; and Dal Ward, the former coach at
Colorado. The irony is that at each school, the athletic
department offices are named after them -- the Casanova
Center and the Dal Ward Center.
We added the program cover from that game to the online
version of the column, so that's there now. The cover for
the first game ever in Autzen Stadium is an aerial photo of
the Oregon campus, which doesn't include the new
off-campus stadium. In that shot, Hayward Field, the
former football stadium that to this day remains famous
for hosting track and field competition and being in the
background of an "Animal House" scene, is at the top left.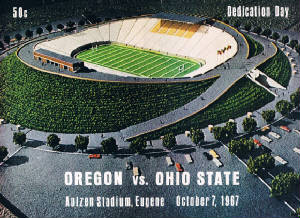 As you can see at the left,
Autzen was on the cover of
the program two weeks
later, when the Ducks
played Ohio State in
the Dedication Game. I
vaguely remember Woody
Hayes marveling that
Autzen was built for only
$2.3 million, and I think he
meant it as a compliment.
To put that in perspective, plugging the figure in on online
calculator yields the fact that it's equal to about $16 million in
2012 dollars. And now Colorado State is talking about
building a very basic on-campus stadium for $246 million,
considered a modest figure today for any stadium. I'm not
an economist, and I didn't take Econ at CU, so I'm sure the
direct comparison that way is misleading, but it's at least
interesting. As alluded to in the column, Autzen was built in
14 months, and it basically was shoving a bunch of earth
together to form a berm and pouring concrete into it to form
a bowl.
Additional points to accompany the column:
-- Below is a page from the '67 Oregon-Colorado program,
and serves to make my point about my father's original
coaching staff and how his World War II service was not
mentioned in his coaching biography. Two of the men below
(John Robinson and George Seifert) were NFL head coaches;
a third (Bruce Snyder) came within one play of winning a
national championship as the head coach at Arizona State.
Two other future NFL head coaches also were involved in my
father's program. Gunther Cunningham was a linebacker on
this '67 team and subsequently joined my father's coaching
staff, first as a graduate assistant. Norv Turner was a Ducks
quarterback, recruited from Martinez, Calif.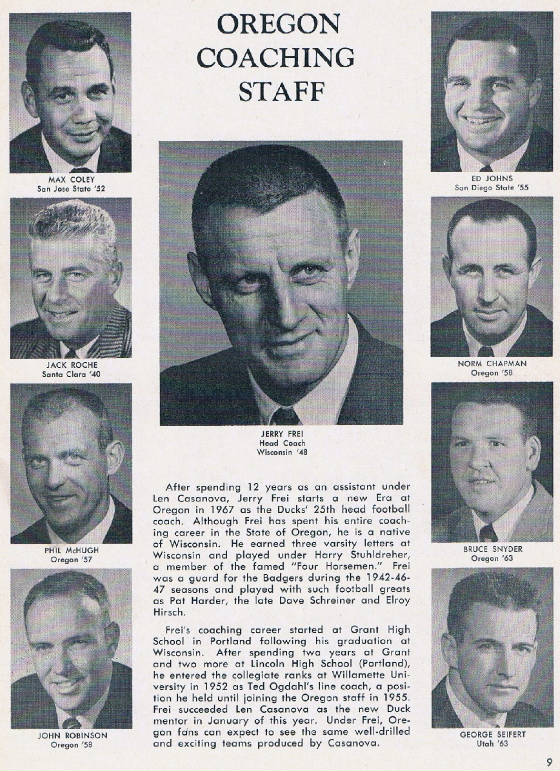 Also unexplained is the "late" reference to Dave
Schreiner. Perhaps readers in the late 1960s still
remembered that he was a two-time All-American end and
Big Ten Conference MVP who was killed in action during the
Battle of Okinawa in World War II. Also, Elroy Hirsch was
better known as "Crazylegs," and the story of that team is
told in
Third Down and a War to Go
.
-- Several mentioned to me in email and Twitter responses
that this column sounded as if it could be a hint of another
book.
In fact, I've already done it.
The Witch's Season
is a
roman a

clef
novel about those Oregon teams, the men involved,
those crazy times on one of the nation's cauldron campuses,
and college football. The actual college football part is quite
timeless, in my view.