Back from New York: Broadway and Baseball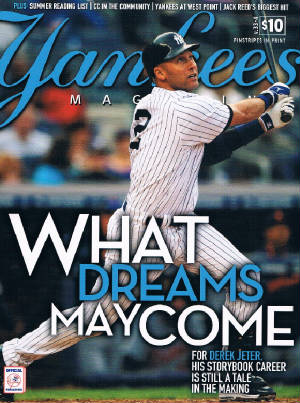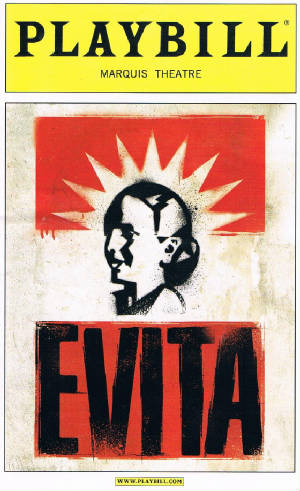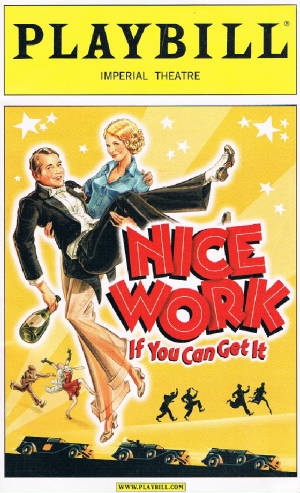 June 9, 2012:
Helen and I are back from a quick trip to New York. I
touched bases in the book world and we also went to two Broadway
musicals --
Nice Work If You Can Get It,
starring Kelli O'Hara and Matthew
Broderick; and
Evita,
with Ricky Martin and Elena Roger -- and the
Yankees-Tampa Bay Rays game.
And I also visited with my New York
resident brother, David, of Westminster Kennel Club renown
.
My interests in theater and music -- mostly rock 'n roll -- are among the many
I have outside of sports.
This previous journal entry about Chess gives
additional background about that.
Earlier this year, in fact, I sought to switch
departments at the
Denver Post
to become John Moore's successor as
theater critic. He accepted a buyout the
Post
offered to veteran staffers late
last year. I hoped to step over to the features department and take John's
place.
I'm from a family with a mix of sports and music genes -- my father was an
athlete and coach, my mother was a musician and teacher -- and my interests
reflect that mix. While several of us Frei children were good athletes in the
conventional sense, the best athlete arguably was the one who didn't go into
sports -- Susan, the ballet star. In contrast, I can't carry a tune, can't dance a
step, and can't even play "Chopsticks" on the piano or anything at all on the
guitar.
Becoming a newspaper theater critic/writer seemed a natural change-of-pace
switch. It didn't work out. Film critic Lisa Kennedy took on the added
responsibility of covering theater, too. She's doing terrific work.
The positive is that I'm being allowed to remain a theater fan in my private
life, rather than taking on the responsibility of serving as a "critic." Frankly,
though, what I was especially looking forward to was writing about the
theater scene and the people in it. I wonder things like: How do understudy
rehearsals work? How did understudy Cassie Okenka learn the role of Glinda
in "Wicked" after joining the first national company in Portland, while being
part of the ensemble, and then be able to go on as Glinda for a few nights
here in Denver? How does a "swing" learn all those roles -- and keep them
straight?
When I reviewed the Bill Cain play
9 Circles
at the Curious Theatre in
Denver, I realized I much rather would have caught up with the show's
impressive young lead, recent Southern Mississippi master's program grad
Sean Scrutchins, and told his story. Who was he? How'd he come to play
this role for Curious? Where was he hoping to go from there? In my sports
career, that's what I've done best, whether the pieces were for
The Sporting
News
or a newspaper about future Hall of Fame players, or about obscure
"hard-boot" horse trainers. Exploring, asking, watching, listening.
Of course, in my sportswriting career, I've often been an acerbic critic, but I
know I would have found it hard to reconcile saying exactly what I thought
of especially smaller local productions, if I found them to be flawed. These
would be people doing what they loved, certainly without financial reward in
mind. The answer, of course, is that expectations, resources and even
audiences have to be taken into consideraton during the evaluations.
While I was pondering the switch, I did a lot of reading. I went through Frank
Rich's collection of his
New York Times
reviews during his 1980-93 tenure as
the paper's theater critic. Mostly, I flipped through the book until I came to a
show I had seen -- in New York or elsewhere. Often, we had seen the same
New York production, and I paid especially close attention to those reviews.
They were longer and more detailed than than most you'll see in a paper,
even the
Times
, nowadays, so that was the first asterisk.
I often agreed with most of what he said about those shows, but disagreed
with his conclusions. Case in point: I
knew
that
Chess
had all those problems,
I nodded when he pointed them out, but I shook my head when he said they
essentially ruined the show. One example of an underappreciated, smart
show we both liked was the wickedly funny Larry Gelbart-Cy Coleman
musical,
City of Angels.
Near the end of the book, he mused that he wondered if he should lower his
standards, pander to the "tourist" mentality, and approach reviewing with a
different mindset. I understood what he was getting at. Yet I believe there's
room for applying high standards while at least loosening the tie, maybe even
having a beer before the show, and conceding that theater doesn't have to be
a work of art to be successful.
Rich championed
Sunday in the Park with George
and even conceded he
took grief for doing so. We saw it, too, and while I'm a huge fan of both
stars, Bernadette Peters and Mandy Patinkin, I am not at all embarrassed to
say I found it sleep-inducing.
When I saw the acclaimed drama
Bengal Tiger at the Baghdad Zoo,
with
Robin Williams, last year in New York, I left the theater thinking it was
the kind of show many critics raved about because smart and influential
critics are
supposed
to like this kind of play. I thought of that later when I
reviewed
9 Circles
last year; I asked myself if I was following that lead in
proclaiming it a strong play and production. I convinced myself my
admiration and praise were earned and genuine.
Yes, I've been accused of arrogance and elitism when discussing my own
writing and offering my views on sports. Here, I'm admitting as a theater
"critic," I would have been what some in that world might have considered
"lowbrow."
It's a matter of expectations, resources and standards. In the 2012 Broadway
of $145 (give or take) ticket prices, you have every right to high
expectations, but what makes me laugh about that is that a lower bowl ticket
at the Pepsi Center for the Colorado Avalanche-Columbus Blue Jackets
hockey game (in November) is about the same price. But there's nothing
wrong with conceding that theater is both entertainment and art, and if a
show works as the former, while falling short of deserving to be considered
the latter, who the hell are we to say it's a failure? I've seen many, many
shows I neither "liked" nor admired, but couldn't resist enjoying. (
Rock of
Ages
is one of the many examples.)
On to the two shows we saw on this trip.
Nice Work if You Can Get It,
with Joe DiPietro's book built around Gershwin
songs, received 10 Tony nominations, but has gotten so-so mainstream
media reviews.
We had seen Kelli O'Hara four times previously -- in Denver in
Jekyll and
Hyde
, and in New York in
Sweet Smell of Success, Pajama Game
, and
South Pacific.
And we'd caught Matthew Broderick in
Brighton Beach
Memoirs, The Producers
and
The Odd Couple
.
O'Hara again was great, and we were more than willing to overlook the
complete implausibility of her character and the story. Broderick was fine,
even holding his own in an extended ballroom-type dance sequence across
furniture with O'Hara, and I respect his continuing loyalty to the theater,
which despite his family background and deep roots in the craft, he really
no longer "needs."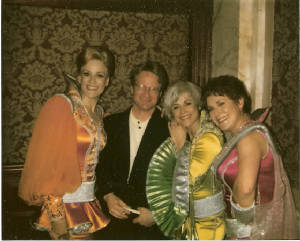 Veterans Michael McGrath and
Judy Kaye were hilarious, and
they're both up for Tonys this
weekend as featured performers
in musicals. (
Update
:
They both
won. That's Kaye at the right in
the picture of me with the
Original Broadway Production
leads of Mamma Mia. I'm
between Karen Mason and
Louise Pitre.)
If McGrath and
Kaye didn't steal the show, they
at least kidnapped it for significant
stretches. Estelle Parsons doesn't make an appearance until late in the
show -- so late, she probably could be having dinner at Bricco at the opening
curtain and still comfortably make her entrance as scheduled to serve to tie
up the loose ends in the formulaic, by-the-numbers but fun, plot.
I'm convinced 99 percent of those at the Imperial had a blast; I'm guessing
the other 1 percent were miserable because they'd had tainted oysters at
dinner...or maybe they were mad that
Chess
didn't even rate a mention in the
"At This Theatre" page in the Playbill. (I've told you, that show's devotees
can be a little wacky.)
With
Nice Work
, I again was reminded that reviews can be helpful in making
choices and provocative afterwards in framing your own
reaction, but shouldn't be swallowed whole. Again, my experience has been
that I agree with quibbles or even outright criticisms from reviewers, but than
catch myself adding, "Yeah ... so?" In this instance, quoth the Times:
"...artificial froth." To which I'm convinced most at the Imperial would have
responded: "Yeah ... so?" Or, "And
Anything Goes
isn't?" You don't need to
check your intellect at the door to react that way.
That's where today's abundance of alternative evaluations -- in blogs and
elsewhere -- can be significant voices, and the dilution of major critics'
make-or-break influence has been a positive. I'd say that even if I made the
move to the critic's role. Nobody should have that much power.

Evita
was a slightly different story, primarily because of the casting of Elena
Roger as the lead in the first New York revival since the original production
ran from 1979-83. I'd seen the show before, but not in New York and not in
many years, and I had forgotten what a strong double-threat ensemble cast it
requires to support the handful of major characters.
Ricky Martin more than held his own as Che. (
Update:
Here, he's featured
in "And the Money Kept Rolling In" on the Tony Awards telecast
.)
Roger is a tiny Argentinian who drew raves playing the role in London in
recent years, and casting a woman from Eva and Juan Peron's homeland for
the role is a brave novelty. Her accent is an intriguing touch, but not
indispensable, especially in a work in which we know the English dialogue is,
in essence, a translation. She's an excellent dancer, too.
The problem here was that, at least on the night we attended the show, her
voice wasn't strong enough for the part and became almost raspy at times as
she snapped off final notes. I can't help but think that most in the audience
were wondering the same thing:
Is she sick? Is her voice worn out?
In a production that has an "alternate" Eva, Christina DeCicco, who plays the
role on Wednesday nights and Saturday afternoons, and two ensemble
members also listed as understudies, there doesn't seem to be much excuse
for a lead going on with a significant voice issue.
Admire her for going on and note that baseball players go on the DL with
muscle tightness, but she either needed to step aside -- or, if that's just the
way she is much of the time, the role in New York deserves better.
Martin and Michael Cerveris (as Peron) and a stunning ensemble -- including
such veterans as Timothy Shew, one of
Les Miserables'
Jean Valjeans; and
Brad Little, who played the Phantom of the Opera in one of the
touring productions that passed through Denver -- can't carry this without an
electric Evita in all eight performances each week.
With that huge stipulation, we enjoyed it, though, and would recommend it.
And, yes, we went to the new Yankee Stadium. It was my first visit there,
and what I heard was exactly right -- at times, you still think you're in the old
place, and that can be both good and bad. It's obvious this was built for the
private boxes and luxury levels. Why not just build a new stadium -- a real
new stadium? (Sacrilege, I know.) We were there on the 67th anniversary of
D-Day and the Yankees indeed honored veterans of the landing. The
problem was, it was about 15 minutes before the first pitch, there couldn't
have been more than 5,000 people in their seats, and it seemed almost
insulting and reduced to the trivial. The Yankees won 4-1, behind pitcher
Ivan Nova, in front of a crowd announced as over 38,000. I have no doubt
that many tickets were sold, but in-house attendance was about 25,000 -- no
more.
I also was reminded that for all the Yankees' nods to tradition -- including
having Bob Sheppard's tape-recorded voice still introduce Derek Jeter, not
having ridiculous "walk-up" music for each hitter, and having the monuments
behind the centerfield wall -- even the game's showcase franchise has caved
in and added much of the usual silly marketing gimmicks so pervasive in
MLB now. Screeching announcers give trivia quizzes to fans between
half-innings, for example. Yes, even the Yankees ...
And the beers are $9.